For all you know, David Cameron might tell Narendra Modi, when they meet next week, how easy it is to open a childcare centre in London. A manual of 33 pages will tell you how, and also tell you of all the rules and regulations.
Why should such silly stuff come up in the talks between the prime ministers of the world's largest democracy and the world's oldest democracy? Because Modi wants to know how the British have eased rules for doing business in the UK. Cameron can tell him that the old manual was more than a thousand pages.
The World Bank today ranks the UK eighth in the world in terms of ease of doing business. "We want to move up further to number five position," said Sarah Smith, deputy director in the UK's Better Regulation Delivery Office which is charged with simplifying business rules. India was in the 142nd position among 189 countries and jumped to 130th late October, but "Prime Minister Modi wants to take India into the first 50," said Giles Thomson, head of South Asia department in the Foreign and Commonwealth Office. "We believe we can help. We are already working with the Indian commerce ministry on this."
The British believe that they are temperamentally the best-suited to help India. Though the laws of both countries are no longer similar, the law-making process and the law-administering process are similar.
Smith's office sent an exploratory delegation five months ago to India, and they will host a delegation from the commerce ministry when Modi is in London in November. There is also an offer to embed an expert from the UK with the commerce ministry to study and suggest how to deregulate.
The British have been cutting down on the number of laws that regulate business. "When any new law that affects business is being made, we ensure that two old laws are scrapped," said Smith. "Each regulation may be well-intended, but taken together they prove to be too much."
British experts feel that in India there is too much stress on making new laws to help businesses, whereas business can be made easy without touching existing laws, but by simplifying administrative regulations. That is also easier because making or scrapping laws needs political and parliamentary consent whereas regulations can be administratively made and scrapped. This has a political import in India, as it is not the politician in Parliament who is standing in the way of reforms, but the bureaucrat in the licensing, regulating and inspecting offices.
Procedures have been simplified. For instance, an entrepreneur does not have to fill the same data in several applications that he has to make to various agencies. Instead, he can ask the various agencies to share the data that he has given in one application.
The British have also scrapped the need for pre-licensing in several sectors. "The business just has to inform the government that it exists," said Stewart Gibbon, senior policy analyst in Smith's office. Labour inspection has been done away with in most sectors, though the labour laws and wage laws continue to be tough. "If a worker is made to work for longer hours, or denied fair wages, he himself will complain," explained an officer. "He is the best labour inspector. There is no need for the government to inspect." Most industries have been freed from the highly restraining health and safety regulations. The general regulations on health and safety, applicable to the society at large, will apply to businesses, too.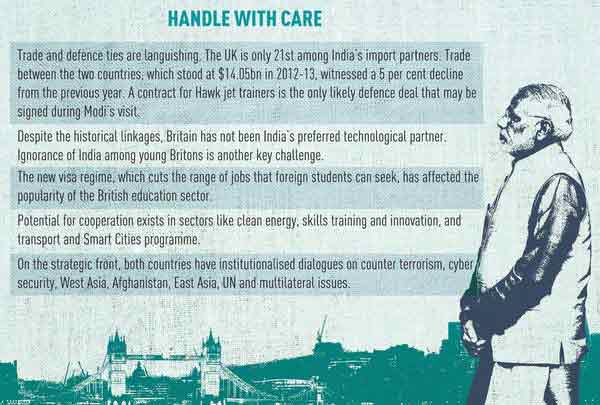 Cameron believes that the UK would be India's most natural partner if Modi wants to do what Margaret Thatcher did to Britain in the 1980s, making a million businesses bloom by freeing them from restrictive regulations. Today the business climate in Britain is being nourished by skilling small businessmen and workers. About two million people have been imparted technical or business skills under state-monitored programmes in the last five years; three million is the target for the next five years. The British are willing to share these details with Skill India.
Higher education, which had declined in the Thatcher years, has got back in the swing of things. Frontier sciences and humanities, which once earned Nobels for British scientists and name for British universities, are back in fashion. But the new visa regime, which cuts the range of jobs that foreign students can seek, has caused much heartburn among Indian students as well as among the university dons who want more Indians to come to them. As it is, British education is costlier, and now the visa restrictions may turn away more students to other English-speaking countries. Modi is expected to raise the issue with Cameron.
All the same, the universities are putting up a brave face. They say there is no fall in the number of Indian students applying for or getting visas. "Nine out of ten students who apply for a UK visa get it," said Thomson. Most of the elite universities are averse to opening overseas campuses, including in India, fearing a fall in brand value. "In the 90s, many British universities opened offshore campuses," said James Stirling, renowned particle physicist and provost of the prestigious Imperial College. "Imperial didn't. Now most of those who did are closing them down."
London, Manchester and Birmingham are keen to partner in Modi's Smart Cities programme. Transport for London, the agency which runs the world's oldest and most efficient metro system, would like to lend expertise to metro-running rather than metro-building. The entire transport system of London has been brought under this agency, which not only runs trains, buses and stage-coaches, but also issues taxi permits, controls traffic lights and issues tickets that can be used for riding any public transport.
Cameron is keen on partnering with India in clean energy, skills training and innovation. "These are areas where we think we have certain advantage," said Ameet Gill, director of strategy in Cameron's office. With India being forced to cut carbon emissions which it fears would hamper its industrial growth, the British have spotted a chance. Industry-funded and state-funded research projects in universities are coming out with newer and cleaner technologies, particularly for coal-burning power stations and factories which India has several.
On the strategic front, the British are a bit sullen, but "we want to intensify the strategic engagement," said Thomson. The Royal Navy has shrunk smaller than the French navy for the first time since the Spanish Armada, and civil ship-building has collapsed, but the British are holding on to warship-building. Two carriers are in the works. Having given the first two of the four carriers that the Indian Navy has ever operated, Britain now would like to compete with the Americans in partnering with India in building the fifth. A contract for the third tranche of Hawk jet trainers is likely to be signed during the Modi visit. For sure, the Royal Air Force's aerobatic team Red Arrows will dazzle the skies over the Wembley Stadium where Modi is scheduled to address his biggest overseas meeting ever, of about 70,000 people. Rolls-Royce is looking to make civil jet engines in India.
Cameron might inform Modi of the misgivings that several British politicians and think tanks have about his Nepal policy. "Some of us have written to Prime Minister Cameron about it," said Virendra Sharma, Labour MP. Several constituent assembly members from Nepal have visited London and expressed their displeasure with the way India 'intruded' in their constitution-making process recently. "We have a special relationship with Nepal," pointed out Sharma referring to the Gurkha regiments still serving the British army.
The British Indians are planning a big bash with a Diwali fireworks finale for Modi in Wembley. Nearly 500 community organisations, representing more than 1.5 million British Indians, have come together to make the Wembley show four times larger than Modi's Madison Square Garden event. The Gujaratis are the most excited; even in the Swaminarayan Temple in Neasden or around the Brahmakumaris Ashram, they are discussing whether Modi will grant their long-pending demand for a direct flight between London and Ahmedabad.
But it won't be a Gujarati show all the way. The Punjabis are more numerous and also politically powerful, having sent several MPs to both the House of Lords and the House of Commons. But the grouse of all Indian communities is that there is no Indian in the cabinet; or the shadow cabinet nor is there a judge.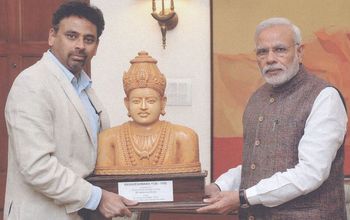 Perfect cast
Narendra Modi missed the unveiling of the Mahatma Gandhi statue in the Parliament Square in London earlier this year, but he will get to unveil a statue of the 12th century philosopher Basaveshwara in the London borough of Lambeth on November 14.
Former Lambeth mayor and Labour leader Neeraj Patil met Modi in March to request him to unveil the statue, and Modi announced his decision in his Mann ki Baat radio address of October 25.
Basava will be the fourth Indian to have statues in public premises in London after Gandhi in the Parliament Square, and Jawaharlal Nehru and Rabindranath Tagore elsewhere. The house in which B.R. Ambedkar lived for a year was recently bought by the Maharashtra government which wants to make a small museum in it.
Statues can be installed in London only on the approval of the culture minister, and "approval is given only to statues of those who have had close ties with the UK or whose ideas have influenced Britain, or had preached values akin to British values of democracy, freedom of speech, equality of opportunity and tolerance," said Patil.
Basava fits the last criterion. As the House of Commons Speaker John Bercow observed: "It's amazing and extraordinary that Basaveshwara professed, campaigned and advocated genuine democracy, human rights, gender equality way back in the 12th century before anyone in the United Kingdom had even thought about it."