Five years ago, she came to power in West Bengal with the promise of poribortan. But change is what Chief Minister Mamata Banerjee dreads the most now. Party insiders say they are not sure of the Trinamool Congress returning to power. And that could spell trouble for Mamata and her party, what with the Central Bureau of Investigation probing the Saradha scam and the Calcutta High Court ordering a forensic analysis of the tapes used in the Narada News sting operation, in which Trinamool leaders were shown taking bribes.
It has been an exacting election for the Trinamool Congress chief. In the last two months, she attended 165 rallies and padyatras, and she made no mention of change; but there was revenge. Her anger was directed at not only the opposition but also the Election Commission of India and the police. "I will seek answer inch by inch after May 19 [the day of the election results]," she said recently. In Nandigram, which became Mamata's springboard to topple the Left Front in 2011, she almost threatened the police officers for doing the bidding of the election commission. "I could only tell those officers that wait till I get back to work after May 19," she said. CPI(M) state secretary Surjya Kanta Mishra, however, told THE WEEK, "After May 19, she would be ex-chief minister."
Mamata has also been upset with the media, whom she equated with the opposition, though her war was only against a big media house in the state. Her partymen weren't spared, either. She was miffed that a section of her MPs, led by young turk Subhendu Adhikari, had failed to gauge the mood in Delhi and warn her about the coming together of the Left and the Congress. By the time she turned to Sudip Bandyopadhyay, her man Friday during her days in the National Democratic Alliance, it was too late. The north Kolkata MP spoke to Congress president Sonia Gandhi a couple of times but failed to dissuade her from joining hands with the communists.
The Saradha scam had given her sleepless nights, and then came the Narada sting. Disassociating with the tainted leaders, all of them popular and powerful, during poll time was a tough decision to make, but Mamata decided to campaign alone and even declared, "I am the candidate in all 294 seats." She would meet the tainted leaders only on her visits to their constituencies.
Her house, 30B Harish Chatterjee Street in Kalighat, wears a deserted look, unlike during the last election when leaders and back-room boys, like Derek O'Brien and Mukul Roy, would come calling early in the morning. Today, a strong security ring and various checkpoints act as barriers to the house.
"Let alone a poor man like me, even those next door are not seeing their famous neighbour, unlike in the past," said Mustafa Ali, a stationery shop owner in Kalighat. "It is understandable, now that she is the chief minister. But the Ma-Mati-Manush slogan is not applicable here in this narrow lane of Kalighat."
Deepak Jalan, a travel agent, said, "Perhaps that is why, in the last Lok Sabha election, Mamata got a drubbing in her own constituency."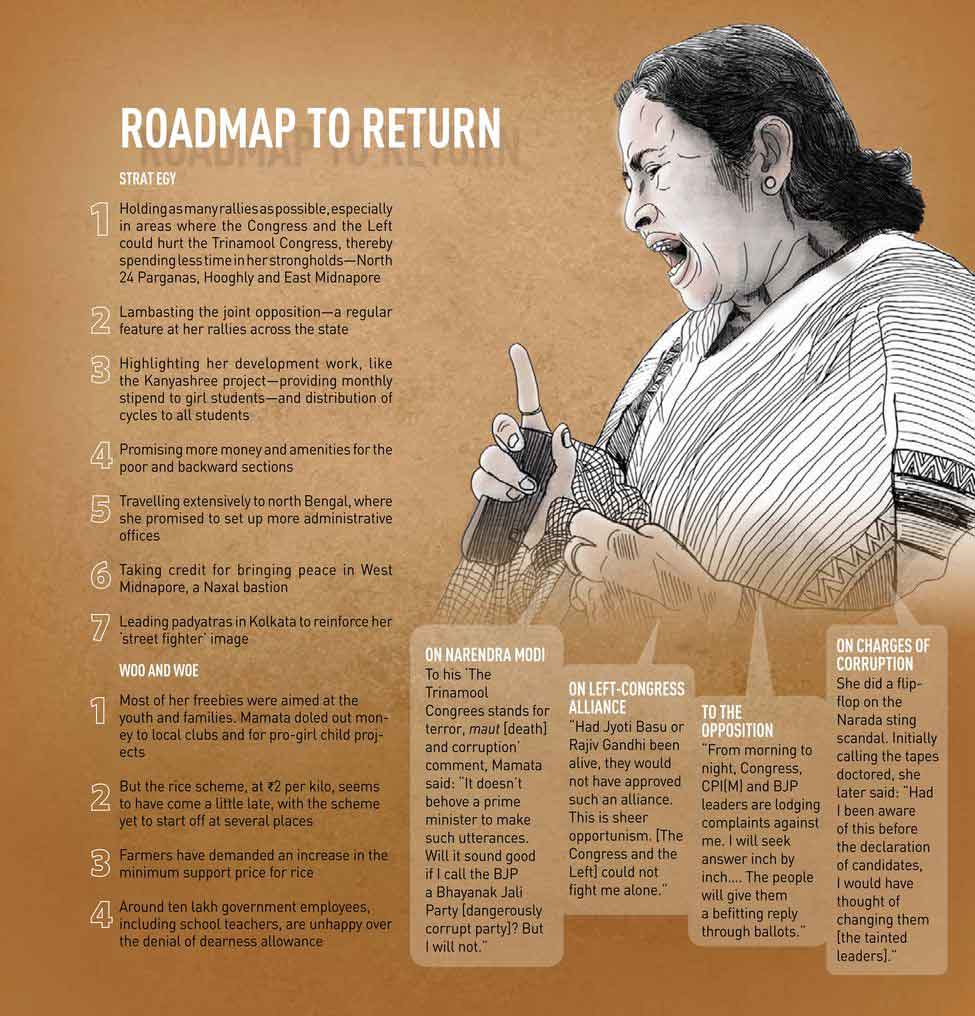 But Mamata was firm on keeping her distance and campaigning on her own, without relying much on her foot soldiers. Her days began with a low-calorie breakfast, and she hit the campaign trail with packets of puffed rice and biscuits to munch on, water in a container and medicines in case of emergency. With Mamata being the "only candidate" in all constituencies, she used helicopters for barnstorming. The chopper would land close to the dais so that she could avoid talking to local leaders and the press.
But Mamata still commands respect, more out of fear than awe, among her party cadre. In Bongaon, a few local leaders were found chanting mantras before meeting her. Trinamool leader Swapan Mondal was recently denied entry on the dais for not wearing the party badge as it could have upset Mamata. "What can I do? I came in a hurry," he said.
Most of Mamata's rallies were held during daytime in the intense heat. She quenched her thirst, not with cold drinks but with milky tea, without sugar as she is diabetic. She is used to physical rigours—as opposition leader, she used to walk for miles in protest and as chief minister, she has used a treadmill at home. Long walks on the road made a comeback this election, as Mamata undertook several padyatras in Kolkata, Burdwan and South 24 Parganas, clad in her trademark white cotton sari with white sandals. The cotton bag, a constant during her opposition days, was missing; an iPhone is her latest accessory.
And, Mamata's road shows attracted more crowd than her rallies, which has her slightly worried. Her rallies in West Midnapore and Singur saw a poor turnout. In East Midnapore, people had to be brought from nearby areas to fill the ground. A similar attempt was made in Singur as well, but it failed. For the first time, people were seen leaving the venue before Mamata ended her speech. But local MLA Rabindranath Bhattacharya, who is seeking another term, is confident. "Yes, there are reports of distress. But Singur could never go to the CPI(M)," he said. Trinamool leader Mahadeb Das admitted that an anti-incumbency wave has entered Singur. "Frankly speaking, it is not didi, but some other people who have caused trouble for us," he said.
To add to her woes, Mamata has had to deal with a strong opposition this time. Apart from CPI(M) leaders, Sonia and Rahul Gandhi had been campaigning intensively in the state. Also, Prime Minister Narendra Modi has torn into her. But Mamata kept her cool and said, "He is a prime minister. He should have been more careful while criticising a chief minister. I, at least, respect the chair." Amitava Chowdhury, a political science professor in Kolkata, said, "But her overall attitude towards her political opponents and blind support to some of her party leaders have brought down her popularity to an all-time low."
Mamata admitted in East Midnapore that she had been having sleepless nights because of the 'excesses' of the election commission. "Which definitely shows that she knew a free and fair election could invite defeat for her," said Congress MP Pradip Bhattacharya.
Mamata has suffered a dent in her clean image. Known to be a crusader against corruption, Mamata today has to answer many charges of corruption, in her party and in her government. She is no more seen as a symbol of honesty. When the Narada tapes were out, she first called them 'doctored'. Later, she said, "All parties take unaccounted money. If they take it, it is donation. But if we take it, we are thieves."