When I met Ishrat Jahan at the West Bengal state headquarters of the BJP in North Kolkata's Murlidhar Street, I could sense anger in her eyes. One of the five petitioners in the triple talaq case, she still seemed to be in a combative mood. But when I asked her whether she was willing to talk, Ishrat appeared happy to do so, although she looked around quickly to check whether anyone in the party office had any objection.
Ishrat, who joined the BJP in December, is a self-confessed fan of Prime Minister Narendra Modi. "Had there been a prime minister like him three decades ago, Shah Bano would not have suffered," she said, referring to one of the pioneers who fought for the rights of Muslim women. "The Muslim community should be grateful for a prime minister like Modi." After a five-judge Constitution bench of the Supreme Court ruled instant triple talaq to be null and void, the Modi government introduced a bill in Parliament making it a criminal offence punishable by three years of imprisonment. The bill was passed by the Lok Sabha on December 28.
Ishrat, who is from Munger in Bihar, got married in 2001 to Murtaza Ansari. The Ansaris moved to Howrah in 2006 for business purposes. Murtaza later went to Dubai, leaving behind Ishrat and their four children (three daughters and a son). In April 2015, he divorced her over phone, saying talaq thrice.
"I was beaten up several times. I suffered everything to save my marriage. But when he pronounced triple talaq, I felt I should fight back," said Ishrat. Following the divorce, her in-laws forced Ishrat to leave home. She considered returning to her parents' home in Munger or moving to Kuwait to join her sister Nazia Parveen. Finally, she chose to stay back and fight after Nazia offered her financial and moral support. Ishrat thus became one of the five women to mount a legal challenge against triple talaq.
She said she could not have fought the case from Munger as she would have been ostracised and harassed. But even in West Bengal, Ishrat is having a difficult time. After her Muslim neighbours in Howrah came to know about the case, they stopped talking to her. Someone called her up from Bihar and threatened to kill her. Her two brothers who live in Munger, too, are opposed to her. Things got worse after she joined the BJP. "I was asked to leave my apartment and live in the BJP office," she said.
Her biggest worry is the safety of her eight-year-old son who lives with her. Her three daughters are with Murtaza. Ishrat tried to seek the help of Chief Minister Mamata Banerjee. "I heard that the Mamata government was pro-Muslim. I sent her three letters, but got no response. I thought the letters were not handed over to her so I tried for an appointment. But, it was turned down thrice," said Ishrat. "Then I came to know the politics behind appeasement. She does that only for votes."
The minority cell of the Trinamool Congress refused to comment for this story. When THE WEEK contacted Trinamool MP Idris Ali, he said he would not speak on the triple talaq issue. He even refused to take any further phone calls.
Locket Chatterjee, who heads the BJP's women's cell in West Bengal to which Ishrat is attached, said women like Ishrat were joining the BJP because certain political parties used Muslims for their own benefit. She said the BJP would reach out to Muslim women through her and that there was nothing wrong in gaining political mileage out of the triple talaq issue. After Ishrat, her lawyer Nazia Elahi has joined the BJP. The central leadership of the party is now considering taking Ishrat to assembly election campaigns in Madhya Pradesh, Chhattisgarh and Karnataka. "Ishrat will work as a full time politician. She would be taken everywhere as an example," said Chatterjee.
Ishrat is clear about her decision to enter politics. "My son's life was under threat. And I had to save my life, too. So I joined the BJP. But I am not in politics to gain something overnight. I will work not only for Muslims, but for all women."
Ishrat said her legal battle had only begun. "I will be happy the day my husband is in jail, which would happen once the triple talaq bill is passed in the Rajya Sabha. The opposition parties are standing as stumbling blocks. They don't like Muslim women being set free," she said.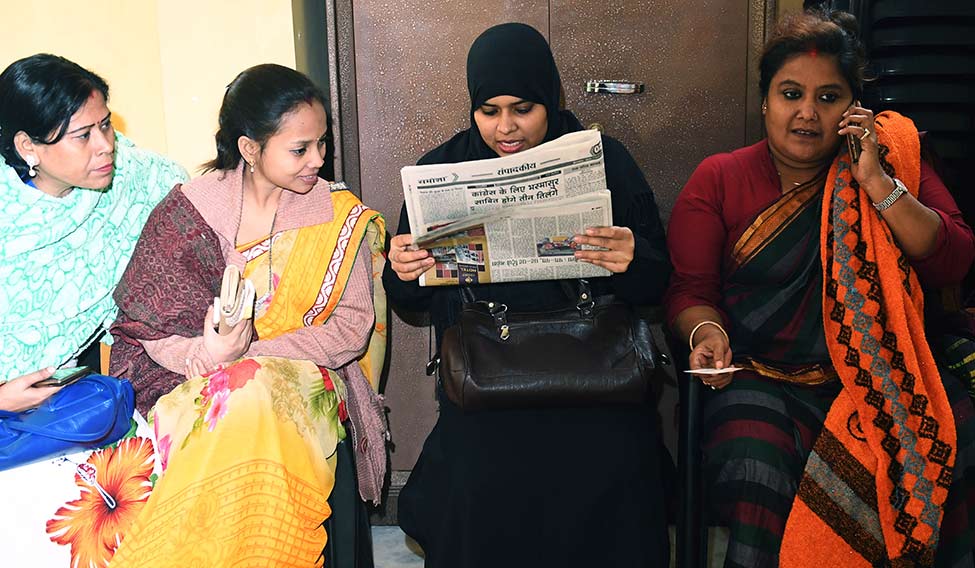 Apart from criminalising triple talaq, Ishrat also wants the government to outlaw polygamy among Muslims. "I will urge the prime minister to end multiple marriages. Muslim women accept such behaviour of their men silently. But their hearts do not accept it. Polygamy must end," she said. Chatterjee said the BJP was examining the issue. "Our next agenda would be to stop polygamy. We will go to the people and make it an issue," she said.
Shahenshah Jahangir, national secretary of the Indian Union Muslim League, said Ishrat was right about the misuse of triple talaq. "Sharia does not approve instant triple talaq. But moulavis mint money out of marriages and divorces. So some of them encourage instant talaq," he said. "But divorce is a reality. The government wants to create a divorce law like they did with the Hindu Marriage Act. Hindus accepted that because they do not have a divorce law in their religious rules. But talaq exists in Quran and so Muslims cannot accept the government rule," said Jahangir.
The All India Muslim Personal Law Board (AIMPLB), too, objected to the move to criminalise triple talaq, although it conceded that the provision was misused. "But there are family courts and grievance cells. Why would the government formulate a divorce law for Muslims, while it is already there in our sharia?" asked E. Abubacker, founder member of the AIMPLB and chairman of the Popular Front of India. He said the Supreme Court had not called for banning customs based on sharia. "So how could the government make divorce an offence? Has it understood the implications of such a law?" he asked.
The Muslim Personal Law Board clarified that of the 2.8 lakh divorces happening annually, only 0.05 per cent were instant triple talaqs. "Educationally backward regions are prone to this. In educated societies, it does not take place at all. But we still don't support instant triple talaq. What the government is doing is against the laws of the Muslim Personal Law Board and sharia," said Dr Asma Zehra, the only woman executive member of the board.
Zehra said talaq had been practised for the last 1,400 years. "Now the government would like to set up its own divorce law which sharia could not accept. We will strongly oppose any such attempt," she said. When asked about the Supreme Court's directive to frame a law against instant talaq, Zehra said the government should have consulted the Muslim Personal Law Board. "The president of the board wrote to the prime minister for a discussion on the issue. But the prime minister did not respond. Forget talking to the Muslim Personal Law Board, the Central government did not even talk to opposition parties or key allies. It was so arrogant and ruthless," she said.
Zehra said Muslim women were treated well by the Personal Law Board. "Sometimes divorce is a necessity. But women can remarry three months after talaq and the responsibility for looking after the children will be on the husband, not the woman. We are so liberal."
Ishrat, however, refuted Zehra's claims and said the Muslim Personal Law Board failed miserably to protect women. "All these years, the board did nothing to protect women from triple talaq. We all talk about women's safety. But a woman is most unsafe at her home," she said.
Is the BJP the right choice? Other than banning triple talaq, the party has several other things on its agenda, including building a temple in Ayodhya and enforcing a ban on beef. "I know all that," said Ishrat. "But for Muslim women, all such matters are secondary. The primary issue is to protect our honour and the BJP does that." She also revealed her ambition to contest elections. "I have seen enough politics. Now, let me be a part of it."