The most guarded Indian secret is finally on its way out. But no skeletons have tumbled out yet. Prime Minister Narendra Modi's gift on Subhas Chandra Bose's 119th birth anniversary—100 declassified Netaji files—is pure officialese. At best, it is a treatise on dealing with a potential hot potato: bury it in bureaucratic murmuring. Revealing, the files were not. Nor were they enlightening, or even potentially embarrassing. Especially for Jawaharlal Nehru. The declassification of the files—that came with the breathlessness over an awaited Harry Potter instalment—is like J.K. Rowling's book for adults with Cormoran Strike, less mystery, more atmosphere and few answers.
There are no 'anticipated' records, such as Bose fleeing to Russia or being declared a war criminal. There is no hint of the drummed up Nehru conspiracy, either. (There have been theories galore that Nehru feared Bose's popularity and 'kept him away'.) Despite the large volume of the papers declassified, there is not one shred of new evidence that brings closure to the mysterious disappearance of Bose.
That is, after probes by three inquiry commissions. Two of them—Shah Nawaz and Khosla commissions—concluded that Bose died in an air crash at Taipei, Taiwan, on August 18, 1945, and that the remains preserved at the Buddhist Renkoji temple in Tokyo were of his. The third, the Mukherjee Commission, rejected the theory, as it found no official record of such an air crash in Taipei. (The UPA government rejected the report in 2006, as the commission had failed to produce counter-evidence that the ashes were not Bose's.)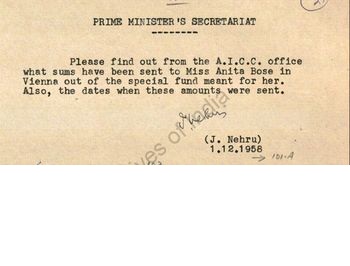 Indian governments have been paying the Renkoji temple for the upkeep of 'Bose's remains', but they avoided bringing the urn back and honouring it. (The Union government, in 2006, had approved a payment of 50,000 yen to the temple via former prime minister Manmohan Singh's wife Gursharan Kaur.)
Despite repeated demands from Bose's Germany-based daughter, Anita Bose Pfaff, no DNA test has been done on the remains in Tokyo. Files show that the Renkoji temple priest had given consent to the test in 2006.
"I was first against it [DNA test]... but as the issue went on and on in India, I changed my mind,'' says Anita, who was three years old when her father disappeared. "A specialist saw the pictures [of the remains] and said that there was a jaw. He said the person who had been cremated had a tooth missing. A reliable source told me that my father had a tooth extraction two or three days before his disappearance." The files clearly show that almost all Indian prime ministers, from Nehru to Manmohan Singh, who was advised to delay 'the decision' because of socio-political sensitivities, grappled with the Bose dilemma.
Any move to claim the remains at the temple would imply that India officially acknowledges that Bose died in the air crash. And that was a tricky proposition, as some members of the Bose family, the Forward Bloc and Netaji fans disbelieved the air crash theory. It could stir up public sentiment.
Over the years, the Japanese have been nudging India for 'action'. Kazuo Azuma, former professor at Visva Bharati, wrote to the Indian mission in Janapan on October 23, 2006 that "the patience on the part of the temple is fast thinning out. It is simply unfair and unwise to defer the repatriation year after year."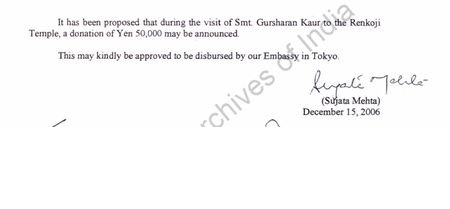 Singh considered shifting the ashes to the Indian embassy in Tokyo, and a note was sent to national security adviser M.K. Narayanan and foreign secretary Shivshankar Menon. The situation had become so delicate that it was said that Japanese Prime Minister Shinzo Abe would take up the "issue" with Singh, as the remains could not be in Japan "indefinitely".
However, nothing emerged out of it. Shifting the remains from Renkoji temple to the embassy, noted a file, "will make explicit what has been implicit" and that "will certainly generate controversy in India".
The Narsimha Rao government, too, wanted to bring back the remains. But, an Intelligence Bureau input stated that even though the Khosla Commission "described the various stories circulating about Netaji as hallucination helped by wishful thinking'', the situation on the ground could turn volatile.
The findings "are not accepted by members of Subhas Bose's family or the rank and file of the Forward Bloc, which was founded by Netaji... if the ashes are to be brought, they have to be enshrined with due honours either at Delhi or Calcutta, and this would create further complication," notes a 1974 file.
"He was a martyr,'' says Sugata Bose, Netaji's grandnephew and Trinamool Congress MP. "It was a tragedy, but it was a glorious death. He laid down his life fighting." The Harvard historian scoffs the Modi government's concept of releasing 25 files every month. "This is not wikileaks," he says.
The Bose family has been divided over his death for long. For one, Sarat Bose, Netaji's elder brother, refused to believe the air crash theory. "In some families, it is about who gets more money. In ours, the competition was over who was closer to uncle,'' says Anita.
"He [Netaji] was, somehow, superhuman,'' points out historian Ramachandra Guha. "It is their love for him."

Sugata's father, Sisir Bose, who had driven his uncle to freedom when he was under house arrest in 1941, refused to believe the crash theory. "But later when he went to Taiwan and collected evidence, he was convinced. He was sad that we had not brought back his mortal remains,'' says Sugata. "There is always feeling vs evidence. In 1997, Gurbaksh Singh Dhillon [who was a top officer in Bose's Indian National Army] made a passionate appeal to bring back the urn. He wanted to worship the remains."
The Forward Bloc, which was founded by Bose, too, has refused to believe the crash theory. It refused to see anything beyond the revolutionary in Bose. As in a letter sent to Nehru stating that it was foolish or an English conspiracy to even insinuate that Bose could have been married or had a daughter.
The party even protested the release of Shyam Benegal's 2004 film on Bose, The Forgotten Hero. The idea that Bose fell in love, wrote letters to Austrian Emile Shenkl (whom he later married) and had a child was unfathomable. "Yes, he can't have sex, get married or have a child, and poor man, he can't even die!'' quips Anita. At one stage, Anita wanted to stake claim of the remains. "I could take the urn to Vienna, where my mother is. But it would end up in an ordinary tomb. Since it is in Japan, it is at a temple and more dignified."
The biggest tragedy is that it is Bose's death that matters more now than his life. Or what he stood for. "It annoys me," says Anita. "He should be remembered for his contributions to India."
Letters of truth
By Mandira Nayar
If one myth that the Netaji files did bust, it is the Nehru-Bose rivalry. Just as Prime Minister Narendra Modi pressed several hundred buttons to officially launch the era of transparency on the files, a letter written by Jawaharlal Nehru calling Subhas Chandra Bose a war criminal, went viral on social media. Riddled with spelling mistakes—Attle instead of Attlee, for instance—and historical inconsistencies, the letter couldn't have come from Nehru, who was particular about his English. It had glaring mistakes—Attlee is referred to as the prime minister of England, not Britain. Also, in 1945, Nehru was just the leader of a political party, and it is questionable in what capacity he would have written to the British prime minister. Britain had never declared Netaji a war criminal.
The letter has been widely discredited as phoney. Sugata Bose, Netaji's grandnephew and Parliament member, has said it was fake. So did historian Ramachandra Guha, who minced no words when he described it as a "massively botched up attempt by the ruling party". The declassified files, in fact, offer a view other than the propaganda. There are a series of letters of Nehru planning Anita Bose Pfaff's trip to India, insisting that she would stay with him and checking with Bengal chief minister B.C. Roy the right time for her to visit. Nehru set up a trust for Anita with the Congress's money and followed up to find out whether the money had reached her. Another declassified document from the British archives on A.C.N. Nambiar, a close aide of Bose, reveals that Nehru was aware of Bose's daughter in 1942, long before the Bose family knew about her.
Bose and Nehru might have different political ideas but personally they were pretty close. "At the height of their differences Nehru, who was to travel to Calcutta, made a detour to see Netaji who was in the Chota Nagpur-Bihar border," says historian Mridula Mukherjee. "This was just after Bose wrote an angry letter to Nehru in public saying that he never took a stance. And, Nehru, in his disarming way, had said 'I think you are right'. The nature of their relationship was at a level that we can't imagine." Bose's Indian National Army, in fact, had a brigade named after Nehru.
It was Bose who arranged Kamala Nehru's funeral. He was with Nehru on the train when he travelled to the sanatorium when Kamala was sick. The papers reveal that Nehru had no patience for those who wished to malign Bose's name. There was a newspaper picture of Nehru and Anita that was captioned as Nehru and quisling's daughter. In a stern letter, Nehru reprimanded the man who did it. "Nehru used to stay with the Bose family whenever he went to Calcutta even when he was the prime minister," says Mukherjee. "The Bose family remembers a room which they called Nehru's room because he stayed there often.''
History and mystery
■ In 1939, following differences with Mahatma Gandhi, Bose resigned from the Congress and formed the All India Forward Bloc.
■ Protested Viceroy Lord Linlithgow's decision to declare war on India's behalf without consulting the Congress leadership.
■ Was imprisoned for seven days, followed by 40 days of house arrest.
■ On the 41st day, dressed as a maulvi, he escaped to Germany.
■ Asked Germany and Japan for their help in fighting the British.
■ In 1943, he revived the Indian National Army in Singapore with Japanese help.
■ The INA became the Azad Hind Fauj and expanded considerably.
■ It started functioning under the provisional Azad Hind government.
■ The army fought the British and hoisted the Indian national flag in Imphal, Manipur.
■ A counterattack took the army by surprise and it had to cede ground.
■ Bose left for Russia to seek help, but he died, allegedly in a plane crash in Taiwan.
■ The Indian government set up three panels to look into his death.
■ Shah Nawaz Committee (1956): The three-member committee, formed by Prime Minister Jawaharlal Nehru, concluded that Bose died in a plane crash. However, one of its members, Bose's elder brother Suresh Chandra Bose, did not believe the theory and refused to sign the final report.
■ Khosla Commission (1970): The one-member commission, created by the Indira Gandhi government, said he died in a plane crash.
■ Mukherjee Commission (1999-2005): The one-member commission, appointed by the Atal Bihari Vajpayee government, disagreed with the crash theory, saying oral accounts were unreliable. The government rejected the findings.