Sonia entered politics when the Congress was in crisis. And, as she recedes from the forefront, mainly because of health reasons, the party is at its weakest, with just 44 MPs in the Lok Sabha, and in power in just a handful of states.
On December 29, 1997, then Congress president Sitaram Kesri received a note from 10 Janpath. As he read it, his expression changed, and he almost jumped up from his chair at the party headquarters.
"Sab kuch khatam... woh aa rahi hain [It is all over... she is coming]," he blurted. Kesri knew his time as Congress president was up. The eight-line note heralded the entry of Sonia Gandhi into the heat and dust of Indian politics.
The Italian-born bahu of Indira Gandhi, through the note written by her secretary Vincent George, had announced her decision to campaign for the Congress in the Lok Sabha polls, to be held in early 1998. Kesri was shocked. After all, Sonia had, for seven years since the assassination of her husband, Rajiv Gandhi, maintained silence on the entreaties made to her by Congress leaders to take charge of the party.
Most Congress leaders were surprised, and those who had hoped Sonia would nominate someone else in place of Kesri were upset. The rival BJP, on the other hand, had to go back to the drawing board.
Thus began the political journey of Sonia. A few months later, she took over as Congress president.
This year, Sonia completes two decades in politics. And, THE WEEK, through articles penned by those who have closely observed her politics, traces her evolution as a politician, assesses her handling of the party and weighs her political legacy.
Sonia arrived in India 50 years ago as the bride of Rajiv in 1967. She found herself in an alien land. The customs were completely unfamiliar. So was the food, which she did not like. She had in her bag a return ticket that her father had given her in case she wanted to go back to Italy.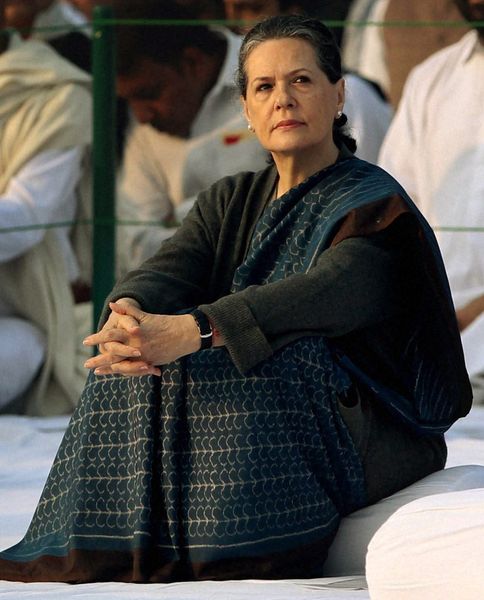 Thirty years later, when she took charge of the Congress, her opponents harped on her foreign origin. She also faced rebellion in her own party over her 'un-Indianness'. But it proved to be a non-issue for the masses. Senior Congress leader Ambika Soni says it is because Sonia has become the personification of Indian traditions. And writer Pranay Gupte notes in his article that Sonia's success is also a testimony to India's welcoming nature.
A fiercely private person, Sonia found herself in political centre stage. The beginning was tentative. She waved awkwardly at the crowds, read out from prepared speeches with a heavy accent and avoided the media. Her critics gleefully pointed all this out. But as senior Congress leader Mani Shankar Aiyar writes, "What was much less evident was her transformation into a politician of considerable guile and dexterity." And, the BJP underestimated her in the run-up to the Lok Sabha elections in 2004.
Sonia led the Congress to a surprise victory in 2004. The coalition of regional parties she stitched up contributed to the win. It was a vote for Sonia. However, yet again, she stumped everyone, declaring that her inner voice did not allow her to become prime minister. She nominated trusted leader Manmohan Singh to the top job. She turned sacrifice into stratagem. It kept her over the fray. Her critics say it gave her power without accountability.
Senior journalist Sanjaya Baru, who was media adviser to Manmohan, writes that Sonia's aim was to facilitate the political rise of the next generation of the Nehru-Gandhi family. ".... the historical verdict may finally well be that she saw her role as that of Queen Regent, holding fort till her son was ready for dynastic succession."
Sonia instead became chairperson of a newly created body called the National Advisory Council. Its members were mainly drawn from the civil society, and the NAC came to be known as the 'super cabinet'. Its recommendations were binding on the government because of the influence Sonia wielded. However, through the NAC, she put in place a rights-based legal framework.
Social activist Aruna Roy, who was an NAC member, writes that history will credit Sonia's leadership in steering the law and for promoting more open and responsible governance. "Once a decision had been taken in the NAC to make a recommendation, Sonia Gandhi stood by it and made every attempt to advocate its implementation," says Roy.
For ten years (2004-2014), when the Congress ruled at the Centre, Sonia was the most powerful person in India. As she grew in stature, comparisons between her politics and that of Indira were natural. In her early days in politics, Sonia emulated her mother-in-law, including the way she draped her sari or wore her watch and even speech delivery. However, Sonia was cast in a different mould. THE WEEK's resident editor K.S. Sachidananda Murthy writes that while Indira would split the party in the face of rebellion, Sonia waited it out or used the resignation weapon to retain control.
As Sonia matured in politics, she used the sari as a metaphor and a medium, as Indira had done, writes crafts activist Laila Tyabji.
Over the years, Sonia won the admiration of political rivals. Senior BJP leader Yashwant Sinha recalls that Sonia as leader of opposition was no match to prime minister Atal Bihari Vajpayee. "She did lose out in some debates, but soldiered on undeterred," he writes.
Taking charge of the Congress, Sonia worked to strengthen the organisation, and under her, a formidable leadership was established in the states, with the likes of Y.S. Rajasekhara Reddy, Sheila Dikshit, Digvijaya Singh, Ashok Gehlot and Capt Amarinder Singh. However, over the years, she has been criticised for relying too much on her coterie at the cost of senior leaders who felt sidelined and even left the party.
Sonia failed to revive the party in the Hindi heartland. Uttar Pradesh and Bihar appear lost forever, while the party has not been able to wrest Madhya Pradesh and Chhattisgarh back from the BJP. She had entered politics when the Congress was in crisis. And, as she recedes from the forefront, mainly because of health reasons, the party is at its weakest, with just 44 MPs in the Lok Sabha, and in power in just a handful of states.
It is a time of transition in the Congress. Sonia will soon hand over the reins of the party to son, Rahul. The 70-year-old leader has few official engagements. And for all practical purposes, Rahul is taking decisions.
Recently, when a senior Congress leader asked Sonia about her post-retirement plans, she simply smiled. She still likes to keep people guessing. However, she is not retreating to a cottage in the hills. Not yet.