"The NSCN (K) is planning a major offensive against Indian forces in the coming days. It is on an overdrive to recruit youth and children" - Kirro, minister in the NSCN (IM)'s government in exile

"I loved being an NSCN (K) soldier. I wanted to fight for Nagalim. But I came back seeing my mother weep" - Tepuho Kharisto, 17

"I am afraid to step out of home after evening. In the school, too, I keep looking around to see if they [the ultras] are coming" - James Pethury, 13, who was freed from a training camp, after village women threatened mass suicide

"Can't the Army send special forces to rescue the children held in Myanmar? "It is too big an issue, and the Central government has to take a call on it," says an Assam Rifles officer.
Something gives me an eerie feeling that I am not welcome here. The beautiful weather and landscape of Nagaland seem to be having terrible mood swings.
The November morning fog is thick, and gnarled branches of old trees flank the road. Naturally, I do not have a smooth drive. At every unexpected halt, I tell myself: "I must find Tasi."
Finally, I reach Zakhama, the largest village in Nagaland. I am looking for Vikhozoto Tasi, 17.
Well-fed street dogs lazing around a thatched hut prick up their ears as I approach. They bark and snarl. Some charge at me.
I plead with a villager to save me from the mongrels, and, thankfully, he chases them away. But his eyes follow me, as I knock Tasi's door. For, Tasi is no ordinary teenager. He had picked up the gun, an AK-47, against the Indian armed forces at the age of 12.
The boy, wearing shorts and a T-shirt, opens the door. When I request an interview, he pauses for a moment and starts laughing. The laughter does not last long, though.
The fear is palpable as he wraps himself in a blue blanket. Tasi is a deserter—he fled from a training camp of the Nationalist Socialist Council of Nagaland (Khaplang) in Shasheen, Myanmar, in 2013, when he was 15. The NSCN (K) has been in the forefront of the armed anti-India insurgency in the region.
It was not disillusionment; Tasi had fallen in love. He fled the camp to marry the girl, and, today, they have a newborn.
Tasi knows he has earned the wrath of his former bosses in the Khaplang group, which is under the scanner of Indian intelligence agencies. (The National Investigation Agency has declared a bounty of Rs.20 lakh for any information on the group's chief, S.S. Khaplang.)
"Saab, please do not put me in trouble," says Tasi, trembling. "The NSCN (K) has told me to rejoin it. But, I don't want to go, as I have a baby girl now."
"So, will you take up arms again if you fail to convince them?"
"Yes... I will have to," he replies.
On learning that a stranger has been talking to Tasi, the villagers come rushing to the hut. "Who are you? What business do you have here? Please don't disturb him," shouts Mouhilto Kirre, who leads the crowd.
As I convince him about my intentions, Kirre, a health activist, warns that Tasi is a symbol of rebellion for many Naga boys in the village.
"Tasi took up arms and came back on his own. No one rescued him. If the Army or the police try to arrest him, we will prevent them," says Kirre. And he means it.
Tasi and Kirre belong to the Angami tribe, which once thwarted British attempts to invade Nagaland and merge it with colonial India. "You know what our tribe is made of. We can fight anyone," cautions Kirre.
Tasi looks perplexed. He bows his head and talks to the fellow villagers. Then, he calls me inside his hut. I am told to sit down on the mud floor of his kitchen, among a gas cylinder, an earthen oven and a basket full of cooking utensils.
Tasi did not join the ultras to fight for Nagalim (a free Naga country). It was the scarred mind that took him to the jungle camps.
Tasi's father, Fauldon Tasi, an information officer of the Nagaland government, has 17 children. The boy was furious that his father forced his mother to give birth almost every year since marriage. She died after giving birth to the 17th child in 2009.
"My father remarried after that," he recalls.
Though booze is not easily available in Nagaland, Tasi started drinking at age 10. He used to return home at night and blame Fauldon for his mother's death.
One such night, Fauldon hit Tasi's head with a sharp-edged stick. The scar above his left eyebrow is still visible. "I left home," says Tasi.
His father, like many Nagas, used to hunt deer. So, the house had a couple of hunting guns. Tasi picked up one and headed to the woods—across the border, in Myanmar.
Despite there being Army units just a stone's throw away, the boy fell prey to an illegal liquor racket, which took him to an insurgency camp. An AK-47 replaced the hunting gun.
"I stayed in the camp looking after the 'officers'. I used to polish their boots and serve them food on time. At times, I even cooked for them," recalls Tasi.
The boy says, like many Naga people, he believed the insurgents were fighting for a good cause—to free Nagaland from India. He, in fact, yearned to be part of an encounter.
Tasi was soon recruited as a 'child soldier' of the NSCN-(K). On the first day of the training, he was told to bite a bullet and take an oath: Even if he had to kill his parents, he would continue rebelling against India.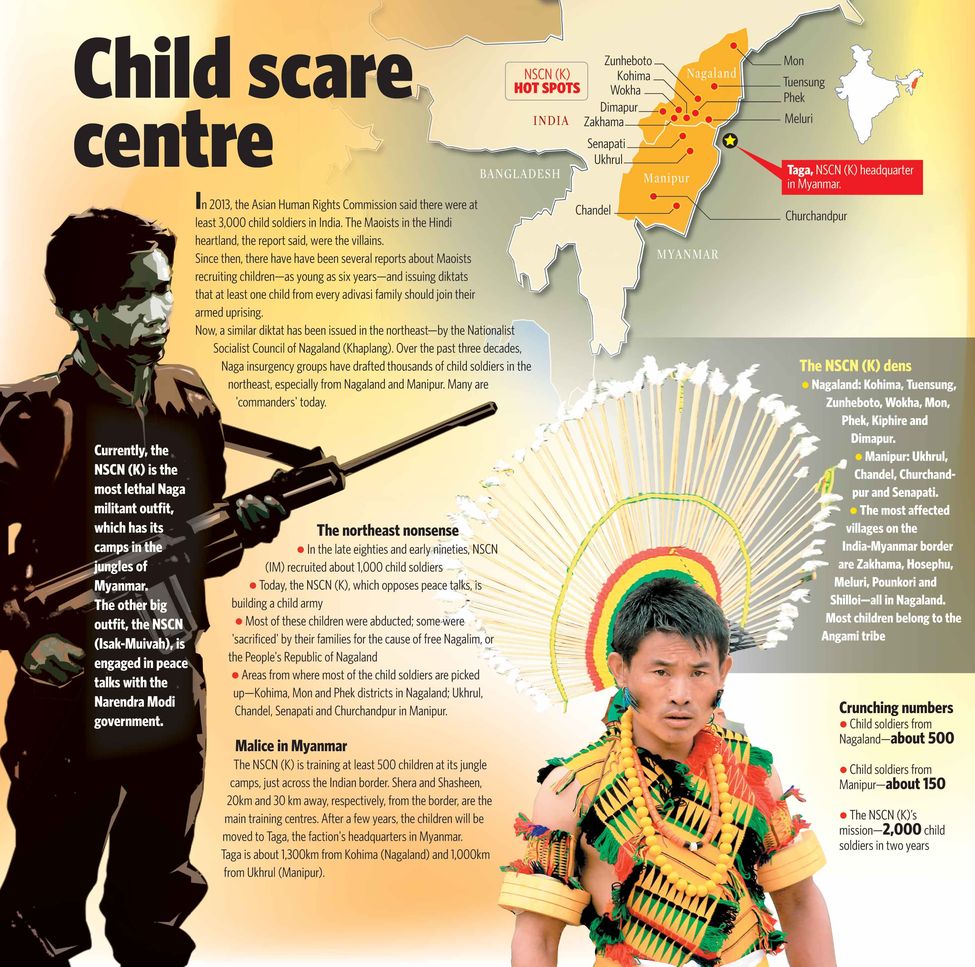 "I liked the oath because I wanted to kill my father," he says.
Just 4km away from Tasi's hut lives Tepuho Kharitso, another ex-child soldier, in Aao hamlet.
When I try to meet Tepuho, the villagers turn irate. They surround me, restrict my movement and warn me not to disturb the ailing boy.
Eventually, an interaction with the boy takes place in the presence of villagers. What's his ailment? Tepuho says he is yet to recover from the torture inflicted by seniors at an NSCN (K) camp in Myanmar.
The youngest of four children, Tepuho, 17, was brought up by his mother, Wotsole, as his father had died when he was just two years old.
Tepuho joined the ultras in 2009. He loved the Naga militants, and considered them "freedom fighters".
Yet again, however, it was a scarred mind that led him to militancy. Tepuho faced stringent punishment at home—100 sit-ups—as his school principal complained about his absence from classes. His sisters, too, gave him a mouthful.
Dismayed, Tepuho left home, and a "friend" took him across the border, promising a bright future.
"I understood that I was being taken to underground outfits. I was really excited," says Tepuho. "I joined a camp at Shera in Myanmar, about 20km from the border. Though I was not happy about the oath, as it was about killing my mother, I took it."
Both the boys—after training for a year—were engaged in warfare. Tepuho says he was part of an encounter that killed Assam Rifles jawans. He also saw his close friends, teens like him, get killed in the counter-attack.
Besides encounters, Tasi was engaged in abducting children. "I was ordered to bring more children to the outfit. I had to do it," he says. Else, he would have been severely punished.
Punishment included being fastened for more than 24 hours, beatings, slaps and kicks.
Recalling the torture, Tepuho breaks down. He used to get kicked in the buttocks almost every day—for waking up late or arguing with seniors or demanding extra food.
Even a year after his release from the camp, Tepuho cannot sit properly. He lies on the bed most of the time.
"My rear is like a ripe tomato—swollen and reddened like you see in some monkeys," he says.
Fearing such punishment, Tasi, with the help of the NSCN (IM) that is engaged in peace talks with the Union government, took five boys and three girls—all minors—to the training camps. Only one girl, who stays near his hut, has managed to return.
The Khaplang camp freed Sumi, who was picked up at age 12, after village women pleaded with the militant chieftains. Now, she is 16 and married.
As I walk towards Sumi's house, the villagers turn abusive. They form a human wall in front of me. One of them points a gun at me and threatens to bump me off if I take another step forward.
Tasi faced no such hurdles while kidnapping Sumi. He picked her up while she was returning home from school and took her to the woods in a car.
Tasi abducted another girl, Afino, from Zakhama a few months later. But, she transformed his life.
"One day, after an encounter, we fled from a forest close to Dimapur," he recalls. "In that encounter, I lost my one of my friends. I returned home with Afino. I wanted to marry her and live a normal life." Tasi's family disowned him, but the villagers adopted him.
In the case of Tepuho, it was his mother's tears that brought him back to normal life. Last year, Wotsole crossed the border and reached Shera after walking for two days. The identity of being an Angami tribal worked for the Wotsole, who begged 'Brigadier Nick' of the NSCN (K) for her son.
"The same Brigadier Nick, who often kicked me, let me leave the camp. But I did not want to return," says Tepuho. "I loved being an NSCN (K) soldier. I wanted to fight for Nagalim. But I came back seeing my mother weep."
Once his mother is no more, he would go back to NSCN (K) again, says Tepuho. "They call me even now, and I have promised them I will be back," he says, getting up from his bed, clutching a pillow, to light a bidi. "They are genuine people fighting for our well-being, deprived of all good things in life."
The NSCN (IM) leadership admits that many children from Nagaland and Manipur are being trained in militant camps across the border.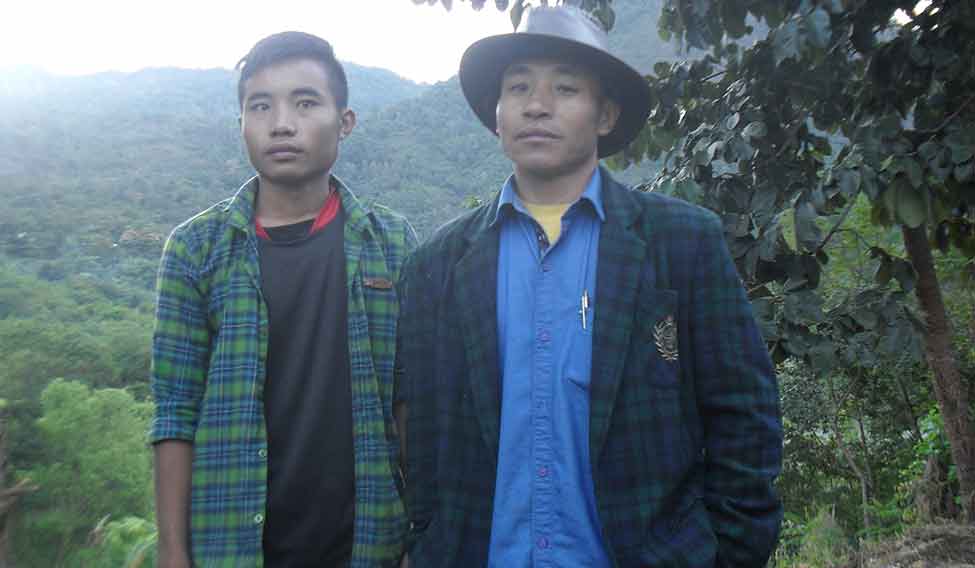 Kirro, a "senior minister" in the NSCN (IM) 'government-in-exile', drives down in a Mahindra Bolero to meet me at an undisclosed location. An armed bodyguard and a secretary accompany him.
"Yes, children have been the backbone of the Naga insurgency," says the tall and lanky minister, nonchalantly. "Many senior commanders of today had joined as children."
The NSCN (IM), headquartered at Hebron near Dimapur, has embassies in 13 countries, including the US, Thailand, South and North Koreas and Malaysia. "Though it has not yet declared a government in exile, the NSCN (K), too, has embassies in those countries," says Kirro.
The NSCN (K) is the largest child soldier recruiter, he says. It is currently on a mission to recruit 2,000 boys and girls to fight the Indian forces.
The outfit recently drafted about 500 children from the border areas of Nagaland and Manipur, says Kirro. They are currently undergoing training in Myanmar-based camps.
He also reveals that the NSCN (IM), too, is building a young cadre base in Assam, Arunachal Pradesh and Manipur. The group's ceasefire agreement exists only in Nagaland, he clarifies.
The Narendra Modi government has asked the NSCN (IM) leadership to convince S.S. Khaplang that he to declare ceasefire and come for talks. "But Khalpang told us he was not interested," says Kirro, who works as a 'liaison officer' with other NSCN outfits in Nagaland and Manipur.
In fact, the NSCN (K) and like-minded Naga outfits have now become more aggressive, especially after the Indian Army's retaliatory strike—Operation Hot Pursuit—inside Myanmarese territory in June this year.
The NSCN (K), warns Kirro, is planning a major offensive against Indian forces in the coming days. It is on an overdrive to recruit youth and children, he adds.
The outfit has, apparently, launched a campaign in the border districts of Nagaland and Manipur to ensure that at least one child from every family joins its cadre. Families refusing to yield must pay a huge ransom.
"The villagers are impoverished; so they are forced to send their children," says Nagaland-based social activist Khotose Nuku. "The Army or the government never intervenes."
The Army and the state administration pass the buck. "The state administration and the police have failed to check the menace," says a senior officer of the Assam Rifles. "How can a force engaged in counter-insurgency be blamed for abduction of children? This is a law and order issue. We can help only if police approach us."
Surhozelie Leizietsu, president of the Naga People's Front, which rules Nagaland, says, "I think the state government alone cannot do these things [prevent abductions], which are spread across the northeast. We need a strong plan involving the Central government."
The whole border region, apparently, has developed a fear psychosis. Every family lives in the fear of abduction. Notably, the Army and the government machinery have little presence here in these areas.
"Even when they release children from training camps, the militant chiefs warn villagers that the recruits would be abducted again, whenever required," notes Nuku.
Nagaland's Phek district, about 200km from Kohima, has 'lost' at least one child every night in the past four months.
Reaching Phek is an uphill task. I start my journey from Kohima early in the morning and reach Melur late in the evening. Rocky would be understatement for the road's condition.
Melur is a small town which divides Phek and Manipur's Ukhrul district. It is, local people say, a free zone for almost all Myanmar-based anti-India outfits.
Here, I meet James Pethury, who was among nine boys abducted in March this year. James and his friends were watching the Hindi film Jamai Raja when NSCN (K) militants raided the house.
The militants in army fatigues took away the boys, holding the house owner at gunpoint. They were shoved into a jeep and taken to Avaku village, which borders Myanmar.
An Indian Army patrol team intercepted the vehicle. Two of the seven militants were killed in the firefight. The rest fled with the boys.
James and his friends were taken to a camp about 10km inside Myanmar. Next morning, they were to made walk another 10km to the main training camp in Shera.
James, 13, is the only one who was freed, after a group of village women crossed the border and marched to an NSCN (K) camp in October this year. They threatened to commit mass suicide if at least three boys who were under 15 were not set free.
"They left James just because he was the youngest among them. We are trying to bring back the others," says Agastu Tavare, wife of the village elder in Meluri. "The Indian Army refused help, saying that the boys were in another country. Just imagine the pathetic scene."
Can't the Army send special forces to rescue the children? "It is too big an issue, and the Central government has to take a call on it. It is not in our hands," says the Assam Rifles officer.
The women initially do not let me anywhere near James. But, later, I meet him inside a medical shop. "I am afraid to step out of home after evening. In the school, too, I keep looking around to see if they [the ultras] are coming," says James, who is in Class VI at a local government school.
The boy seems to be suffering from post-traumatic stress. At the Shera camp, he saw many boys from Nagaland and Manipur. "All of them were holding guns," he says. "One 'officer' told one of the boys to help me pick a gun. I could not, as it was it was very heavy. Hence, I would have to be trained for a longer period, they said."
Another group of 12 boys were recently abducted from a remote village in Pounkori, which lies close to the Myanmar border. The village, about 80km from Meluri, is in the middle of a jungle that sprawls into Myanmar. The local people call it an NSCN (K) den.
My driver throws his hands up. "I am not coming to that jungle," he says, vehemently. After rounds of persuasion at a local tea shop, he agrees to take me, half-heartedly. Out of sympathy, perhaps, a villager volunteers to join us.
As we move into the uncharted territory, the temperature starts plummeting. According to my smartphone, it is 9 degrees Celsius.
As we go deeper into the jungle, the mobile network coverage fluctuates. The last call I make is to a friend in Manipur: "Please inform the security forces if I don't return tomorrow."
A few minutes later, just like one sees in films, the vehicle breaks down. The villager and I start walking in the darkness, while the driver stays back to repair the vehicle. It is about 9pm, and the temperature continues to drop—it is bone-chilling.
Fear sets in. What if we are ambushed by militants? What if we are attacked by a leopard? "Don't worry, sir. I am armed," reassures the villager with me.
We walk for almost 15km, with short stops at isolated huts on the way. One gracious host offers black tea; it is a godsend.
The driver finally catches up with us as we are about 10km from the village. We reach at about 11pm, and find an almost-abandoned state government guest house, where some local villagers are having a drinking session.
The ultras recently abducted 12 boys from this village. Only three of them have returned. Leytsathu Tavare and his friend Haki Tavare are among them. A gang of six friends were celebrating Haki's 13th birthday at his house. The heavily armed ultras barged into the evening bash and whisked away the friends.
"We are living at the end of this country. Why are you bothering us?" asks Leytsathu's father, Ashelo Tavare, when I seek an interview. "Our boys could be lost anytime even now."
Ashelo, who is a member of the Naga People's Front and heads the village council, says he sought the Army's help to rescue the boys. "But no one did anything," he says.
He puts his arm around his son's neck and adds, "He is back just because I, too, am a sympathiser of the Naga cause."
Ashelo gave his word to the militants that the NSCN (K) could take the boy once he became an adult.
"How can a child die in a war?" he asks, with moist eyes. "If they want to take my son, they can once he grows up."
An emotional Ashelo does me a favour. He lets me stay in the guest house. (The last time a government official visited here was in 2010.)
He brings cooks, too—Leytsathu and Haki. The hands that fired Kalashnikovs now cook rice, chicken and vegetables.
"The first thing they told us at the training camp was that we needed to learn how to stay hungry for long hours. We remained so for many days," says Leytsathu. "The next training session was how to cook."
Leytsathu and Haki are today in Class VII in a local government school. Until some days ago, they were on "border duty" in Myanmar, "firing indiscriminately" at any movement from the Indian side.
"Yes, we fought for them against your country," says Leytsathu, who refuses to accept the fact that he lives in India.
I start realising why I felt unwelcome in this part of the world.
Interview/ Kirro, minister, NSCN (IM) government in exile
Khaplang is the biggest child soldier recruiter
When did you join the NSCN (IM)?
In the eighties; I was moved by the call for free Nagalim.
What's your portfolio?
Sorry, I cannot reveal.
Don't you feel the peace talks with the government of India would be meaningless without the NSCN (K)?
I won't say it is meaningless. But without the faction's participation, complete peace will not be possible.
Are you trying to bring them back to the talks table?
Yes, we are. We approached Khaplang after being asked by the government of India. Indian Prime Minister Narendra Modi wants to talk with him. But [S.S.] Khaplang has refused to come. He alleges that while his group had declared ceasefire for long, the government did nothing to make headway in talks.
Did you speak to Khaplang?
Yes, I did.
What did he tell you?
He said he would never come to India and be part of talks. He is not an Indian, but has not taken up Myanmarese citizenship either. He said he would be a citizen of only a Naga country. He, however, is pressing for more autonomy from Myanmar in his region of operation, and would act against India from there.
Many children from Nagaland and Manipur are being recruited in camps in Myanmar.
Yes, it is happening. Today, NSCN (K) is the biggest recruiter. They want to take them young.
Is NSCN (IM) also on a recruitment drive?
Yes, but not children. We did that in the past.
Who are your recruits now?
The youth. In many parts of the northeast [except Nagaland], we are not in ceasefire. We are still fighting.