Victoria Park is an oasis, with emerald green grass and greener guava trees. For Meerut—a brown, congested and untidy city in Uttar Pradesh—it is the field of dreams. This ground has spawned some Indian cricketers, including Praveen Kumar, but it has also been at the heart of the dream that is India.
At the centre of the ground is a platform, where members of the Indian National Congress sat huddled for their last session before independence. Party president J.B. Kripalani had then laid out his blueprint for the Hindustan he envisioned—it would have equality, a transparent justice system and textbook democracy.
A plaque at the base of the platform has 84 names engraved in Hindi. Aichu Mian reads out the names loudly. His real name is Ashraf Ali, but the nickname stuck after his cousin once called him that. "You will notice a pattern," he says. "There are 49 Muslims. We fought side by side. This was India," he says. His family has lived in Meerut for more than two centuries and has connections that link them to the history and politics of the land. "Indira Gandhi's first meeting after Emergency was held here. I helped organise it,'' he says. Her helicopter broke down and Aichu Mian gallantly drove her to the next town in his Jeep.
Meerut has always been a microcosm of India. This is where the battle for freedom began—with the sepoy mutiny in 1857—and this is where the fight culminated before independence. This quiet cantonment town, which has now grown into a bustling city, has always reflected the trends that shape India, including the deep divisions. There have been riots. There are even riot jokes, says Amit Pathak, a radiologist with a passion for history. Pathak has lived outside Meerut for many years, returning to the city as he is the only son. "It was so common that if there wasn't a curfew imposed, we would often wonder how come? It was like growing up in Kashmir," he says. "Life would go on as normal."
A long-running tale goes thus—a man gets caught by a mob, which demands to know whether he is Hindu or Muslim. The man insists he is Muslim. He is carrying a tiffin carrier. So, to test whether he is telling the truth, the leader of the mob opens the box to find okra. The crowd is convinced that, as he has okra, he is Hindu. They lock him up. He manages to get out and finds his friend—a Muslim—who convinces the mob that he isn't a Hindu. The tale is a commentary on the kind of stereotypes that persist. On both sides.
"They [riots] are politically motivated," Aichu Mian says emphatically. "People don't fight with each other, they are made to do so. These are engineered." He comes from a fading generation that seems a little dazed by all the changes that have come. On his hand is a red, sacred thread worn by Hindus. His family has intermingled over the years and has become a mosaic of both religions. "The girls who came in have remained Hindu and the girls who went out have remained Muslim. Religion is never mentioned, but it still exists," he says.
His house is in the centre of the city, the busiest and oldest part of Meerut, where his family has lived for generations. In the past two decades or so, his neighbours have moved out. The Hindus were replaced by Muslims. Says Pathak: "Earlier, Hindu and Muslim localities used to border each other. There was a Muslim colony and it would open out into a distinctly Hindu locality. Now, most of the inner city has become Muslim and the Hindus have moved outside to the outskirts. This demographic shift is worrying."
The last major riot in Meerut was in 1987. It tore the city apart. Things have never been the same again. The survivors remember people who saved them—they talk about it in a distant, academic way. The development thereafter followed the same lines of segregation. "The developers continued to ensure that the distances remained," says Zishan Khan, a Meerut resident. There is increasing polarisation. Hinduism has become more visible and all encompassing. As has Islam.
The divisions that were only undercurrents were cemented as the city expanded. Along with plush floors and bedrooms, builders also promised the safety of living in a ghetto. It was the beginning of liberalisation and the country moved forward, forging the two communities together with commerce, yet separating them socially.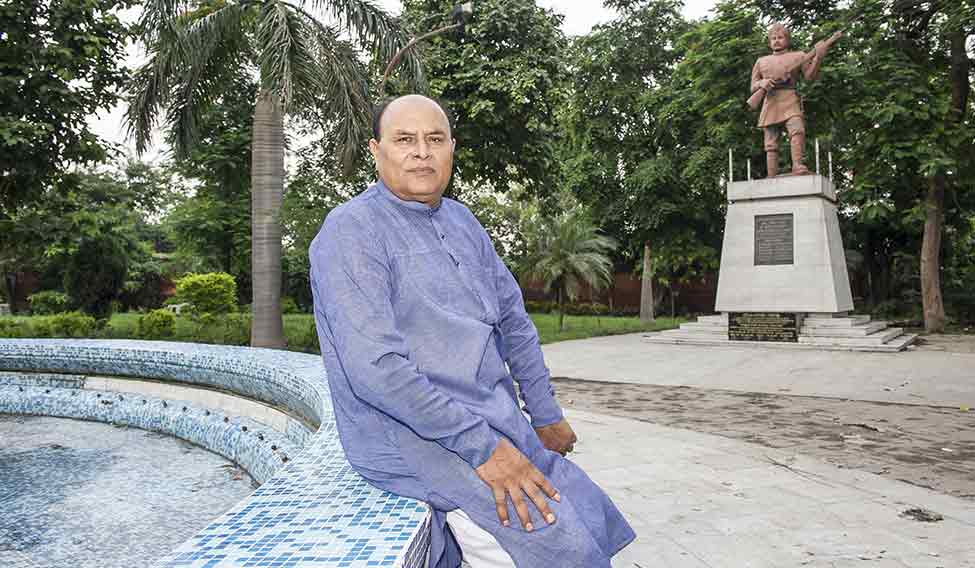 However, there are still enough people who don't care about which god one worships. "We still consider the wife of our tenant part of our family," says Khan. "She kept an eye on my children when I used to tour a lot. At that time I had an export business. She is the elder of our family." He still believes that the politics of polarisation plays a huge part in Meerut. But, ultimately, it is the people who can make a difference. "It is still a small town," he says. "We know each other. Yes, there is suspicion, but we are all bound by love."
Yet, ghosts of the past continue to loom large. Quips Ved Prakash 'Vatuk', a poet and the brother of a Gandhian: "My father tried to give us sanskar (tradition and values), but the parents of this generation think of only car." He left India, spent years in Berkeley, California, and returned to find his city changed beyond recognition. The rapid growth apart, the city's character had been altered. "I used to live in a neighbourhood that was only Muslim," he says. "Now my Muslim friends won't get a house to live in."
With the advent of social media, the situation seems to have become worse. "That's all you see now," he says, sadly. The fear is genuine. In the 1987 riots, the poet Bashir Badr's house was burnt down. He lived in a mixed colony. It is these deliberate divisions that have become deeper. The change, he believes, came after the demolition of the Babri Masjid in 1992. "That was the time the people we thought were friends turned. We thought they were secular," he says. "Hatred came out in the open."
Says historian K.D. Sharma: "The city has developed into these quarters. There have been no riots in the past few years. But that doesn't mean that religious fanaticism has become less. We are willing to share a plate, even a cigarette, but the distrust is more." Over the years, Sharma has carefully ensured that Meerut's history doesn't turn to dust. He lives in the newly developed Shastri Colony, a predominantly Hindu region. He restored the platform at Victoria Park and is quick to bring up historical references during our conversation. There is still interaction between the two communities. Commerce ensures that. Says Sharma: "The car mechanics are Muslim, 99 per cent of the vegetable and fruit vendors are Muslim. If you want to work with iron, again the chances are the person will be Muslim. So are the weavers, but the sellers are Hindu. Riots don't make commercial sense."
This pragmatic reason apart, there is a poetic bond. Religion divides, but rituals unite. The man who makes the figure of Ravan for Dussehra is a Muslim. The man who makes vessels for pilgrims to carry water across the state during a monsoon pilgrimage is also a Muslim. The bond does exist, but it seems to have lost its symbolism.
The riots used to be limited to the city, but now have spilled into the countryside. "If there was a riot in the city, Muslims could be guaranteed that they would be safe in their villages. But now there are divisions even here," says Pathak. "I remember a friend who is Hindu and lived in a mixed locality. His neighbour who was Muslim kept him safe. The mob came at the door to demand that he be produced; his neighbour refused. He lived, but they burnt his shops down."
The state elections hang like a dark cloud over Meerut. Says Aichu Mian: "Even if you give me a house in another locality, which I don't have to pay for, I wouldn't live there. The elections are next year. How do I know I will be safe?'' This will be the test India and Meerut have to pass.