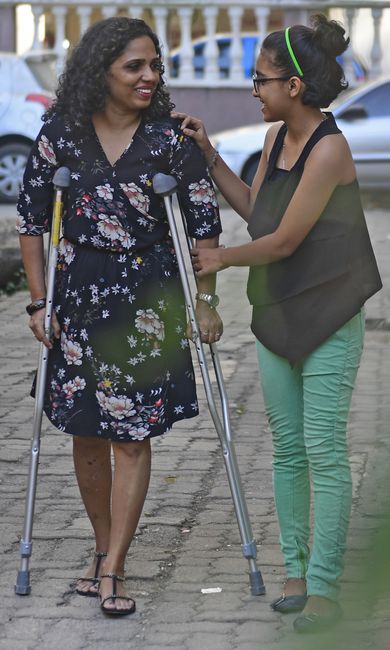 Debasish Sarkar's ears perked up, as he was busy checking a damaged irrigation pipe that runs near the Bhogdoi River at a tea estate in Assam. Instinctively, the 35-year-old welfare officer looked back, and lo and behold, an elephant towered behind him. Before he could blink, it moved closer, wrapped its trunk around his legs and tossed him in the air. The last thing he saw before blacking out was a small herd of jumbos, including four calves, a few metres away. "The elephants would have come from the nearby Gibbon Reserve Forest," says Sarkar. "They came the previous day, too, and broke the pipes."
Though the herd was kind enough not to trample him, Sarkar was badly injured—he had fractures on his ribs and hip, and had dislocated his right hip. He was admitted to a private hospital in Assam, but was shifted to Fortis Hospital in Kolkata two days later. "By the time Sarkar was brought here, his blood pressure had dropped dramatically," recalls Dr Ronen Roy, consultant, orthopaedics and joint replacement, Fortis Hospital, Anandapur, Kolkata. "He had a rupture in his liver that had to be treated. He was stabilised, and then the dislocation was treated before he was operated on for the fractures."
Roy and his team had a tough time fixing Sarkar's hip joint. However, advancements in imaging technology made their job easier. "New imaging technologies have made surgical navigation systems a lot more efficient. Contrast imaging and video inputs helped us to perform the surgery with ultra precise cuts," says Roy.
CT scan with 3D imaging, too, is a powerful tool in assessing fractures. "CT with 3D reconstruction helps in planning and treating complex fractures. It enables you to visualise the various fragments clearly and make it easier to approach and fix fractures more accurately, with lesser surgical trauma. This gives better results and quicker rehabilitation," says Roy. Thanks to these tools, Sarkar was up and running in about two months.
The advances in fracture care look promising. "Gone are the days when fractures needed huge plaster casts and patients had to be on bed for months. Now patients are operated and, within no time, they are mobile," says Dr Sachin Bhat, orthopaedic surgeon at SRV Mamta Hospital, Goregaon, Mumbai.
New techniques like Mini-mallyInvasive Plate Osteosynthesis, where a fracture is fixed with plates and screws with very small cuts, could offer hope for accident victims. "In Minimally Invasive Plate Osteosynthesis, we make small incisions, and the plate is slid over the bone under the muscle and screws are inserted with small cuts," explains Bhat. "The major advantage of this procedure is that there is minimal blood loss. So, there is less morbidity, and it requires less hospital stay. There is less pain and quicker healing, as the fracture biology is handled carefully. Movements of the joints close to the fracture are started immediately, thereby reducing stiffness and possible disability."
Vidhya Joshi, who works for Talwalkars Gym in Mumbai, would vouch for these 'screws and plates'. She met with an accident in July while riding to work on her scooter. "There was a plastic temporary barricade put up for road cleaning on the Andheri bridge on Western Express Highway. I banged into it and fell on the ground," says the 40-year-old. She fractured her upper tibia bone, just below the right knee, and was operated upon, using Minimally Invasive Plate Osteosynthesis. Post surgery, she didn't have her knee in a cast and it "was mobilised immediately".
But, orthopaedics has seen much debate over surgical techniques in the past few years. Dr Yash Gulati, senior joint replacement and spine surgeon at Indraprastha Apollo Hospitals, Delhi is all for knee surgeries without tourniquet—a device for stopping blood supply to an artery during surgery. "Total knee replacement without tourniquet eliminates many complications and leads to quick recovery with greatly reduced pain," he says. But, using tourniquet has been a tradition and people are not willing to change in spite of evidence, he rues. His argument: if we don't use tourniquet for hip or head surgeries, then why use it for the knee.
Not that orthopaedic surgeries haven't seen any advancements. Amputations owing to diabetes or circulatory or vascular problems have reduced because of newer medicines and advanced techniques of endovascular surgery. But, road accidents continue to be a major cause of amputations. Amputees who require prosthesis have much to look forward to. Researchers at the Johns Hopkins University in the United States have come up with a mind-controlled prosthetic hand that allows the user "to move each finger individually". In India, bionic limbs, equipped with sensors and microprocessors, have become a real game-changer. "The microprocessors can control limb movement. For instance, the knee automatically bends and straightens when the patient walks, making it a normal process for him," says Bhat.
Also, new medicines to treat conditions like osteoporosis have given excellent results. For instance, Teriparatide is now preferred over conventional treatment involving Calcium and Vitamin D3.
Regenerative cell therapies are gaining popularity in cities like Bengaluru. A doctor who endorses one such therapy claims patients suffering from joint-related ailments can avoid surgery if they are diagnosed within the first three stages. The promise of "95 per cent improved cartilage health", that too non invasively, sounds too good to be true. Dr Shah Alam Khan, professor, department of orthopaedics, All India Institute of Medical Sciences, New Delhi, brushes aside these tall claims. "There is a lot of quackery and less of science when it comes to regenerative medicine, particularly in branches like orthopaedics," he says. "Therapies like platelet injections are offered as a panacea for a multitude of conditions including osteoarthritis. But, what is the scientific evidence regarding the efficacy of the same? Having said this, we cannot rubbish regenerative therapies altogether. But to believe in their godly nature of response is inanity par excellence!"