The lush green campus of IIT Bombay is a contrast to the sprawling metropolis of Mumbai. It is akin to a forest, rather than a college campus. And here reside some of the brightest brains in the country. Prof Subhasis Chaudhuri, who is K.N. Bajaj Chair Professor at the Department of Electrical Engineering, said 44 of top 50 students in the past year's entrance exam opted to join IIT Bombay. "We got the cream of students; our IIT is one of the most cosmopolitan in the country," he said.
It is not just the greenery; IIT Bombay has a genuinely green campus. Students walk or pedal to move from one department to the other or to the hostels. There are biogas plants and other recycling equipment and methods. And, there are innovative initiatives like using the heat generated by air-conditioning units to heat water.
IIT Bombay does not limit this approach to campus maintenance. "The cross-learning experience at IIT Bombay is unique," said Srijit Ghosh, a material engineering student. "We get to attend lectures and talks organised by other departments as well. I participated in a student satellite programme, Pratham, which helped me interact with ISRO scientists and understand the technicalities of building a satellite. Which other engineering college will give you this kind of opportunity?"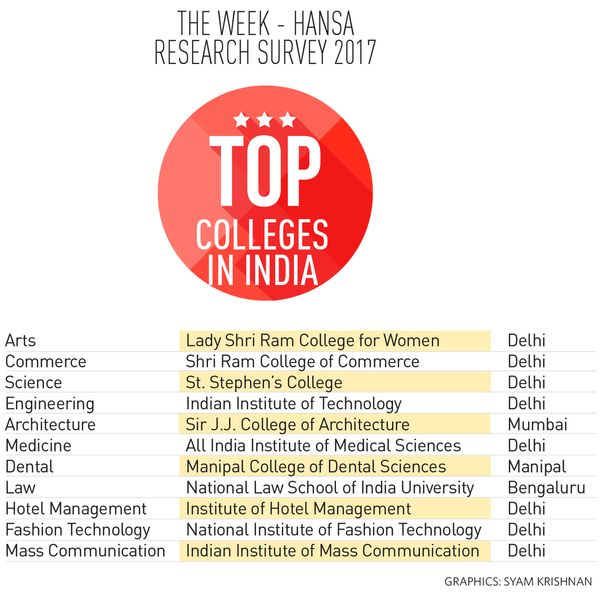 While IIT Bombay excels in giving practical experience to its students, it is fast becoming the norm in top institutes. For instance, Tata Institute of Social Sciences (TISS) in Chembur in Mumbai, which is arguably the finest place in South Asia to study social work, wants to lay stress on practicals. Prof Manish K. Jha, dean of School of Social Work at TISS, recalled a trip a team from the institute made to the Nicobar islands after the tsunami in 2004. "The island had 5,000 inhabitants; only 2,000 survived the tsunami. Our team stayed there for a month and tried to rehabilitate the people and also helped them get the compensation from the government. We helped them in streamlining the paperwork related to the compensation package as most of them had lost almost everything in the disaster," he said.
Jha had noticed that many students were not able to deal with the practical aspects of the course. During a practical session at the slums in Mumbai, some students were taken aback by the conditions in which the slum-dwellers lived. "Many students could not digest the harsh reality and the inhuman conditions," he said.
Swati Singh, who is doing a thesis on middle class activism in urban space at TISS, regularly visits slums and urban clusters in Mumbai."I wanted to do field-based learning, and for excelling in social work, engaging in the field is very important," she said.
Coupling up academic excellence with social responsibility seems to be new mantra of good education. Lady Shriram College for Women in Delhi ardently practises this. Recently students from its sociology department published a field trip journal after a trip to Kerala. "These girls wanted to connect to the real society through such a field trip," said Dr Suman Sharma, principal of the college. "They interacted with the locals and wrote about their findings in the journal. Different aspects were covered by the students such as bakery, alternative medicine, martial arts, and they even attended a cultural biennale there."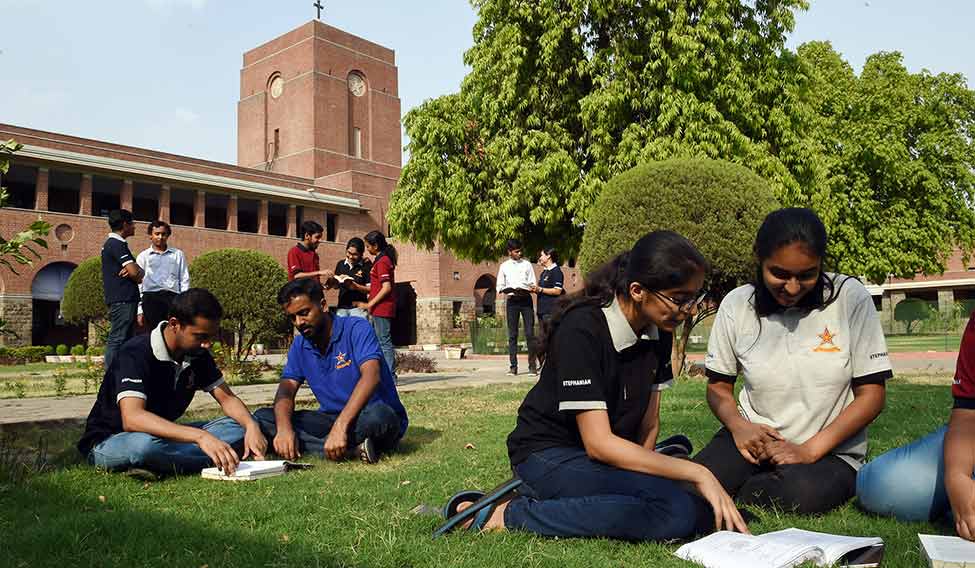 LSR students regularly have sessions and workshops on various topics. Recently they had a session with children at the nearby Zamrudpur on climate change. Interestingly, such strong local engagements complement the college's international collaborations. It has faculty and student exchange programmes with King's College London, La Trobe University in Australia and National University of Singapore. "This year we had 300 internship offers and our placements have been very good. We have a non-intrusive governing body and we give a lot of freedom and space to our students," said Sharma.
This freedom does great things for the students. Amita Yadav, who is a psychology student and president of the students' union in the college, said the college changed her personality. "We have very active societies in the college. Because of the exposure here my confidence has increased. I have become much more organised and refined," she said.
The emphasis on the practical aspects of learning has become so important to these colleges that they often dominate the curriculum. At St Xavier's College in Mumbai, for instance, 50 per cent emphasis is on theoretical articulation and 50 per cent on experimental articulation. All students here are expected to get involved in extracurricular activities. Being an autonomous institution has also helped the college in this regard.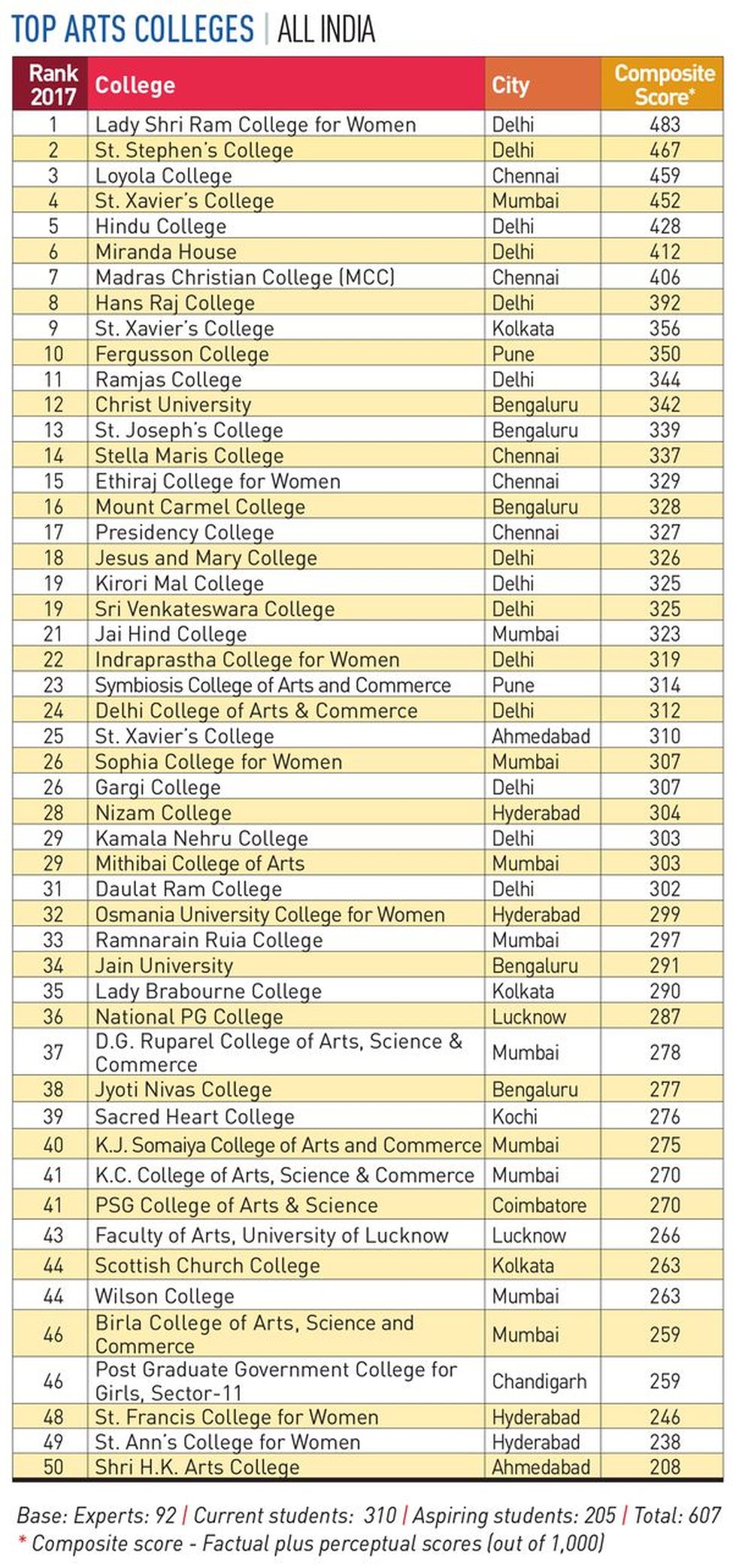 Autonomy empowers colleges; not just in running things smoothly, but also in producing extraordinary results. "Our exams were on schedule and the results are out, and the session will begin shortly. Like this, we are way ahead of the rest of Mumbai University where the results are still awaited. We can design our own curriculum, conduct our own exams and the results are out on time. The whole system is streamlined due to autonomy," said Dr Angelo Menezes, principal of St Xavier's College.
The college has introduced many offbeat courses such as forensic science and crime scene processing and investigation techniques. And, even the conventional courses are updated regularly with contemporary topics. "We have always emphasised that even if history topics are discussed, there should be a blend of contemporary issues, such as 'why Brexit?' and 'the results of demonetisation'," said Menezes.
History is something these colleges are firmly rooted in. In 2019, St Xavier's will celebrate its 150th anniversary. Miranda House in Delhi, which was founded some 90 years later than Xavier's, still sticks to its core purpose of women empowerment. "We have believed in academic rigour and holistic education through tutorials, seminars, debates and in building strong soft skills in our students," said Dr Pratibha Jolly, principal of Miranda House. "Our students have played an active role in disaster mapping the nearby areas of the college and we then sent a security audit report to the police."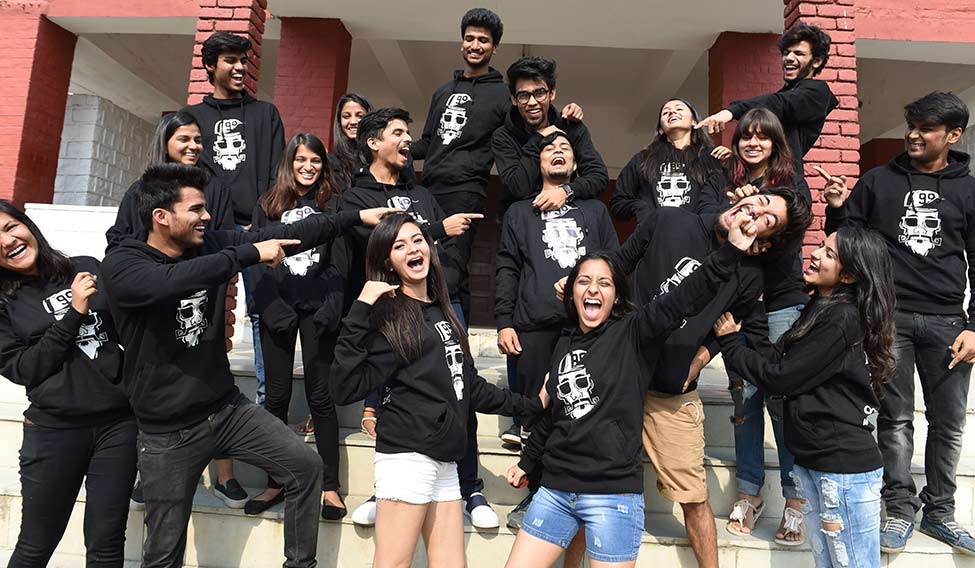 Miranda House encourages students to undertake regular projects and trips to broaden their horizon and get firsthand experiences. Krishna Shekhawat, a final year history student, is just back from a trip to Jodhpur, Jaisalmer and Ajmer in Rajasthan for a project on water management. "What I learnt was the rich water architecture, and traditional water conservation and management methods in Rajasthan, which has to deal with water scarcity. I learnt of 'bowlis', the traditional step-wells of Rajasthan, and how manmade canals were damaging the ecosystem of the area," she said.
The college offers a number of student exchange programmes. Chandni Jain, who is the president of the debating society in the college, recently went to Utrecht in the Netherlands as part of a programme. "I learnt that till the age of six, children in the Netherlands do not go to school and even in high school their education system is flexible, and they have a vast array of subjects to choose from. On the other hand, our education system is a little burdensome," she said.
Many experts, however, are of the opinion that this burdensome system is not necessarily bad, and that is why Indian students do well abroad. But there is always room for improvement. Said Pankaj Baliga, who had held top positions in Tata Group: "Faculty in colleges should have regular interaction with companies that employ their students to see what would make them more employable. The faculty can take this relationship to useful levels."
Many colleges have already taken steps to prepare their students for the real world. Hans Raj College in Delhi, for instance, strongly advocates an interdisciplinary approach. "As part of the curriculum, we keep sending our students to different labs. We also have summer internship programmes and our students have qualified for higher studies in premier institutes such as the IISc in Bengaluru and the National Centre for Biological Sciences," said Dr Rama, principal of Hans Raj College.
Some of the best colleges in the country are regarded so highly that they have become brands on their own. "Industry people know that students being recruited from the best colleges of the country will definitely be among the best as only the cream of the students are able to get admission there," said human resources expert Kris Lakshmikanth.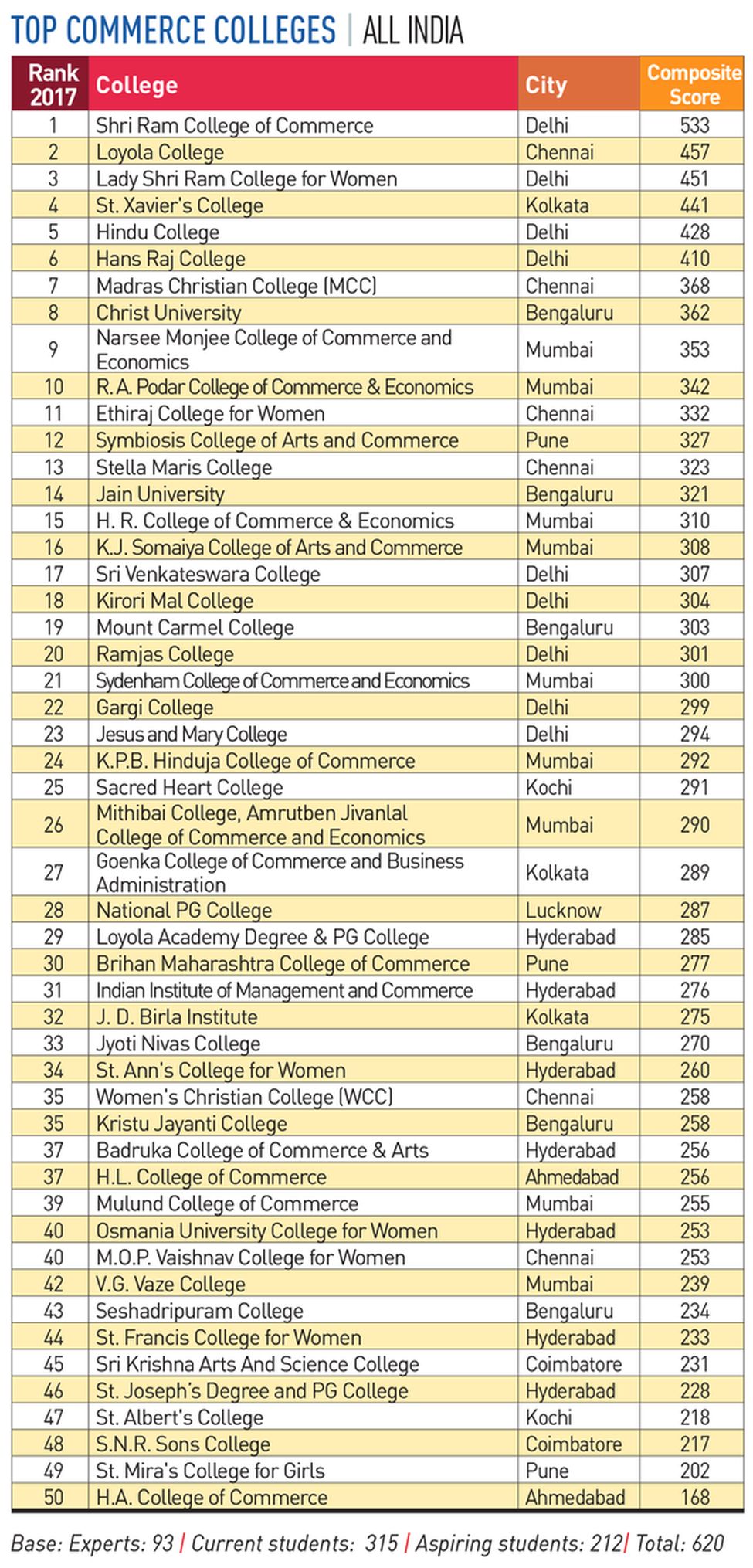 The Institute of Hotel Management, Catering and Nutrition in Pusa, Delhi, is one such brand. One of the oldest hotel management institutes in the country, it has been getting 100 per cent placement year after year. The kind of exposure the students at the institute get can be gauged by a recent visit by a group of presidential chefs, including the chef of the former US president Barack Obama. They interacted with the students and the faculty and gave them a presentation.
"As the institute is under the ministry of tourism, it acts as a consultant to Air India crew members and participates in their training programmes," said Dr Raj Kumar Gupta, dean (academics). "We also train the mess staff members from different defence and paramilitary forces and the Air Force in catering and hospitality services."
How do these colleges continue to be at the top of their game? "There is a continuous effort to update the facilities in the institution that in turn provide the springboard for students to excel," said Prof R. Venkata Rao, vice chancellor, National Law School of India University, Bengaluru. Established in 1988, the school was a game-changer in legal education with its focus on innovation. Teachers here have the freedom to design and develop the syllabus and the course content, keeping in view the emerging trends in law. "New programmes like public policy, cyber laws, various aspects of corporate law provide the impetus. We always offer our programmes keeping in view the diverse and varied stakeholders including industry," said Rao.
And, where should these colleges take it from here? Baliga said the senior faculty of the top colleges should not restrict themselves to their campuses but regularly visit corporate houses and companies and understand their needs and requirements. "I feel that there should be regular conversations between the college faculty, principals and the CEOs and the board members of some of the top-notch firms in the country. Only then would they realise how times are changing and in this age of cut-throat competition what are the needs of industry. In a country which produces the highest number of engineers in the world, a majority of them are unemployable as they lack the basic soft skills which are required to survive in a corporate environment," said Baliga.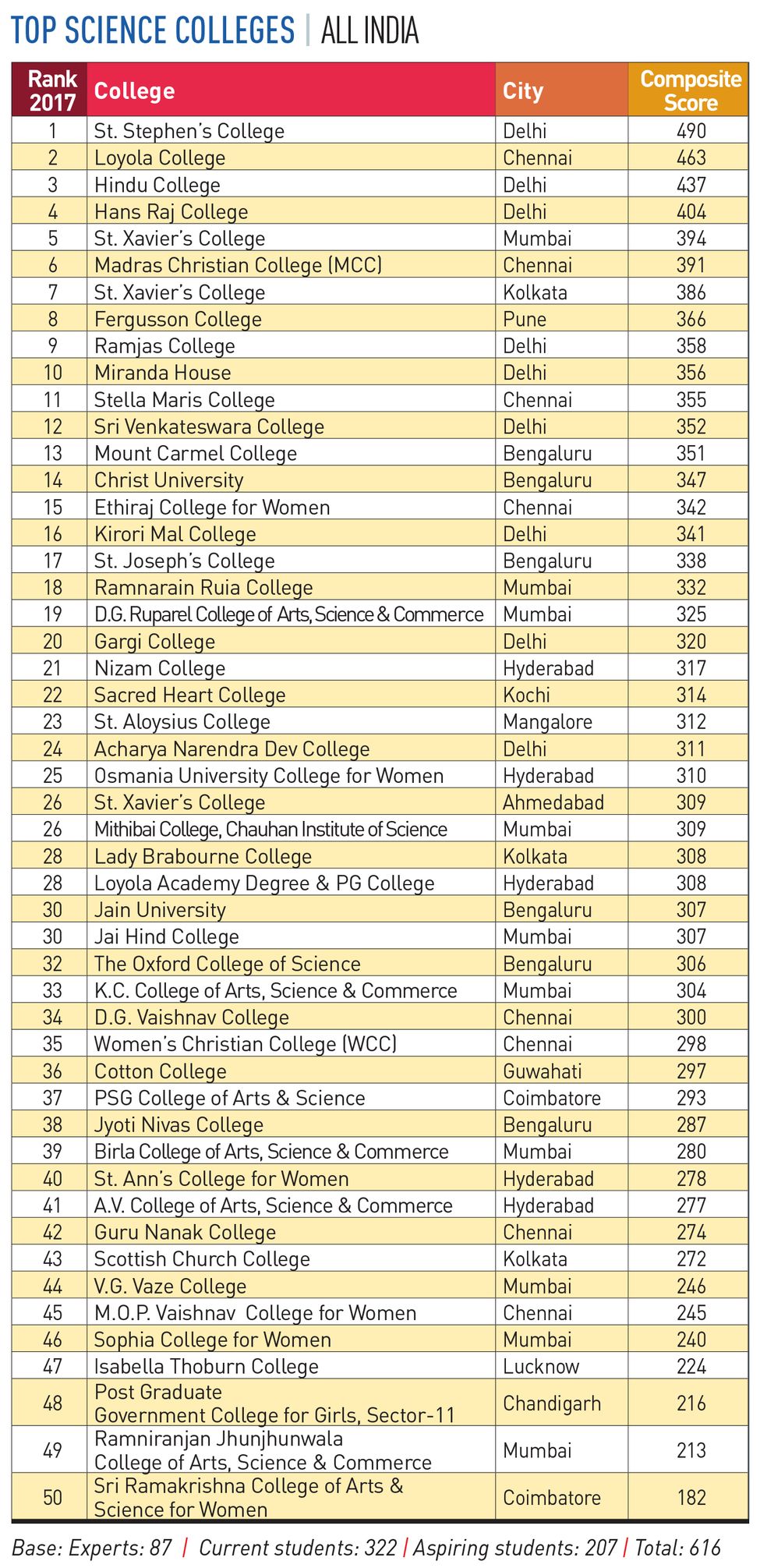 One college that has taken up employability of graduates as mission is Loyola College in Chennai. It keeps restructuring the curriculum, keeping in mind the employability quotient and societal expectations. "Reform in teaching, learning and evaluation is what we have continuously initiated because of autonomy," said Dr K.S. Antonysamy, associate professor and public relations officer at Loyola. "Periodical restructuring of curriculum, keeping the initial academic experiences of the college as the background, has taken the institution ahead and met the expectation of market needs."
Baliga considers a seamless interaction between colleges and the industry essential for improving the employability of graduates. Regular programmes that involve the workforce of various corporates should be organised along with the top colleges, he said. "These kind of interactions will help the academia to redesign their curriculum based on the feedback from industry experts," he said. "I have personally visited many tier-two engineering colleges but I feel, though they have technical knowledge, they are unemployable as they do not have the required soft and communication skills to excel in industry."
No doubt the skills students acquire in colleges are a platform to look for careers. "What they may need to do is to walk the extra mile," said Dr M. Arockiasamy Xavier, principal of Loyola College. "They should do additional courses relevant to their discipline to supplement their subject expertise. They are expected to acquire skills related to the theoretical knowledge they are provided within classrooms."
Education no longer ends in classrooms. But how it starts has direct bearing on where it will take you. Not only are these colleges the right place to start your journey, but also they give you the wings to fly high.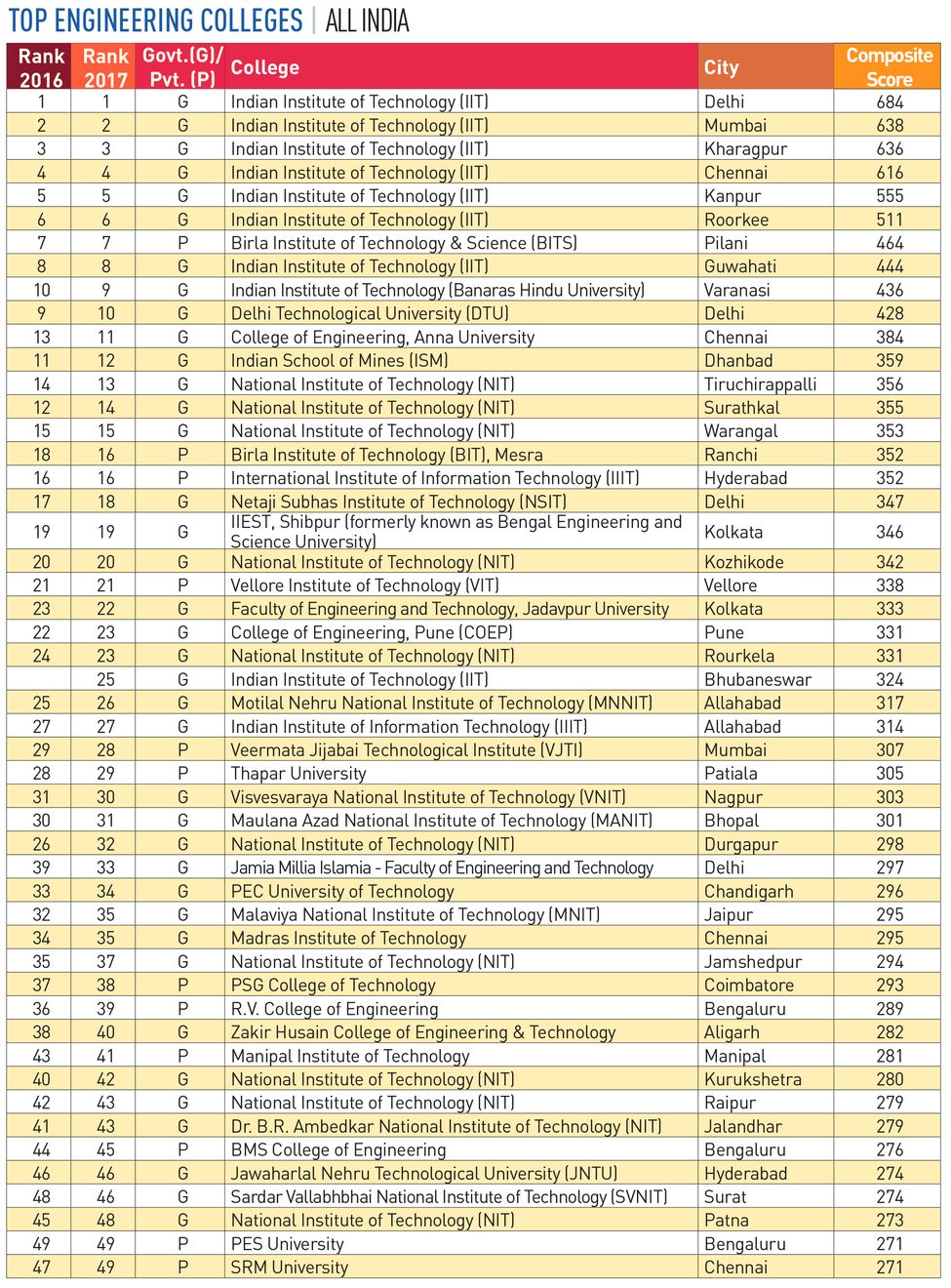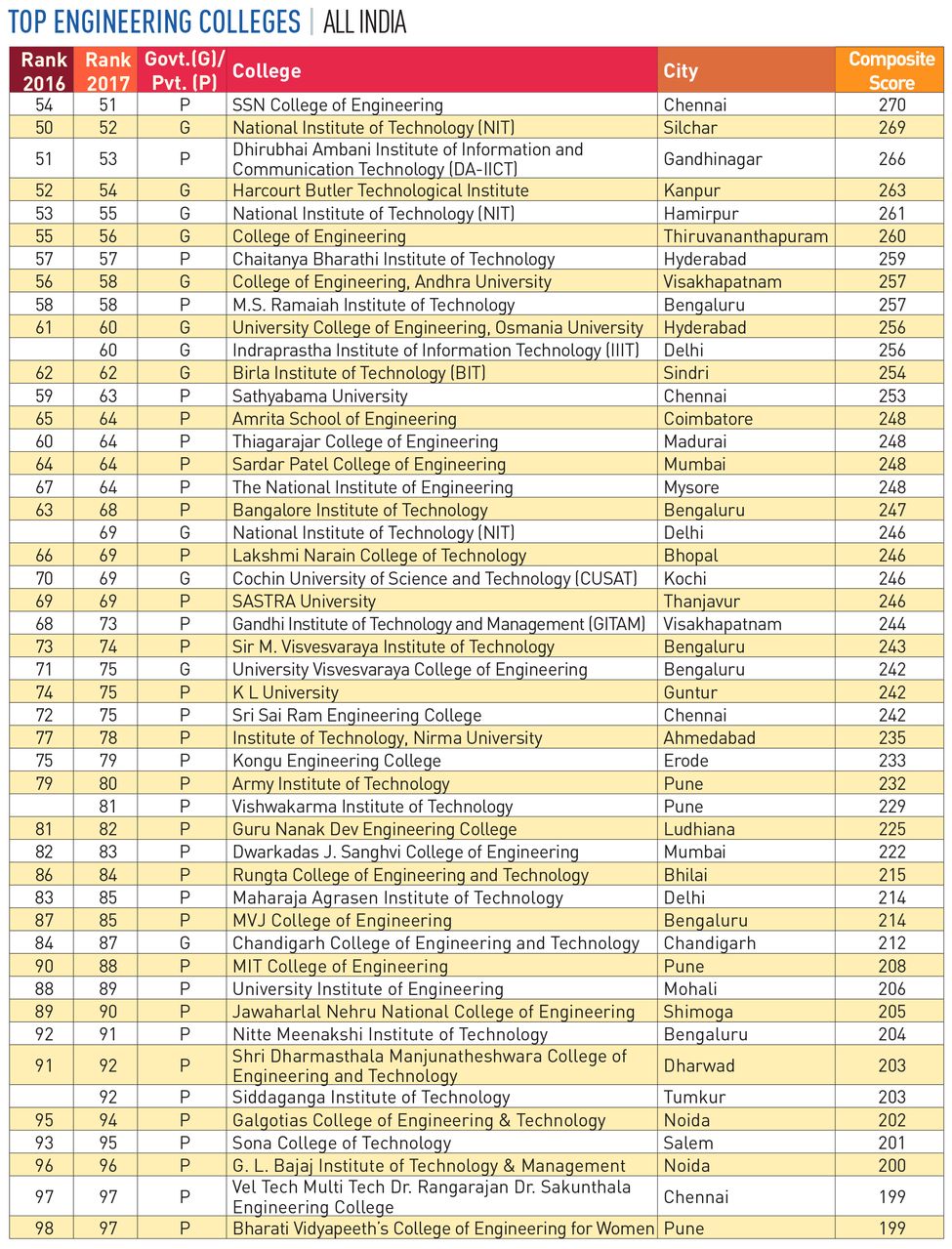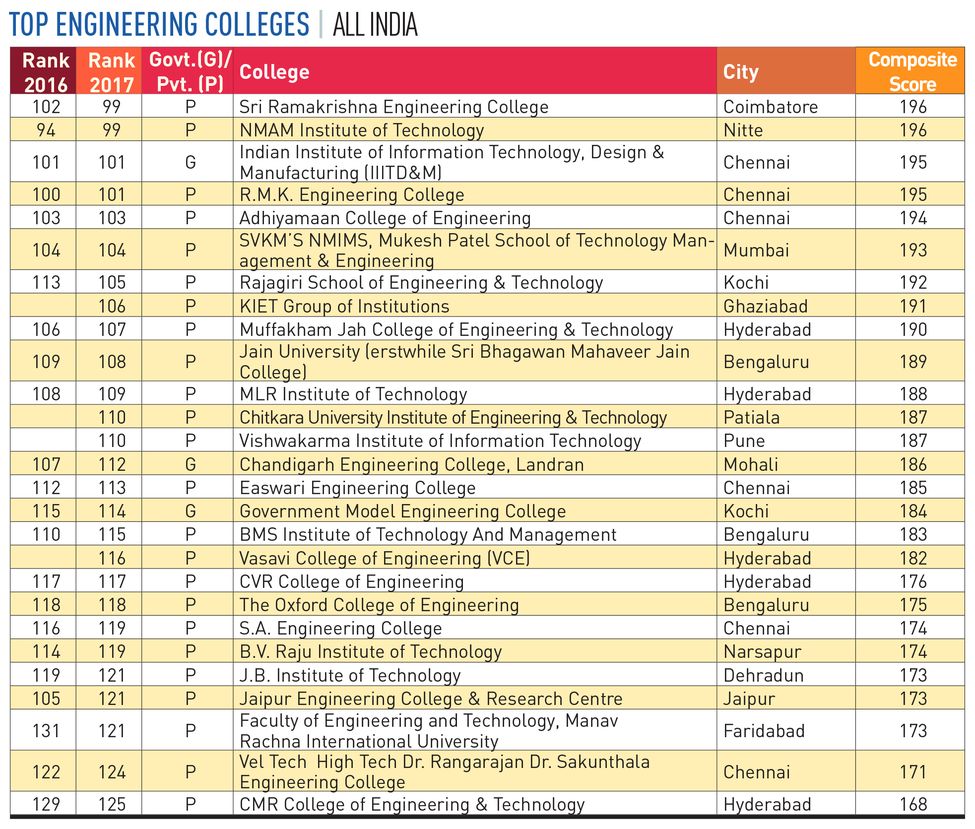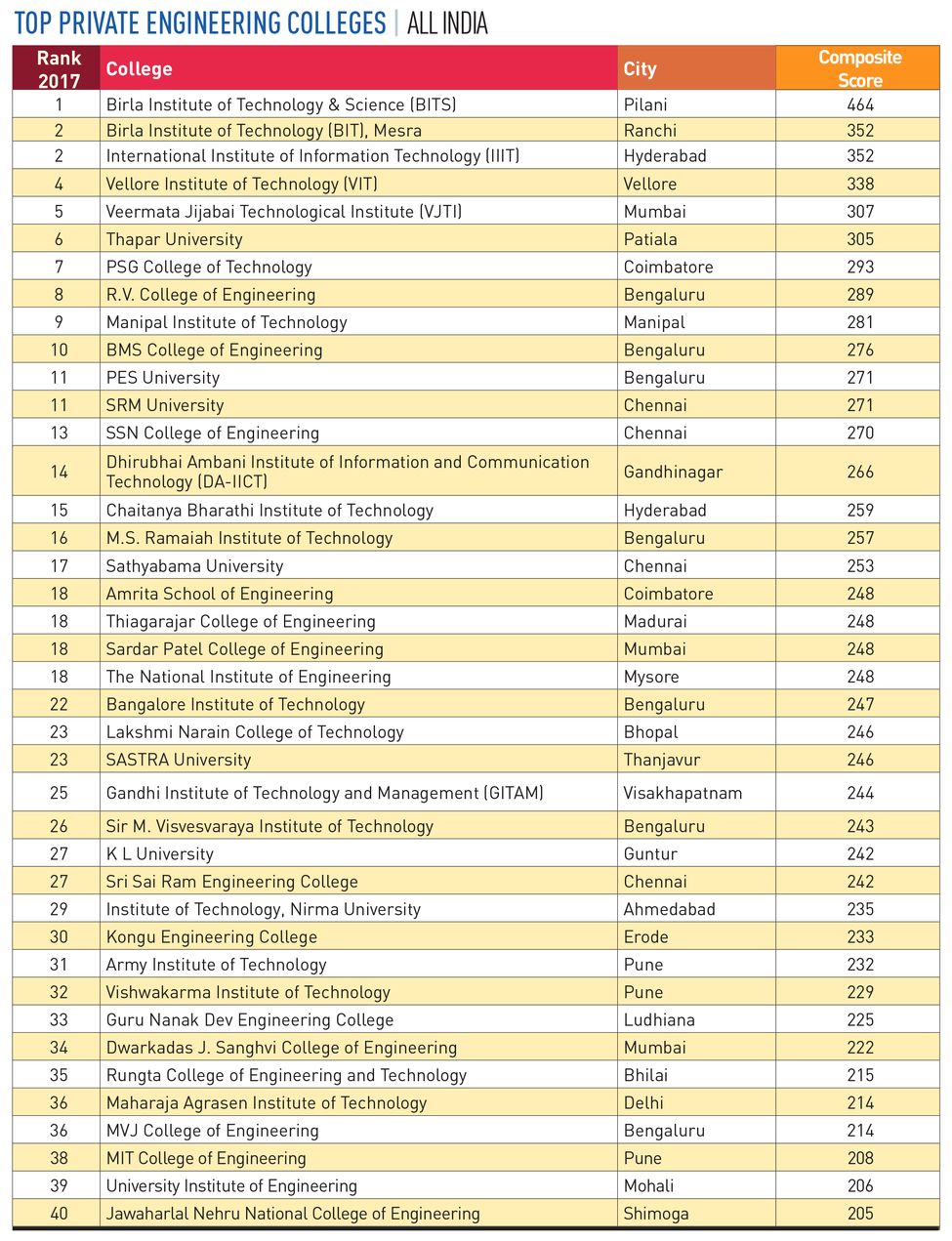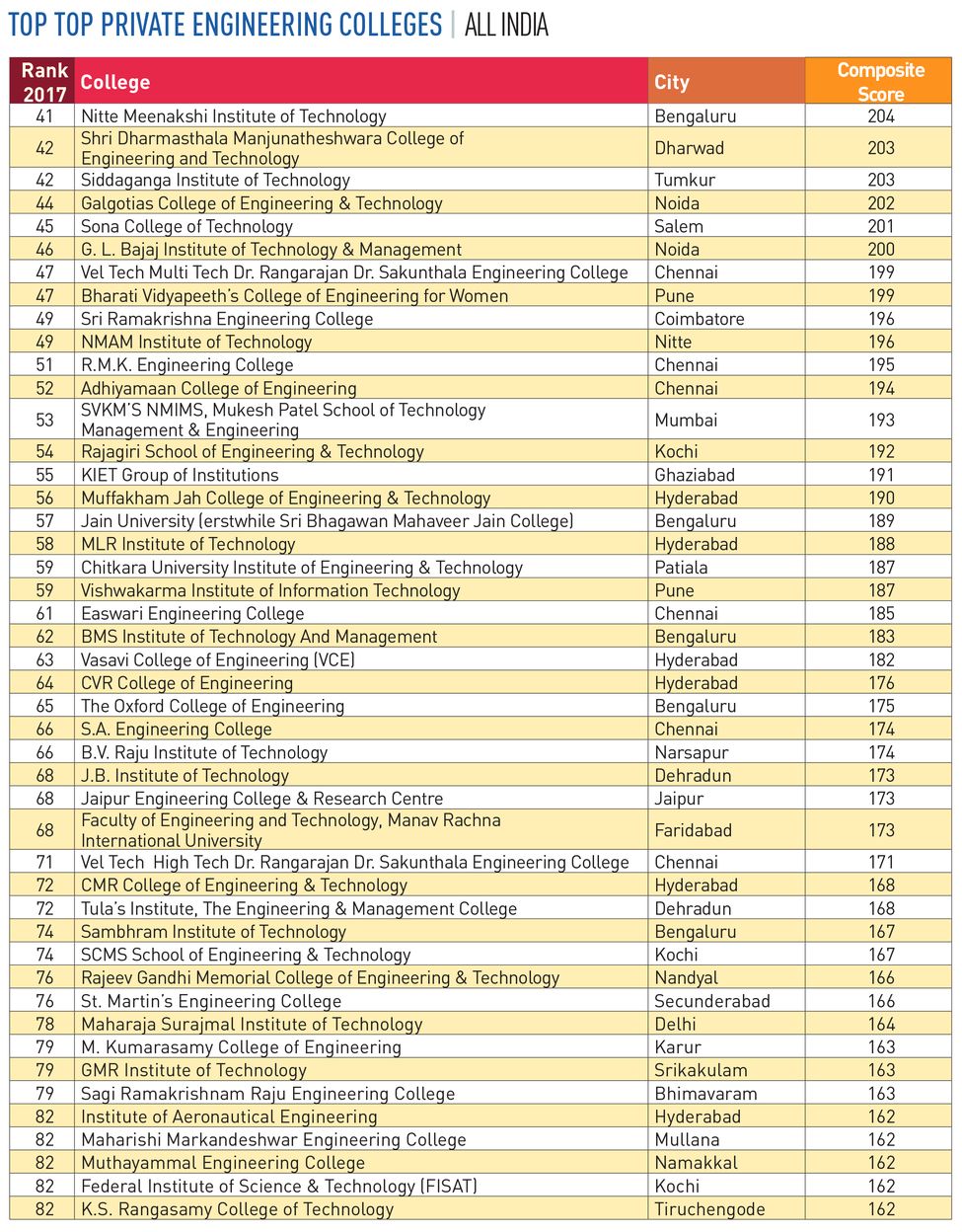 Methodology
THE WEEK-Hansa Research Best Colleges Survey 2017 covered 11 disciplines—arts, commerce, science, engineering, medicine, dentistry, law, hotel management, social work, fashion technology and mass communication.
The 25 cities covered for the survey were Ahmedabad, Guwahati, Bengaluru, Hyderabad, Bhopal, Indore, Bhubaneswar, Jaipur, Chandigarh, Kochi, Chennai, Kolkata, Coimbatore, Lucknow, Dehradun, Mumbai, Delhi, Ghaziabad, Gurugram, Noida, Patna, Pune, Thiruvananthapuram, Vadodara and Gandhinagar.
Perceptual data collection
A primary survey was conducted with 831 academic experts, 2,494 current students, 883 aspiring students and 30 recruiters (only for engineering colleges). A closed-ended questionnaire was administered to all the respondents asking them to nominate and rank top 25 colleges in India and top colleges within their city.
Out of the total 4,238 interviews, 124 qualitative in-depth interviews were done by the research team. These interviews went beyond nominations and rankings to get an in-depth understanding of the reasons for the rankings. This exercise helped in validating the data and providing rationale for the rankings, wherever required.
Factual information collection
Factual information collection was conducted from February through April 2017. A dedicated website was created as an interface and the link was sent to more than 2,800 top colleges in arts, commerce, science, engineering, medicine, law, dentistry and hotel management. Advertisements were also published in multiple issues of THE WEEK, inviting colleges to participate in the survey. 361 colleges responded.
Ranking methodology
Ranking of colleges for arts, commerce, science, medicine, law, engineering, dentistry and hotel management was based on a composite score derived by combining the perceptual score for the college and factual score. For colleges which could not respond to the survey with factual information within the stipulated time, composite score was derived by combining the perceptual score for the college with an interpolated appropriate factual score.
Final Score for a college = Perceptual Score All India (600) + Factual Score of the college (400)
Rankings for fashion technology, mass communication and social work were based on perceptual data only.