With the success of Gramya, Rukmini has become a legend among her peers and her diverse work includes international consultancy and even solving a fight or two among young colleagues in Hyderabad and Delhi

Initially, some parents came with requests to keep their newborns with me, but we had to convince them that the child would not survive without her mother's milk: Rukmini Rao
The city of Hyderabad is no stranger to acts of revolt. Still, on a fine morning in December 1974, the city woke up in shock to the news that Rukmini, the 24-year-old daughter of Raja Jagpal Rao, the jagirdar of Rajapet principality, and the wife of a prominent landlord in the city, had run off with her lover to Delhi, leaving behind her four-year-old son. Rukmini was teaching literature at St Francis College when she fell in love with a statistician from Karnataka, who swore by maths and Marx. His revolutionary fervour inspired Rukmini to give up her comfortable, yet predictable life, and embark on a journey in search of the unknown.
Those were turbulent times. The Jayaprakash Narayan movement had shaken the foundations of the Indira Gandhi government. A slew of protests and insurrections like railway strikes and the Naxalite movement created a heady combination of personal and political liberation for the Indian youth. Like the rest of India, Hyderabad and its traditional landholding society, too, were not untouched by the rebellious spirit, although the elites went on with their life of leisure and luxury.
Rukmini spent six years of her marriage raising her son Rohit, serving an army of in-laws and teaching literature. But the certainty and security of the life with her landlord in-laws, their extravagant lifestyle, elaborate cooking and sumptuous dining, bored her. Yet, Delhi in that winter posed before her more questions than she had anticipated. The biggest problem was staying away from her son as her husband's family refused to send him to her.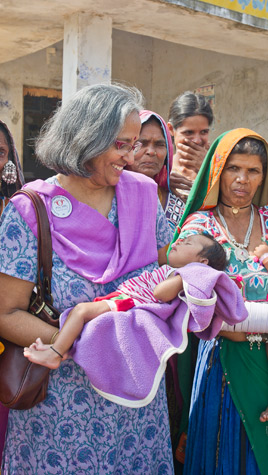 She could not find a job initially, while her lover, who married her later, got a job at the National Labour Institute. Rukmini, too, joined the institute as a researcher, just before the Emergency was declared. By then, she had fallen in love again, this time with her gender. She felt proud of being a woman and sported a big red bindi on her forehead, just to make a statement.
The reasons behind the feminist turn existed both at home and outside. She drew inspiration from her mother and grandmother, who were strong-willed women. Another issue that attracted Rukmini's attention was the story of Mathura, a teenaged victim of custodial rape. Mathura was a tribal girl from Chandrapur district in Maharashtra, who was allegedly raped in police custody on March 26, 1972. From her days as a young teacher in Hyderabad, Rukmini had been keeping track of the case and she was disturbed by the way it was being handled in court. The dominant line of argument was that Mathura had invited the rape upon herself as she was sexually active in her mid- teens.
The way women like Mathura were treated in India, be it in courtrooms or bedrooms, made her angry. And, that fire, which was lit in the 1970s, continues to guide Rukmini, better known today as V. Rukmini Rao, who now runs a number of organisations that are spurred by her quest for a genderjust India.
By the mid 1970s, a construction boom in Delhi attracted a large number of migrant workers, who chose to settle in Nizamuddin Basti, New Seemapuri and East Delhi across the Yamuna. Women from these settlements, who were suffering from domestic violence, used to approach Rukmini and her women colleagues for help. "Often, the women who would come to us were in a serious condition and we had to take them to hospital. We told them that they should be proud of their bodies and the man of the house had no right to assault them and that their hard work deserved respect. It was difficult to make the women rebellious, but we succeeded in turning them into smalltime entrepreneurs," says Rukmini. "Once they had some money in hand, they started resisting drunken beatings at home. We saw these victims transform into confrontationists in six to seven months, and the experience was so magical that it changed all those who were involved with the process at that time."
Domestic violence, forced sterilisation, maternal health problems and neglect of women's economic needs were some of the issues that Rukmini sought to address as she set up Stree Sangharsh Samiti in 1976 along with a few friends. Her work was noticed by leading women activists of the time, Vina Mazumdar and Lotika Sarkar of Delhi University. After seeing Rukmini's dedication in providing health care facilities to the women of Nizamuddin Basti, Vina motivated her to create her own brand of street-smart feminist strategies. Rukmini and her friends subsequently opened a shelter for abused women in Nizamuddin Basti.
A few years later, Rukmini and her colleagues received a rude shock when the suspects in the Mathura rape case were acquitted by the Supreme Court. The verdict, which came in September 1979, nearly blamed the girl for the rape. Outrage poured out on the streets of Delhi, and Rukmini led from the front along with Lotika and Vina. They also pushed for a reform of the laws about custodial rape.
In 1980, the annual meeting of the Stree Sangharsh Samiti decided to bring together women's organisations across the country under one umbrella. Thus was born Saheli, which opened with a campaign against the displacement of women workers before the 1982 Asian Games in Delhi. Prime minister Indira Gandhi had given her son Rajiv the task of overseeing preparations for the games. The labourers who toiled at the construction sites were asked to leave the city before the games opened so as to present a picture-perfect Delhi to the world. Rukmini alongside another firebrand activist, Bharati Roychowdhury, organised rallies against the government's decision. Although the Asian Games went ahead without a hitch, Saheli's moment of glory came a year later when anti-rape laws were amended and the suspects of the Mathura rape case were found guilty by a different bench of the Supreme Court.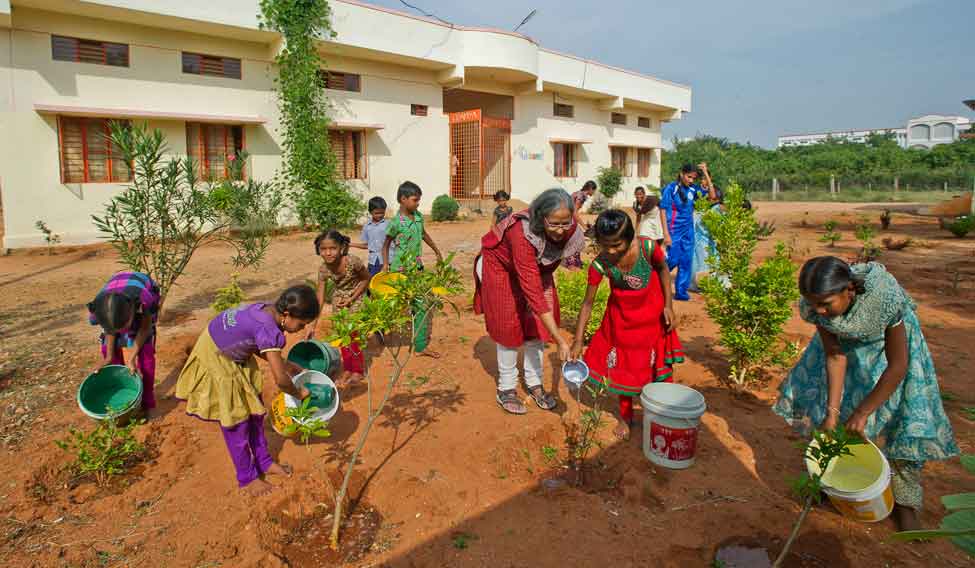 Following her success in Delhi, Rukmini wanted to take Saheli's message to the smaller towns and cities. But, trouble was brewing at home. Her husband got fed up with her revolutionary feminism and demanded that she should pay more attention to her own home and bear him a child. Rukmini found his demand reasonable, but she was soon caught up with the 1984 anti-Sikh pogrom that followed the assassination of Indira Gandhi. The riots left thousands of women and children homeless and vulnerable, and Rukmini devoted much of her time to their relief and rehabilitation. Her personal life became nearly nonexistent and she told her husband that it would not be possible for her to bear him a child. Disappointed, he turned to alcohol, and Rukmini's life soon featured things that she deeply despised. She needed a refuge and the first place that came to her mind was her beloved Hyderabad. She moved back to her hometown in 1986. But she says she had been toying with the idea of relocating to Hyderabad even before that, as she wanted to spend more time with her teenaged son.
By the time Rukmini returned, Hyderabad had undergone a major political transformation with the Telugu Desam Party in power in Andhra Pradesh and a bunch of bureaucrats keen on bringing about social change. In 1989, she joined the Deccan Development Society (DDS) which was set up by her friends to create awareness, especially among the tribes of the Deccan, about the government's social welfare schemes. Following the Roop Kanwar case in September 1987, more and more people started flocking to the office of the DDS. Roop, a Rajput wife from Rajasthan, committed sati by jumping into her husband's funeral pyre. Rukmini's small office soon became a prominent spot where women with their myriad problems of domestic violence and economic issues would routinely gather.
It was at this time that Rukmini first heard about girl children being discarded at hospitals and other social welfare centres. She found that most parents who killed or sold their girls were the Lambadas and the Koyas, the two main tribal groups of Andhra Pradesh.
The Lambadas are nomads, who were once known for their sturdiness and healthy food habits. But, the pressure of urbanisation and dwindling land holdings played havoc with them, and by the late 1980s, they started abandoning the girl child as a solution for their economic travails. After a large number of female infanticides were reported from Nalgonda, Rukmini intensified her work in the district.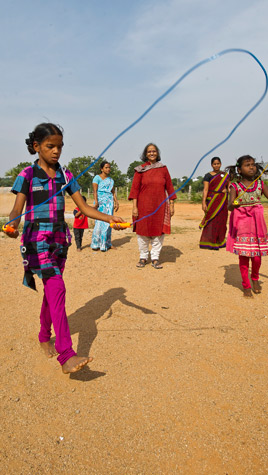 In the summer of 1993 came the infamous rat-poison incident, when an anonymous caller informed Rukmini that a ritual female infanticide had begun in a Lambada village in Nalgonda. It involved killing a girl child with a pellet of rat poison. The caller hung up after asking Rukmini to save the child. Scared and short of options, she called the authorities, but was told that the child would be dead by the time the law enforcement authorities reached the village. One particular official, whom Rukmini would not name now, asked her to save the baby and promised her police backup. "The official was frank enough to admit that non-government workers and activists were needed to resolve such emergency issues," she says. Rukmini reached the village just in time and saved not just the child, but also her twin sister. The incident opened her eyes to a whole lot of issues among the tribals, such as child trafficking, violence against women and deprivation of their right to forest land.
Rukmini realised that there was a strong economic reason for the Lambadas to either sell their baby daughters to adoption rackets or just kill them. Out of that realisation was born Gramya, the fourth organisation that she set up to safeguard baby girls belonging to marginalised communities and to fight for women's rights. Rukmini built a rudimentary sheltercum-bridge-school in Nalgonda district for local tribal women and abandoned babies. It was called bridgeschool as it was designed to bring up Lambada kids till they could be sent to government-run hostels for free education. Young tribal couples initially mistook it for an orphanage.
Rukmini had a tough job. She had to save the young girls from certain death in the hands of their parents and then ensure them a secure future. "Initially, when the tribals heard of the bridge-school, some parents came with requests to keep their newborn daughters with me, but we had to convince them that the child would not survive without her mother's milk. We had to motivate the families continuously citing government schemes that promoted education and health of the girls and told them that their children would grow up to be a support for them," she says.
For Rukmini and her team, preventing imminent infanticides was one part of the struggle, but an equally challenging and long-drawn-out struggle was to ensure that the girls, who survived the rat poison, were not subsequently killed by malnutrition and negligence. In this endeavour, Rukmini says Gramya benefited from the sympathetic administrative class in Hyderabad, and even the Naxalites who never hurt Rukmini's staff and the tribals who sought her help. The opposition came from Hyderabad-based rackets, which had made a fortune by selling the Lambada babies abroad. Faced with the prospect of their source of babies drying up, they tried to intimidate Rukmini. She says she survived with the support of the government and the people.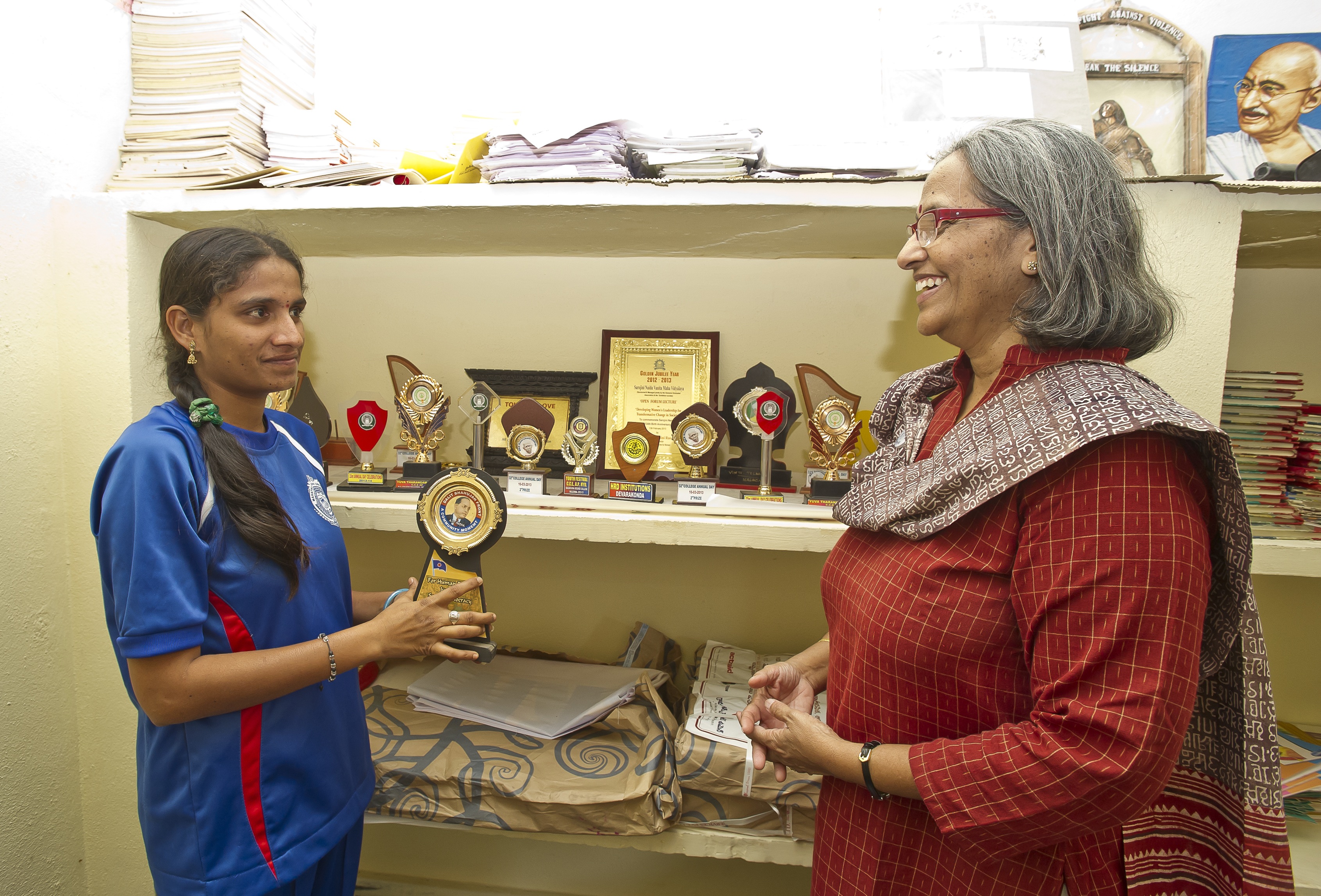 To make Gramya successful, Rukmini and her colleagues Jamuna and Ratnamala had to innovate. In the Naxalite-dominated areas, they recruited primary school teachers as their local intelligence providers, who could go around, keeping a close watch on baby girls. "In many cases, we had to adopt a carrot-and-stick policy to save the children and tell the parents that the government would take stern action if their children went missing," she says.
At the bridge-school, the children are divided into three groups. The first group of pre-schoolers who were saved from certain death are looked after by an all-female staff till they turn five. Kids from ages five to nine form the second group and they join government schools at class five. The third group consists of children who are ready to move out to social welfare hostels run by the government and join class six in government schools. Rukmini says the day a particular group moves out is emotionally draining for her and her colleagues.
The current infrastructure of Gramya came up after nearly 20 years of struggle by Rukmini and her colleagues. The bridge-school, by now, has become such a success that even Lambada mothers can be seen coming once in a while to study along with their tiny girls whom they once wanted to give away.
It is difficult to explain what prompted the Lambadas and Koyas, who have always been proud of their womenfolk, to write off their baby daughters. Rukmini feels that some communities believe they can come up with solutions to deal with the challenges to their lives probably by killing the weakest among them. "Historically the Lambadas and Koyas respected their sturdy women. But what prompted the baby slaughter of the 1980s and the 1990s in their community is not yet known. But thankfully there is greater awareness that they will become extinct if female infanticide continues," says Sumalatha, one of the many Lambada volunteers who work as the eyes and ears of Gramya in the villages of Nalgonda. Rukmini says the Lambada girls are a lot like her grandmother, a feisty Telugu matriarch, who had asked her children to have at least one girl child to keep the "house under control".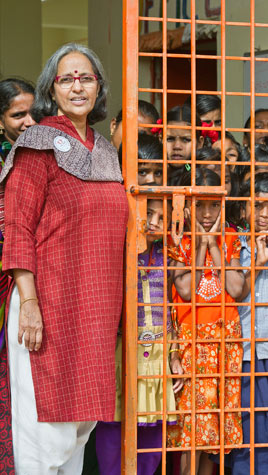 With the success of Gramya, Rukmini has become a legend among her peers and her diverse work includes international consultancy and even solving a fight or two among young colleagues in Hyderabad and Delhi. Even at 64, she has not mellowed, but physical problems have started bothering her. Her knees hurt while climbing stairs and she needs to watch her diet. But age does not bother her, nor does it make her seek the support of her son Rohit, who lives in the US with his wife and two sons.
Some years ago, Rukmini's mentor, Lotika, ran into a property dispute involving her relatives. She was in her 80s when it started and it went on till she died in 2010. Lotika's condition and the issue of safety of elderly single women prompted Rukmini to launch the Hyderabad chapter of Ekal Mahila Sangathan, an all-India network of single women in need of financial and health security. Today, there are more than 400 single women of varying ages who are members of the Hyderabad chapter of the organisation.
From the big cities of Hyderabad and Delhi to the remote villages of Nalgonda, Rukmini's stamp is visible on a range of issues, organisations and support systems. It has not been easy and has required enormous personal sacrifice. But, she says the support and love of her son, who understood her spirit, has helped her a lot. "Many women suffer in silence. I suggest that we break our silence and help others in breaking theirs. This helps because many men have come forward to support the right cause," she says.
The biggest acknowledgement of Rukmini's work comes from the Lambada fathers who walk up to her and say they have named their daughters after her. Yet, she does not get moist-eyed. Instead, she asks, "It's time for a celebratory drink, right?"
Submerging dreams
The Lambada women are known for their silver anklets, heavy mirror-embossed scarves and conch bangles. The silver anklets are believed to drive away snakes. A woman has to be really sturdy to wear so many ornaments while working in the fields. But somewhere in the middle of the last century, the respect accorded to the women started fading with the Lambadas adopting urban practices like the dowry system.
As Rukmini Rao first began investigating the reasons for the irrational female infanticides among the tribes of the Deccan, she stumbled upon the fact that they were under pressure from the engine of development in modern Andhra's big cities. Agriculture, which was their main source of livelihood, became less profitable with the loss of forest land and the dwindling number of animals on their farms, making the Lambadas debt-ridden, depressed and suicidal. They were deeply patriarchal, and the threat of dislocation, the absence of stable income and the practice of dowry made matters worse, and the community began treating its girl children as evil that should be eliminated.
Years later, Rukmini sees a similar threat to the Koya community from the Polavaram dam, which is being built on the edge of Khammam and East Godavari districts. She says the dam will submerge the agricultural area used by the Koya tribes and, being politically weak, they have little chance of getting a fair rehabilitation package. It could create a second Narmada valley syndrome, forcing hundreds of thousands of vulner-able tribal people to move to nearby cities of Andhra Pradesh, Telangana, Chhattisgarh and Odisha.
"I am not against development," says Rukmini. "I am trying to bring the welfare measures of the state to the target groups like the Lambadas and Koyas. But I am not going to support actions by the state that will ultimately undo the welfare measures of the state itself."
The argumentative Indian
There is not a moment of boredom while you are with Rukmini. She has an opinion on everything. From sex-selection tests, abortion and gay and lesbian rights to rather harmless ones like which restaurants are doing justice to the name and glory of the Hyderabadi biryani and the Andhra platter, Rukmini is ready with sharp arguments. She says she has sharpened her skills of argument from her university days and honed them to perfection during her street-fighting days in Delhi.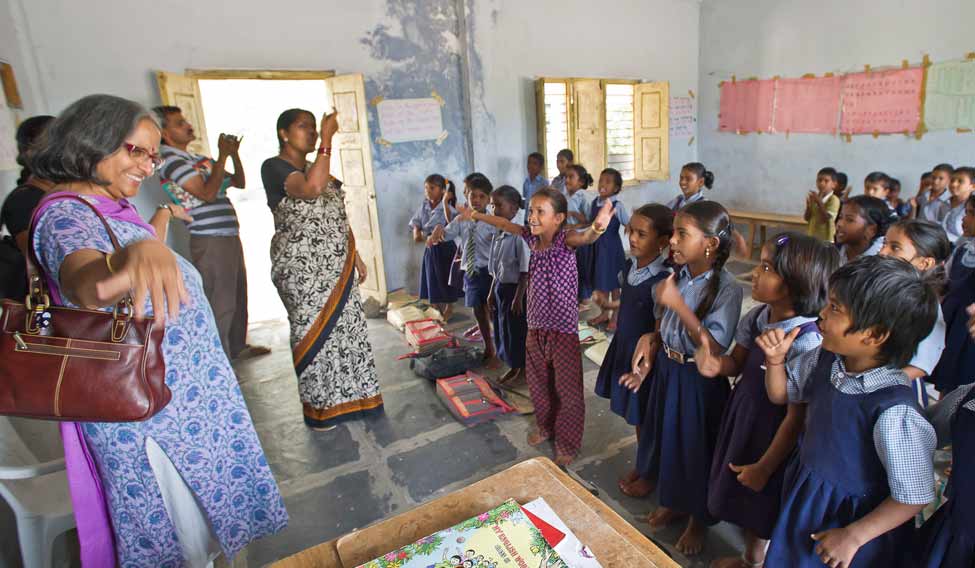 Her love for arguments also stems from her deep desire that society, which takes academics and armchair pundits seriously, should give importance to the opinions of the activists as well. "In the early 1970s, people used to think we were a misguided bunch, who always rushed to government offices to argue the cases of vulnerable women and children. We became branded as activists. While activists in Delhi, Mumbai and other metros like Aruna Roy, Medha Patkar and some of us at Saheli were taken seriously, most others were not, as they were not from the big cities. So my fight has also been to make the activists' voice count in policy-making," she says.
While she is a legend among the feminists, Rukmini does not mind that she is not a celebrity even at a time when Arvind Kejriwal and his ilk have turned nearly every available activist into vote-catching machines. She refuses to blame Kejriwal for diluting the agenda of the civil society movements by absorbing their leading lights into his Aam Aadmi Party. "It was impossible not to be roused by the corruption of the UPA regime," she says, but quickly adds that she is not at all happy with some of the BJP leaders hinting at a squeeze on the Mahatma Gandhi National Rural Employment Guarantee Act. "Before drying up funds for right to employment, these new leaders of our country should make an effort to live in the villages," she says. Governments must understand, says Rukmini, that they have a mandate of five years, but an activist has a commitment of a lifetime to issues close to her heart.