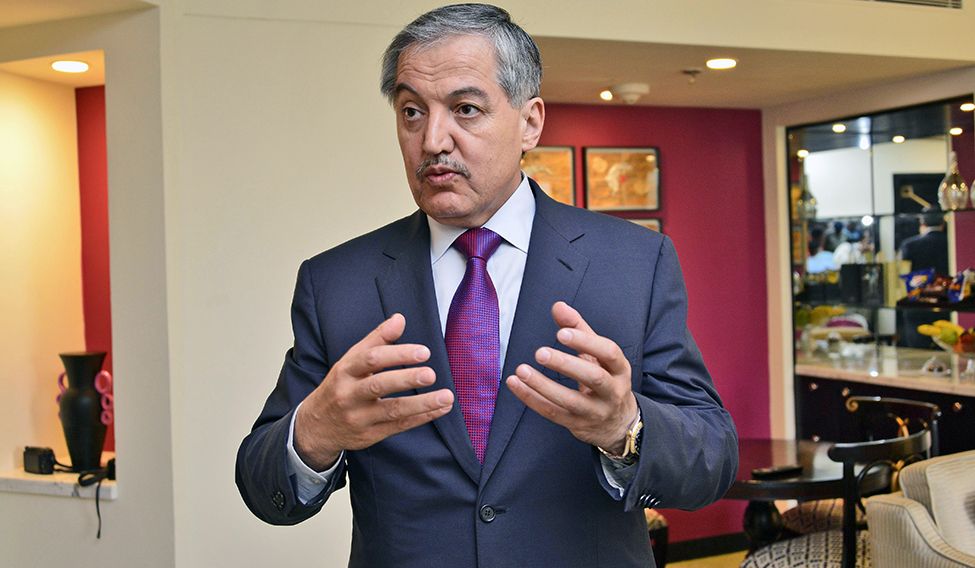 Aslov Sirojidin Muhridinovich, minister of foreign affairs of Tajikistan, says that the threat of ISIS is a warning that the world must come together, under the United Nations, to deal with the issue of terrorism. During his visit to Delhi on May 12 to initiate preparatory talks before Prime Minister Narendra Modi's July visit to Tajikistan and Central Asia, Muhridinovich spoke exclusively to THE WEEK. Excerpts:
What are the immediate regional security concerns for Tajikistan?
Tajikistan and Afghanistan share a common border of 1,344.15 km which is not easy to police due to the difficult high altitude terrain. Taliban has been a headache for Tajikistan for long. Following the December 16 terror attack on a school in Peshawar, Pakistan has intensified its military operations against the Taliban in its territories. As a result, a large number of Taliban and other Islamic fighters have entered the northeastern Afghanistan region. So naturally, we are very worried as this serious security situation is arising just across our border.
How different is this Taliban threat from what the region has seen in the past?
Taliban is not a singular body. There are many terror groups like the Ansar ul Allah, Islamic Movement of East Turkistan, Al Qaeda (and now reportedly elements from IS from Iraq and Syria are now part of Al Qaeda) that work with Taliban. They used to find refuge in the mountains and cities in the southeast of Afghanistan. Now they have found refuge in northeastern Afghanistan, causing us worry. A Tajik saying says that the "neighbour's house should be stronger than mine". That is not true in our case.
What can India and Tajikistan do together to fight Taliban-like forces?
We can fight together in multilateral platforms like the United Nations. India has been helping Tajikistan by supplying non-lethal weapons and by training our military forces. Some of our officers and cadre are also being trained in India. Last year, Indian foreign minister Sushma Swaraj visited a military hospital in Tajikistan which was built by India. We can deal with internal threats. Most of our problems are externally generated. We want India to assist us in increasing our defence preparedness.
What is the status of India's involvement in the Ayni airbase?
India is partnering Tajikistan's military abilities. One of the aspects of Tajik preparedness on regional security involves upgradation of the military airbases. Tajikistan is strategically located and several countries that are our partners wish to own their own airbase in Tajikistan. Being a mountainous country, we do not have a lot of free space, and therefore, we can not build multiple airbases for different countries. So we have to dedicate one base for multiple partners like India and Russia. Right now, India and Tajikistan are in discussion to define how best to use the airbases like Ayni in a joint manner and not exclusively.
What have been India's initiatives for Tajikistan since Modi came to power?
Sushma Swaraj had paid a visit to Tajikistan last September, which underlined India's commitment to intense ties with Central Asia. She visited the region in April, too. We are looking forward to receive Prime Minister Modi in Dushanbe this summer when we plan to discuss how to access Indian banks and how to intesify mutually beneficial trade. Modi will pay a landmark visit as we look forward to have India on board as a great partner in security and market initiatives. Afghanistan, Pakistan and Tajikistan have begun CASA [Central Asia - South Asia]-1000 regional project for hydroelectricity. We hope India, too, will join such projects in the future.
What is the regional preparation for connecting the Indian market with Central Asian region?
We want to change the landlocked destiny of Tajikistan, and the recent Indian investment in Chahbahar port of Iran is a great positive step in that direction . The investment in Iran will help Tajikistan and other Central Asian countries immensely as the Iranians will help us connect with the Mumbai port via Chahbahar. Tajikistan is building road and rail networks connecting Afghanistan, Iran and Tajikistan in one grid. That apart, we are also building road and train network across the Farsi-speaking world, which will be connected to the port of Chahbahar. We have deep cultural links with India and we share a level of comfort as Indians and Central Asians have convergent ideas on many issues.
Is President Ghani a better performer than his predecessor Hamid Karzai?
Every president of Afghanistan is trying to work in his own style. Karzai had ISAF and NATO forces to help him govern. But now, the NATO has withdrawn. But not all is in Afghanistan's hands. There are many global interests that are colliding over Afghanistan. These are problems that will have to be dealt with through a regional approach. We are deeply concerned that the developments in Afghanistan will influence the developments in the Central Asian region.
You want large scale construction of road and rail network to connect the landlocked economies of Central Asia. Is this plan ecologically sustainable?
We know the environmental concerns that shadow our developmental plans for the Central Asian region. We will not disturb our mountain, glaciers and rivers for our development plans. The consequences of the loss of the Aral Sea is a lesson for us. Today, Aral Sea is a tiny water body and almost 27,000 sq km of sea bottom area of the Aral has become dry, leaving dry layers of salt behind. Our mountain snow and ice melt was disturbed by the salt which was blown up from the Aral Sea bed by strong winds. Aral environment disaster taught a lesson to Central Asia which we will remember as we proceed ahead with development plans.
Iran-US talks are appearing to be successful. What are your takeaways from these talks?
We support peaceful negotiation over differences. Once Iran and the Western powers resolve differences over nuclear issues, we hope developmental opportunities will open up for the region.