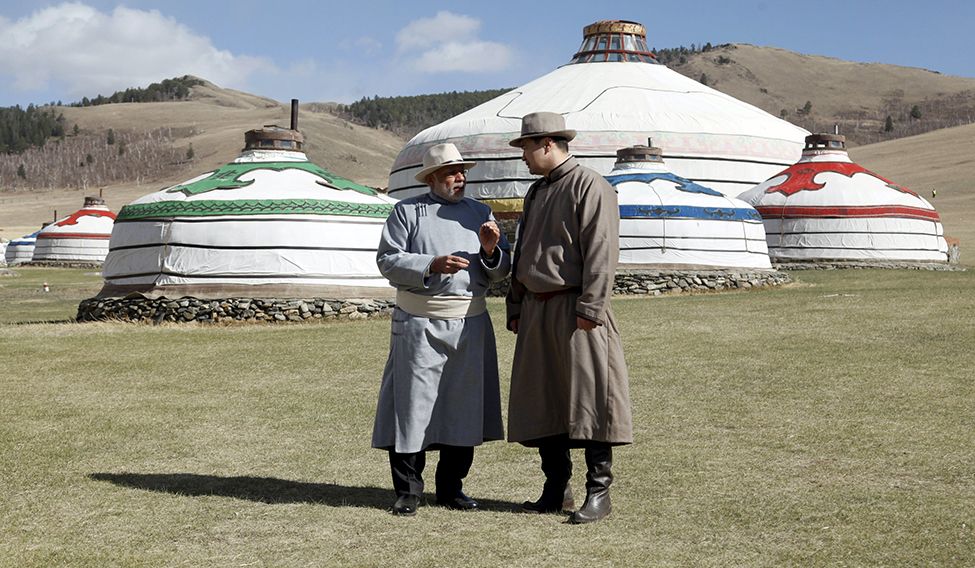 During his recent visit to Beijing, Prime Minister Narendra Modi said he wanted to focus on "cooperative federalism" in foreign affairs. Delhi Chief Minister Arvind Kejriwal may not agree. The world class skill centre proposed to be built in rural Delhi in collaboration with the Singapore government stays caught in the red tape of the Delhi secretariat. Perhaps one of the lessons that Modi learnt in his first year in office is that the first hurdle to foreign policy initiatives is often created by domestic affairs.
Yet, a year after he took over, the Modi stamp in foreign policy is unmistakable, which has overshadowed the role of External Affairs Minister Sushma Swaraj. She had, in fact, even refused to pose for photos after her first major international meeting last June, with Chinese Foreign Minister Wang Yi, as she wanted to keep the focus of the visit—to connect Modi and Chinese President Xi Jinping—intact.
Modi and Sushma faced their first major diplomatic challenge last June when 39 Indians were kidnapped in Iraq by suspected Islamic State militants. Soon after that came the news of Indian nurses getting stranded in the strife-torn country. While the nurses were freed after intense diplomatic efforts, the kidnapped men are still missing. Another challenge for the new government was the deteriorating ties with Pakistan, accentuated by flare-ups along the border.
While the visit of US President Barack Obama was a success, which came after an equally successful visit by Modi to the US, what followed was a major shake-up in the ministry of external affairs. Foreign secretary Sujatha Singh was asked to put in her papers and make way for S. Jaishankar, who was India's envoy to China. Although Sujatha said she was not bitter about the move, she hinted that the episode could have been handled better.
From the way diplomatic work is being run by Modi, it seems the PM has ordered a division of labour. While Modi looks after major policy issues, the external affairs minister operates the nuts and bolts of routine initiatives. This has been cited as one of the reasons for Sushma's marginalisation.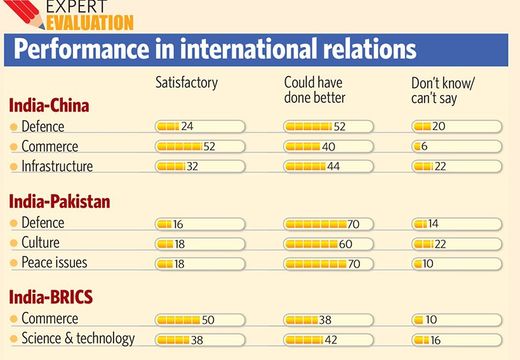 Sushma is also forced to share the limelight with a high-profile deputy. Minister of state for external affairs V.K. Singh, for instance, got much of the credit for bringing back thousands of Indians stranded in Yemen following the civil war in that country. It was, however, the concerted efforts of secretary (east) Anil Wadhwa, Jaishankar and Sushma in coordination with the armed forces that ensured that the rescue effort went ahead flawlessly. "What made our work difficult was the fact that normal government-to-government relations were non-existent," said Wadhwa.
Retired diplomat Kanwal Sibal said Sushma had underplayed her personality by staying quiet, but according to South Block sources, Modi's style was aimed at making optimal use of his diplomatic team. While the PM has the larger task of presenting India as a major market and a cultural destination, the bureaucrats are asked to divide diplomatic tasks among themselves without major overlapping. This was evident during Modi's latest east Asian trip in which the foreign secretary accompanied him only to China. "The foreign secretary did not travel to Mongolia and South Korea, which was left to secretary (east)," said a diplomat.
Modi visited 18 countries in his first year and the coming days are not going to be any less hectic. The dates for a prime ministerial visit to several west Asian countries, including Israel, are likely to be announced soon. This is to be followed by visits to central Asian countries like Kazakhstan and Tajikistan. Modi has warmed up to some of the big countries in the first year and the next year might well be devoted to smaller, but critically important partners. No wonder, senior MEA officials have started keeping full travel kits in their offices.
Falling short
By Sujatha Singh
Prime Minister Modi gets full marks for imagination, drive and energy in the way he has conducted foreign policy. However, India's present foreign policy, including the focus on the neighbourhood, is essentially a continuum of its past policy. There are no sharp breaks that I can see. Perhaps a greater emphasis on showmanship and speeches, but no surprises in substance.
The difficult part starts now, delivering on the promises made. It must be remembered that virtually every new government in India, especially the ones with a majority, has been welcomed by the world at large. There is an initial euphoria, expectation, adulation and goodwill. But it won't last forever.
It should also be kept in mind that what India achieves through its foreign engagements is a direct function of its domestic socio-economic strengths as a nation. The two go hand in hand, one cannot be separated from the other. The foreign visits have been useful, by and large. The ministry of external affairs has been one of the ministries that has delivered a virtually flawless execution of Modi's grand ideas. The question now is: What do they all add up to?
The nuclear deal with the US and the visit of President Obama and the personal equations that the PM appear to have forged with several world leaders are among the key achievements of this government. I would rate the Land Boundary Agreement with Bangladesh as a truly historic moment in our relations with our neighbours.
The government has adopted a dangerously personalised manner of taking foreign policy decisions. The leadership seems to prefer a somewhat romanticised/ emotional view of relations with certain countries. Disaster relief has been another area which should have been more carefully handled. The response to the earthquake in Nepal should have been more sensitively handled.
There has been a lack of clarity with respect to Pakistan. Virtually each one of our prime ministers seems to have thought that he/ she could make a breakthrough. The Pakistanis play to this particular weakness of ours.
This government has shown a lack of attention to systems and institution building that is essential if we are to deliver on the promises made. That apart, the government displays a lack of awareness that a growing engagement with the world needs to be adequately resourced if we are to follow through and deliver on the promises made.
India's priorities are, and should continue to be, its own socio-economic development. Our engagement with international partners is, ultimately, only a means to this end. This, in turn, will benefit our entire neighbourhood as much as, if not more than, any aid or lines of credit that we can give them.
(The author is former foreign secretary)