According to market reports, Flipkart's valuation touched $12.5 billion in March and Snapdeal's is said to be close to $5 billion. The valuation spike is thanks to the regular rounds of funding (see graphics) received by the e-commerce giants. However, raising such funding might be difficult in future, because investors are now asking for a roadmap to profit, before putting in more money. So, experts expect only a selective rise in valuation, in future.
Many experts believe that the valuations of many Indian e-commerce companies are not justified, despite their size. "Most of the e-commerce companies in India are surviving on private equity funds," says Naresh Malhotra, CEO, Modern Family Doctor, and former CEO, Cafe Coffee Day. "There is no profit as yet, and will not be for a long time, if at all. All of them will not survive. There will be consolidation through mergers and buy-outs. Valuations are very high and totally unjustified."
Some experts expect only large companies to receive successive rounds of funding. "We expect the market to break between the leaders and the followers," says Alok Shende, principal analyst, Ascentius Consulting. "Leaders will derive higher premium in successive rounds of funding. Laggards will have to sweat harder. The dominant strategy that India's leading e-commerce players are pursuing is that of growth at any cost. The premise is that once there is a clear emergence of No 1 and No 2 players in the market, competitive pressure will ease, giving greater room for profitability growth. We expect that this competitive price-led strategy will continue until there is a shakeup in the market. Conservatively, we expect this trend to continue until 2019-2020."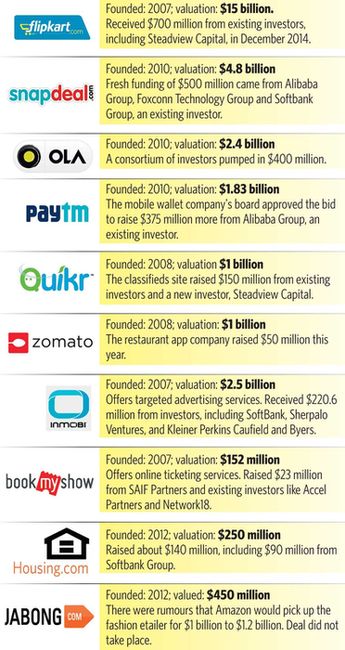 E-commerce companies with a strong monetisation model will survive. "Business model of many of the e-commerce companies will have to be proven," says Ganesh Vasudevan, CEO, Indiaproperty.com. "There are global issues, along with the Chinese slowdown. All this will slow down funding cycles. It is expected that the top two or three e-commerce players will trigger consolidation in the industry as nobody is making profits."
For the established names, it is a growth vs profitability game right now. They can become profitable the minute they stop focusing on growth. To become profitable, these ventures will have to curtail the heavy discounting and advertising. But, that will lead to low or no growth. Till about a year ago, it was all about growth through discounting. But, experts think a bit of rationality has come in now.
Analysts also point out that some investors may now look at investing in companies providing facilitation services and, thereby, enabling logistics, especially last mile delivery at an economical cost. This will complete the chain of end-to-end e-commerce, while generating reverse commerce which will bring in huge valuation to their investments.
Professor Aswath Damodaran, who teaches corporate finance and valuation at New York University's Stern School of Business, says many of the e-commerce companies are more business visions than business models right now.
"E-commerce companies in India will have to develop business models and get down to the nitty-gritty of running companies to become profitable," he says. "All young growth businesses are dependent on new equity to grow and most of them lose money. Many of them will not make it and the few that do will be your future stars. However, collectively, their valuations are over-priced."
Damodaran says that as human beings, investors are driven by fear and greed, in equal measure. Hence, if they see others making money, they will continue to invest, and if they see others losing money, they will pull out.
Broadly, the e-commerce space in India has huge potential and is driven by favourable demographics, multi-fold rise in internet penetration and scarce organised retail. The initial issues of consumer acceptance, lack of debit card and credit card penetration and challenge of last mile delivery have been overcome with solutions such as cash-on-delivery and specialised e-logistics companies.
Market analysts say that arriving at a value for e-commerce companies requires a change in the traditional valuation mindset. Nishant Tiwary, senior vice president (investment banking), Edelweiss, says, "Current valuations appear to be high, but they reflect upbeat sentiments about the potential of e-commerce based on expected economic growth, improving lifestyle, increasing internet connectivity and expanding consumer base. Up until six months ago, most private equity investors were looking at gross merchandise value and top line while investing. In the last six months there has been a change in investor attitude and they are now asking for a roadmap to profit."
Some investors such as Malhotra feel that many of the e-com companies are focused only on growing their top line. "After a few failures and closures of these companies strategies will emerge," he says.
Analysts say that, to become profitable, e-com firms should focus on their core business of online commerce and supply chain management and leave the logistics to niche players.
Says L.R. Sridhar, founder and CEO, Connect India, "This move will bring in efficiencies and cost rationalisation, thus making the distribution cost from fixed to variable. It will enable e-commerce players to make profits and distribute the value created in the chain to ultimate customers, who will ensure that the volumes grow exponentially."