The sea-facing high-rises at Nariman Point are among the most sought after commercial spaces in India. And, by some reports, they are among the most expensive office spaces in Asia. Rakesh Jhunjhunwala's firm, Rare Enterprises, is on the 15th floor of Nariman Bhavan. Considered India's most successful stock market investor, Jhunjhunwala's first investment was Rs5,000 in 1985. For a man who is now worth at least $1.9 billion―that is around Rs11,400 crore―this is the perfect address. An indication of how high his graph has climbed and where it stands.
The Hindu pantheon reigns over the foyer of Rare Enterprises. The plum position goes to a large portrait of Lord Balaji. An attendant shows us into Jhunjhunwala's cabin, which has an excellent view of the Arabian Sea. Here, Lord Ganesha rules. In many poses.
Jhunjhunwala's end of the cabin is taken up by a bank of monitors displaying live stock listings. His white shirt untucked, the 55-year-old looks up from the monitors, greets us and leads us to a huge conference table. "These Ganesha idols inspire me," he says. "All of them are gifts. I am not very religious as you may interpret by seeing these idols or the portrait of Lord Balaji. But, yes, I do believe that God is the giver of all wealth."
Before devoting himself to THE WEEK, Jhunjhunwala juggles phone calls. "Some days are a little hectic," he says. "But I am not as busy as you may think. I do not have any clients or customers... except my wife!" Rare Enterprises gets its name from the first two letters of the first names of Jhunjhunwala and wife, Rekha.
So, is it true that Jhunjhunwala does not mix investing and trading? It is, he says. He does not invest in what he trades, and does not trade in what he invests. "There are greater challenges in trading as very few earn in it," he says. "However, if one earns in trading, the return on capital is very high. Investment on the other hand is based on informed ignorance which results from incomplete information and perfect set of data [like quarterly and annual results]. The power of compounding makes investment more powerful over time."
And, his style of analysing a company's performance is different. "People look at profits to judge the performance of a company," he says. "I tend to look at the different factors which drive those profits. For instance, a company like Infosys capitalised on the IT opportunity and succeeded."

As the discussion gathers momentum, the "Warren Buffet of India" recalls his meeting with Buffet. "I have always been impressed by him and got an opportunity to have a lunch meeting with him in Delhi," Jhunjhunwala says. "Though I have been compared with him, I am nowhere near him! I neither have his skills nor his wealth. In fact, I do not have as much wealth as people think I have. But, yes, I have much more than I need."
While he says that a lot of investments do well in the long run, he also admits that timing the exit from an investment is also a big challenge. Most investors sell and move ahead in life, but some cling on to their stocks for a long time. "Markets are like women, volatile and difficult to understand," he says. "Markets cannot be taught, they have to be learnt. One should never be afraid to make mistakes in life as no one is perfect. However, the mistake should be such that one should have the ability and confidence to live to fight another day."
Jhunjhunwala has always recommended that investors must approach the market with optimism and with an open mind. For him, the stock market is supreme and he says every investor should show utmost respect to the market.
He was set on the investing path by his father, who was employed with the Income Tax department. "Till he was alive we lived together," says Jhunjhunwala. "Every day we used to discuss stocks and investments. He always used to say, 'Always aspire, and never envy someone because he has something by God's grace." Jhunjhunwala's mother stays with him now.
He says he has a capitalist bent of mind, but, in contrast, his father had a socialist approach. Jhunjhunwala Sr used to invest in stocks regularly in the 1970s. "My father used to invest in public sector undertakings and the like," says Jhunjhunwala. "So, when I was planning to invest in a private hospital stock he got very upset. 'Are you planning to make money out of patients' blood?' he asked me."
In between the conversation, Jhunjhunwala pauses to light a cigarette. "I used to smoke heavily earlier, but now I do not smoke more than 14 cigarettes in a day," he says, reminiscing about his initial days in the bourse in the 1980s. The initial investment of Rs5,000 was boosted with a borrowed capital of Rs20 lakh. He made Rs25 lakh in the first year and never looked back. One of his first investments was Tata Tea. Another early investment that paid richly was Sesa Goa, the iron-ore exporting company.
He says the stock market then was very different. "In the mid-1980s, markets used to be underdeveloped and there used to be satta trading," he says. "Company results used to come once in year and that, too, had a lot of manual intervention and were not accurate. In stark contrast, they are so well organised today. There is transparency in company information and in methods of trading. There are systematic quarterly and consolidated annual results now." One budget that made lots of money for Jhunjhunwala was Madhu Dandavate's (1989-1990), which rationalised excise duty.
Exposure has been a mixed bag for him. "I was very bearish about the markets in 2007, but the market collapsed in 2008," he says. "I had purchased shares of Hindustan Oil in the early 1990s, but all through the share did not do well and I gained nothing. Eventually, I sold it off last year."
If there is one person whom he considers a true friend and mentor, it is ace investor Radhakrishnan Damani. They met on the streets near the Bombay Stock Exchange and have remained friends for 30 years. "I learnt the maximum about trading from him," Jhunjhunwala says. "Even now, not a day passes when I do not call him. He told me that one should have the highest regard for one's parents and it is always good to be humble. Damani inspired me to take decisions."
Though the markets are his passion, Jhunjhunwala loves reading anything he can lay his hands on. "As a child I was a voracious reader, mostly of adventure and history books," he says. "I even read comics... Phantom, Tarzan, Mandrake.... My father used to motivate me to read and used to recommend books."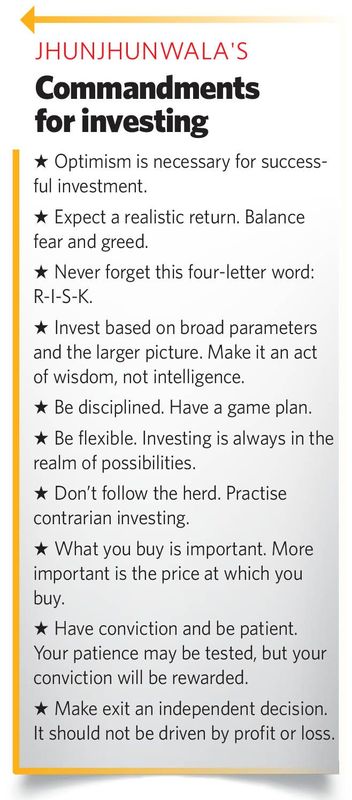 Another passion is horses. Jhunjhunwala owns many and loves to see them race. "I regularly visit the Mahalaxmi Race Course [in Mumbai] during the racing season. I just enjoy seeing those races," he says.
The Jhunjhunwala clan are Agarwals hailing from the Jhunjhunu district of Rajasthan. Born in Hyderabad, Jhunjhunwala has been in Mumbai since he was two. In school and at Sydenham College, he was a table tennis player and debater. After graduating in commerce, he became a chartered accountant and gained those number crunching skills that stood him in good stead.
Jhunjhunwala has other responsibilities outside Rare Enterprises. He is chairman of Hungama Digital Media Entertainment Ltd and Aptech Ltd. He is also on the board of many companies such as Geojit BNP Paribas and Nagarjuna Construction Company Ltd.
Despite the e-biz boom, Jhunjhunwala does not believe in the e-commerce business model and says a business is successful only when it posts profits and is self-sustaining. Most e-commerce companies are surviving on private equity money, he says. His only investment in the sector is in Full Life, a health care start-up.
Ramesh Damani, ace investor and member of the Bombay Stock Exchange, describes Jhunjhunwala as a focused man. "During one of our social outings at Geoffrey's [the bar at Hotel Marine Plaza, Mumbai], we were having drinks and he suddenly felt dizzy and lost consciousness," Ramesh says. "He being of a heavy build, we all panicked. All of us rushed to get water and medical help. When we returned he was up and on the phone discussing stocks with some investor."
Ramesh also feels Jhunjhunwala is very open about his viewpoint. "When he was bullish about the Titan stock, he was quite open about it and went on discussing his viewpoint on the stock in all newspapers and news channels," Ramesh says.
Jhunjhunwala was happiest when he became a father, says Ramesh. "He became a father late, but once his daughter and his sons were born, I could see this out-of-the-world happiness on his face," Ramesh says. "He took some of us to Mauritius for his 50th birthday. He took care of everything, including the room service."
A family man, Jhunjhunwala quips that while his friends are answerable to their clients once a month, he has to update Rekha "daily and give her a report about her money". At home he is a doting father to daughter Nishta, 11, and twin sons Aryaman and Aryaveer, who are six.
"Rekha and I had an arranged marriage and she is also from Mumbai," says Jhunjhunwala. "She is very down to earth, considerate and humble. Earlier, I used to drink and party. Rekha has ensured that I cut down on my partying, drinking and smoking. In the last few months I have lost around 14kg, and now I do yoga regularly."
On a normal day, Jhunjhunwala is at his Malabar Hills home by around 7:30pm. "I like to have pillow fights with my kids and we regularly take time off for holidays," he says. "We have been to Dubai, Bali and Kashmir. Now, a US vacation is on the cards. Disneyland, it is."
He now parties twice a week, at the most. The outings at Geoffrey's, too, have come down. Food has always been vegetarian at home; no eggs. Now, he has extended that diet to meals outside, too. "I am a foodie, and like all kinds of food," he says. "But, nowadays I prefer home-made rice and pulses. I am partial to okra and bitter gourd."
A movie freak, he watches Bolly-wood movies with Rekha and the kids. His liking for movies led to him and Radhakrishnan Damani co-producing Sridevi-starrer English Vinglish in 2011 and, recently, Shamitabh. His favourite film stars are Amitabh Bachchan and Sharmila Tagore.
What will be his next big buy? A private jet, perhaps, he says. "I do not have an infatuation with cars as I do not drive, but I would surely like to own a private jet," he says. Another big spend coming up is charity. "I consider charity my fourth child," he says. "I feel that whatever you give should have an impact. I am concerned about child malnutrition and about women's education in India." So, he will give away 25 per cent of his wealth on July 5, 2020―his 60th birthday. He is main benefactor of the Bengaluru-based Agastya International Foundation, which takes innovative science education to economically disadvantaged students.
Currently, he is bullish about some home loan companies and automakers. He has always been optimistic about the future of the Indian markets and feels the Modi government is doing a good job. He would, however, like more Indians to invest in equities. "The exposure of an average Indian in the stock market is very less when compared to other countries and I feel that it should go up," he says. "Individuals should come forward and should make it a point to invest some amount towards equities every month."
Jhunjhunwala believes in practical integrity and says one should not compromise on honesty and integrity to get ahead in life. So, let's be honest, how much is he worth? He quips: "A person's personal wealth is like a woman's age, it is something which cannot be discussed in public!"