Parliament was surrounded on Monday by a mass of humanity, protesters, who had assembled at the nerve centre of Delhi to protest recent anti-farmer measures taken by the government.
Primary among the charges leveled against the Narendra Modi led administration was the question: what has his government done to protect lives of farmers?
"His finance minister Arun Jaitley has openly stated that the central government would take no role in farm loan waiver. This is not only inhumane but also a grave injustice," said Medha Patkar, addressing the All India Kisan Sangharch Coordination Committee (AIKSCC)—a joint platform of farmers from 184 farmers' organisation representing 25 states.
On the streets of Parliament, Patkar along with women leaders of the farmer's agitation—including widows of farmers—conducted an all-women parliament, Kisan Mukti Sansad.
Addressing the all-women parliament, Pooja Ashok More of Swabhimani Shetkari Sanghatana in Maharashtra pointed out that these suicides were a matter of structural discrimination and injustice against farmers.
She blamed successive governments for willfully and systemically neglecting farmers and their issues, even though they take care of the food security of more than 130 crore people.
Manisha, an orphan of cotton farmers, from Siddipet in Telangana narrated her tragic story of both her parents committing suicides, after borrowing at high interest from moneylenders, fearing to be harassed over repayment.
"Such borrowing had to take place because they could not access bank credit as tenant farmers. We have come to Delhi wanting to know from the PM who will help us. If he does not, then who will?", she said.
Prabhavati Swamy from Bidar in Karnataka narrated the story of how her brother, a sugarcane farmer, committed suicide since the returns from farming were negative, even as input costs were shooting up.
She pointed out that across crops, the prices obtained by farmers were dismally low. "Farm families are unable to educate their children properly due to paucity of funds and income," said Prabhavati.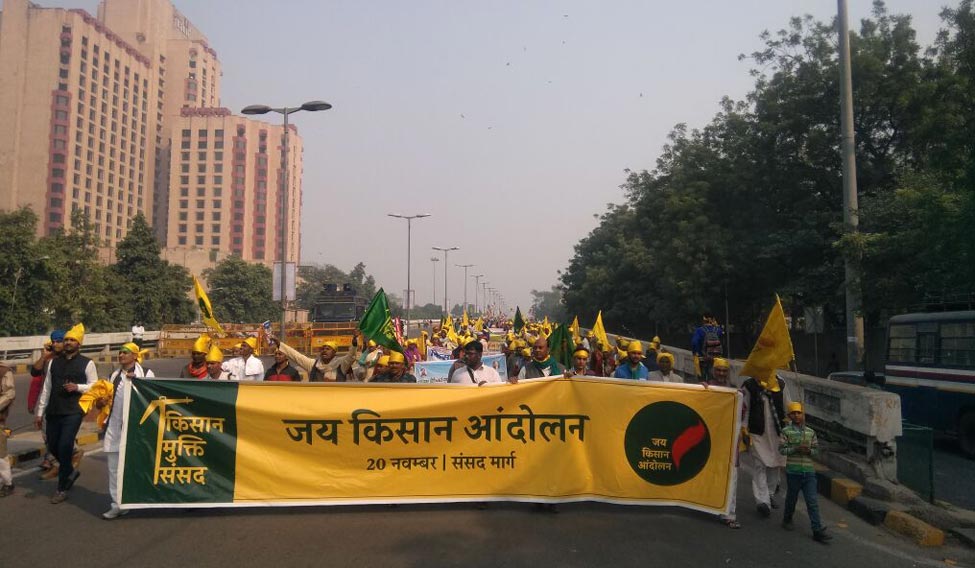 Manjula from Haveri in Karnataka also pointed out the issue of women doing more than 70 per cent of all jobs in farming, yet denied any rights over land, which also translates into a lack of recognition of women farmers as farmers.
Farm leaders from Yogendra Yadav's Swaraj Abhiyan, CPI, CPI(M), and a smattering of regional and independent parties would seek to raise a number of issues.
Prime among them are the demands to pass a bill for farm loan waiver and ensuring that farm produce prices are pegged at a minimum of 1.5 times of the production cost for farmers.
"These are the primary demand felt by women farmers and women victims of farm suicide. We would urge the government to live up to its promise of doubling farmers' income and also take initiatives towards saving lives attached to farming," said Kavitha Kurungati, convener of farmers' platform National Alliance of People's Movement.
"Government has displaced more than 10 crore families dependent on farming. This has led to grave social consequences which we feel the Modi government must address," Patkar said, addressing the agitation attended by more than 2,000 farmers and other people.
Member of Parliament, Hanan Mollah said he will raise the demand for Farmers Debt Waiver Bill, 2017 while Raju Shetty, MP from Maharashtra will raise the demand for guaranteed profitable pricing of farm produce act.
Addressing the gathering, Atul Kumar Anjan, CPI leader said that the narrative propagated by the government and a few economists about less production due to small and medium farm size is totally false, as 54 per cent of wheat and 57 per cent of rice are being produced from these small and medium farms.
During the Kisan Mukti Sansad, the farmers also demanded unconditional and immediate release of Akhil Gogoi, leader of Krishak Mukti Sangram Samiti, who is imprisoned for one year under sedition charges and the National Security Act, for calling Bangladeshi Hindu immigrants as a 'burden on farmers of Assam.'
Farm leaders called it murder of democracy and dissent and called for protests across all states against Gogoi's detention.