Agatha Christie is rightfully called the Queen of Crime. If it weren't for her work, filmmakers may run short of story ideas on crime and mystery. There was a time when Hollywood actors and filmmakers would leave other commitments to be a part of a film based on one of Christie's novels. The trend may soon be revived with Kenneth Branagh's adaptation of Murder on the Orient Express that is releasing this November.
For someone who is familiar with most of Christie's numerous, if not all, novels featuring the famous detective Hercule Poirot and the amateur sleuth Miss Jane Marple, watching the movies brought a sense of delight. Christie often uses the literary practice of stretching the story and plot line to include what is happening around and in the background of the centre arc. To the impatient reader, trawling through some of these details was anything but a delight.
The film adaptations of Christie's novels, therefore, gave fans of a good murder mystery just that in under two hours―a quirky or eccentric detective working their grey cells to solve crimes that are imaginative, inexplicable and, what some would perhaps call, perfect.
Many regard the silver screen adaptation of And Then There Were None as the one that made an impression among fans of the novels. Eight people invited to an island are stuck with two servants with no way to leave. A gramophone recording accuses all of them of having committed crimes without facing consequences. And then, bodies start to drop based on the rhyme 'Ten Little Indians'. To those who haven't read the book or seen the movie, it may sound familiar. Gumnaam, the Hindi film starring Manoj Kumar and Nanda as part of an ensemble, is based on And Then There Were None.
Another film is Dhund based on The Unexpected Guest, and it isn't just Hindi cinema that has drawn inspiration from Christie's novels. Chupi Chupi Aashey (based on the play The Mousetrap), Shubho Mahurat (The Mirror Crack'd) and Chorabali (Cards on the Table) in Bengali cinema and Grandmaster (The ABC Murders) in Malayalam have been inspired from the works of the Queen of Crime.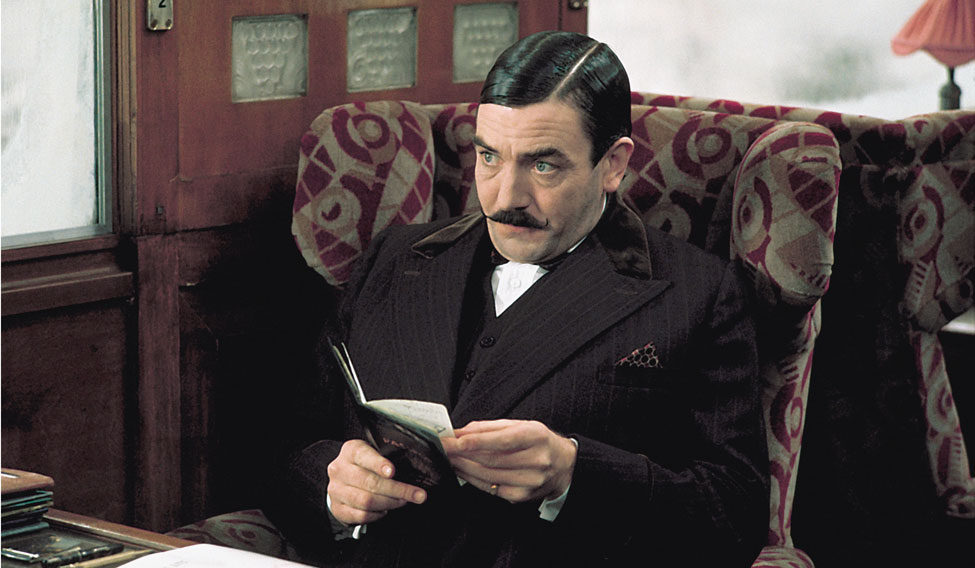 The Mirror Crack'd is another example of a film that mirrored Christie's great storytelling in the novel The Mirror Crack'd from Side to Side. Another great ensemble that included stars such as Elizabeth Taylor, Kim Novak and Rock Hudson embraced the complex characters Christie created in a Miss Marple mystery with Marple being portrayed by Angela Lansbury. Incidentally, Lansbury played a supporting character in the film adaptation of Death in the Nile, in which Peter Ustinov plays Hercule Poirot!
That brings us to the famed Belgian detective with the egg-shaped head. Hercule Poirot's appearance, though described in detail by Christie in her novels, changed (not too drastically) almost every time a new actor portrayed him. The first time Christie admitted to having been impressed by a movie based on her books was when Murder on the Orient Express came out in 1974. This movie too boasted of a star-studded cast that included Sean Connery, Ingrid Bergman and Vanessa Redgrave with Albert Finney playing the super sleuth. The only niggle was that Christie wasn't impressed by Poirot's not-so-fine moustache. But the fact remained that every actor who played him were true to the character, yet brought something endearingly new to Poirot.
Peter Ustinov acted as Poirot in six films before David Suchet took over the mantle in the TV series Agatha Christie's Poirot. And now, Kenneth Branagh is stepping into his shoes. Will he do justice to Christie's novel? More importantly, will he do justice to Poirot's character? At this point, we have a certain image in mind while picturing Poirot. Branagh looks very little like it. However, his Poirot looks ready to jump into adventure.
P.S.―When are we getting a new Jane Marple movie?