Succulent prawns resting in a gravy with a faint hint of chilli and pepper. Tangy and spicy fish coated in smooth coconut milk that falls apart at the slightest touch. A menu from a Michellin-starred restaurant? No, not really. These are dishes Sachin Tendulkar loves to cook.
What will Sachin do after he retires, is a question on many minds. For someone whose love affair with good food is as serious as his passion for cricket, a culinary adventure sounds like a good option.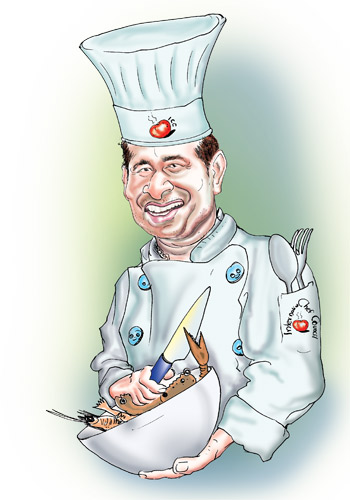 In many interviews, Sachin has claimed that cooking for friends and family relaxes him. The much-talked about dish in cricketing circles is the baingan ka bharta he cooked for his team mates way back in the 1990s when they met at Ajay Jadeja's house in Delhi. He reportedly arrived early to cook the elaborate dish, complete with charcoal roasted eggplant and dollops of cream. Also his barbecue skills when he cooked chicken and sausages at a game reserve in Zimbabwe and the curry he rustled in the Caribbean are still being recounted.
Seafood fares on top of his list of faves, with bombay duck being a staple. As for Mumbai restaurants, Gajalee and ITC Grand Central's signature restaurant K&K are regular haunts of the Tendulkar family. Chef Bhaskar Sankharis of ITC says the dishes like murgh shammi kebab, kakori kebab, haleem, nihari gosht, biryani, roganjosh and desserts like shaan-e-aam and shahi tukda are regularly asked for. "Often Anjali calls K&K to have food delivered to their bungalow in Bandra," says Sankharis.
It's not a secret among Sachin's friends like Sanath Jayasuriya that he relishes a good catch. Every week during the first season of the Indian Premier League in Mumbai, Jayasuriya used to have at least 20-30 kg of fresh seafood flown in from Colombo straight to Sankharis's kitchen for his Mumbai Indians team mate. "Then we would look for a variety of ways to prepare the sea food and serve it to them," says Sankharis.
The Mumbai boy's love for fine dining led to the opening of his own chain of restaurants in Mumbai―Tendulkar's and Sachin's. Apparently, the decor and menu were conceptualised by the cricketer himself. Both the restaurants wound up by 2007.
Sachin grew up on Maharashtrian fare and his favourite street food those days was bhel puri. Apparently, he was also a champion at vada pav eating competitions among his peers. In his earlier interviews, Sachin said the food he longs to tuck into after his tours in India and abroad was his mother's varan bhaat (a Marathi version of dal-chawal) with a dollop of ghee finished off with a dash of lemon.
It was only after he started touring internationally that he developed a taste for other cuisines. During his first Test in Pakistan he discovered his love for a hearty breakfast in the form of keema parathas washed down with glasses of lassi.
In London, Sachin famously frequents Chef Nobu Matsuhisa's avant garde Japanese restaurant, Nobu at The Metropolitan Hotel. Reportedly he even got Suresh Raina to try sushi and sashimi. In Goa, he is regular at Martin's Corner, a place known for its sundowners and fried calamari. But when Sachin is in the house, the order invariably is succulent crab stuffed with Goan masalas.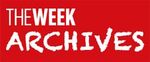 After returning from playing his last match at the Wankhede Stadium, he celebrated 24 years of cricket in style at the Taj Mahal Palace and Tower, Mumbai. Incidentally, it was also the 24th anniversary of the hotel's signature restaurant, The Zodiac Grill, and an 11-course meal menu was designed by chef Hemant Oberoi. From foie gras as amuse-bouche to smoked salmon, and tuna balls with crab and citrus emulsions to a choice between duck and slow cooked grilled chicken with roasted vegetables, it was nothing short of a feast for royalty.
"The Indian team had a big table," said Oberoi. "After the celebratory champagne drink, which was Dom Perignon and the customary cake cutting, which happened to be a large chocolate truffle, Sachin enjoyed his evening indulging in roasted butternut squash and black truffle soup, our signature dish, the Camembert cheese soufflé and the kalva mousse."
What many don't know is that the cricketer is an emotional eater, too. Before the match against Pakistan in the 2003 World Cup, Sachin apparently soothed his nerves with a tub of ice cream. He scored 98 from 75 balls that day to become the Man of the Match.