Driving from Vasco da Gama to Panaji, we found it difficult to trace the most important Goan in Delhi. Ganesh Chaturthi was being celebrated across the state, and Defence Minister Manohar Parrikar, 60, was constantly moving from one locality to the other.
We called Parrikar on the phone and asked him his location. He told us to hand over the phone to our local guide, Hasan, who was also our driver. Hasan took directions from Parrikar and told him that, if required, he would call Parrikar again. We asked Hasan if he knew who he was talking to. When Hasan realised that it was none other than the defence minister of India, his face had an astonished expression, which was quickly followed with loud laughter.
As we reached our rendezvous point at the Altem locality, Parrikar had already been 10 hours into his routine, since 7am, greeting people in Panaji.
Said Parrikar, "Ganesh Chaturthi is quite big in Goa. It is as big as Diwali in north India. I try to meet as many people as I can on this occasion."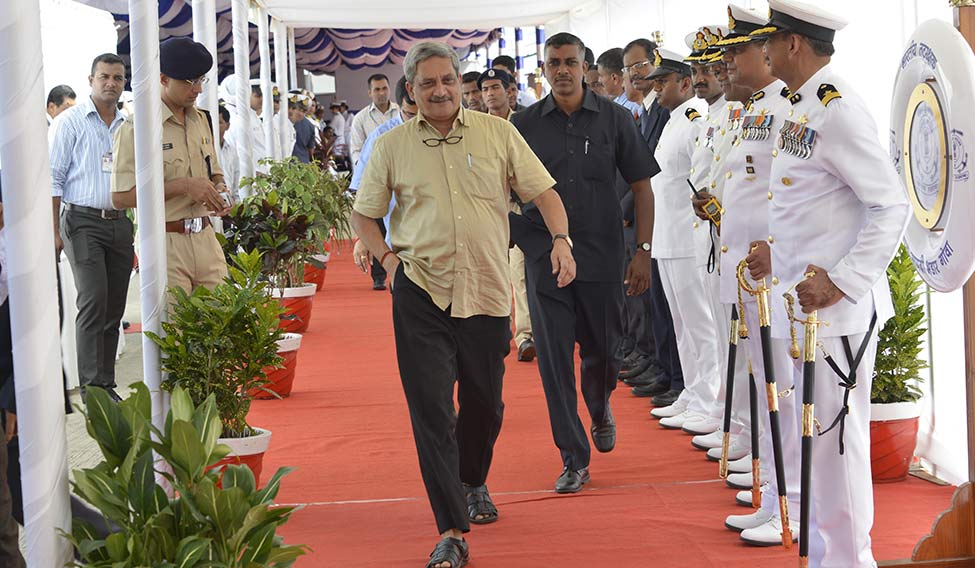 Parrikar took us to a nearby hillock. As he moved up and down the steps, men, women and children came out and invited him to their homes. We asked a supporter if this was an exercise for the forthcoming assembly elections, and pat came the reply from Parrikar himself, "I have known families here for over three decades. I have been in touch with them. This is Ganesh Chaturthi time and not the time for politics. I do this every year."
At a supporter's home, Parrikar sat down to have prasad, while the family members jostled for selfies. The atmosphere was light, with people seeking Parrikar's comments on their Ganesh idols.
Said Parrikar, "People know that I am always there for them and they have supported me. I have never lost an election in Panaji." 
Inside another home, Parrikar was having modaks and ladoos, despite his sugar trouble. We asked him about the recent survey done by the Aam Aadmi Party in Goa, which showed positive results for the party in the state. Said Parrikar, with a dismissive smile, "The AAP is no threat. People in Goa are aware of the kind of activities these people have been involved in, like money laundering. Goans are intellectuals and would not be misguided."
Parrikar spent two or three minutes at every home he visited. 
Said Parrikar, "Depending upon their vows, people [in Goa] keep Ganesh idols at home, for one and a half days to eleven days. My mother had vowed to keep the Ganesh idol in the 1950s when my brother was ill. However, we could do that only when I became the chief minister," he said.
Parrikar likes keeping Ganesh idols for the shortest period. "Because it is difficult to stay away from non-vegetarian food for a long time," he said, jokingly.  
Moving out of the hillock, we hitched a ride in Parrikar's official car to another locality. On the way, he recalled how he had, in his first tenure as MLA, worked towards ending a long-running battle between warring gangs of the Boca de Vaca locality, in his constituency, and Santa Cruz.
"After one of the fights, despite stiff opposition, I got bail for the boys from Santa Cruz and helped them get jobs. They had earlier got a house vacated by throwing down the luggage from the third floor. After this, the same boys put the luggage back," said Parrikar.
As we passed through a lane, Parrikar pointed out a wall on a hillock and recalled that people were angry with him when this wall collapsed during heavy rains and damaged some of the houses nearby. "I had got the construction work done by a contractor, and I was criticised for the fault of the contractor. People were after my life. But I got it reconstructed again and, this time, it was permanent. The houses were also repaired," said Parrikar. 
By 9pm, we had lost count of the homes Parrikar had visited with us. At every house, as we bent down to take off our shoes, Parrikar took off his sandals with ease. "Sandals are comfortable footwear here," he told us. 
Plain bush-shirts, trousers and sandals are Parrikar's favourite attire and he refused to change it even after criticism on social media by a few ex-servicemen.
Parrikar had a relatively small security team. He said he felt safe in his own place and there was no need for excessive security deployment in Goa, where his car doesn't even have a beacon.
"When I agreed to go to Delhi as defence minister, my family members laid down the condition of taking security and I had to accept it."
Parrikar's wife died of cancer in 2001. He has two sons, Utpal and Abhijat, who live in Goa.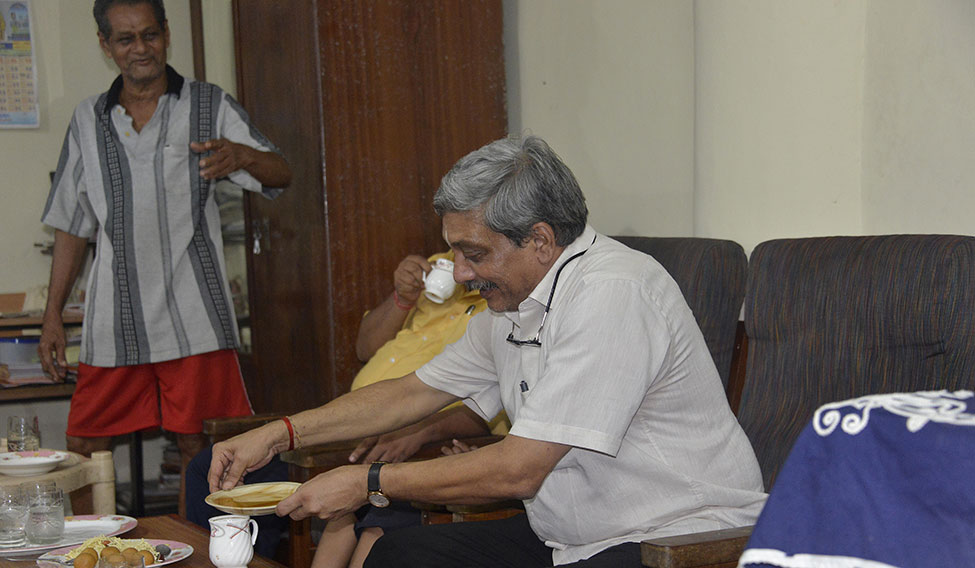 Around 9.30pm, Parrikar looked at our tired faces and asked his personal staff to take us to a Ganesh pandal, as he wanted to leave for another faraway locality. He promised to meet us at the induction ceremony of the vessel ICGS Sarathi at the Goa Shipyard Limited.
Next day, from the narrow, winding streets of Panaji, we went to Vasco, where Union Home Minister Rajnath Singh was to commission the 105-metre-long Sarathi into the Coast Guard. Parrikar reached 20 minutes before his scheduled time and sent the hosts into a tizzy.
While every officer and sailor was wearing Dress 2, the designated summer formals for Coast Guard officers, Parrikar was dressed in his trademark casuals and floaters.
The day before, it was the commoners shaking hands and pulling Parrikar into their homes. At the shipyard, three-star and two-star officers stood in a line to salute him. 
Having reached early, Parrikar utilised the time by holding a pre-event tea gathering with the who's who of Goa politics and officers of the shipyard and the Coast Guard.
When Rajnath arrived, Parrikar sat with him on the lower deck of the ship and declined to address the gathering as he, probably, wanted to let Rajnath get all the limelight. 
As the whistle blew, marking the beginning of presentation of commissioning colours to Sarathi, Parrikar started explaining to Rajnath the traditions and customs of a ship's induction. Rajnath had last visited the shipyard 16 years ago during the Vajpayee government.
When the Coast Guard chief Rajendra Singh introduced a nervous-looking commanding officer Atul Joshi and his wife, Mridula Joshi, who is also a Coast Guard officer, Parrikar put them at ease by talking about their native places and mentioning that the Joshis from Uttarakhand and Maharashtra were from the same stock. The effect was instant. The couple was all smiles and got really comfortable with Parrikar.
In less than 15 hours, we saw two facets of Parrikar: an earthy politician mingling with people in their homes and as the defence minister. And it was clear that people like him for being what he is, while playing these roles.