Vikram Seth has two phones. A tiny, old style Nokia, a dinosaur with the black and white screen, which he keeps in his pocket, and then the big, larger-than-life sleek smartphone that he whips out and presses record. "Sometimes, I say something interesting that I want to remember," he explains. The writer, who doesn't have much of a Facebook presence and doesn't hog Twitter, has another addiction—games on mobile phones. Candy Crush is his current favourite. His oldest iPhone—the one he hasn't given up—still has it. "Bugdom, which I found quite attractive," he laughs. "It is one of my alternate lives. Sometimes I play music as well. At least, thank God, there is something more crushing, if not pressing."
More than just music and Candy Crush and translating works and paintings, Seth has become a sculptor, too. For years, it was the three dimensional that his muse wanted from him. In a pistachio-coloured shirt, his eyes rimmed with red, Seth looks worn out. It has been an early day and he has interviews scheduled throughout for his poetry collection Summer Requiem. A thin volume—a mixed bag with poems written over the years, some cryptic, but all personal—capturing the myriad colours of summer. The dominant is blue—the all permeating kind that happens after heartbreak; there is the grey of loneliness and darkness of loss, too.
This collection is "much darker", he admits, but there have always been "poems touching on those subjects", he says. "Strangely I have found, or not strangely I have found that those poems speak deepest to other people. All you who sleep at night, some people say it is a simple poem and doesn't need any explanation. But if it comes out of loss and loneliness so much the better. So, it means you can link up with other people who have suffered that too," he says.
There is 'Not Now, Not Soon'—a jilted love poem: "Not now, not soon, but not too far, May you not still be as you are, Untouched by love for any being, Unsearable, unstung, unseeing." Then, there is 'Caged' that captures the pain of two people who love but lost each other stuck in a relationship. There are poems that are gems, which glitter after years of Seth tinkering with them, with scattered lines like "building chance events into philosophy". Then, some less perfect, reflecting a younger Seth.
There is even a prayer for his new book—the much-awaited sequel to A Suitable Boy—which propelled Seth to superstardom. A Suitable Girl, which has moved to a more suitable publisher (Aleph) after the Penguin fallout, is supposed to hit the stands in 2017. In Summer Requiem, Seth has a prayer for the book-that-everyone-wants-to-ask about. "Whatever force outside me moves my hand, And gives me strength to dream and understand, Let me, by grace enlivened and by skill, Enliven those who lived, and those who will." So, what about the work in progress: "The more I keep asking her the less she seems to be willing to give me an answer,'' he says.
In the current climate where writing and writers have become political, Seth, who, for years, has been reclusive if not a reluctant speaker, couldn't help but become embroiled in the dissent debate. The latest writer to be trolled on the internet, for his views on the Sahitya Akademi as well as Sanskrit, which came outside India, Seth is used to not having a suitable opinion. "I took a lot more and worse abuse when I talked about [section] 377,'' he says. He is clear—religion has no place in public life. "My view on religious matters is that it is a great evil to bring religion into the public space," he says. "I don't want to exaggerate the effect it has on me. It certainly has been at times that people have been concerned about safety. In a way, why are you tempting the fates by talking about religion?"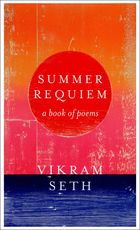 So does the petty mudslinging bother him? "It is more par for the course," he says. "I had expected all the dogs of the internet to start baying. It is their job."
Summer Requiem
By Vikram Seth
Published by Aleph
Price Rs.399; pages 66