Maharajakrishna Rasgotra sits in a room lined with books. James Patterson rubs spines with other thriller writers. There is Tony Blair, too. On the other end is the traditionally accepted shelves of classics—all bound in black, with Tolstoy sitting comfortably with his contemporaries.
"I read a lot,'' says the man whose note—the only one he ever wrote for Mrs G—ensured that the 'only one who wore pants in her cabinet' decided to go to America in 1982.
Decades later, he yet again chose to write. And the result is his memoir, A Life in Diplomacy. Even at 90, his memory, which he says is like a tape-recorder, has not failed him.
Rasgotra took over as foreign secretary during the 'To Russia with Love' period. Like in the Modi government, foreign policy was directed out of the prime minister's office back then. Narasimha Rao, the foreign minister, was kept out of the loop, and Indira Gandhi directly dealt with the foreign secretary.
Indira asked him what his priorities were. "We are in a situation of diplomacy stasis. We are not talking with the countries with which we have problems," replied Rasgotra. And the decision to be tied down to the "exclusive friendship" with Russia ended.
Soon followed Indira's US visit. Rao, says Rasgotra, opposed this, as he thought "it might annoy the Russians". Her principal adviser G. Parthasarathy, too, dismissed the idea: "Indira is not popular in the US. She will get a bad reception... and... we will lose the one friend we have in the world."
But Rasgotra wrote a note—one that changed history—and Indira took off to the US.
What were the toughest decisions he had to make? "There were tough decisions every day," he says. "[One was] whether we should allow [Pakistan president] Zia [ul-Haq] to come. It was opposed by [then principal secretary] P.N. Haskar. The decision to start a new relationship with America was opposed. Start negotiations with Pakistan? There were lots of opponents. The talks had been suspended for a year and a half. My view was that we should be talking to everybody. With China, I failed."
IN HIS FIRST meeting as foreign secretary with Zia-ul-Haq, the Pakistani dictator asked him, "Rasgotra sahib, what is there to talk about Kashmir? You have Kashmir and we cannot take it." He, instead, asked Rasgotra to work on a no-war pact. This pact, which could have changed India-Pakistan relations forever, never came to be, though.
"We negotiated a treaty word by word, comma by comma, and then with American advice, they [Pakistan] did not want to sign it," says Rasgotra. "It is a great pity."
Then came the Bhopal gas tragedy in 1984. Warren Anderson, CEO of Union Carbide, which was responsible for the tragedy, was allowed safe exit from India, when Rajiv Gandhi was prime minister. This was, perhaps, one of the biggest controversies Rasgotra had to face.
"My only role was that I happened to be foreign secretary. When an American national wanted safe passage, he approached the embassy. The charge d'affaires came to see me, but I could not give that assurance. I had to go to the home secretary and the cabinet secretary. Then we approached the home ministry. He [then home minister Narasimha Rao] advised that we should give the assurance. I was only the conveyer of the message."
Rasgotra writes about this in detail, including the time he spent with Anderson, who had been released from jail. "He spent 20 minutes or so,'' he says. "He came just to thank me. And, more importantly, to convey to me his sense of mortification with what he had seen. Horrors, he said. He said, 'I am shaken to the core.' He looked very disturbed. So, I asked him what he would do about it." Anderson promised a compensation package.
"I had a feeling, I think I was right, he was advised by the American embassy to call on me," says Rasgotra. "They thought I was also probably responsible for his release in Bhopal. That, I think, was done by Rao and the cabinet secretary."
A Life in Diplomacy is peppered with anecdotes from the early days of India and its diplomatic corps. The book, however, is much more a chronicle of a bygone era where the world was still coming out of the Cold War. It fills in the gaps of the era before Indira Gandhi—the Nehru years and the building of the foreign service.
It covers the squabbles that followed, too. For instance, Girija Shankar Bajpai, secretary general of external affairs, submitted resignations at least ten times over differences with Nehru. But Nehru never accepted them.
THE BOOK ALSO offers vivid portraits of Vijaya Lakshmi Pandit, who refused to retire with the ladies at the end of an evening, and Krishna Menon, who had "countless cups of light milk tea and an occasional toast or one medium baked tomato—but was a great host".
The book is a window into a world of, as Rasgotra puts it, less than 100 countries. "In 1947, it was a world of 45 countries. Today, it is a world of 200-plus countries. In 1947, when Nehru became and PM and foreign minister, his ambition was to open 40 embassies. Now we have over 200 embassies, consulates and offices of various kinds," he says.
Those were times when even decisions such as whether or not to serve spirits during official banquets generated debate. It was a tricky issue. "Panditji made a concession in favour of vodka as he was going to Moscow," recalls Rasgotra. "He told the ambassador that vodka and wine could be served. But no champagne. And no Indian should touch vodka or wine at the dinner table."
Rasgotra, however, managed to break this rule once. He, in fact, got drunk in front of Nehru and lived to tell the tale.
It was in the Russian consulate building in the US. Nikita Khurshchev had just finished famously banging his shoe at the UN plenary meeting in 1960. He asked Nehru for a drink. Khurshchev insisted that Rasgotra, a young officer then, should also drink. "He said, 'Come on, young man!' Panditji told me, 'Peete ho to le lo [If you drink, go ahead].' He was feeling sympathetic to Khurshchev, who was feeling very embarrassed after the shoe-banging incident. 'To mein ne le liya [So, I accepted the drinks],'' he laughs.
Rasgotra started sipping his drink slowly, like Panditji. But Khurshchev was not impressed. He said when he offered vodka to young men in Moscow, they swallowed it before lifting the glass. "He swallowed his and I swallowed mine," says Rasgotra.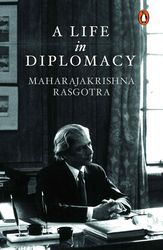 So, what has been the biggest change from being a foreign secretary then and now? "Today, the foreign secretary is paid much more than I was paid. When I retired, the salary was Rs 5,000. How I managed, I don't like to think of that. Now the foreign secretary gets a lakh and a half. In a way, I am now by living long—I am 90—taking revenge on the government! My pension is Rs 1.2 lakh. And I want to drain the government a little more for starving us monetarily in those days,'' he laughs.
A Life in Diplomacy
By Maharajakrishna Rasgotra
Published by Penguin Books India
Price Rs 699; pages 437