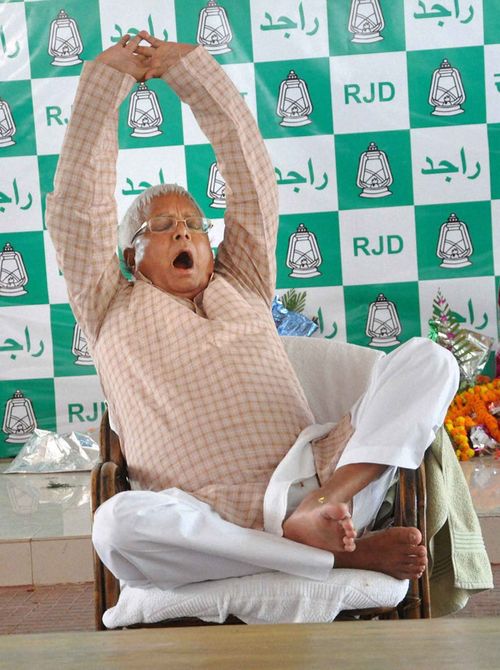 UPA 1, 2004-2009. Lalu Prasad was the railway minister, and suddenly it seemed the ministry was doing wonders, making huge profits. The Rashtriya Janata Dal leader was the face of a success story—he never raised fares, he introduced kullars [earthen teacups that gave the village potters a livelihood] and once in a while even spoke about improving the quality of food. He was always in the news.
In 2007, he was invited as a guest on Zee TV's popular singing reality show Sa Re Ga Ma Pa. He accepted the invitation, but with a condition—the set had to be desi. So up came a village setting, complete with goats. One of the seven contestants left in the fray then was Poonam Yadav, who came from a humble background. Lalu appreciated her singing, not knowing that she was a Yadav from Bihar, and said in his quintessential style: "I have told [wife] Rabri that if she doesn't win and get the money, I will have her recruited in the railways." And, he did, even though the job was a temporary one.
Cut to October 2015. A chopper lands at a college ground in Samastipur district. As Lalu alights, lusty cheering and thunderous applause greet him. His conviction in the fodder scam, the subsequent arrest and the electoral ban have done little or no harm to his charm and popularity. Apparently, it is the same all over Bihar.
Lalu refuses to be garlanded, calls out to an elderly man by his name and garlands him instead. He then offers the special, high back chair with a red velvet cover kept for him to the old man. The cheering turns into an uproar.
Lalu has not given much thought to his attire—no creaseless pyjama kurta of the kind Prime Minister Narendra Modi chose to make his connect with the Bihar electorate. Nor was he in his trademark sleeveless vest, which is strictly for home, visitors or no visitors.
But all these don't matter in the context of Lalu, who Nitish Kumar's campaign designers said was the best communicator they had seen. "People go mad when he arrives. They are mad about him; they are mad for him. And, he has the audiences eating out of his hands," said one of them. At Samastipur, every time he took a swipe at Modi or BJP president Amit Shah in his inimitable rustic style, the crowd went delirious.
While that light side of his persona is true and visible, within lies a determined, clever maverick of a politician who knows how to get his way. There is theatrics, there is drama. His previous speeches in Parliament are a hit on YouTube. His recent speeches across Bihar show that he hasn't lost any of the punch or comic timing. He never minces words and is unrepentant, always ready with a witty retort. When the Election Commission pulled him up for calling Mod a pisach, he wondered out loud what devil had got hold of his tongue at that point.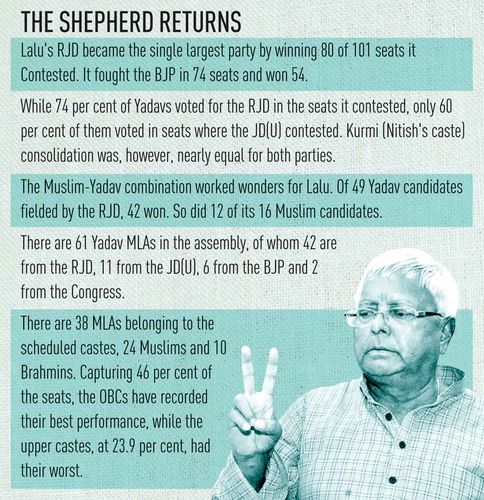 Yet, those who know him well say Lalu 2005 is different from Lalu 2015. "He has now realised what people want, particularly what the young want," said a JD(U) leader. "He knows the country has changed and so has Bihar. Above all, he has two sons who have just entered politics and he will not want to mess up things for them." Lalu is aware that "people have now given his party a fresh lease of life out of apnapan [fellow-brotherly feeling]".
When Lalu became the chief minister riding on the OBC votes, he gave them a voice: they were no longer dumb or apologetic. It is a voice that constitutes a large part of the Bihari pride. He added to it by sticking to an unabashed desi identity—in speech, form and action. But then, what the BJP and former archenemy Nitish termed as 'jungle raj' did him in.
In the days before the Bihar elections were notified, Nitish was constantly pestered about his alliance with Lalu, but Nitish would brush them aside. Lalu, on the other hand, endorsed Nitish's leadership qualities, and emphasised that the Grand Alliance was necessary to keep a communal, divisive and fascist BJP at bay. The much-mimicked Lalu imitated Modi to the T—after a volley of words, he made dramatic and long pauses. He mimicked the way Modi auctioned a package for Bihar. But there was a subtle message to it all: the kamandal raj fear was real. In a television interview after his release on bail in February 2014, he said, in English: "I am disturbed, perturbed and worried that the politics I am in, and this nation of ours, where people of so many religions live, are going this way, that 1947 is going to be repeated."
His family believes he is innocent. His son Tejaswi earlier told this reporter: "Whether my father is convicted or not, the fact is he is not corrupt. His priority was, and now our priority is, development and only development of Bihar."
Hugging Nitish at the press conference post the poll results, Lalu said Bihar will move on a development path under Nitish's leadership. He announced his own plans as well. "Having this BJP government in Delhi amounts to dividing the country into pieces. I am committed to launching a movement against them," he said. Lalu was unambiguous about his interpretation of their mandate—it spills beyond Bihar.
In Lalu, Modi may not have met his match. But who knows, he could be his nemesis. Before the month is over, Lalu will be carrying a real lantern—also his party symbol—and begin his yatra in search of the Modi government's development work. Not surprisingly, the search will begin in Varanasi, Modi's constituency. His supporters said Lalu wanted to work out of Delhi—remember his aspirations about becoming the prime minister some day?
Not for nothing does Bihar resonate with one saying: Jab tak rahega samose mein aloo, tab tak rahega Bihar mein Lalu (As long as there is a potato filling in the samosa, there will be Lalu in Bihar)—a tribute to his political endurance.
Interview/ Lalu Prasad, president, Rashtriya Janata Dal
PM is nothing but a pracharak
Lalu Prasad may be seen as a regional player, but the former chief minister of Bihar has always stood up for secularism. The only Grand Alliance leader to give it as good as he got when the BJP hit below the belt, Lalu became kingmakers as his Rashtriya Janata Dal became the largest party, picking up 80 seats. Now, his own agenda is beyond Bihar. In a short telephonic interview, Lalu said Bihar would have a stable government.
How do you feel after this spectacular comeback?
I am very happy because the people of Bihar have exposed the prime minister for what he is. They have rejected him. The battle against Modi's divisive, anti-social style has begun from here, and begun now.
Given that Nitish Kumar will be chief minister even though yours is the largest party, will the Grand Alliance be stable?
From the beginning I have decided that Nitish Kumar will be the chief minister of Bihar. That is my promise to the people of Bihar.
What role do you envisage for yourself?
I will move around the country and launch a movement against communal forces. They said achche din aayenge (good days will come), but I have never seen such bad days. Dal costs more than Rs.200. They say they have brought down the price of petrol. That is not true, and even if it were, can we drink petrol?
The campaign was vicious.
They made it [vicious]. They called us names. They brought up jungle raj. Every Bihari is hurt. I am angry. And, when they get it back, they forget they started it. Efforts were made to communalise the elections; the prime minister is nothing but an RSS pracharak.
Your two sons have entered politics. Will one of them be made deputy chief minister?
We have a formula for sharing the 35 posts. The Janata Dal (United) and the RJD will have 15 ministers each, and the Congress will have 5. But, while we will decide who from our party, other things will be as Nitish Kumar wants.
Is the rebirth of the RJD the best outcome of this election?
The RJD was always there. And, as long as there is kamandal [hindutva] there will be a strong mandal [backward class resistance]. But, the best thing in the election result is that it has given some relief to the country. People everywhere are angry with the prime minister.