"Lack of education is the problem. No one has any idea about the kidney or its functions" - Krishna Pyari Nakarmi, lawyer, about donors

"I had no idea that my kidney had been removed. I was told that the tests found some disease and so I was operated upon" - Mohan Bahadur Joshi, reportedly the first donor from Hokse
The wall behind Commi-ssioner Arjan Sharma's chair has a horizontal crack resembling a surgical scar. A marker of the earthquake that shook Nepal last April. Sharma administers Nepal's scenic Kavrepalanchok district (Kavre, in short) from Dhulikhel, two hours from capital Kathmandu. The high point of Sharma's term was when SAARC leaders stayed in a resort here in November 2014.
His face fell when THE WEEK told him that we were there because the district was known as a kidney market in India. A frustrated Sharma said that it had taken Nepal two decades to realise that the poor were selling their kidneys for sums as small as Rs 20,000. "We could not take action because [the donors] were not willing to register a complaint," he said.
Sharma grew worried when we told him that we would be visiting Hokse village, which had around 380 donors. Almost every house in Hokse has donated kidneys in India. Sharma was worried because the villagers have attacked journalists.
So, he handed us over to Krishna Pyari Nakarmi, chairperson of local bar association, and Brajraj Himal Sima, who heads Intec, Kavre's biggest human rights organisation. Krishna could not help us because she had filed a case against kidney brokers, and, hence, was persona non grata in the village. "It's mainly the lack of education which is driving them to sell their kidneys," she said. "No one has any idea about the kidney or its functions." Krishna's reluctance rubbed off on Sima, but, after Sharma insisted, he agreed to introduce us to Vasudeb Metbal, municipal chief of Dhulikhel.
But, the real opening came through Nirmala Dangana, ward member from the neighbouring village of Jayambi, which, too, has around 100 kidney donors. "We need to expose the people behind this menace," she bristled. The seven villages around Hokse are regarded to be hunting grounds of the kidney mafia: Jayambi, Jaysithok, Panchkhal, Pattekhat, Kavre BDC, Mahadebi and Sikarpur.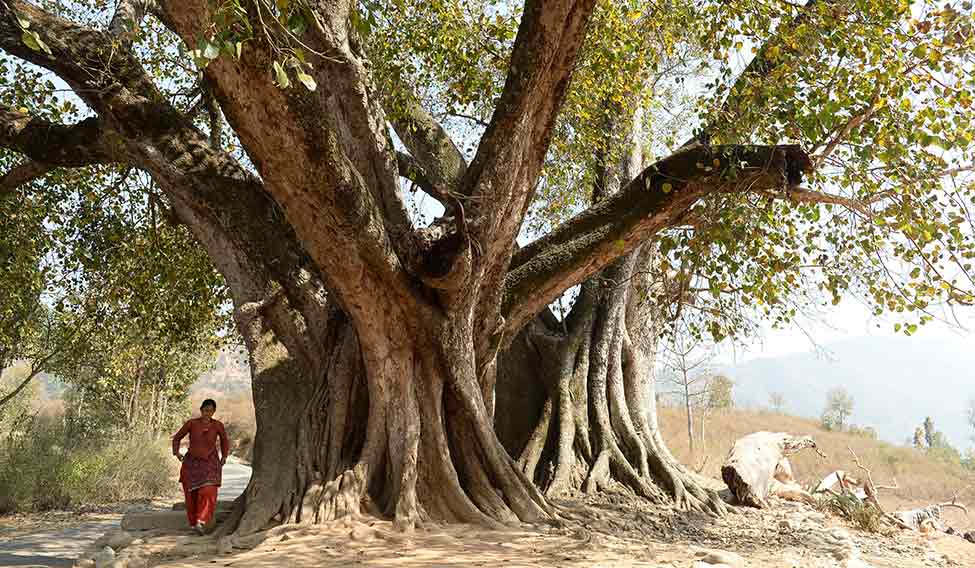 Hokse is up in the hills, tucked away behind an army camp. The sleepy village, which bore the brunt of the 2014 earthquake, looked deserted, except for the few residents soaking in the wintry sunshine. Dangana pointed out a banyan at the centre of the village: "Deals between brokers and donors are struck here."
In July 1994, India passed the Transplantation of Human Organs Act to stop organ trade. According to the act, live transplant is only possible between blood relatives, spouses and by those who "donate out of affection". Donors in the third category must file an affidavit before a magistrate, testifying that the donation is out of affection or altruism. The act penalises exchange of money between donor and recipient.
INTERESTINGLY, not too long after the act was passed, Mohan Bahadur Joshi, reportedly the first donor from Hokse, went under the knife in Chennai in 1996. We found the 48-year-old Joshi, alias Prakash Singh, sitting hunched in the courtyard of his house. "I was a labourer in a cement company in Haryana. Like a Haryanvi I used to take milk daily and was fit and well-built," he said. He said he never agreed to donate his kidney.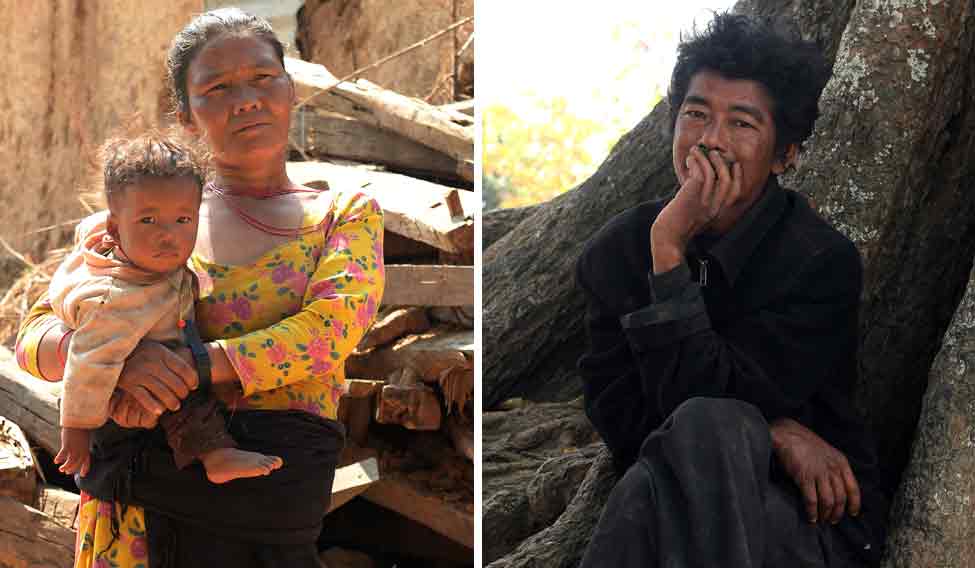 "A man told me that he could get me a job [as a Class 4 employee] in a Chennai hospital. So, I took a train to Chennai and met him," Joshi said. He was asked to prepare for mandatory, pre-appointment fitness tests. The tests were conducted at a private lab and Joshi was anaesthetised shortly. "When I regained consciousness, I found out that I had undergone a surgery," he said tearfully. "I had no idea that my kidney had been removed. I was told that the medical tests found some disease and so I was operated upon." He left the hospital in seven days and stayed in a guesthouse outside Chennai for another week. He was given Rs 30,000 as compensation for his not being hired.
Euphoric, he immediately took a train to Uttar Pradesh and then a bus to Nepal. Back home, he threw a party to celebrate the windfall. Soon, he was passing blood through his urine. "A doctor in Kathmandu told me that I had lost a kidney and I would not be able to do any hard work," he said.
Now, his wife and teenage daughter work in the fields to feed the family. The daughter had to drop out of school. Through the grapevine of victims, Joshi later came to know that his kidney went to a buyer from Myanmar. "If I could find the broker, I would kill him," said a bitter Joshi.
Sima says the population in Kavre is most vulnerable because of unemployment, domestic violence, ease of travel to India and the relaxed visa regime between the countries. "This district borders Tibet and does not have any jobs. Domestic violence has been on the rise because of extreme poverty," he said. Some donors were lured with job offers in India, villagers said. Some others were motivated saying they would receive a windfall for a "cosmetic surgery". It is officially estimated that Kavre district has 2,000 illegal donors. But, Dangana said the figure could even cross 5,000.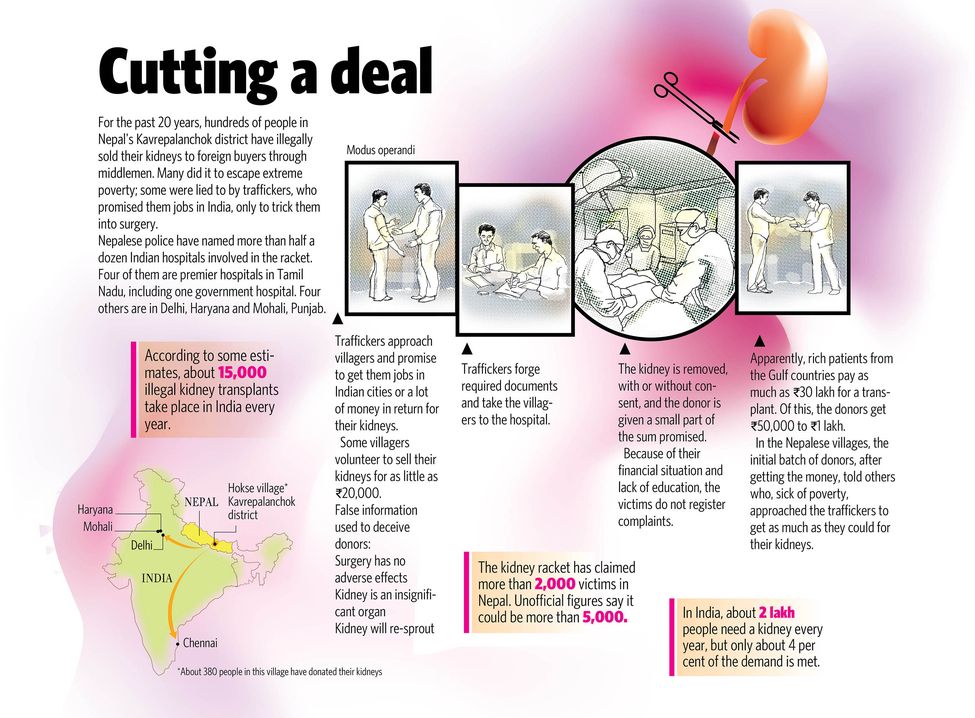 In some homes, both spouses have donated kidneys. Sita and Jeet Tamang were landless. The only income was what Jeet earned from working in the fields and what their son earned as a construction worker in Delhi. So, Sita jumped when the brokers—two men and three women—offered her Rs 1.6 lakh for her kidney in 2013. The mother of three lied to her husband that she was going to visit their son and flew to Delhi. Surprisingly, she got an air ticket as part of the deal. Perhaps, because the recipient was an Arab.
"They told me that I would have to undergo a minor operation and something in my body, which was not of any importance to me, would be taken out," said Sita, 39.
IN DELHI, she was taken to a guesthouse. "I do not know the place," she said. "But the roads were clean and there were many huge buildings in the area. There were plenty of big shops and eateries." After three days, she was taken to a hospital for tests. After the surgery, she stayed for a week in the hospital and was shifted to a house outside Delhi, not as clean and upmarket as the guesthouse. But, she had an attendant to care for her.
"The doctors came visiting," she said. "After a month, I was given an air ticket and Rs 60,000. When I said that I had been assured of more, the men said it would be the promised amount when I convert it into Nepali rupees." Sita flew back home, bought a small plot in Hokse and put her daughters in school.
When the desire to own a house grew, she told Jeet what she had done. Soon, he took a flight to Delhi. Unlike Sita, he was given a bus ticket to another town, probably in Chandigarh or Haryana. The rest of the process resembled what Sita went through. But, he was not given a flight ticket back.
"I was given a train ticket to Bihar, from where I took a bus. It was a painful journey. I started vomiting," he said. He received the same amount as Sita and, with it, they built a house with brick walls and a tin roof.
But, it all fell apart very soon. Jeet took to drinking and ruined his health. They had a fourth child, and Sita's health deteriorated post delivery. The house they built crumbled in the earthquake. The girls dropped out of school to support the family. Today, the family is broke and they sleep beneath the banyan tree which witnessed the sale of their kidneys.
Sita's friend Sabitry and her husband, Shew Kumar Burathuki, 55, too are in the same boat. He donated his kidney in Chennai 15 years ago and was cheated. He, too, was promised a hospital job and was operated upon without consent. He was promised Rs 8 lakh, but got only Rs 8,000. "They asked me to go back and warned me not to take up the matter with police," Burathuki said. Early this year he suffered a stroke, which has left him partially paralysed. His sole kidney is on the verge of failure.
HIS SON AND daughter dropped out of school to help the family. Sabitry sold everything in the house, including a bamboo cot. Then, she, too, sold her kidney for Rs 1 lakh in Chennai in March 2014. "I had to spend all the money for his treatment. I had to sell our small piece of land, too," Sabitry said, weeping. The mentally unstable Burathuki physically abuses her when she tries to feed him or give him medicines. Her face a mass of bruises, Sabitry said, "I want to die."
Recently, two women brokers, Tina Dorji and Krishna Dorji, were nabbed by the Nepal Police. Tina told the police: "We had people in Kathmandu who asked us to target women first." Lawyer Krishna said, "Touts pretend to be social workers. If the wife relies on her husband to decide, then they talk to him and convince them to donate their kidneys."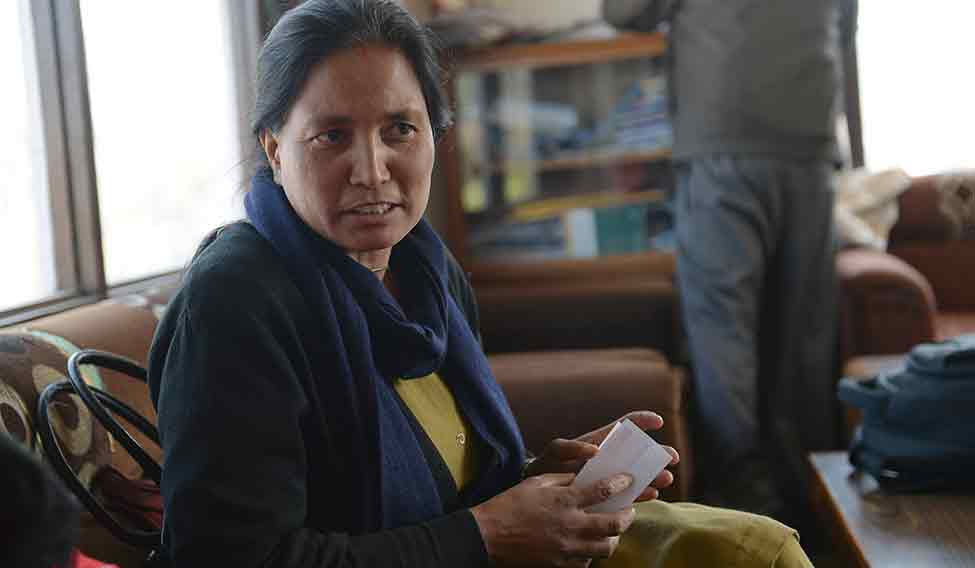 Perhaps, the most poignant story is that of the Thakurs of Sikarpur. Ram Thakur, 23, said that in the past 15 years, seven people in his family had donated kidneys, including his father, two brothers and his uncle.
"My father was cheated of his kidney 15 years ago. When he came to know about it he died of shock. My mother also did not last long," said Thakur. Orphaned at a tender age, Thakur saw his two brothers and others make money selling their kidneys. "I donated mine seven years ago in Chennai for Rs 50,000," he said. "I am living on this money. I cannot not do any hard work. But, my money is almost finished. Today, I am almost begging."
The Nepal Police woke up two years ago when Sharmila Mizaar, a 16-year-old schoolgirl wrote a pleading letter to the Dhulikhel police station. Now 18, she is in Class 12 and also teaches the junior classes. "Every weekend she holds an awareness camp in the village against organ trade. If the kidney selling racket is noticed in our villages, that was because of Sharmila," said Rukmini Singh, teacher in charge of the school.
In reaction to Sharmila's letter, the district police superintendent held a meeting with local human rights organisations and sent a report to the health ministry. A team of rights activists led by Krishna visited the villages in 2013. The team coaxed women victims to file complaints and, in March 2015, some women obliged.
"We received complaints from five victims. Of 13 brokers we arrested, seven were released for lack of evidence. Six were convicted; four of them are out on parole," said Rajkumar K.C., deputy superintendent of police, Kavre. "We registered a case of human trafficking, as it is much more punitive."
Many of the donors, especially the women, are illiterate. Many of the men do remember names of doctors and hospitals. One name that kept cropping up is that of Dr Palani Ravichandran in Chennai. Joshi yelled: "Dr Ravichandran could have saved our lives. He knew everything about the racket. But he did not stop them." Thakur echoed Joshi and said he had given the police names of hospitals and doctors, including that of Ravichandran.
Another name that came up with Ravichandran's was that of Dr Deepak Lamech, a Chennai-based urologist. While Ravichandran did speak to THE WEEK (interview on page 26), Lamech cancelled the appointment he had given us after he realised the nature of the visit.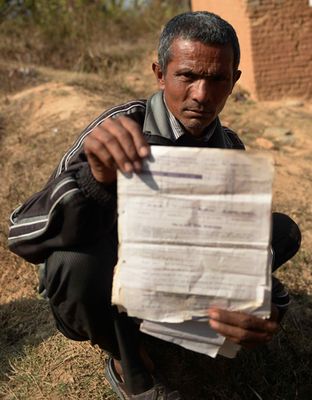 Reportedly, the Nepal Police has names of eight Indian hospitals which are involved in the racket. Four are premier hospitals in Tamil Nadu, including a government hospital. The other four are in Delhi, Haryana and Punjab.
Rajkumar said that unless brokers and doctors on both sides were nabbed, the circle would not break. "We have sent the message to our government," he said. "Now it is for the government to decide. If both governments wish, we can share names of hospitals and doctors."
Nepal Health Minister Ram Janam Chaudhary spoke to THE WEEK over the phone and confirmed that he was yet to take up the issue with India. "It just came to light in our country," he said.
Madhab Joshi, deputy inspector general and spokesman for the Nepal Police, said that legal issues were preventing collaboration between the countries. "We have no mutual legal agreement with India," he said. "We also have no bilateral deportation law. The CBI is Interpol's nodal agency in India, so once we complete the total investigation we will inform the CBI. In fact, we arrested an Indian doctor in Kathmandu in 2008. Also we have booked many touts. But, I admit, unless a joint investigation by both governments is launched, the matter cannot be stopped forever." Amit Sharma, the Indian doctor, was arrested while he was allegedly scouting for donors for hospitals in Gurgaon and Delhi.
"We have failed to serve [Kavre]," said Mahendra Srestha, joint secretary (health) and spokesman for Nepal health ministry. "We have a serious health crisis there. We will have to educate the people and meet their medical needs so that they do not fell prey to such rackets."
HUMAN RIGHTS ACTIVISTS say the illegal organ trade in Asia is fuelled by the demand-supply gap. Nepal, Bangladesh, India and Indonesia face the brunt of the illegal trade. Sri Lanka has not banned transplant from unrelated donors, and so is seeing an influx of patients.
THE WEEK found that most patients visiting India for transplants came from the Middle East, the Far East and Pakistan. Reportedly, patients pay Rs 25 lakh to Rs 30 lakh for a kidney. But, donors are usually paid something in the range of Rs 50,000 to Rs 1 lakh.
"The supply-demand gap can be reduced only by deceased donation. But, in India, especially in the eastern part, such things do not take place at all. This is highly distressing," said Sunil Shroff, managing trustee of Mohan Foundation, an organisation which promotes organ donation from cadavers.
Doctors say India needs around 2.1 lakh kidneys a year, but gets only around 8,000. And, only 25,000 people have access to dialysis treatment every year. Until the gap is bridged, Kavres will be repeated.