Almost every house in Agartala has her smiling posters and photographs. As Dulal Karmakar, father of India's 'Golden Girl' Dipa Karmakar, says, "She lives in the heart of every Tripura resident." True, the 23-year-old gymnast missed out on the Olympic bronze medal, but has clearly won many hearts.
Today, all roads lead to Dipa's two-storeyed house in Abhaynagar. The banners outside read: "You are our pride, dear girl. You are the real hope for all Tripura residents." Inside, the well-furnished drawing room, with a hundred medals and citations, bears witness to her early, barely-known victories. Among the many bouquets stands a big banner of Dipa with her coach B.S. Nandi and cricketer Sachin Tendulkar.
Tendulkar's tweet congratulating Dipa was among those that made her trend on Twitter on Independence Day. Being the first Indian gymnast to reach an Olympic final, thanks to her Produnova vault, she gave India the hope of a medal. Late night on August 14, Indians sat glued to their television sets, watching her repeat the 'vault of death' at the finals. She finished fourth, owing to a landing issue, with a total score of 15.066 points.
Later, while chatting with his teary-eyed daughter on Skype, Dulal tried to keep his emotions in check. "Baba, I missed it," Dipa told him. "But, trust me, I will make it happen next time."
Dulal consoled her, saying, "Come on. None of us is unhappy. No Indian could do what you have done. Do you know today is the 70th Independence Day? You have made us so proud that I can walk on the road with my head held high."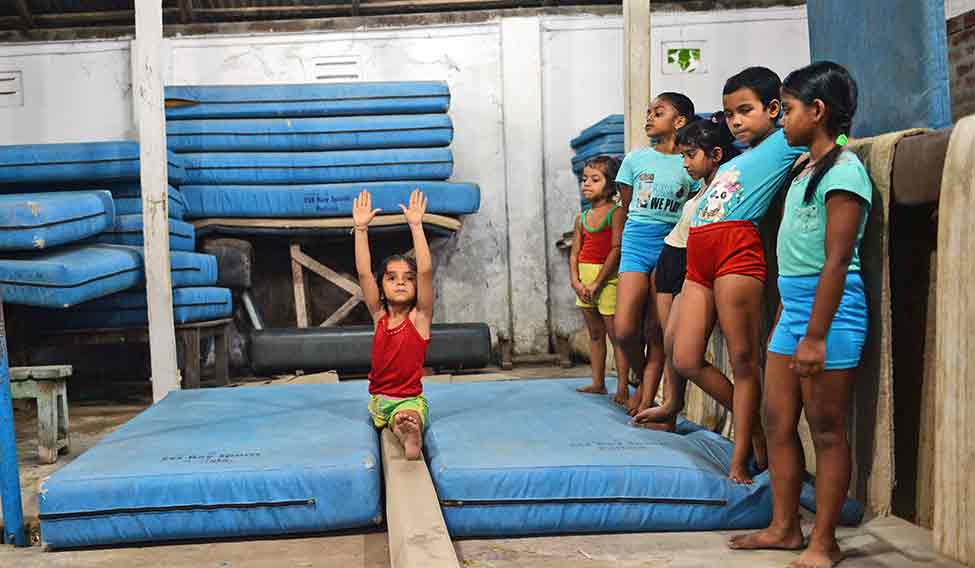 It was Dulal and his wife, Gouri, who pushed their younger daughter to take up sports. They enrolled her in the Vivekananda Sports Academy, a basic training centre run by Soma Nandi, wife of Dipa's current coach. All of five, Dipa neither showed interest in nor talent for gymnastics. But two and a half years later, she competed with gymnasts twice her age at an inter-state competition held between the seven northeastern states. Though she didn't win a medal, she stunned everyone with her performance. Soon, she started training with B.S. Nandi. In 2004, Dipa appeared before the Sports Authority of India's selection team but was refused admission as she was flat-footed, which, says Soma, went against the fitness norms for gymnasts. The Nandis then gave her special training to arch her feet. In 2007, Dipa participated in the junior national level games in Jalpaiguri and won three golds and two silvers. The rest, as they say, is history.
Soma says Dipa was always ambitious—her sight set firmly on the medal—which is why she chose to do the Produnova on her Olympic debut. "She learnt it just ahead of the 2014 Commonwealth Games [winning the bronze medal] and fell in love with it," says Soma. "Dipa understood that if she could perform Produnova successfully, then no one could take away the medal from her."
But practising the Produnova vault in her hometown wasn't easy as there was no foam pit available. Dipa's woes reached the Tripura government, which took up the matter with then Union sports minister Sarbananda Sonowal, requesting him to let her practise in Delhi. But internal politics within the gymnastics federation delayed things. State sports minister Sahid Choudhuri admits to the infighting in the sports federation, and says, "I repeatedly drew the attention of the Union government. Even they were caught napping initially. But, in the end, when the Union sports minister visited Tripura, we arranged a meeting with Dipa and the issues were sorted out."
Dipa perfected the Produnova vault in three months; most gymnasts, says Soma, need at least a year's practice. Only five gymnasts in the world, including Dipa and its inventor Yelena Produnova of Russia, have performed the vault.
Even as somersaults became a priority, studies took a backseat for Dipa. Her teachers at the Bengali-medium school say she would regularly miss classes. "But she never failed in exams," says Bela Acharya, a teacher at Abhoynagar Nazrul Smriti Vidyalaya. After her return from Rio, Dipa plans to appear for her MA (political science) exams.
Her return is eagerly awaited by her doting dad and loving, yet strict, mother. Dipa, says Dulal, doesn't spend a single paisa without her mother's permission. She bought a new cellphone, costing Rs15,000, only after she got Gouri's clearance.
Dipa, however, has made it clear that she doesn't want to be felicitated on her return to India as "she has done nothing to celebrate". The determined small-towner is already eyeing the podium in Tokyo.