One of the JMB goals is to overthrow the Hasina government and set up Islamic rule by its political parent Jamaat-e-Islami.

The terrorist target was foreigners working for some development projects in Dhaka. Some extremist outfits have been opposing these projects.
After the last namaz on July 1, the last Friday of the holy month of Ramadan, came satanic children smashing an innocent evening at Holey Artisan Bakery in the tony Gulshan Lake area in Dhaka known for embassies and wealthy businessmen's homes. A hundred people were at the restaurant—some of them breaking their fast and others entertaining their guests and relatives. Suddenly there was a ruckus outside the gate. Some guests went out and saw a few young men arguing with the security guards. Minutes later, six youth, who spoke English and Bengali, marched in brandishing guns.
"Locals said they did not look like terrorists," said an officer of the Rapid Action Battalion, the country's counterinsurgency force. Two youth guarded the door, two went to the kitchen and the rest moved to the dining tables, taking everyone hostage. They were all in their early twenties and they said in their deep, sophisticated tones that they belonged to an organisation that would preserve the sanctity of Islamic ideology in Bangladesh. They did not name it. One of the diners asked them why they were doing it. They did not have a clear answer. Instead, they asked the diners to recite verses from the Quran.
Many diners obeyed and were let off. The Italian, Japanese and Indian hostages sat with their heads down. They were herded to a corner. Two Bangladeshis refused to leave. One of them, Faraaz Hossain, 20, was accompanying his friends Abinta Kabir, a US citizen, and Tarishi Jain, an Indian student in the US. Jain's father is a businessman in Bangladesh. Hossain refused to recite the Quran because Kabir and Jain could not recite it. "The terrorists stabbed the girls first. When Hossain tried to save them, they stabbed him on the chest," said an RAB officer.
Ishrat Akhand—human resource consultant, promoter of Bangladeshi art and trustee of the Institute of Asian Creative—was dining with her Italian friend Adele Puglisi. Like Hossain, she was well-versed in the Quran, and like him, refused to recite the verses. Both women were butchered with machetes.
Twenty hostages, including nine Italians and seven Japanese, were killed in that evening. Two policemen died in the gun battle. Six terrorists—Mir Samesh Mobeswar, Rohan Imtiaz, Nibras Islam, Khairul Islam, Saiful Islam and Ripan—were gunned down and two others were later arrested.
The three-storey restaurant with a lake view is a popular hangout of the Dhaka elite and is famous for its Spanish and French dishes. "You will find a lot of foreigners there," said businessman Ataur Huq.
"I had planned to go there that evening with my wife and children. But I did not, as I came back home late," he said.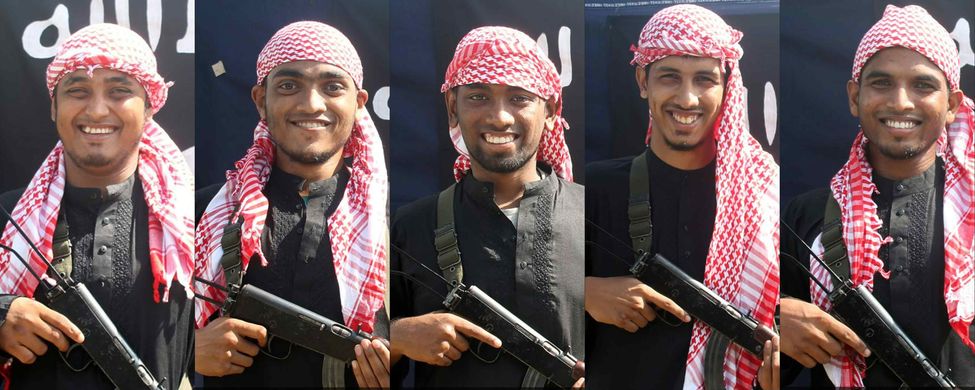 Inspector General of Police Shahidul Hoque said the terrorist target was foreigners working for some development projects in Dhaka. Extremist outfits have been opposing these projects. "The Japanese were part of the metro project in Dhaka and the Italians were part of the government's textile business development plan," Hoque told THE WEEK. "Their aim was to attack foreign nationals who were helping the government."
The security forces were found lacking in readiness to combat such an attack. Though the police surrounded the place as soon as they learnt about the attack (they were informed by an Indian who escaped from the restaurant), they could do little. The RAB was then called, and a large contingent reached Gulshan Square at around 11pm. They tried to get inside the cafe but the terrorists held them off.
The commandos smashed the door and went inside when they realised the terrorists had started killing hostages.
Colonel K.M. Azad, the RAB's director of operations, admitted that the force was slow to react. "But, to be honest, we were taken by surprise. We had no prior intelligence input," he told THE WEEK. "After being informed, we planned, organised forces and took action. It took time. But we killed all the terrorists. We also saved some people."
Bangladesh has seen 60 people—Hindus, Christians, Buddhists and liberals—being killed by extremists in the past one year. A Hindu priest was stabbed to death a day before the Dhaka attack. This January, THE WEEK reported that all terrorist groups linked to Jamaat-ul-Mujahideen Bangladesh (JMB) had come together and conspired to overthrow the Awami League government of Sheikh Hasina. A few months later, some Bangladesh Nationalist Party members were arrested for plotting a coup. Recently, Islamic State warned that it would create trouble in the country. Yet the attack on the cafe came as a surprise.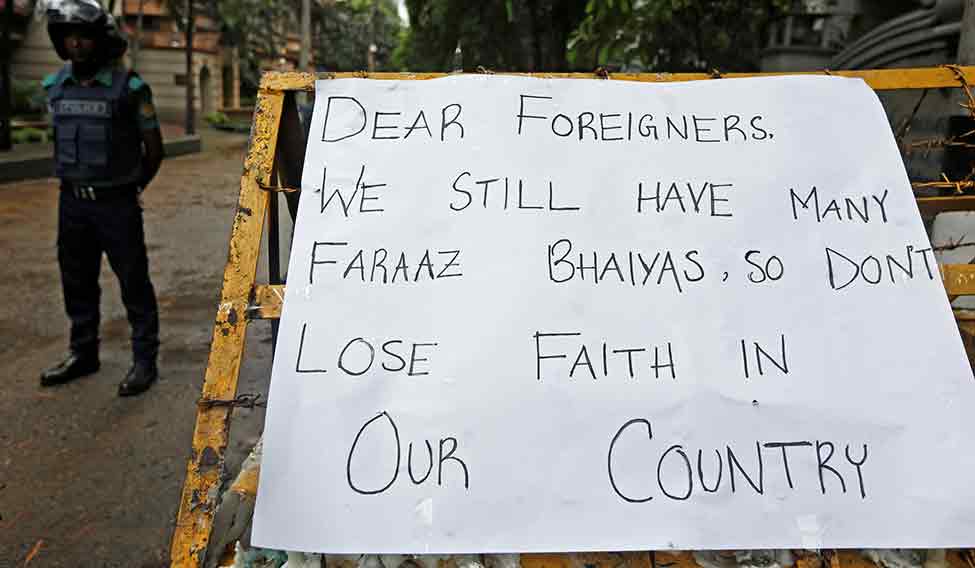 The government seemed reluctant to link the local Islamic State terrorists with the attack, though it did not rule out an international link. It maintained that the JMB and its youth wing, Islami Chhatra Shibir, had carried out the attack with the help of another radical outfit, Ansarullah Bangla Team. "They plotted the attack on foreigners. Their intention was not to kill Muslims during Ramadan. But they wanted to send a message to the world," Information Minister Hasanul Haq Inu told THE WEEK.
Home Minister Asaduzzaman Khan also told THE WEEK: "Yes, it was the handiwork of the JMB. But we are investigating whether the Islamic State influence was there." The Bangladesh Army, RAB and police are investigating the attack. "Even if the JMB has done it, we need to go a long way to probe whether Islamic State influenced the attack. We have identified the group and their international connection is subject to investigation," said Col Azad. However, Islamic State readily claimed responsibility for the attack.
Formed in 1998, the JMB was the among the most active terrorist outfits in Bangladesh in the last decade and has carried out 500 blasts. It has around 200 terror modules in Bangladesh and in West Bengal and Assam. Many of its sleeper cells became active last year. Officials confirmed to THE WEEK that it was these cells that carried out attacks on minorities, bloggers and liberals. Their style matched the killings of Islamic State—hacking and beheading. "Most terrorists who were gunned down in the Artisan cafe belonged to upper class families. All of them killed with knives. They had left their families 8 to 12 months ago," said Inu.
Many people were baffled that the killers were rich kids. Rohan Imtiaz's father, S.M. Imtiaz Khan, is an Awami League politician; the mother teaches at the elite Scholastica school in Dhaka. Rohan and another slain terrorist, Mir Samesh Mobeswar, studied in this school. Ironically, it is one of the few schools in Bangladesh that do not teach religion.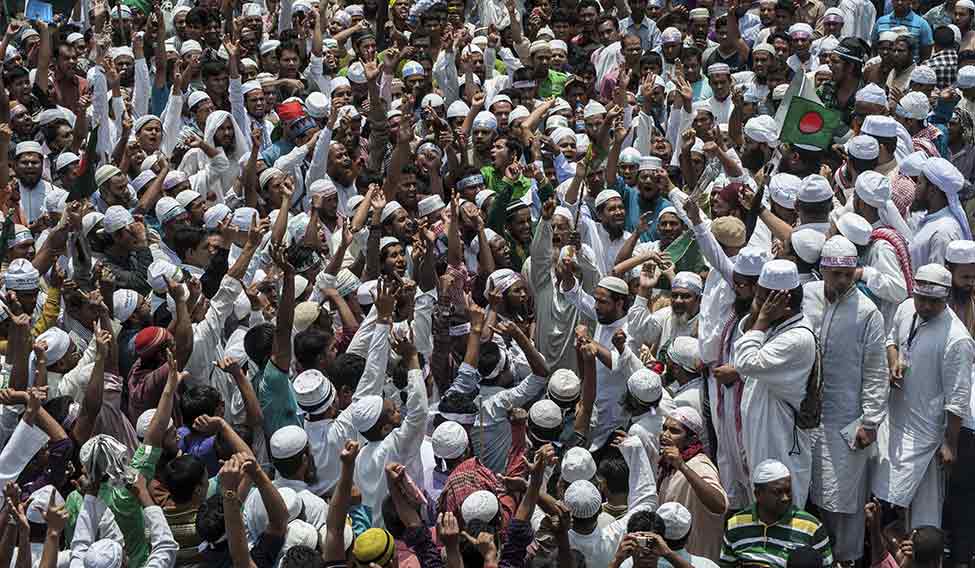 JMB terror modules were exposed in Malda and Burdwan districts of West Bengal after a blast in Khagragar in Burdwan on October 2, 2014. Such modules were later found in five other districts in West Bengal. Though the National Investigation Agency made many arrests in this case, it could not wipe out the network. The documents seized by the NIA in this case revealed that the JMB had united extremists of Islamic State and Al Qaeda in Indian Subcontinent (AQIS) within Bangladesh and sent jihadis to Syria and Iraq.
One of the JMB's goals is to overthrow the Sheikh Hasina government and set up Islamic rule by its political parent, Jamaat-e-Islami. "Our prime minister is the prime target," said Inu. The government has maintained that the JMB has links with the BNP of former prime minister Khaleda Zia.
In 2004, when Hasina was opposition leader, the JMB made an attempt on her life at an election rally. A.K.M. Rahamatullah, the Awami League's Dhaka MP, said many senior leaders of the party were also in the JMB hit list. "Our government is showing zero tolerance to terrorism despite such threat," he said. An army officer said the JMB might carry out "major blasts across Bangladesh" to kill Hasina.
The government said JMB members had received training under Osama bin Laden from 2000 to 2005. Minister Inu said it was Mufti Abdul Hannan who had led the first batch. "Members of the JMB and its youth organisation went in good numbers to Pakistan when there was military rule there. The BNP and Jamaat-e-Islami were ruling Bangladesh. From Pakistan they crossed over to Afghanistan and went to Osama bin Laden's hideouts. They met top Afghan leaders, including Taliban leaders. They were indoctrinated by Laden and Ayman al-Zawahiri till 2009," said Inu.
He said Hannan, who returned in 2004, planned the attempt on Hasina. "After coming to power, we caught him. The High Court gave him the death sentence, and his mercy petition is pending in the Supreme Court," he said.
He said Hannan was educated in Darul Uloom Deoband in Uttar Pradesh and that Pakistan's Inter-Services Intelligence groomed him as a terrorist. Hannan went to Pakistan in 1990 and then to Afghanistan to fight alongside the Taliban. When the Taliban captured power in Afghanistan, he returned to Bangladesh and became a commander of Harkat-ul-Jihad al-Islami. He played a key role in the formation of the JMB.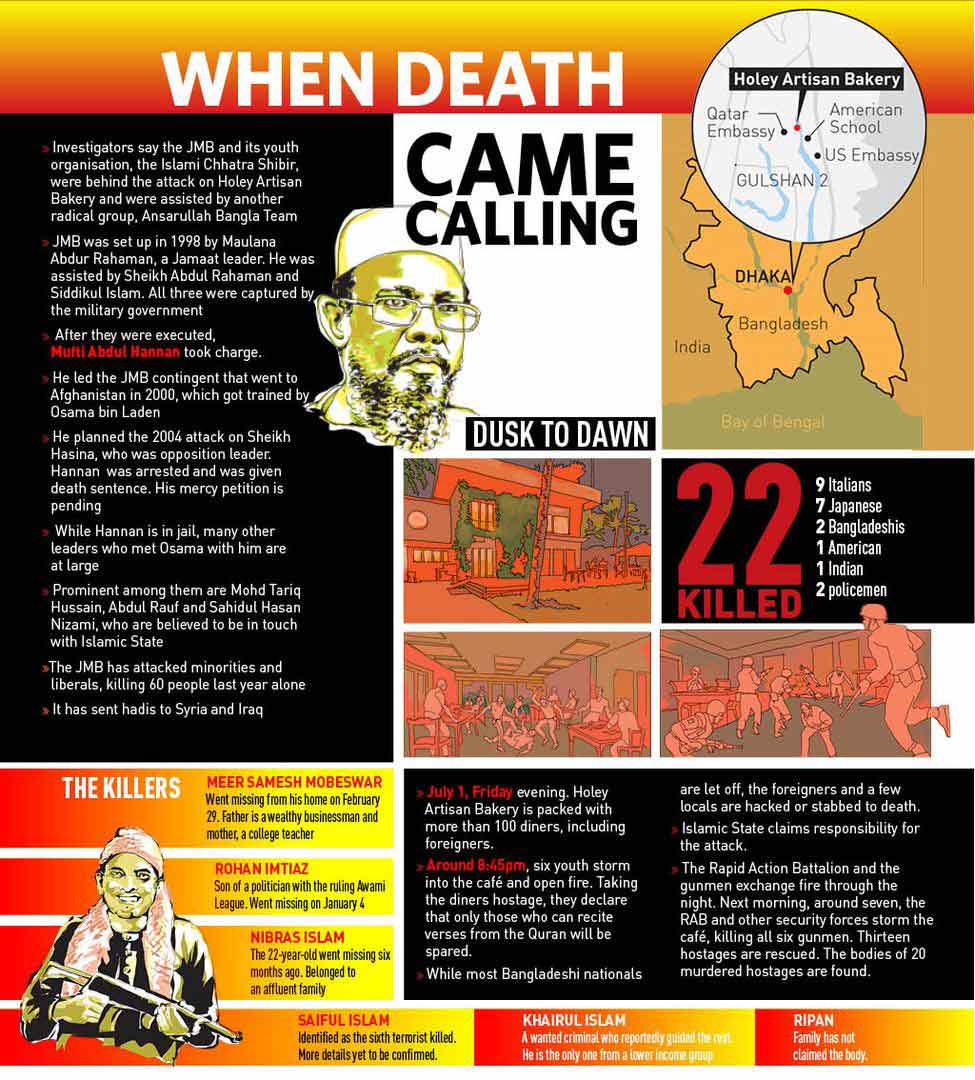 Hannan went again to Pakistan with 25 jihadis. The team travelled to Afghanistan and met Taliban chief Mullah Omar and Osama bin Laden. It is said Hannan was in Afghanistan when terrorists hijacked an Indian Airlines flight to Kandahar in 1999 and he was part of the negotiations with the Indian government.
When al-Zawahiri established AQIS in 2014, the JMB worked on creating a greater Islamic Bangladesh by carving West Bengal and Assam out of India. After the death of bin Laden, the JMB had begun working simultaneously with Islamic State with an eye on funds and training, said an RAB officer. "We have proof that many boys went missing from Bangladesh headed towards Syria and Iraq," he said.
Ten million Bangladeshis live abroad—a quarter of them are in Saudi Arabia and 12 lakh of them in other Arab countries, the main sources of money for most islamist terrorist organisations. "We have no detailed information about the people in the Arab world," said Inu. "We have taken up the task of tracking them."
Prime Minister Narendra Modi was the first world leader to call Hasina after the Dhaka attack. "He offered all help and stressed more sharing of information. He knows that the JMB has spread to India as well," said Inu. The Bangladesh government had submitted a detailed report on a JMB terror module in West Bengal. "Prime Minister Modi said he would crack down on it and never let any terror group destabilise Bangladesh."
Bangladesh did not blame India for not stopping terrorists at its eastern border. In fact, a plot to kill Hasina was hatched in West Bengal ahead of the Khagragar blast in 2014. "We cannot blame India as we have a vast, porous border," said Inu. "Terrorists cross over to India taking advantage of the geographical situation. However, both the countries have to be more serious in tackling the situation. We are working together and sharing information quickly."
Rahamatullah, however, said the Vajpayee government had not supported the Awami League. "In the 2001 elections, the Indian government did not play a good role. It was unfortunate that its position was the same as that of the ISI and the US. I don't know why it happened," he said. If India had helped Hasina then, he said, Bangladesh would have been spared of insurgency. "Pakistan helped the BNP and Jamaat-e-Islami come to power. India remained silent," he said. The Modi government, he said, was much more "realistic and committed to wiping out terror".
Strategic experts said India's new approach was in tandem with the American stand. Like Modi, US secretary of state John Kerry also called Hasina on July 1. "The Obama administration supported our fight against homegrown terror. America has offered us technology, defence and intelligence support. We are discussing their offer," said Inu.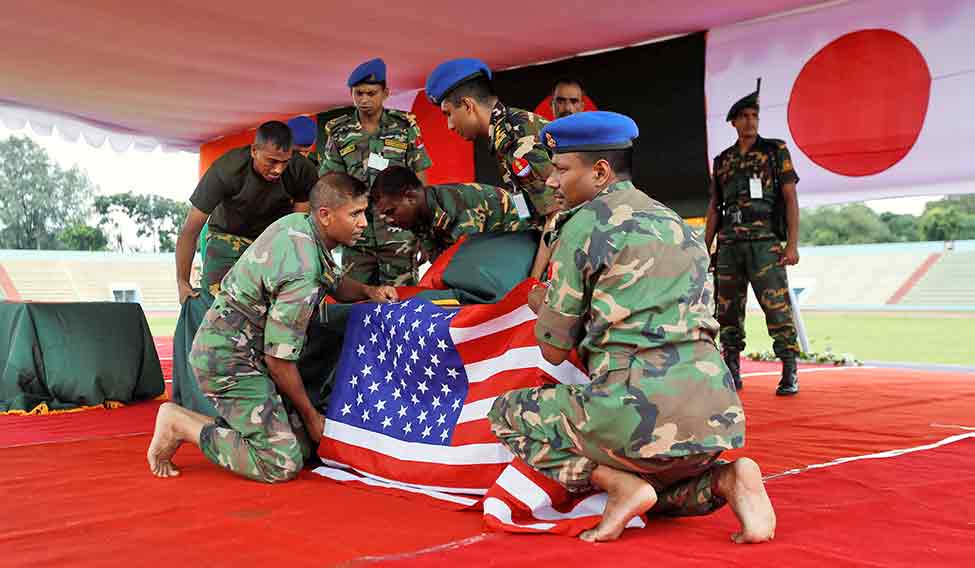 Did that mean that Bangladesh would get military support from the US? "I don't think such a situation has arrived," said Inu.
Hasina has clearly been put to a tougher test. On one hand she is facing terrorism, on the other the attacks have dented her image. "The government is focusing more on crushing the opposition parties than the terror outfits," said Dhaka businessman Jaman Azizi.
Top BNP leaders declined comment. Party general secretary Saiful Islam Alamgir said the government blamed the BNP to cover up its own shortcomings. "They blame the BNP for everything. We have been portrayed as a party of terrorists. But all the gruesome killings are taking place during this government's time. We support the isolation of terror outfits in Bangladesh," he told THE WEEK.
Hasina's son Sajeeb Wazed said the government was not soft on terror. He was once attacked by JMB militants in the US. A computer engineer educated in India and the US, he owns a company in the US and is married to an American. Currently, he advises Hasina on IT and communication.
Industrialist Mohammed Aslamul Haque, an Awami League MP, said terrorists were striking all over the world. "Brussels, Paris, Orlando. Have all the governments resigned after that? Prime Minister Hasina has showed zero tolerance to militants in Bangladesh," he said. But, at the moment, her government seems to be in a daze.