Support 'free internet', said Facebook in a message to its users, urging them to send a pre-drafted appeal to the Telecom Regulatory Authority of India (TRAI). Scores of Facebook users did that, thinking they were doing their bit to 'save the internet'. Only later did they realise that the word 'free' came at a price. The message to TRAI was actually intended to drum up support for Facebook's Free Basics initiative, earlier known as internet.org.
No wonder, Mark Zuckerberg faced flak for it, with comments pouring in even on his very own Facebook. And then came a barrage of full-page newspaper ads in defence of Free Basics. In his appeal, Zuckerberg cited the example of a Vidarbha farmer, Ganesh, who could, thanks to Free Basics, check weather data and market prices for his commodities online. He said the critics of the initiative were against sharing the rights of the privileged with the poor of India.
Vijay Shekhar Sharma, founder of Paytm, a mobile wallet and payments bank service, said: "What Zuckerberg does not understand is that the same farmer who had saved up to buy his first smartphone is also gearing up to spend Rs50 more for 100MB of unrestricted data." Zuckerberg's appeal came just days after Vijay said a jihad-like effort was required to protect freedom of internet in India.
One December morning, he received a call from Zuckerberg, requesting him to stop his criticism over Free Basics. "I told him, 'You do not know that these telecom operators want to block everybody doing business like music streaming, messenger service, mobile wallet. They have their paid services that they want everyone to use'," said Vijay. Zuckerberg reportedly told him to take up the issue with the telecom operators and to support their differential pricing policy. "India is just starting on the journey of mobile internet, [and] hundreds of companies want to build their startups on that. If we are serious about giving this opportunity to these entrepreneurs, we better not split the internet," he said.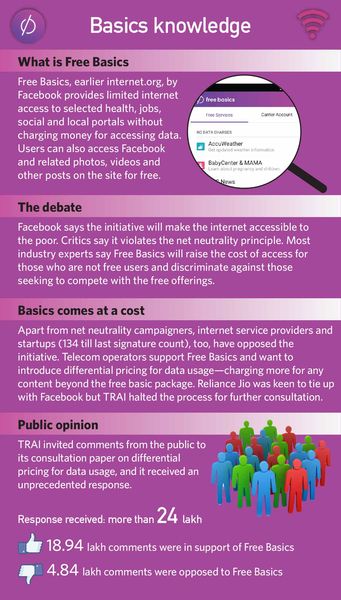 WHEN FACEBOOK CAME up with Free Basics, it perhaps thought it would be well-received in India, not expecting it to be on the receiving end of the protests over net neutrality. The debate over net neutrality began early last year when Airtel launched its own free internet platform called Airtel Zero, which was criticised by its users on social media and by industry experts and free internet proponents. Though Reliance Jio was about to launch Free Basics, TRAI asked it to hold it in abeyance and instead put up a consultation paper on differential pricing of data services. It invited responses from the public, with a deadline of January 7. It received more than 24 lakh replies, the highest ever response received for any of its consultation papers.
An analysis of the 24 lakh comments showed that 18.94 lakh of them were in support of Free Basics. Of these, about 13.5 lakh views came through the Twitter handle @supportfreebasics.in (created by Facebook) and were without the senders' e-mail ids and came from mobile phones. Another 5.44 lakh comments were received from facebookmail.com users.
TRAI, however, said the response received from Facebook users did not address the queries it had posed on the differential pricing regime. It had four basic queries: Should the telecom service providers be allowed to have differential pricing for data usage for accessing different websites, applications or platforms? If differential pricing for data usage is permitted, what measures should be adopted to ensure that the principles of non-discrimination, transparency, affordable internet access, competition and market entry and innovation are addressed? What are the alternative methods available to achieve the objective of providing free internet access to consumers? And, is there any other issue that should be considered in the present consultation paper?
"It is likely that these users could be asked to rephrase their submissions. We are considering an extension of deadline for resubmission till January 14," said TRAI Chairman R.S. Sharma. "Let's see if that would help to accept some of these views. You just cannot say 'I love Free Basics'." If there are no revised submissions, TRAI could reject these responses.
Also, telecom operators including Airtel, Vodafone, Idea, Reliance Communications and their respective associations have supported differential pricing for data services, stating that for the growth of data service, price differentiation for data services should be allowed. All operators, except Reliance Jio, have submitted their views on the matter to the telecom regulator.
INTERNET SERVICE PROVIDERS, however, have opposed the plan, as have net neutrality campaigners, who have submitted 4.84 lakh comments through online forums like 'Save the Internet'. Internet service providers said a non-differential price regime would promote fair competition. "We felt that the current discussions [over] differential pricing was staying limited to mobile internet service providers,"said Rajesh Chhabria, president of Internet Service Providers Association of India. "We have written to TRAI expressing our view that any differential pricing plan would violate one of our key business principles, which is to remain fair to all concerned." NASSCOM said the issues concerning differential pricing for data services needed careful consideration because of their possible impact on net neutrality. It said data plans offered by telecom companies to the consumer should be neutral between their own and competing internet platforms and services.
Startups, too, have written to TRAI to stop differentially priced data plans and alleged that otherwise it would result in the 'murder of internet-based innovations'. A letter to this effect was drafted by Delhi-based Software Freedom Law Centre, and signed by Deepinder Goyal, founder of Zomato; Faisal Farooqui of mouthshut.com; Manish Vij, founder of SVG Media; Sachin Bhatia, cofounder and CEO of TrulyMadly; Vineet Dwivedi, founder and CEO of FlipClass.com, Alok Agarwal, cofounder and business head at Teesort.com; and Bharat Gulia, cofounder of Metis Learning.
"Differential pricing of data services, including practices like zero rating of selected content, leads to a tiered internet instead of a single open internet," said Mishi Choudhary, founder-director of Software Freedom Law Centre, a platform for lawyers, policy experts and students to work together for protecting freedom in a digital world. "This affects ability of new players to compete in the market with established corporations."
AMID THE DIN over net neutrality, a number of options have emerged before TRAI by which the poor in India could bridge the digital divide. Experts have highlighted that access can be improved by the government through 'equal rated' plans. "The unused Universal Service Obligation Fund with the government could be tapped for this purpose to bring in equal rated plan," said Rajeev Chandrasekhar, MP who is a net neutrality advocate.
Corporations such as Mozilla are experimenting with a similar model in multiple African and Middle Eastern markets, where users purchasing a $40 phone receive a six-month package of unlimited talk time, text and 500MB a month. In Bangladesh, Grameenphone, owned by Telenor, provides users 20MB of free internet if they click on an advertisement.
DataWind, which created the low-cost Aakash tablets, plans to provide free internet access for a year on its devices. "We are making low-cost phones and tablets in India that would give users free internet access for one year on purchase of new devices," said Suneet Singh Tuli, CEO of DataWind. The company has come up with a patented technology that compresses a 3MB page to a mere 30KB. DataWind is in talks with Reliance Jio, and plans to sell its products with one-year free internet service from March.