From a product perspective, the GLA is a compact, sporty, luxury SUV. So, from the customers' perspective we are looking at a young set of customers who relate with the GLA, which is true for all our new generation cars (NGC)
Michael Jopp, vice president, sales and marketing, Mercedes-Benz India, speaks to THE WEEK before the launch of the new GLA
Who is the new GLA targeted at?
From a product perspective, the GLA is a compact, sporty, luxury SUV. So, from the customers' perspective, we are looking at a young demographic who relate with the GLA, which is true for all our new generation cars (NGC). Obviously, GLA caters to the growing SUV segment in the Indian market. For many people, it is the entry into the luxury brand and luxury segment.
How many have you sold so far in India?
In total, we have sold 13,000 NGCs since 2014. GLA was the highest contributor to this sales figure. It is the most successful of the NGC portfolio. Globally, the GLA has been a very successful car.
What would you say are the distinguishing features on the GLA?
On the new GLA, the sportiness has increased. Additionally, [it has] some SUV elements and it also sports a high quality interior. It boasts a lot of features. Like all Mercedes cars, it has the best in class performance and sets a benchmark in safety. It offers a great value for money.
What kind of numbers are you all looking at once you launch the car?
Typically we don't disclose model numbers, but we're planning double digit growth for Mercedes Benz India for this year. We will disclosing our term one figures next week and I can already tell you that term one was very good for us. We are very pleased with the sales success, especially in the month of June. Obviously, with the GST being implemented, we are seeing a lot of positive customer sentiment. We see a good opportunity to increase our growth figures in the second term of the year.
Did customers of the GLA play a role in the shaping the model?
That's part of our development process. We listen to our customers and obviously try to cater to their changing demands. This time also, we have taken it into consideration.
What features have you put into the car in order to lure the very demanding customers in this price bracket?
If you look at the car as a package, exterior design, wheels are very important. We have 18-inch alloy wheels, which portrays a bold stance and add to the design of the car. We have LED headlamps which offer great functionality and is a bonus from the design perspective.
If you look at the interior, leather steering wheel is standard, we have a large sunroof, infotainment system, Apple Car Play and a lot of integration. We think we can find a good mix to cater to the very demanding Indian customers.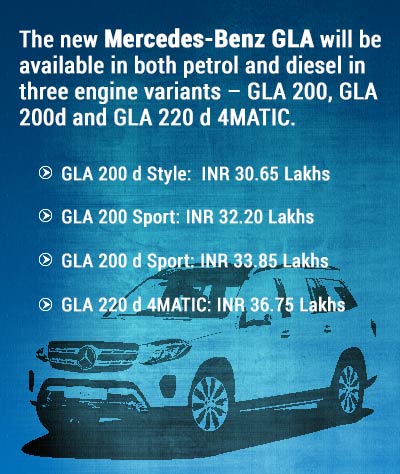 How does Mercedes-Benz ensure that servicing isn't expensive for the buyers?
We have launched service packages for all of our products. We will be announcing the prices later during the conference. We are the first in the luxury segment to offer unlimited mileage through our service packages that basically guarantee a hassle-free ownership experience because all maintenance-related costs are taken care of. We are also offering extended warranty programs. We are also offering insurance packages. It is not only the product that is driving our growth, but it is also the after-sales strategy and making sure that customer remains happy. The customer will always get a higher value for his car once he decides to opt for a new Mercedes.
Any aggressive ad campaigns planned for this product?
Yes, of course, we will be launching the campaign today and we'll also be showing the TV ads. Because of the importance of this product, we have a larger chunk of TV than we would typically have for this product, just to make sure that we really get to our target audience. You will leverage print and digital media for our communication, reaching directly to the customers.
What's the most enticing feature about the GLA?
My favourite is the striking design. Its design is outstanding and that's what sets it apart from all its competitors.