There was a self-evident truth in this work, some inherent meaning and absolute beauty in it. It was God's work.
Joseph, a 70-year-old man with a permanent grimace on his face, sat leaning forward on the veranda of his thatched-roof house and looked outside. He was shirtless and wore only a white dhoti. Sweat poured over his bald scalp, down his wrinkled face, and fell into a pool on the floor in front of his chair. There were no fans or lights in the veranda or in the small living room. The only ornament on the bare wall was a framed black and white photo of a dashing middle-aged man, with a thick black moustache and a full head of hair, sporting a wide toothy smile on his face. The man in the photo had aged into a cancer patient.
"Joseph has a tumour of the mandible with distant metastasis," Dr Amritha told me in English, so that the patient wouldn't understand. "He found out about it a few months ago and at that stage it was already too late for a cure. At the cancer hospital, they told him there was nothing more they could do for him. He was brought to us a month ago in severe pain and we enrolled him in the home visit programme and started him on morphine right away. He's looking much better now than the last time I saw him."
I looked at Joseph and his grimace broke into a momentary smile. He couldn't eat any solid food because of the pain. He couldn't even move his jaw without it hurting. That is why he spoke in short broken sentences punctuated by long pauses. His wife told us that he had improved a lot. Before he used to cry all the time, and he was depressed and suicidal.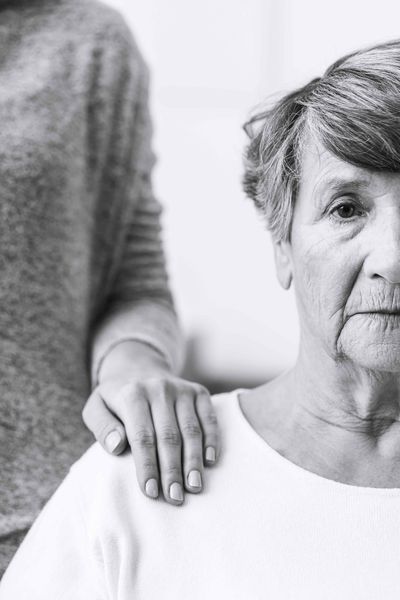 "Since I started taking the pain tablets, I've started feeling like living again," said Joseph. "I've started drinking black tea again."
"He used to love black tea," his wife added. "He has five or six glasses a day now. Sometimes I dip some biscuits in the tea and stir it in with a spoon and give it to him. He can take that now without much pain."
"A lot of these terminally ill patients will say they have lost the will to live," Amritha told me as we left Joseph's home. "But behind those words is a fear that needs to be understood. We spend most of our time in these home visits just listening to these patients and their problems. In Joseph's case it is the fear of pain. We can't take away his cancer. It has spread too far and it will kill him. But we can take away his pain."
Dame Cicely Saunders, the founder of the first modern hospice for terminally ill patients, had said that her aim was, "to add life to their days, not days to their lives." Oral morphine, the miracle tablet that had added life to Joseph's days, is a cheap and easy-to-administer opioid analgesic that India happens to be one of the largest producers of. The reason Joseph couldn't have access to it earlier was that it wasn't stocked in the primary health centre (PHC) nearest to him. As he and his wife lived alone and both felt too weak to make the 25 kilometre-trip to the Regional Cancer Centre, where it was available, he had to live in pain till the palliative care team visited his home with the gift of morphine and a new life.
About two hours earlier, I was waiting at the entrance of Pallium India, a WHO-accredited palliative care institute in Thiruvananthapuram, Kerala. Thursday was the busiest day at the centre as they had to send teams to the cancer centre at the government medical college hospital, to a children's outpatient department (OPD), and to 14 community centres for home visits.
The palliative care team consisted of a physician, a nurse, a social worker, a pharmacist, and a volunteer picked from the community that would be visited, all of whom had received training in palliative care. I was accompanying them on this visit as part of an observership to understand what palliative care was about. Because it was a busy day we didn't get the big bus and we had to settle for cramped transportation in a Maruti Omni.
There were 61 patients, in the community we were visiting, registered with Pallium India. Amritha told me that when they started the home visits, it was only terminal cancer patients who enrolled but now there were stroke patients, and patients with heart and lung disease, and even patients with severe mental illnesses; basically any bed-ridden patient who didn't have the means or support to be transported to the district hospital for care. The team left the Pallium centre at 8am every day for home visits and had to be at the local community health centre (CHC) by noon for the OPD there. So they only saw about 10 patients every day and a patient they visit at home today would only be reviewed after about a month.
Dr Rajagopal, the director of Pallium India, told me later that in western countries, such patients would be seen daily. Resources were the biggest limitation for the expansion of palliative care services in India. Currently, Pallium covered an area of 30 kilometres around Thiruvananthapuram city. They received calls from patients even 50 kilometres away but the centre didn't have the funds to extend coverage to more areas. They could have got vehicles as gifts from financial institutions or corporate social responsibility projects from the local IT sector but to maintain the vehicle every month with a dedicated team and supplies costed roughly Rs 1.5 lakh per month. Medicines like the morphine that they gave Joseph had been distributed for free because of sponsorship by a local business house. That funding had stopped coming in recently but they couldn't stop giving the medicines because the patients depended on it.
We carried with us in the tiny van three suitcases of medicines—all kinds of painkillers, laxatives and antacids, and also medicines for diabetes, blood pressure and depression. Apart from the medicines, the centre also provided monthly food kits (sponsored by private individuals) and financial support for the education of children at these homes.
The palliative care service was based on a holistic approach to improving the quality of life of terminally ill patients by bringing the relief they needed for their physical, psychosocial, and spiritual problems directly into their homes.
These home visits would have been impossible if it weren't for the volunteers from the local community that served as a liaison between the patients and the centre. Pallium ran volunteer training programmes to teach lay people how to identify residents of their locality who need palliative care. They recruited volunteers by advertising in the papers and through their activities. The volunteers were trained to take routine measurements like sugar and blood pressure and they informed the centre if a particular patient in their neighbourhood was deteriorating. The volunteer with us today was Anoop, a bus conductor who worked with Pallium on his off days. His mother had cancer. That was how he first came into contact with Pallium. Three years ago his mother died and he had been volunteering with them ever since.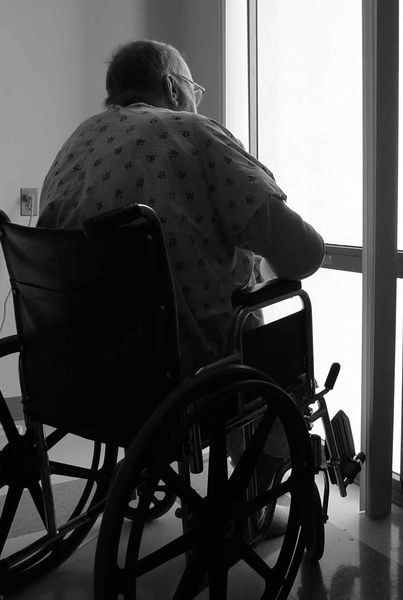 The second patient we visited was Antoniamma, a 67-year-old woman with multiple health problems, the most debilitating of which was her depression. She started sobbing within minutes of us entering her home, her tiny frame shaking inside a sari that was too large for her. She told us about a daughter who had died three years ago. Her other surviving daughter, who was her primary care giver, told us that her mother sometimes disappeared without informing anyone and they would find her later in the local church alone and crying. On all four walls of her dark window-less room were pictures of the Virgin Mary, dozens of them on each wall, of different sizes and shapes and colours, hundreds of blessed Mary's praying for us.
Fr Abraham, whose lecture on spirituality and palliative care I attended the next day at the centre, told me that the journey of a terminally ill patient is two-fold. "There is the outer journey of the disease and the inner journey of the patient who realises he isn't going to survive it. He wants to take this journey alone, this journey of doubts and losses, of tears that must be wept and memories that must be celebrated."
Fr Abraham had been working with palliative care centres all over Kerala since the last 13 years. "I was in a theological seminary for five years, but I feel I became a better man when I started working in palliative care. It is a different calling. You are invited to take a journey with people who are dying. There is goodness in it, but it is a difficult journey."
"How many of you would be able to poop daily if someone else had to wipe after you?" asked Rajagopal the next day, addressing a class of doctors and nurses enrolled in the palliative care training course. He was referring to Varghese, a young patient whose home we had visited. Varghese had fallen from a coconut tree a few years ago and injured his spinal cord, leaving him completely paralysed from waist down. My first impression of him was that he looked deformed, with the upper body of a gymnast or a wrestler and the legs of a schoolboy. He sat on a wooden plank swatting the flies and ants on his legs. Pallium had provided him with a wheelchair but there was no one at home to help him get on it. He lived with his brother and his brother's wife, both of whom were working as daily-wage labourers. Varghese had told us that he purposely ate very little so that he wouldn't have to bother his brother's wife who was his caregiver. Rajagopal said that this guilt was a common feeling among their patients. Varghese waved as we left. The driver turned on the engine and the van's stereo started playing music from the local radio station. Varghese started clapping his hands and singing and we waited for the song to end.
Back at the Pallium centre on my last day there, I told Rajagopal that the world had forgotten about the people we had seen. I was also surprised that even though we couldn't offer them any cure, they were genuinely happy to see us. He told me that what we offered these patients was humanity and love. "Even if the world has abandoned them, they are still God's children. That is why we care for them. Just imagine what the situation of these patients would be if they were left to fend for themselves, if we didn't go into their homes."
There was an undeniable value in the service I had witnessed here. It was true we couldn't make tumours disappear or bring long-lost daughters back to life or command the paralysed to walk again. But we had been instruments of the God of small miracles. Joseph's morphine dose had been increased again and maybe on the next home visit he would be talking more comfortably. We had spent more than an hour listening to Antoniamma cry out her sorrow and when we were leaving she had smiled at us. And for Varghese, a note had been made in his case file to arrange a radio for him on the next home visit. There was a self-evident truth in this work, some inherent meaning and absolute beauty in it. It was God's work.
As I left Thiruvananthapuram, I remembered a scene from the previous day that for me had captured the essence of palliative care services in India, its difficulties and its goodness. It was after the home visits, and we were at the government CHC, where Pallium ran a makeshift palliative care OPD from a large backroom, empty but for a small table and two chairs. The tubelight in the room didn't work and so we sat in the darkness waiting for terminally ill patients. While we were waiting, Anoop, our volunteer, went to the local electrical hardware store and came back with a light bulb and some electric wire. He stripped the ends of the wire, and connected one end into a socket and the other to the bulb to complete the circuit. And then there was light.