Coming to the end of a career is inevitable. It has happened to all and it has happened to the best. I remember the day when my hero Diego Maradona retired from football. He was the only player for whom I could stay up the whole night. He was the only one who made me fight with my friends about the greatness of players. I am not someone who compares players as I believe players in different generations should be judged differently. I am a firm believer that a player, good or bad, is judged on the circumstances and conditions he played in. It also depends on the opportunities. After all, a lot of good players haven't had the opportunity to play at the top level as someone else was part of a winning combination. Hence, these talents faded away on the fields of first-class cricket.
Having played at the international level for so long, I guarantee that the toughest day of an athlete's life is the day he realises he can no longer do what he loved most. Once athletes finish playing, they move on to jobs that might bring in monetary rewards and fame, but the challenge will never be the same. Money just gives security to one's life. To me, the biggest satisfaction was to hear the sound of the ball hitting the bat and rushing to the boundary or seeing a footballer dribbling past the defenders and finding the corner of the net. The ovation of the thousands watching—the fans screaming your name at the end of the game—is beyond everything. What goes in the bank is an after-effect.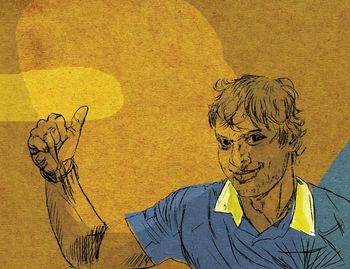 One such player who has slipped into the shadows is the great Kumara Sangakkara. I don't use the word very often but, for me, he is great. To surpass Sachin Tendulkar's batting average, that too having played in all conditions, is a testimony to the command he had in his career. That he shouldered the responsibility of Sri Lankan batting along with Mahela Jayawardene for such a long time, and stamped his authority while doing so, is a great indicator of his quality of batsmanship and mental attitude towards the game. He has faced the inevitable end and, though he decided to keep it low-key, deep down he will be emotional. He has created a record which will be the yardstick for many batsmen, and not only the Sri Lankans. He will be remembered for his class, quality and the time he seemed to have while playing fast bowling. Scoring eleven Test double hundreds batting at number three is a terrific achievement and it will be a huge milestone to topple.
I have seen a few retirements in my career. I remember mine very vividly. It was against the mighty Australians and I had reached a mindset in that series that I could not create in my entire career. The day I announced my retirement, I felt that all the pressure had lifted. It created an amazing light feeling in my heart and I felt no fear. I knew I wouldn't be selected again, or, to be precise, won't be playing for selection. I had thrown off the shackles. It was a successful series as India won and I went on to score runs. I have also seen Steve Waugh's farewell to a standing ovation in Sydney, and Sachin Tendulkar's retirement, which left the entire nation in tears.
It was, I am sure, an emotional moment for Sangakkara. When I sit down to write this piece, he has been dismissed on 18 by Ashwin on day four of the second Test. He is part of a Sri Lankan team that is going through a rebuilding phase and his role as a veteran has been crucial. However, I wish he played all three Test matches. Irrespective of this series, he will remain a champion, a legend and a role model.
editor@theweek.in