This summer, I took a short break and visited New York. Since then, it is back to the nitty-gritty of parliamentary committee work, then the monsoon session and the beginning of a marathon as the countdown begins for the West Bengal assembly elections.
It was a personal trip, free of politics and work, but it left me intensely emotional. I took three days off from New York to fly to Houston in Texas to meet aunty Maya and uncle Hemant (names changed to respect their privacy). They are both 89 and have known me since I was a baby, being close friends of my parents. Their son moved to Houston a few decades ago. He was a childhood playmate and remains a buddy.
Four years ago, aunty Maya and uncle Hemant left Kolkata for Houston. Their son was living on another continent. As they aged, managing alone in Kolkata became tough. So, their son decided to bring them over. It was a dramatic change for them. For uncle, it was particularly painful because he fractured his hip two years after they moved to the US. Aunty was diagnosed with Alzheimer's ten years ago.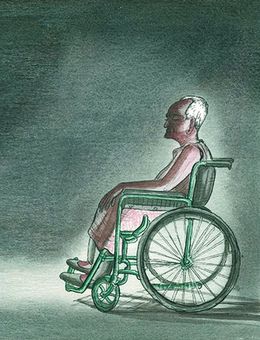 The purpose of my visit was to look them up. In theory, I knew about Alzheimer's disease, a common form of dementia that progressively destroys the brain cells and affects memory, cognition and the ability to act. But I have never closely known an Alzheimer's patient. I hoped against hope that it wouldn't be that bad with aunty Maya, and that she would recognise me, smile at me, say a few words to take me back to my boyhood.
Nothing prepared me for the woman I saw. In assisted living, aunty Maya moved around in a wheelchair. She was unable to respond to her husband and son, let alone remember me. This was not the aunty Maya I had ever imagined I would meet. In minutes, I was in tears. It was a very moving moment. I held on to her hand.
Three days later, as my visit to Houston came to a close, I went back to see aunty Maya one last time. She was still in her wheelchair, neck hunched, saliva drooling from the side of her lips. This was the woman who was so particular about looking prim and proper in public, always so correct and so caring. Now, she was lost to us. I came away with a knot in my heart.
Named after the German neurologist who identified it, Alzheimer's disease, along with other forms of dementia, affects at least three million people in India. Symptoms appear after age 60, and the chances of developing the disease double every five years after one turns 65. It affects recent memory—the most recent three years—first, and then destroys the ability to visually comprehend what one sees.
No medicine has shown to work in delaying or stopping Alzheimer's related decay. Good nutrition, physical and social activity, mentally stimulating pastimes (like solving a crossword) can push back Alzheimer's. Yet, the disease has vanquished some of the finest of humankind—Ronald Reagan, Ferenc Puskás, Charles Bronson. And, dear aunty Maya.
God bless her and uncle Hemant.