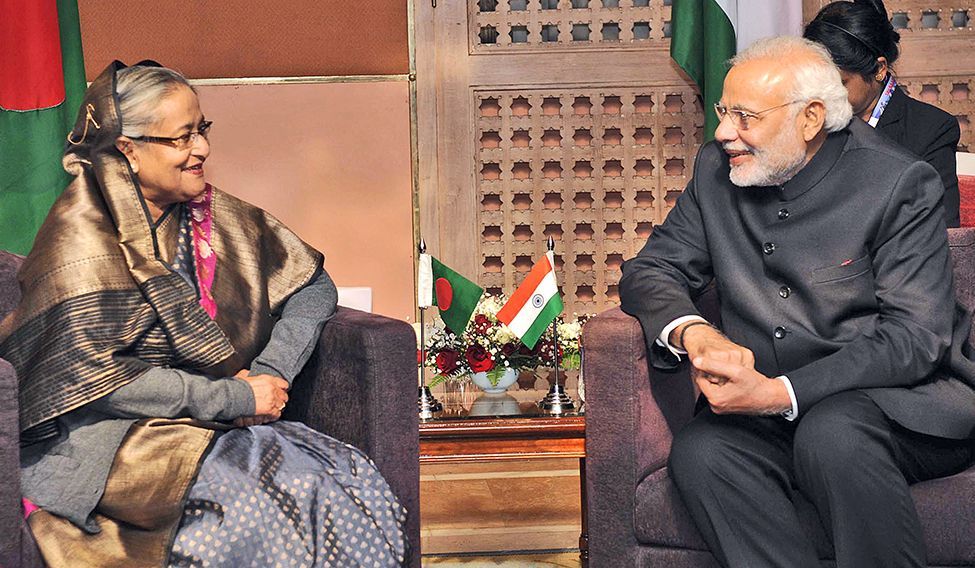 Warm vibes: The Land Boundary Agreement, which has been pending for four decades, is a major achievement for Modi and Sheikh Hasina | AFP
Sushma Swaraj walks slowly these days because of a leg brace, but it has not slackened her pace in setting the foreign policy agenda of the Narendra Modi government. On May 31, the external affairs minister addressed the media to announce her ministry's achievements as she completed a year in office. She began her presentation with a mention of her first official visit to Bangladesh last June. And, now, the prime minister is about to make his first visit to Bangladesh.
Sushma said the visit, which begins on June 6, would be outcome-oriented. "For 41 years, the India-Bangladesh Land Boundary Agreement (LBA) was pending. We have managed to get it ratified in Parliament. This is what I call the outcome-oriented nature of our transformational diplomacy," she said.
Other issues, too, would figure in discussions during the visit. Bangladesh High Commissioner Syed Muazzem Ali said in a news conference on May 29 that the Teesta water-sharing agreement would also be taken up. But Sushma categorically ruled that out during her interaction with the media. It came as a surprise since a lot of silent work had been done on the Teesta agreement as the LBA was identified as an initiative of the previous government. It was prime minister Manmohan Singh, who sent Harsh Vardhan Shringla, joint secretary in the external affairs ministry, on a recce to find out the reality on the border. The BJP had opposed the agreement arguing that Assam and West Bengal would be affected. But once in government, the party made a U-turn and got the agreement passed in Parliament. Manmohan had tried to resolve the Teesta issue, but West Bengal Chief Minister Mamata Banerjee was opposed to the proposed water-sharing agreement, which forced him to drop his plans.
Mamata is expected to accompany Modi to Dhaka. When Sushma called up Mamata to invite her to join the prime minister, she was attending an important meeting with her cabinet colleagues. But she took time out and talked to Sushma for over 20 minutes. Although Mamata did not sound very keen initially, Sushma stressed that her presence was important to seal the LBA. Mamata reportedly agreed, but she made it clear that she did not want to be around when other issues were taken up. She was possibly referring to the Teesta agreement, which could remain unresolved in the near future as both West Bengal and Bangladesh are entering the election season.
Mamata had opposed the Teesta agreement as it would give Bangladesh a little more than 50 per cent share of the river's water, up from the 25 per cent which it gets today. According to experts in West Bengal, it could cause drought in north Bengal. "The Teesta does not give Bengal much water for it to be distributed to other countries. I think the Central government should have consulted experts in this region before promising a share of the Teesta water to Bangladesh," said Kalyan Rudra, a river expert.
However, when Mamata visited Bangladesh recently, Prime Minister Sheikh Hasina told her if Bengalis wanted fish from Bangladesh, they should share water from the Teesta. Hasina was referring to the Bengali love for hilsa. The best hilsa in the world is found in the Padma river in Bangladesh. With Bangladesh scaling down the supply of hilsa because of disagreements on the Teesta water sharing, Mamata may have to revisit her opposition to the water-sharing treaty.
Another issue on Modi's agenda is connectivity. Modi and Hasina are expected to flag off two bus services connecting Dhaka with Shillong and Guwahati, and with Agartala. The visit is also expected to give a boost to the creation of seven more border markets to facilitate trade between Bangladeshi farmers and Indian consumers. Modi is likely to gift ambulances and announce health benefits for muktijoddhas, the freedom fighters who were wounded in the war with Pakistan in 1971.
The high point of the visit will be the public welcome ceremony for Modi at Dhaka University, besides his visit to the famous Dhakeshwari temple. That apart, in the absence of the agreement on the Teesta, all eyes will be on the exchange of the instruments of ratification of the LBA, which will conclude four decades of negotiations. The process of verifying the nationalities of the people living in disputed enclaves will begin after Modi's visit and is expected to be over in three months.
Another important agenda for Modi is to open negotiations on the Bangladesh-Bhutan-India-Nepal corridor, which is a pet project of foreign secretary S. Jaishankar. This south Asian corridor of markets will be bolstered with a line of credit of $2 billion, to be spent on projects on railways, bridges and other infrastructure.
A sticking point during the visit could be the issue of deportation of Anup Chetia, the leader of the United Liberation Front of Assam (ULFA), to India. National Security Adviser Ajit Doval is likely to take up the issue with his Bangladeshi counterpart. During her news conference, Sushma talked of using political dialogue to bring Chetia back. On its part, Bangladesh is expected to raise questions about the Burdwan blasts in which two Bangladeshi bomb makers were killed. Both India and Bangladesh are worried about the increasing cross-border network of Islamist extremists.
For Modi, the visit could prove to be a challenge as well as an opportunity as he wants to keep south Asia the key foreign policy priority of his government. With China showing a keen interest in India's backyard, Modi's moves in Dhaka will be watched closely.
With Rabi Banerjee