The bylanes of Nangloi, in North West Delhi, had never been so busy. A stream of guests, television cameras and the incessant ringing of the phone kept the Nagals on their toes over the past few days. Sumit Nagal, 17, had just become a champion at Wimbledon.
He won the junior boys' doubles title with his Vietnamese partner, Nam Hoang Ly, and became only the sixth Indian to win a Grand Slam title. He joined Ramanathan Krishnan (Wimbledon), Ramesh Krishnan (French Open and Wimbledon), Leander Paes (Wimbledon and US Open) and Yuki Bhambri (Australian Open), who won singles titles, and Sania Mirza, who won the junior doubles title in Wimbledon in 2003.
Sumit's win has put the spotlight on junior tennis and whether India is churning out quality players and giving them the right platform to succeed in the tough world of professional tennis. There is no dearth of talent or competition, and the facilities have improved. Very few, however, are able to make the transition from junior to senior tennis. Says Sunil Yajaman, director at the High Performance Tennis Centre, Bengaluru: "Junior tennis is the springboard, but it need not always translate into performance. Paes was world number 1 in juniors but, even with his exceptional talent, it took him seven years to make it into the top 50 in senior tennis."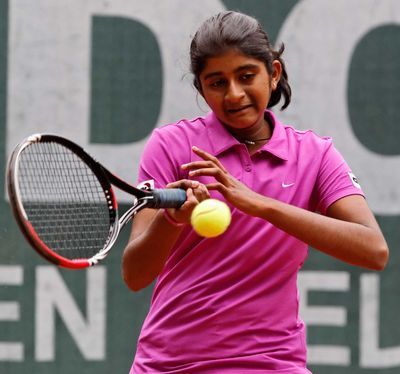 Says coach Ilyas Ghouse: "Three of our players have won doubles and mixed doubles events. This shows Indians aren't able to withstand singles challenges internationally. Vijay Amritraj, Ramesh Krishnan and Leander Paes were top singles players first." Ghouse, however, admits that Sumit has the edge over his compatriots. "Being based abroad, he is exposed to European players at a young age. Others tend to compete against Asians, whose [playing] level is much lower compared with Europeans," he says.
Sumit's story is as much about talent as it is about luck. His father, Suresh Kumar Nagal, is a teacher and an ardent tennis fan. Sumit was seven when his father took him to the Delhi Development Authority sports complex in Paschim Vihar, a residential colony in West Delhi. When he was 11, multiple Grand Slam winner Mahesh Bhupathi spotted him at a tournament and got him enrolled at the Bobby Mahal's Rexall Centre in Toronto. Mahal, a former Canadian national junior champion, has been coaching Sumit since 2011. He also gets lessons from American coach Brad Gilbert and has a large team that includes a chiropractor, a sports psychologist and travelling coach.
"Apart from talent, he has maturity and the ability to work hard. The guy hates to lose. He has the heart and desire to do well. He likes to go for his shots and exchange long rallies," says Yajaman. "He is naughty and mischievous on court and will ask you questions and demand what he wants. Once, I decided not to play him in a match and he asked me why. Not many would do that, not even Sania."
Nagal, too, vouches for his son's confidence. "He had gone for Wimbledon via Delhi and, before leaving, he said he would win. When he called me after winning, the first thing he said was, 'Papa, I have done what I had promised, how do you feel?'" Nagal says the credit for his son's success goes completely to Bhupathi.
Though Sumit's feat has garnered much attention, coaches and experts are cautious in their praise. The real challenge, they say, is showing he can do it as a singles player. "Kids must focus on singles. It is a good achievement no doubt. A foundation has been built. His vision should now be to show good results in singles by 27 or 28," says Yajaman.
Currently, there are four Indians in the top 100 in the International Tennis Federation junior world rankings. While Sumit is the lone boy at 31, Y. Pranjala leads the girls at 17, followed by Karman Kaur Thandi at 86 and Mihika Yadav at 89.
Pranjala is following in the footsteps of Sania Mirza, another Hyderabadi. A product of the GVK Tennis Academy, Pranjala, 16, is supported by GVK Industries, which also nurtured Mirza as a young talent. She started playing tennis when she was six and has made Hyderabad her training base. Pranjala qualified directly for Wimbledon but lost in the second round. She has won the 2015 Asian junior championships and also an ITF junior Grade 1 event.
"She has a very strong work ethic and no glaring weakness," says Ghouse, her coach. "She is a complete player. The focus is to make her quicker on court, and to improve her strength and endurance."
After Mirza, GVK Industries had stopped tennis sponsorships as there was a lack of talent. However, Pranjala's wins at the under-12 level impressed the group. "The focus is to maintain her rankings so that she gets direct entry into the junior grand slams and big events. At the moment, she will play as many tournaments as she can," says Ghouse.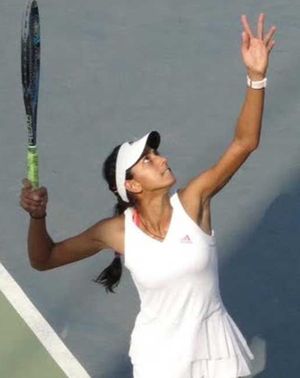 Number 3 among the Indian girls, Karman Kaur Thandi, 17, does not have a sponsor or a mentor. "I don't have a travelling coach; my mother travels with me," she says. But this makes the six-foot-tall competitor from Delhi more passionate about winning. She has won the national under-18 doubles title and was the runner-up in the singles event.
Her father, Chetanjit Thandi, introduced her to tennis for fun. Little did he know his eight-year-old would take it seriously. As she started winning, he moved her to the Siri Fort tennis academy and her training cost rocketed from 010,000 to 080,000. Her father, a businessman, could only fund a few of her international events in Europe. "The plan is to give her training and competition in Canada with Bobby Mahal for two to four weeks and in Germany for one month or so every year. Her base, however, has to be Delhi," says Chetanjit.
Karman, like all Indian juniors, found it difficult to adapt to European conditions, but her determination and ability saw her through. "The training programme is totally different there. Before matches, the trainer would prepare me well in warm-ups and give me confidence. The result was the win at the Grade 1 event," she says. Karman has had a good 2015. She won the biggest title of her career at a Grade 1 event in Offenbach, Germany, in June, upsetting three seeded players. She has also won a Grade 3 singles event and a Grade 4 doubles event and has reached the doubles final at a Grade 2 event.
In the past one year, Karman has reached three $10,000 ITF tournaments and has qualified for three $25,000 tournaments. She is currently ranked 785 in the Women's Tennis Association singles rankings.
The rising stars of Indian tennis have been showing their skills and the future looks bright. It is, however, not perfect. For every Sumit, there have been scores who have struggled to repeat their success because of lack of exposure and good training.
SUMIT NAGAL
ITF junior world ranking: 31
Coach: Bobby Mahal, Brad Gilbert
Academy: Bobby Mahal's Rexall Centre
Win: Wimbledon junior doubles title
Y. PRANJALA
ITF junior world ranking: 17
Coach: Ilyas Ghouse
Academy: GVK Tennis Academy
Win: Asian junior championships
KARMAN KAUR THANDI
ITF junior world ranking: 86
Academy: Siri Fort tennis academy
Win: ITF junior Grade 1 event