The nameplate at his bungalow in Bandra West is an object of reverence. Unknown to Sachin, a steady stream of passersby stop to touch the nameplate, paying their respects to their hero before moving on.

Commercial engagements have not hindered his engagement with sports. Here, too, his involvement is now deeper. For instance, Sachin coined the slogan "Yellow mein Khelo" for Kerala Blasters FC.

In partnership with old mate, rival and fellow genius Shane Warne, Sachin will headline the Cricket All-Star Tour, a Twenty20 series to be played in New York, Houston and Los Angeles in November.
On November 16 last year, Kokulu Penchalaiah welcomed Sachin Tendulkar into his humble home. But, for the poor farmer, Sachin Tendulkar was just a name. He had never heard of the man or his accomplishments. However, since that visit, the farmer's life has never been the same.
Sachin was visiting Puttamraju Kandrika, the village he had adopted as part of Prime Minister Narendra Modi's Sansad Adarsh Gram Yojana. A sleepy village in Nellore district of Andhra Pradesh, Puttamraju Kandrika today boasts pukka huts with tiled toilets, and round-the-clock supply of water and electricity.
And, more than a year after that visit, Penchalaiah has discovered a lot more about the man who changed his life. He has also scoured YouTube to see Sachin in action. The cricketer-turned-MP is set to revisit the village and, this time, Penchalaiah will welcome a known face.
About 915km away from the quaint village, a white and blue BMW i8 zooms back and forth on the Bandra-Worli Sea Link in Mumbai. Dawn has just broken and rush-hour traffic is still to set in. Sachin is at the wheel and to his left is an Auto Car expert. Another vehicle tries to keep pace to film Sachin's drive. By the looks of it, he handles the wheel as adeptly as he handled the pacers. The hybrid sports car, with gull -wing doors, costs Rs.2.29 crore ex showroom. Coincidentally, this is almost the same amount Sachin gave to the residents of Puttamraju Kandrika. This, however, is no joy ride. Sachin is at work as the ambassador of the German carmaker.
Nearly two years after he sheathed his willow, Sachin's world is no longer limited to the 22 yards. He wears many hats and straddles contrasting worlds, all the while retaining his humble and quiet demeanour.
The fans, however, haven't forgotten him, how could they? The nameplate at his grey-black bungalow in Bandra West is an object of reverence. Unknown to Sachin, a steady stream of passersby stop to touch the nameplate, paying their respects to their hero before moving on. The few privileged ones who reach the huge, traditionally carved wooden door, including family and friends, are welcomed by a statue of Lord Ganesha. Actually, Ganesha smiles at you from every corner of the house.
Unlike some legends who fade into oblivion after retirement, Sachin has retained a strong connect with people and sports. He is now involved in various causes and seems to be more hands-on. In his playing days, the incessant pressure and demands of the game were balanced with the requirements of his commercial activities. Cricket was never compromised. His management team and his family ensured that he focused solely on his game.
SIMPLY SACHIN: Special articles, images, illustrations and more
Now, among other things, he shoots for endorsements, meets with the Union sports minister, owns a football team and records public service messages on keeping India clean. There are family outings in Europe and a chance to see places where cricket could not take him. He catches up on cricket at home, rubs shoulders (figuratively) with Chinese basketball star Yao Ming, and launches a cricket league in the US with on-field rival Shane Warne. Unlike on the field, Sachin is now his own boss, the skipper of his own ship.
There is a shoot and dubbing scheduled on the fifth floor of a big corporate tower in Jogeshwari East. This is not the first time a celebrity has entered the building. In fact, a few are already waiting in the studio. Singer and composer Shankar Mahadevan is testing a jingle he composed for the the Swachh Bharat Abhiyan. Many top singers of the country have lent their voices for it and he waits for the latest "singer" to join him. Sachin arrives bang on time with a few key members of his management team. Even the portly Mahadevan, a superstar in his own right, can't help but gush. Clear and to the point, Sachin does not take long to pad up. He requests Mahadevan to guide him through the lines and picks the cues effortlessly. Courteous yet assertive, he proceeds to shoot under the guidance of veteran ad guru and long-time acquaintance Prasoon Joshi.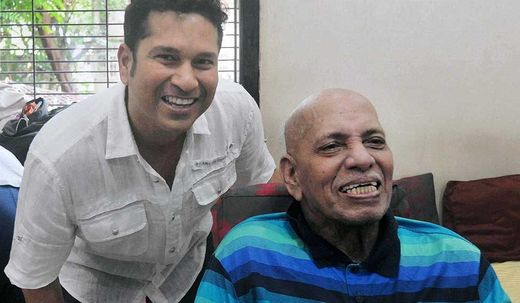 "He is extremely well planned, there is no ad hocism in his decision making," says one of the four Team Sachin members. For the past few years, he has been managed by World Sport Group, Asia's leading athlete management and brand consultation firm. And, one of the members of his team is his long-time aide Vinod Naidu, who was originally part of Worldtel, an agency led by Mark Mascarenhas, Sachin's first agent. Naidu, perhaps, has spent more time with Sachin than anyone else.
The initial proposals relating to any activity concerning Sachin are vetted and filtered by the WSG team. If the team feels there is a brand connect, the proposal is studied in further detail. Some brands are established, some have no legacy. Then there are the never-ending proposals for social and public activities. "The expectations from him are humongous. Schools, NGOs and different institutions want Sachin to be associated with their cause. Satisfying all of them is impossible as he has a lot of work to do with various government organisations," says a member of his team.
"He has always been exceptionally good with corporates," says one of his long-term associates. "He was always aware that if he was endorsing a brand, he should not be seen with a competitor. He is extremely professional. Even in situations where there is time pressure, he will always stick to his commitments."
Sachin the endorser, however, continues to be clear about what he can and cannot do. For instance, he will not do anything that is not intrinsic to his nature. And, his retirement has not changed that rule. Extremely conscious about his responsibilities as a public personality and a role model, he will never associate himself with tobacco and alcohol brands.
But, contrary to what he might have hoped, Sachin's post-retirement schedule is jam-packed. "He thought retired life would be easy," says an aide. "He always carries a calendar with him, and June and December are usually out of bounds for public engagements as he is in England with his family." In 2015, Sachin has signed deals with four new brands and his commercial reach has expanded to the UAE.
"Earlier, he would only do things with people he liked," says one of Sachin's corporate associates. "He needed to get that sense of assurance. Today [after retirement] he looks at the business aspect a lot more and he likes to be told how the business is doing. Earlier, he probably never felt the need to ask as everything was taken care of. His main concern was focusing on the game."
Commercial engagements, however, have not hindered his engagement with sports. Here, too, his involvement is now deeper. For instance, Sachin coined the slogan "Yellow mein Khelo" for Kerala Blasters FC, his football team.
And though he has taken to the football pitch, cricket is never far away. He walks into the Mumbai Cricket Association academy at the Bandra Kurla Complex in a casual red T-shirt, jeans, sports shoes, a baseball cap and aviators. The visit is all about the game and only Suryavanshi, his personal security officer, accompanies him. An instant buzz is palpable at the entrance. "Master is here," says an old security guard, his antennae up in a second. Sachin has decided to see the Mumbai Ranji team ahead of a match. He runs into former Australian pacer Jeff Thomson, who does a double take on the unexpected encounter. "Sachin, it's you," he gasps. Pleasantries done, the conversation veers towards cricket. Sachin asks Thomson about the young bowlers he is grooming and tells him that his son, Arjun, is also a pacer. "A bowler!" echoes Thomson in shock.
Sachin is walked to the nets by Chandrakant Pandit, former India teammate and fellow ward of coach Ramakant Achrekar. He starts talking to the bowlers, and the session stretches beyond an hour. "He basically spoke to us about being focused on the game," says left-arm spinner Harmeet Singh. "[He told us to] bowl as a unit and start enjoying each other's success. He cleared a few doubts in our minds, too, and gave examples of matches from the 1994-95 season. I was only two years old then, but he remembers every game he has played."
Pacer Dhawal Kulkarni, who has joined his state team till national duty calls, has had similar sessions with Sachin. "It is a great thing for the youngsters to have sessions with him," he says. "You can express yourself freely and get your doubts cleared. I always ask him how my bowling is looking." For instance, Sachin advised Shardul Thakur, Kulkarni's bowling partner, to focus on what he could do better rather than trying too many things.
In perhaps the most global of his post-retirement plans, Sachin has combined cricket, friendship and opportunity to take the sport to its least tapped market—the US. In partnership with old mate, rival and fellow genius Shane Warne, Sachin will headline the Cricket All-Star Tour, a three-game Twenty20 series to be played in New York, Houston and Los Angeles in November.
Close to home, there is still limited time for family. Sachin admits that he is yet to strike a balance between time for himself and his professional activities. "He is busier than before," says Subroto Banerjee, one of his closest friends and former India cricketer. "Earlier, I would talk to him at least every second day. Now, I get to meet him after ten days or a month; he's so busy!"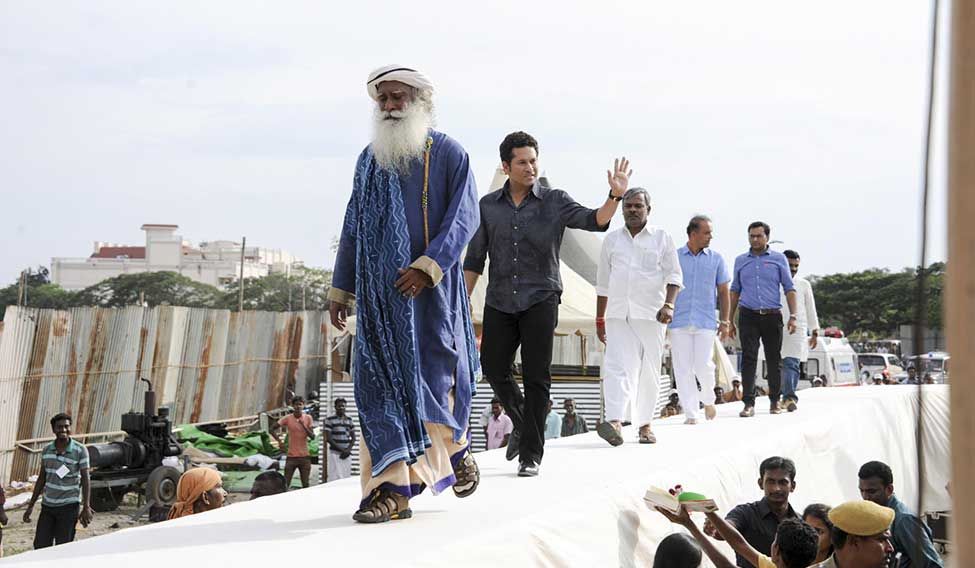 Through all the engagements, on and off the field, Suryavanshi never takes his eyes off Sachin, be it in the nets or while tailing his BMW in an Alto. Every time someone gushes on seeing Sachin, Suryavanshi smiles knowingly. The shock and awe of seeing Sachin Tendulkar, retired or not, remains the same.
Spiritual bouncer
Sport is a great uniter. So is Sachin Tendulkar. Hence, it was only fitting that the legend was part of an effort to bring sports into the lives of villagers in Tamil Nadu.
Every year, Isha Foundation—a Coimbatore-based nonprofit organisation founded by Sadhguru Jaggi Vasudev—organises the Isha Gramotsavam, an inter-village sports tournament to improve the overall health of villagers throughout the state.
On September 4, Sachin, as chief guest of this year's edition, shared the dais with the Sadhguru and encouraged all Indians to take up a sport. "I did not succeed all the time," he said. "But, sports taught me to get up on my feet again and to compete in the right spirit. Sports teaches you teamwork, and teamwork can never fail. Sports means everything to me. Sports for all is something that I encourage for everyone in India."
Echoing his sentiments, the Sadhguru said it was crucial for people to take up sports. "If they don't play, we will have a nation that will become stagnant and sick over a period of time," he said. "The youth who are chanting 'Sachin, Sachin', I want all of you to take up some sport. If you are still alive, that means you are young enough to play."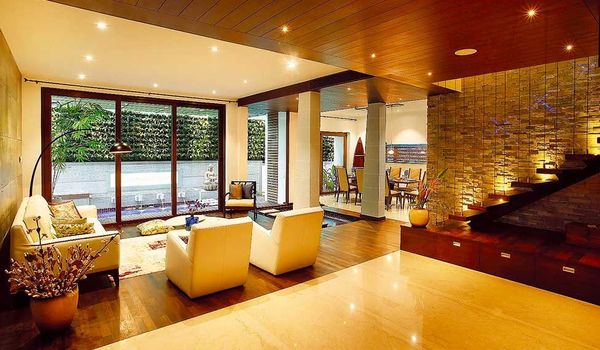 And, as actions speak louder than words, the Sadhguru ended his speech by bowling to Sachin. The little master, not to be outdone, executed a perfect pull shot and sent the ball sailing into the cheering crowd.
God's own home
Surely God must have an address in Kerala—the state being his own country, after all. It's in Kundannoor, Kochi.
When the god of cricket zeroed in on a villa on the scenic Vembanad Lake, rumours started flying thick and fast: it will be a 25,000 square-foot villa, with gold-plated vessels and furniture, surveillance cameras, and what not.
But, in true Sachin Tendulkar style, class and simplicity are the only things in abundance in his three-storey villa, which is spread over 5,000 square feet. The main door opens into a living room, with a garden and a pool right across a glass panel. The floor is Italian marble and hardwood. The pool extends to the living room and connects it to the dining space.
A self-confessed foodie, Sachin seems to have given special attention to the dining room and kitchen. A book shelf shaped like a boat cut into half and a showpiece made of a cot leg and mirror adorn the dining space. The guest bedroom, too, is on the ground floor, the walls of which are textured and brilliantly painted.
You can take the lift to the floors above if you wish to. But Sachin prefers the stairs, and we know why. The floating stairs, with strings instead of railings and little blue lights, are a delight to climb. The second floor, with wooden flooring and texture-painted walls, is where the other bedrooms are. The large doors and windows ensure a steady flow of the refreshing breeze. The main attraction on this floor, however, is the library, which has a quaint air about it. Just as the Master Blaster stood tall on the field, his autobiography, Playing It My Way, has pride of place among the books. And when he is not reading, he will, probably, lounge about on the open terrace, overlooking the largest lake in Kerala.
With Sachin frequenting the state—he owns the Kerala Blasters football team in the Indian Super League—a house to call his own was a necessity. Not so much for him, as it is for his legion of fans. God, they say, is omnipresent. But, now we know where to find him.