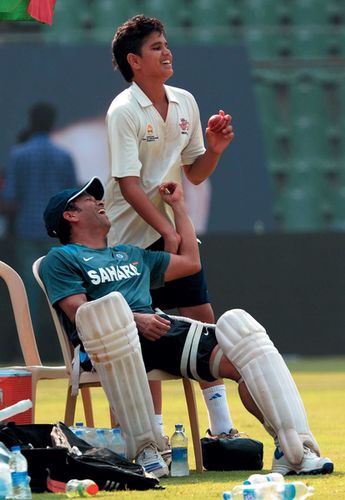 It was in 1987 that Sachin Tendulkar, 14 at that time, had his heart broken. No, not by a girl but by Australian pace legend Dennis Lillee, who crushed his dream of becoming a fast bowler. Lillee, who was the coaching director at the MRF Pace Foundation in Chennai, advised Sachin to forget about bowling and focus on batting instead. Not a bad advice, considering that the cricketing world got one of its greatest batmen of all time because of it.
Twenty-eight years later, life has come full circle for Sachin with his son, Arjun, 15, training to be a pace bowler after starting off as a batsman. And, to train him, Sachin has enlisted the services of one of his close friends, former India pacer Subroto Banerjee. As teenagers, Banerjee and Sachin attended the MRF camp together.
"Sachin requested me to take him under my wings last year," says Banerjee. "I was regularly in touch with Sachin and meeting him but had not seen Arjun for some time. He used to be an opening batsman and I didn't know that he had bowling talent in him."
A left-arm seamer, Arjun trains at the Mumbai Cricket Association's cricket academy in Bandra-Kurla Complex as well as his father's club MIG in Bandra East. And, of course, at the Ealing Cricket Club, when the family goes on vacation to the UK.
Sachin has always been enthusiastic about sharing his cricketing knowledge and experience. Be it with Team India players like Suresh Raina, who dropped in ahead of the South Africa series at home to discuss his cricket with the maestro, or a young upcoming cricketer from any part of the country. So, it is no different with his son. Sachin is a regular visitor at Arjun's training sessions. The father-son duo has trained together in the past.
"He has seen his father's work ethics first-hand. Arjun, too, is a very committed and focused cricketer," says Banerjee. "The duo discusses cricket a lot. But Sachin also gives Arjun and me our space. He does not interfere at all. Of course, he is always there to give advice if we require it and shares a few things during training."
A chip off the old block, Arjun is as curious about the game as his father was and still is, and is full of questions. "It is good because it means even I have to be up-to-date to be able to deal with his queries satisfactorily as a coach," says Banerjee, who thinks it is too early to talk about his ward's cricket. "Let us treat Arjun like the other students, please," he says.