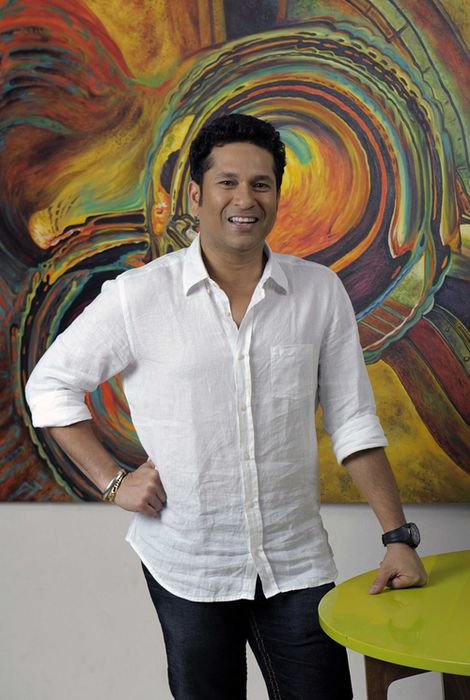 India's most celebrated sports icon sits on a cream-coloured sofa in his home in Mumbai with a blue-cover iPad on his lap. His chin rests on his hand and he seems to be in no hurry. He chats, listens to and answers a variety of questions, many of them not related to sports. This is Sachin Tendulkar 2.0. Till about two years ago, the bat was his main mode of expression. His helmet-clad face, the trademark stance and his confident strokes remain etched in the heart of every cricket fan. Today, however, you get a relaxed Sachin. He wears a blue pinstriped shirt and jeans and has shed his on-field burdens. Cracking jokes as facilely as he played those cracking drives, he is a less daunting version of his former self.
He wears many hats now—cricketing icon, sports entrepreneur, Rajya Sabha member, brand ambassador, businessman and family man. In an exclusive interview with THE WEEK, Sachin says that life has been demanding post retirement, too. He opens up about the transition from living out of a suitcase for 25 years to being a former cricketer, and finding out, to his surprise, that it is still as hectic. Apart from talking about cricket and India's emerging sports scene, he allows a rare peek into his public and social service activities. Excerpts:
Has life after November 2013 been easier and more fun?
It has been fun in the sense that I have been doing things I did not do for so many years. Going out, mixing with people and, of course, travelling to places without cricket stadiums. I do not go to these places as a regular tourist, though. It is not just a holiday. [I am happy] just to be around those people, just to see how much they love me and pray for me. I have been rubbing shoulders with them and this gives me a chance to thank them. However, it is impossible to thank everyone.
Has life after retirement been more hectic? Are people at home able to see you as much as they thought they would?
No. See, when I returned, I did spend time at home. It was nice. I still remember the first morning when I woke up and made tea. I usually make my own tea. I did it that day, too, but it felt different. In a sense, one chapter of my life was over and a fresh one was starting. Usually, as a player, while having my cup of tea with Anjali or the kids, the day's plans would be at the back of my mind. This was not the case that day. I told myself that I do not believe my career is over and I do not need to think about the game. I relaxed for some time and did not do much. My family also enjoyed having me around [and we were all together], something which used to happen only during summer holidays.
I have also been able to mix things up with the various causes I am involved with. Yes, that aspect has come in and that is why I am carrying this thing (laughs and points to the iPad). There are quite a few things to keep track of.
At first, things were about achieving targets, winning matches and doing what the team required me to do. It was exciting.
The second half of my life, the second innings, is all about satisfaction. [I want] to be able to do something for the less privileged. I have been able to do so to a certain extent and I felt extremely satisfied. That feeling is special. I would like to continue with that and perform and excel here as well.
You wear many hats now. You are a parliamentarian, you own a sports team and you are busy with social activities. How do you balance it?
I have to admit that it is hectic and there are times when I tell myself I never thought it would be like this after retirement. Yeah, I thought I would travel, but not to this extent. I have been travelling a lot and sometimes it does get tiring. In the first innings, it took me quite some time to figure out how to adjust to conditions. I am figuring out the balancing act in my second innings, too.
But I am happy with whatever I am involved in, whatever I am doing and whatever has come my way. I have no regrets, I cannot complain at all. This is a wonderful time in my life and I am learning about a lot of things that happen off field. [I used to worry only] about what was on the field as the rest was taken care of by my support team—family, various advisers, accountants and lawyers.
Now that you are involved in so many spheres, is there a sense of detachment from cricket?
No, there is no detachment from cricket. I will always be in love with the game. I cannot say that I sit and watch all matches regularly, but I do try and follow when I get time. [If there is] an exciting session, I will watch. When I am at home, Arjun and Anjali sit with me and, having played, I know what is going to happen. There is the excitement of what is in store, when the batsmen is going to attack, what are the areas he is looking to attack and where the bowler is going to bowl. I share these things with them.
The level of involvement is difficult to bring back as I am no longer an active cricketer. But, having been one, there is always involvement. And, there is clarity. Watching a match now, you can see the action from different angles. There are action replays, and you can see the entire field and be totally involved. Overall, I enjoy watching a match as there is no stress. When I was playing, the result mattered. There was always that pressure.
Talking about stress, how would you compare being a franchise player (Mumbai Indians) and owning a franchise (Kerala Blasters FC)?
It is definitely different. Here, I have no control. There, I had a bat in my hand. There, it all boiled down to what I thought was right, and what I needed to do. Here, I am sitting outside.
Nobody wants to go in front of the world and fail. They all want to go out and perform. I want to enjoy, I do not want stress. Yes, I want them to win but it is impossible to do that every time. As a player, all you need to know is that you tried. Somebody has to win or lose. To me, it is the brand of play that is important. It is about whether they are always out there giving their best. It is impossible to keep the fans satisfied because expectations keep rising. To me, efforts and pre-match preparations are important.
Do you enjoy being a sports entrepreneur?
A different skill is required here. I am trying to figure out how to operate things smoothly. It is a great learning experience.
You are involved in other sports, too.
It is different. In cricket, we were not allowed to get involved as players. Football is one of the most popular sports in the world. So, why shouldn't India excel at that? We are also doing well in so many sports such as boxing, wrestling, tennis, badminton, shooting and chess.
After the first season of the Indian Super League, the difference in the quality of international players and domestic players must be glaring, especially when compared with cricket.
Even the Indian players are terrific. I think that our domestic footballers played very well and we were able to surprise a lot of teams. I don't think it is about one or two players. Yes, they will make your team stronger, but those two won't win you the event. That is what happened in our team. Iain Hume was consistent and, whenever I met the team, David James [captain] was very confident. The team was very balanced and the players held their nerves. I never lost faith in them. Yes, there were ups and downs and we couldn't display our brand of football upfront. That is normal and you lose momentum somewhere. It could be at the start, in the middle or at the end. You cannot play all 15 to 16 games at the same level. As a player, I am aware of that. They need my support more when the chips are down and I am prepared to do that.
You have been involved in public and social work. Earlier, these were very private aspects of your life.
This was on my mind when the prime minister announced that all MPs had to create a model village. Coincidentally, I, too, had been planning to do something on those lines. Once, while going to the US, I met the joint collector of Nellore in an aircraft. We discussed things not knowing we had a common friend. The others [involved in the project] were also on the same page and things progressed.
It is about how quickly and effectively you are able to roll out the project. We have had a very positive impact on almost 2,000 people in Puttamraju Kandrika [the village he adopted]. The overall development is incredible. I have a team that follows up on activities there and reports to me. The latest report said that the change is so drastic that it is difficult to believe. I want to go back soon and see for myself.
I was recently in Coimbatore with Sadhguru [Jaggi Vasudev] for Gramotsavam [an annual event organised by Isha Foundation]. They had volleyball and handball matches. They are bringing everyone together and are doing an incredible job.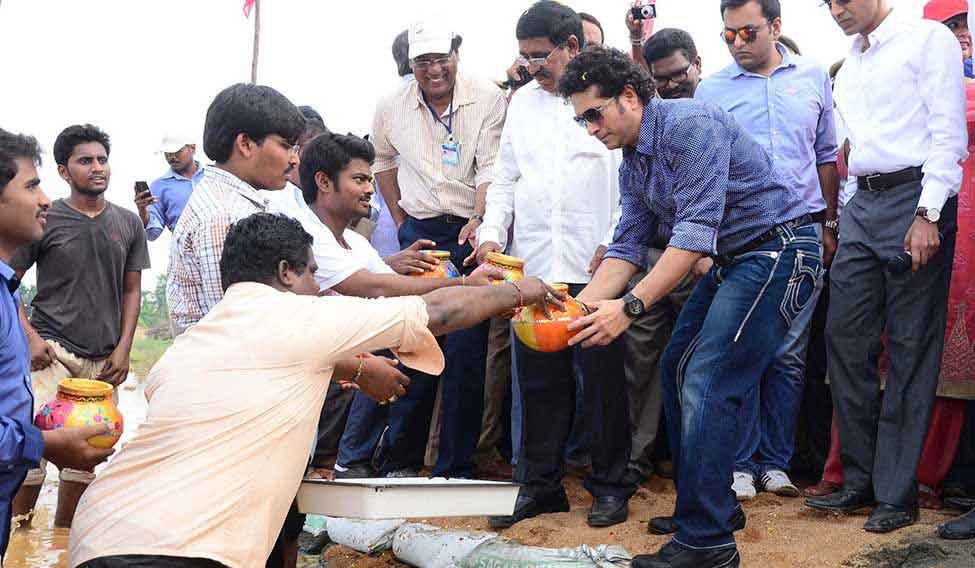 What was your first impression of the village? How much work needed to be done?
I entered a hut that was five-foot high and the entrance was even lower. For the villagers, living there is difficult and really challenging. I asked Sadhguru if we could take sporting activities to the village. Sport has the power to bring everyone together and, once together, they start to forget about other problems.
Paperwork, however, takes time, lots of time. In my second innings, I am learning a lot of things which I did not need earlier. In cricket, you get 0.4 seconds to decide whether to play or leave a ball. Here, it takes four months to do paperwork and sometimes they just sit on it. It gets frustrating sometimes.
When you started work in the village, what were the areas of focus?
Health and education. But, above all, water supply and clean toilets. We ensured that each pukka house had its own tap and a toilet inside. The place which was being used as an open toilet has been converted into a playground the size of Wankhede Stadium!
What is the next phase of development?
We will look at the social aspects and at [providing] employment in such a way that it is self-sustaining. Many companies have approached us and have evaluated what is best for the village. There has to be a sense of acceptability and the villagers have to be interested in what they want to do. We are looking at changing the village completely. My first year of retirement was spent with them. On November 16, 2014, I spent a day with the villagers.
My dream is to keep introducing something new.
Do you want to extend this work to more villages?
Most definitely, but we are also looking at a team which is actively involved and willing to show commitment. Unfortunately, there aren't that many. We are looking for such people. Here, fortunately, everything fell into place quickly.
Brand Sachin continues to be an enduring one.
It is there and [certain people] want me to do things that I don't want to do. I have to take responsibility for what I should and should not do. I have always stayed away from certain products, like alcohol or tobacco, and I will continue to do so.
Are you looking to diversify into sports other than football?
I support and follow other sports such as kabaddi and badminton. But, honestly, I have not thought about being an owner in another sport. And, even if I am not there in that role, nothing stops me from supporting the sport.
Do you think privately owned sports leagues are the way forward?
Definitely. That is the future. We witness the competitiveness [in these leagues]. Above all, there is appreciation and following, which is the best tonic for any sportsperson. I am extremely happy that other sports are being appreciated and you are seeing the results. When they bring back medals for us, it is our responsibility to encourage them.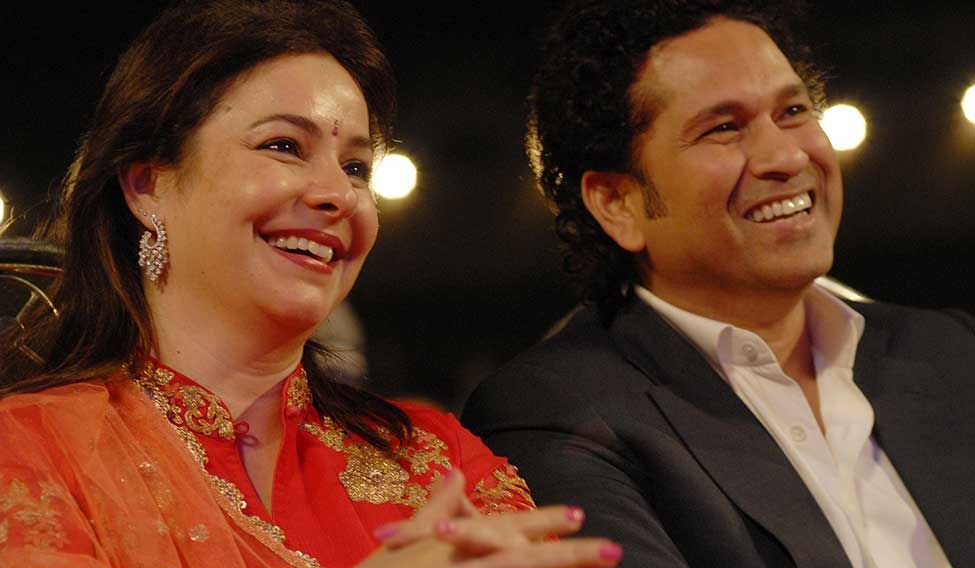 How was the experience of writing a book? Will there be another on the mental aspect of the game?
(Laughs) Oh my God! The first book itself was a challenge. To remember 24 years of cricket was not easy, nor was deciding what to keep and what to discard. I have added a little bit here and there about the mental aspect, but to write a book on that, I don't know. When I spend time with teams—the Indian hockey team, the U-19 Indian cricket team, and the Mumbai and Railways Ranji teams—everything comes back to me spontaneously and I enjoy it. But I am not a writer. It does not come naturally to me.
I am happy that I can share my experiences with youngsters and that my knowledge and experience are passed on to the next generation.
Recently, you spent a long time speaking with members of the Mumbai Ranji team. What were you telling them?
It was not a planned meeting, I was just going to watch them in the nets. Suddenly, I realised I had talked to the batsmen, but not to the bowlers. I decided to chat with them inside the hut about how an entire team moves forward. It is not about individual players. There will be one hero [at a time] and rest will be supporting him. And, vice versa. Everyone's goal should remain one. You also need to mingle with each other on and off the field to understand each other better.
I gave them an example—if your pacer is fielding at fine leg [after having completed an over] and the other bowler has bowled four identical deliveries [to set up the batsman], the fielder [instead of catching his breath] should be ready for a catch. If you know each other, you should be able to pick it up. There is no way the message will be shouted to him 80 yards away.
Have you been able to do the things you wanted to do after retirement?
Yeah, I have been able to do so. I really wanted to spend Christmas in London, but December was always a peak period for us and I could never do so. My first Christmas after retirement was in London and I loved it.
You are also a member of the BCCI's cricket advisory committee. Are you happy with the way things are going?
It has been good. We have just started and many things have happened. Unfortunately, Mr Dalmiya passed away and it was a huge loss to cricket. A dynamic person with so much energy was such a treasure to have.
I have been sharing my thoughts with Sourav [Ganguly], who has progressed well (smiles), and V.V.S. Laxman, both members of the committee. We have also shared our thoughts with BCCI secretary Anurag Thakur and general manager for cricket operations N. Sridhar.
There have been a few challenges as well. But, whether I am part of the committee or not, I will continue to help and guide them like I do with the Mumbai Ranji team.
I did something similar with the Haryana Cricket Association. I asked Aniruddh Chaudhary [HCA secretary and BCCI treasurer] to introduce 14 members in the [junior] squads. Of course, 11 would be on the ground, but it will be a team of 14 [to allow substitution]. The idea was that not a single player should go home having served only water. Each member should get to play. This was accepted by the association.
Are you happy with the direction Indian cricket has taken after you left?
Yeah, it has been moving in a good direction. I definitely feel we need to play better cricket and there is room for improvement. As long as there is drive, things will be on track. You cannot lose focus as the whole country is watching you. To meet these expectations, or to get close to meeting them, you need a lot of commitment.
Things change with time. The way cricket was played in the 1970s is different from the brand of play in the 1990s and in 2011 [when India won the ODI World Cup]. Not only cricket but everything around it will also change. Media coverage has also changed. But it is up to all of us involved in cricket [to ensure that] it heads in the right direction.
Have we become poor players of spin?
No, I don't think so. The Indian Premier League has helped. Earlier, the players [foreigners] did not get enough time to play in India. Now, the top four to five players, or more, from each country are part of the IPL. The coaches are also spending a lot of time in India and they are adapting to Indian conditions.
We won Tests in Durban and Perth. Does that mean the South Africans and Australians are poor players of pace?