Interview/ Sania Mirza, tennis player
Having achieved her dream of becoming number one ranked doubles player, Sania Mirza is hungry for that one remaining achievement—an Olympic medal. At Rio, Mirza knows that India's best chance of winning a medal in tennis is in mixed doubles, where she will pair up with Rohan Bopanna. Excerpts from an exclusive interview with THE WEEK, which was conducted ahead of the launch of her autobiography, Ace against Odds.
It has been 13 years on the WTA tour. How would you describe the journey?
It has been an unbelievable journey with incredible highs and some lows as well. But it has been a truly rewarding experience and one which I would not exchange for anything else in life.
What are the lessons that being a professional tennis player has taught you?
The biggest lesson that I've learnt over the years is the art of handling the highs and lows on an almost daily basis. If one has belief in oneself then there is always a tomorrow, if one is willing to stay positive and keep working hard. Travelling the world and meeting thousands of people from different cultures have provided me with the best education that I could have asked for.
What makes 'Santina' tick?
Our games complement each other's. She [Martina Hingis] has a reliable backhand and is brilliant at the net. This complements my forehand, baseline stroke play and return of serve, which are my biggest weapons. Besides, we get along well on and off the court and this is a vital ingredient to achieve success. I also think that we both have the ability to produce our best in the most tense situations and this is critical in the competitive world of international tennis.
Do you sense fear and respect in opponents when you face them?
Of course, there is a lot of respect from the peers for our achievements and it is very satisfying to have reached the pinnacle in such a competitive sport that is followed by millions all over the world.
What has Santina done for women's tennis, as a team and as a brand?
Yes, a lot of people come out to watch Santina play and I think we have changed the image of women's doubles in international tennis.
Your thoughts on equal prize money in Tennis?
I don't think there is any reason for women to not be paid as much as their male counterparts. We work hard and deserve as much as the men.
How has professional tennis tours changed from the time you started?
I think the sport is becoming more and more competitive. When I broke into the international scene, I possessed a big forehand. One strength was enough to break into the top echelons of the sport. But today, even if you have one weakness in your game, it is impossible to reach the top. Also, tennis has become far more physical than it was when I appeared on the scene more than a decade ago. Absolute fitness is the key to success in today's tennis.
Do you deal with controversies and expectations differently from the time you were 17?
I don't remember ever playing without the pressure of expectations because my countrymen always expected me to perform miracles. I have grown up living with this kind of pressure and that is something which one has to do, particularly in India, where we tend to be very emotional. Of course, I have matured over the years and am better placed than as a teenager to handle pressure and controversies which are a part and parcel of the lives of international performers in sport in our country.
You are India's main medal hope in tennis at Olympics. How are you preparing for Rio?
I am planning for Rio just as I have prepared for every major tournament that I have played for my country. I have always believed in giving it my best shot and leaving the rest to God. Giving your best is in your hands, victory is not. Results depend on all kinds of factors that are beyond your control.
Has missing out on a very good chance to win a medal in London 2012 due to politics hurt? Has it made you more hungry for a medal in Rio?
It hurt a lot when it happened and I spoke out at the time as I don't mince words when I feel strongly about things. With time, the pain lessens. But as sportsmen, we learn to overcome disappointments and in sport there will always be achievements you missed out on. There is no such thing as perfection. That is the beauty of sport.
Having dealt with multiple career threatening injuries, explain how you have managed fitness routines over the last few years?
When I first broke into international tennis, I had not had the benefit of professional physical training as a developing youngster and I was woefully short of world standards. I had to suffer the ignominy of quickly improving my fitness levels in the full glare of the world and at a speed that was quick enough to ensure that I was not blown away from international tennis. I have worked extremely hard over the years. I am today fitter than I have ever been by working with world class trainers like Robert Ballard and Heath Matthews. As we grow old, we have to work even harder to maintain levels of fitness to be able to take on the top players of the world.
How do you balance your tennis, training, travelling, public commitments, rest and recovery?
I have been fortunate to have a skilled, hardworking team which includes my family and professional assistants. They have done an unbelievable job of planning and delivering for almost a quarter of a century since I first picked up a tennis racket. It would have been impossible to achieve everything that I have been fortunate to do without them.
You've talked of fear and fearlessness in your book. How would you describe Sania the person?
Tennis has given me a lot in life and my experiences on and off the court have made me a much more mature and calm person. I have learnt to take everything in my stride.
You have been extremely honest in the book, recording important, tough, big, small moments in your life as a sportsperson. Which was the most difficult parts to put down in writing?
It has been a pleasure sharing my thoughts and views on all aspects of my life and career. I enjoyed every moment of it and I hope it will give some joy to my supporters who have stood by me all through these years.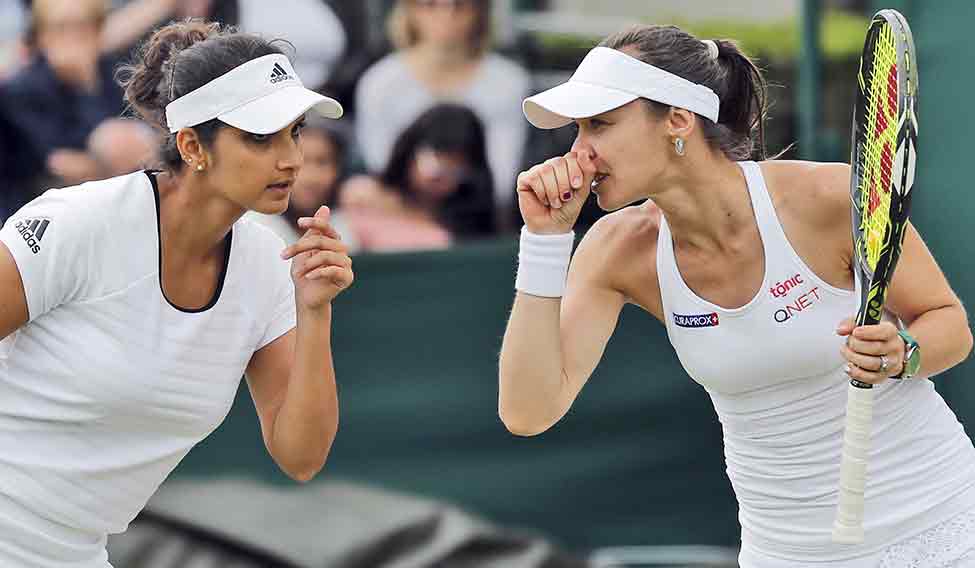 Book excerpts
While I was totally engrossed in my bid to qualify for the London Olympics, plenty was happening amongst the big boys of Indian tennis as the race to seal their spots with a partner of their choice heated up. Hesh and Rohan had been partnering together on the tour and, for obvious reasons, wanted to play as a team. Leander, on the other hand, was the top-ranked Indian and felt he deserved to pick the partner who would give him the best chance. The plotting and politicking were now being played out in public with AITA throwing its weight behind Leander and appearing to give him the option to play with a partner of his choice. The media was having a field day thanks to this self-induced chaos but it was the prestige of Indian tennis that was suffering cruelly.
I preferred to stay out of the massive controversy that had broken out as I honestly believed it had nothing to do with me. I was asked many times for my opinion, but I thought it was none of my business to speak publicly on an issue that did not concern me. I was not even a part of the Olympic team yet.
If I was awarded the wild card, I would be delighted to play with Rushmi Chakravarthi, whose name AITA had proposed as my partner for the Olympics in recognition of her being the No. 2 player of India. In mixed doubles, I assumed Mahesh and I would be the automatic choice for several reasons. We had not only won two Grand Slam titles together – one of them only a few weeks ago at Roland Garros – but had also reached the semi-finals at the previous Grand Slam in January in Melbourne. Besides, Mahesh is an ad court specialist and complements me perfectly as I prefer the deuce court that suits the forehand, my biggest strength.
While Mahesh and I were busy playing the French Open and making our way through a difficult draw en route to our title win, AITA president Anil Khanna had come to meet us. Before our quarter-final, he spoke to Leander and Mahesh separately. I don't know what he said to the others, but he told me after my match that I could play with whoever I wanted to, in the mixed doubles at the Olympics. I think at that point everyone was aware that Mahesh and I were expecting to play together. Khanna stayed over and watched our next match too, where we beat the top seeds. It was a particularly good show from me in the match. After the win, he told Dad, 'The way Sania is playing, she can win with anyone.' Maybe he could feel the Olympic storm brewing and was hinting at the eventuality of me not getting to play with my desired partner.
In a shocking move, my name was dragged in as a compromise formula to end the deadlock among the male doubles players. AITA announced that I would partner Leander Paes in the mixed doubles in an obvious effort to end the feud among the men. In effect, they sacrificed India's best chance of winning an Olympic medal in tennis by breaking up a proven winning combination. I was absolutely livid.
---
To our surprise, the final was scheduled for 10.30 a.m. This was tricky. Our body clocks had got accustomed to late mornings and now I had to play the biggest final of my life, with the highest stakes ever, within a few hours of the semi-final and with inadequate sleep. It turned out that since I was in with a chance of achieving the No. 1 ranking, the organizers were keen to time the final to allow maximum viewership of the match on television all around the world. I was under pressure to get to sleep early. We needed to be ready to hit no later than 9 a.m. But even with the mild sedation caused by the allergy pills I was taking at the time, which usually knock one out, I could barely sleep. I must have woken up twenty times during that disturbed night.
We had pushed our practice session back as late as we could, to allow for a few extra minutes of sleep. As a result, we barely had time to change after the warm-up before walking out to the court for the final. This was unusual, as normally we would have around an hour between the warm-up and the match.
Our opponents in our third consecutive final together were Darija Jurak and Casey Dellacqua. I was nervous, but having a legend like Martina by my side was reassuring. As I walked onto the court, I could feel my nerves settling.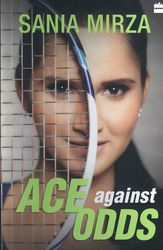 We played inspired tennis in the first set and won 6-0 and then took a commanding lead in the second as well before nerves started to get the better of me. It's not every day that you get an opportunity to officially become the best in the universe at anything. With nothing to lose, Jurak and Casey suddenly started to play brilliantly and the game tightened up. I was serving for the title at 5-3 and was broken for the first time in the match, with Martina hitting into the net. She looked back apologetically and I said with a nervous smile, 'It's okay!' Casey was now serving at 4-5 and I felt wobbly on my feet. I wanted Martina to take every ball and win the match for me from here. I remember praying as Casey prepared to serve to me on match-point. 'Will I manage to put the ball back?' I wondered.
Excerpted with permission from Harper Sport.
Ace against Odds
By Sania Mirza, co-authored by Imran Mirza and Shivani Gupta
Price: Rs 499; Pages: 238
Published by Harper Sport