Over the past few days, the Sports Authority of India's regional centre in Sonepat in Haryana has seen a steady stream of visitors, including television reporters, sports officials, coaches and well-wishers. Just ahead of the Rio Olympics, which begin on August 5, wrestler Narsingh Yadav failed two doping tests. There is unrest, mistrust and division in the Indian wrestling camp.
Yadav qualified for Rio by winning bronze at the World Championships last year. He was chosen for the 74kg category over double Olympic medallist Sushil Kumar, who then requested the Delhi High Court for a special trial to decide who should go to Rio. The court rejected his plea and Yadav, 26, looked on track to go to Rio. However, he failed a dope test conducted by the National Anti Doping Agency on June 25 and was put under provisional suspension. He also failed a second test conducted on July 5. He tested positive for methandienone, a banned anabolic steroid that experts said was out of use. The sports ministry had hopes of winning a dozen medals in Rio, and Yadav was counted as a safe bet. The Wrestling Federation of India has now named Parveen Rana as the replacement for Yadav, whose fate would be decided on July 28.
"I believe that there is foul play involved in this entire episode," said Yadav. "Someone has sabotaged my food supplements and water intake. I take pride in the fact that I have competed in every competition, international and domestic, in an honest, fair and transparent manner." Samples of his food supplements—provided by WFI and his sponsors JSW—were sent for testing. On the evening of July 26, a day before a NADA panel heard Yadav's case, a very senior sports ministry official believed it was sabotage even though food supplements tested were reported clean. His coaches wondered why he was being targeted so often, and conspiracy theories flew thick and fast.
One of them was that the Sushil Kumar camp allegedly had a role in the mess. Reportedly, a cook at the SAI centre identified a junior wrestler who allegedly spiked Yadav's food. The teenager apparently comes from Chhatrasal Stadium in Delhi, which is the training base of Sushil and his guru Satpal Singh. He allegedly broke into Yadav's room and spiked his food supplements. Also, it is said that the teen is the brother of an international wrestler in the super heavyweight category. Yadav's team has registered a first information report against the junior wrestler in Sonepat.
Another incident was reported at the SAI centre in early July, but the cooks and the staff ensured that Yadav did not consume the food, which had turned frothy.
During Yadav's legal tussle with Sushil, the Haryana Police had beefed up Yadav's security after SAI director general Injeti Srinivas spoke with the inspector general of police Sonepat. Srinivas had thrice requested Yadav and his coach Jagmal Singh to consider training at the SAI centre in Mumbai, but Yadav insisted on staying put in Sonepat; he was confident that no one would harm him on the campus. "We never thought of the sabotage possibility, our focus always was on his physical safety," said a WFI official.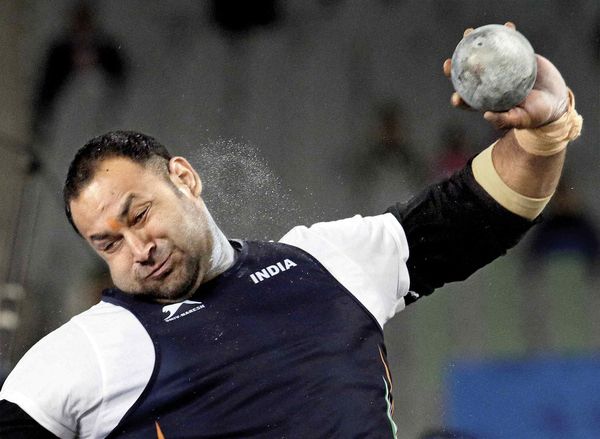 YADAV, A SIMPLE lower-middle class boy from Mumbai, has always been a misfit in the wrestling camp dominated by pehalwans from Haryana. However, he has the complete support of the WFI, coaches and SAI officials, who have put up a strong case before the anti-doping appeal panel. JSW Sports hired seasoned lawyer Vidushpat Singhania to argue the case. "It is very tough to prove that the food and drinks were contaminated," Singhania told THE WEEK. "I believe, having seen so many dope-tainted athletes, he is a genuine case. He has been set up. The substance used for contamination is no longer used. We will use circumstantial evidence to prove his innocence."
Another point raised by Yadav's supporters is that his roommate Sandeep Tulsi Yadav, too, failed the test. As he was only Yadav's sparring partner and wasn't competing in the Olympics, why would he take the steroid, they asked.
Though Yadav has not blamed any individual in his written statement, many turned their gaze to the Sushil camp. The following day, Sushil issued a statement: "I have been backing younger brother Narsingh to perform well at the Olympics. I am saddened by people pointing fingers at me. I left Sonepat the day the verdict came and was planning a holiday with family."
The result of the trial notwithstanding, Yadav continued training. The mental trainer attached with the SAI centre is also helping him cope with the trauma.
However, the atmosphere at the Sonepat centre has become tense, and the government seems to believe that the fight between two wrestling camps had gone too far this time. To make matters worse, WFI president Brij Bhushan Sharan Singh, who is a BJP MP, hit out at Sushil's supporters, including an administrator at the SAI centre. Sports ministry officials, however, were quick to defend SAI staff. "What are they alleging? Is it that SAI has institutionalised doping? We will not accept any allegations of complicity against our officers," said a sports ministry official.
As the Yadav controversy was raging, another scandal hit India's Rio contingent. On July 26, shot putter Inderjeet Singh tested positive for androstenedione and etiocholanolone, which are anabolic steroids used to build muscle. The test was done on June 22 and his sample 'A' returned positive. Inderjeet trains alone in nearby Bhiwani with his personal coach Pritam Singh. He has a history of evading dope tests and not reporting his whereabouts to NADA. However, he has been tested five times during various competitions between April and July.
HE ALLEGED THAT his sample had been tampered with. Said Inderjeet: "There is a conspiracy against me as I have always spoken out against the system." But his complaint had few takers, least of all the Athletics Federation of India. "He and his team have approached SAI for everything vis-a-vis his training, exposure trips and requirements. The AFI has no role to play. The federation will not protect him," said a senior AFI official.
NADA director general Navin Agarwal told THE WEEK: "The athlete [Inderjeet] has not yet requested for his 'B' sample to be tested. He can do so within seven days." He dismissed allegations that the sample had been tampered with.
The names of a few more athletes are expected to come up before the Games start. If necessary, any athlete who is currently training abroad or has reached Rio in advance can be recalled. "We are totally committed to World Anti Doping Agency rules," said Agarwal. "We do not want our athletes to win medals by hook or by crook."
NARSINGH YADAV
* Failed two dope tests conducted by NADA on June 25 and July 5
* Tested positive for methandienone, a banned anabolic steroid that helps increase muscle mass and produces explosive strength
INDERJEET SINGH
* The random NADA test was done on June 22 and his sample 'A' returned positive. Sample 'B' yet to be tested
* Tested positive for androstenedione and etiocholanolone, which are anabolic steroids used to build muscle