If Modi is going to keep aside all his work, then he should come here, lie even more and witness how the Shiv Sena wins Mumbai.
Ever since his party ended its electoral alliance with the BJP, Shiv Sena chairperson Uddhav Thackeray has been tearing into the former ally, even though they are part of the government in Maharashtra. Old Shivsainiks have compared his speech in Mumbai immediately after breaking the alliance to the fiery speeches of his father, Bal Thackeray. His pointed attack—full of wit and aggression—is something that Shivsainiks have been waiting for, since Balasaheb's demise.
In the ongoing municipal elections in Maharashtra, the Sena has dominated the campaign trail, and Uddhav's new-found aggression is compelling the BJP to deploy all its ministers on a counter attack. Excerpts from the interview with Uddhav:
Having allied with the BJP for over 20 years, how do you feel fighting them now?
Honestly, I think ordinary people have liked it. They are enthusiastic and happy, while Shivsainiks are on fire. People on the street, from cars and buses, flash victory signs when I campaign. I think they always wanted it to happen. People in Mumbai cannot tolerate the way the BJP has tried to bully the Shiv Sena.
How do you plan to make Mumbai a slum-free city?
We had launched "Shiv-Shahi slum rehabilitation scheme" when we were in power from 1995 to 1999. After that, the Congress-NCP alliance ruled the state for 15 years and the scheme was altered. People who were shifted to the transit camps languished there for years and waited for the rehabilitation work to be completed. We had planned to provide them better and cleaner homes.
Recently, BJP's Mumbai president Ashish Shelar said that the dwellers would be made to settle in the transit camps permanently. Your opinion.
Many of the slums taken up for rehabilitation were at important locations. The sources of livelihood for the slum dwellers were close by. They were transferred to the transit camps in faraway locations. If they are asked to settle permanently in those camps, they will be deprived of their right to get rehabilitated at the original locations and, moreover, it will be an attempt to grab their land. This will be wrong and we will oppose it.
You had challenged the BJP to get Narendra Modi to campaign in Mumbai. Do you think he or Amit Shah would do so?
Whatever I do, I do with full confidence. I see to it that I don't sound rude or arrogant. I did not challenge the prime minister. But, we have seen him keeping aside all his work to address 27 public meetings in Maharashtra during the assembly polls in 2014. Even today, he keeps aside his work to mock at the opposition parties in public meetings. You cannot ask him any question, you cannot ask for the outcome of the demonetisation. I feel that if Modi is going to keep aside all his work then he should come here, lie even more and witness how the Shiv Sena wins Mumbai despite all his lies. I will show him how people in Mumbai bless the Shiv Sena.
The Sena fought in the Goa elections, where the BJP's Manohar Parrikar was a key campaigner.
Yes, we have seen the defence minister of India camping in Goa for two months just to defend his little assembly constituency. Now, how is he going to stop infiltration across the border and end terrorism, and when will he give a befitting reply to Pakistan? They all are busy replying to their political opponents.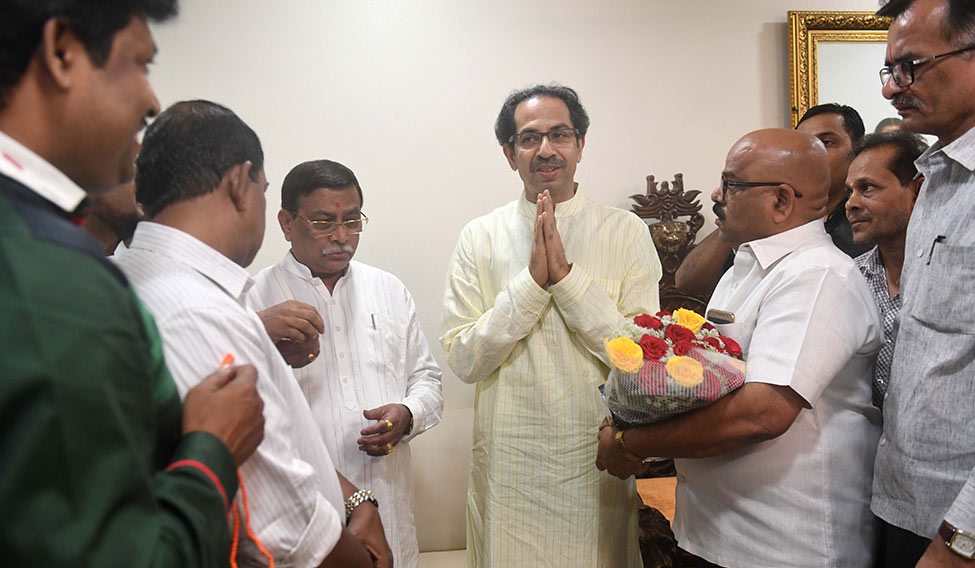 Your network in north India, particularly in Uttar Pradesh, is also growing.
Immediately after the demolition of the Babri Masjid, BJP leaders were busy saving their face. It was Balasaheb Thackeray who stood firm and owned up. The Shiv Sena had earned a lot of support in north India then. But Balasaheb said that we will look after our state and let the BJP spread to other states. We stopped our followers in the north from contesting against the BJP there. But, many of them joined the BJP because they had electoral ambitions. Now, after 25 years, we have realised that the BJP has no ideology. It was all fake. That is why I have broken this alliance forever. Now we have started contesting outside. I said in Goa that we will try to strengthen the regional parties there by keeping our ideology intact. We believe that the Shiv Sena is the only party which truly stands for the hindutva ideology.
So what is the situation in the UP elections now?
We have around 70 candidates in UP now. I wish to go to UP, but I am held here with the elections in Maharashtra right now. I will try.
You fought the BJP in the 2014 state elections, but you came around and joined the government later. Will that happen again after these municipal elections?
Our alliance broke after 2014 Parliament elections, during assembly elections later that year. After the results, I thought our battle was over. We had succeeded in stopping the BJP from forming its own government and had defeated the Congress-NCP as well. I decided to join the government in order to respect the mandate that did not want the Congress-NCP again. Mistakes do happen. But now, after two years, we feel that the BJP wants [to win] everything, but is not bothered about governance. People in Mumbai are angry and they will bring us back.
We had a good relationship with BJP leaders like Atalji, Advaniji, Pramod Mahajan and Gopinath Munde. It took two years for us to overcome that kind of emotional bond. But they do not have any such bond.
The BJP and its chief minister Devendra Fadnavis have levelled corruption allegations against you.
Were his party members not there in the Brihanmumbai Municipal Corporation (BMC)? Were they not there in the standing committee? Were they not deputy mayors? Why did they keep mum if things they claim were happening? I feel pity for such childish allegations by the chief minister. Does he not know the functioning of the BMC? Elected members either approve or reject the proposals brought by the administration. The resolutions passed get the final approval by the urban development ministry and the chief minister himself heads the portfolio. The tenders get approved in the presence of the media. Does it mean that he is levelling allegations against himself? Or does it mean that corruption happens in front of the media? This government has given contracts of the metro and Nagpur municipal corporation to contractors blacklisted by us, but favoured by the chief minister.
What about the falling percentage of Marathi voters in Mumbai, particularly among BMC's employees?
We have a provision in our manifesto to give preference to students of BMC schools while recruiting for the BMC. This will be a quota reserved for them and this will address their concern. We will also strictly abide by the law of employing 80 per cent from the sons of soil—we will stand by the Marathi manoos.
What are the major achievements of the present Central government?
First achievement is that it has completed 33 months despite all the empty promises. The second achievement is that it has only 27 months remaining to continue with its lies. It is really a big achievement to have survived so many months, despite all the big lies.
You were wooing the Gujarati voters, who are generally considered pro-BJP voters.
For the last two years, we have felt that the Gujarati voters have been extremely disappointed with demonetisation and other policies. They have been facing this question of having a right political choice, so why not the Shiv Sena? Hardik Patel was painted as an anti-national by these people. He is a 23-year-old boy. He was keen to come and offer his respects to Balasaheb. There is nothing political about that. He is too young now. I have never asked for votes in his name.
During the assembly elections, Modi had said that Sharad Pawar was the source of corruption. But, recently in Pune, he called Sharad Pawar his guru. Your comments?
The student appears to be superior to the teacher. The student has emulated his master in deceit and corruption. He can say anything very easily.