"We cannot surive without water. Khakurdi dam, the only source of water for us, has not had a drop of water in the last four years" - Shirish Kotwal, who has 361 borewells on his 55-acre land
Shivana, a tributary of the Godavari, is parched, just like the village it runs through—Lasur, 40km from Aurangabad in Maharashtra. The only solace for the villagers is that the caked and cracked riverbed offers a better ride than the pothole-ridden bridge over it! With taps and wells running dry, drinking water comes here in tankers—17 litres a person, once in 14 days.
The Marathwada region, comprising eight districts, is facing the worst drought in 40 years. Manmad, a town bordering north Maharashtra and Marathwada, gets drinking water once in 40 days. Temperatures have already crossed 40°C, and the horizon looks scary with nothing but acres of arid land.
About 280km from Lasur, Laxmibai Kumbhar, 75, waits patiently in a queue at Shani Chowk in Latur for the tankers to arrive. She has been waiting for three days. The harsh heat hasn't made the wait easier. Her three sons are labourers, and bring her food twice a day. "I cannot work, so guarding the containers in the queue makes me feel useful for the family," she says. "We do not know when the tankers will come. They give very less water and we barely take a gulp when extremely thirsty."
Latur is one of the worst-affected districts of Marathwada. The Dhanegaon dam, one of Latur's water sources, has dried up. Marathwada has suffered diminishing rainfall for the last three years. Babanrao Deshmukh, who owns 12 acres, has to repay Rs 5 lakh in loans. "I have not earned a penny in the last three years," he says. "The well in my farm does not have a drop of water since 2012. I sold my family's ornaments, a pair of bulls and even trees on my land to survive. But now I don't have anything more to sell, and nobody wants to buy my land." He managed to get his daughter engaged in 2012, but did not have enough money for her wedding. "Her wedding will be called off if it does not happen this year," he says. For Marathwada men, marriage proposals, like water here, have vanished, with no parents wanting their daughter to spend hours in a queue for a bucket of water.
It's a story that echoes in every village in the region. In Tandulja village in Latur, Ajit Sawant, a farmer with 15 acres, has seen no yield in the last three years. "Searching for drinking water is the only job left for all of us," he says. Of course, private players ensure that they don't have to look far. But it comes at a price—Rs 2,000 per tanker, says Sawant.
Professor Pradeep Purandare, a water management expert, blames the government for the crisis. Absence of a proper water management policy and political will is the biggest reason for the drought, he says. "The government knew about the forthcoming drought situation right from September but chose to ignore the issue," he says. "The sugar factories and sugarcane producers kept drawing the available water."
Sugar is the bitter pill in this drought scenario. Maharashtra is the 'sugar daddy' of the country, accounting for about 40 per cent of its sugar production. It takes 2,450 litres of water to produce a kilo of sugar. Water required to produce sugarcane in one hectare is sufficient to produce jowar (sorghum) in eight hectares. That is why most countries produce sugarcane only with rainwater and never by drawing groundwater. Nine per cent of the farmers in Maharashtra produce sugarcane, but they use 69 per cent of available water. Marathwada region has 39 cooperative sugar factories, and sugarcane farming consumes 80 per cent of the dam water.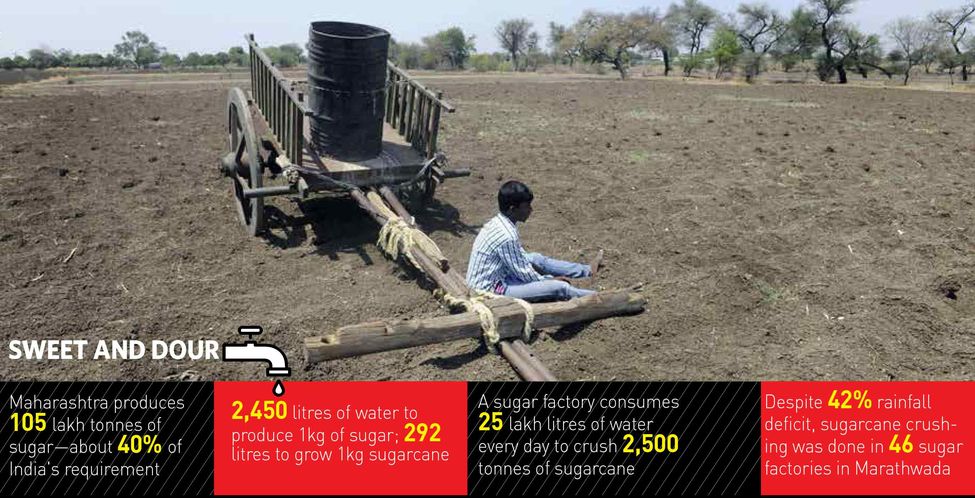 "Leaders in Marathwada seem to be obsessed with producing sugarcane and sugar," says Purandare. While water from the dams are to be used for eight months, sugarcane farmers keep pumping water throughout the year owing to the absence of policy and rules. He says water shortage was never this severe when sugarcane production was not so popular in the region, which largely produced coarse cereals, pulses and soybean. But once sugarcane farming began, farmers started drawing huge amounts of water from canals and borewells. And when a borewell dried, another was drilled.
Take, for instance, Shirish Kotwal, who has 361 borewells on his 55-acre land. "We cannot survive without water. Khakurdi dam, the only source of water for us, has not had a drop of water in the last four years," he says. He has sold six of his eight bulls, for as low as Rs 5,500 per bull. "I would have got at least Rs 15,000 for one bull, but this beef ban has become a curse for all of us. It costs Rs 500 a day to feed one bull," he says. Worse, the state government had ordered the shutdown of fodder camps in the drought-affected region. "Earlier government ran fodder camps and provided water tankers in drought-affected areas. It gave compensation, although little, whenever any calamity like drought, excess rainfall or hailstorm hit us," says Kotwal. "This is the first time when we have been left to suffer."
People in Marathwada had hopes from the annual state budget. The government, however, allotted only Rs 954 crore for irrigation projects in drought-hit Marathwada. Of 69 projects, the Lower Dudhna project alone was allotted Rs 452 crore. While Jalna and Parbhani districts will get some water next year thanks to the Lower Dudhna project, the other six districts will remain dry, says senior journalist Suhas Sardeshmukh.
Even the Jalyukt Shivar Abhiyaan or irrigated farmland scheme, aimed at making Maharashtra a drought-free state by 2019, has failed to make much difference. Under this scheme— a pet project of Chief Minister Devendra Fadanvis—1,682 villages from Marathwada were selected for widening and deepening of nullahs, rivers, rivulets and brooks. These works were to be completed in a year. But only 34 villages have seen the completion of works. Also, Purandare says nothing has been done to retain the walls of the newly deepened and widened river or streams. "The soil of the walls will get into the stream once monsoon begins and effective storage won't happen."
Moreover, the scheme was supposed to generate employment for the drought-affected farmers. But instead, machines were brought in to do the job. "This entire scheme is riddled with corruption; not a single project is done under the Mahatma Gandhi National Rural Employment Guarantee Act," says Rajan Kshirsagar, a social activist. "According to RTO records, 120 earthmovers have been sold in and around Latur. Each costs more than Rs 45 lakh. Bank officials have said they have disbursed loans worth Rs 174 crore for buying these machines."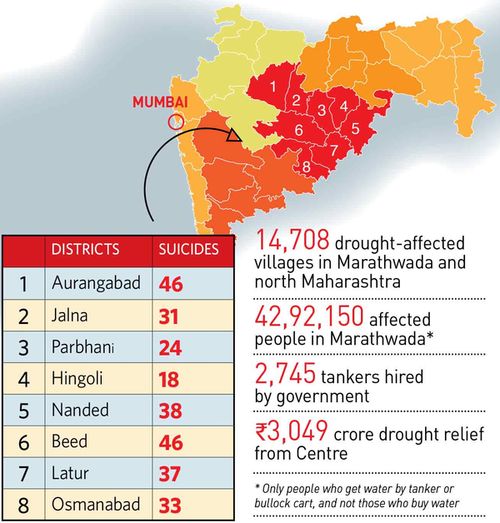 The demand for the machines doesn't come as a surprise as they are money-spinners. Agrees Haji Akbar Beg, a political worker from Khultabad in Aurangabad, who owns two JCB machines. "I am quitting politics. It is a better job to clean and widen the river," he says. Both his machines are hired for Rs 2,200 for an hour, and they are deployed for nearly 1,000 hours.
Kshirsagar says the government is paying lakhs of rupees every month to these "monsters" but not to people. He cites the example of 40,000 fishermen in Marathwada, who have been jobless every summer for the past couple of years as the government has failed to provide them alternate employment. During the drought of 1972, the state had, under its own employment scheme, provided jobs to more than 15 lakh drought-affected farmers and farm labourers. But this year, only 1,08,333 individuals have been given work under MNREGA. "This is beyond comprehension, considering the severity of the drought and the lakhs of affected people. It is criminal to let human beings starve and feed the machines," says Kshirsagar. He says the district collectors are passive about giving work under MNREGA and that not a single job card has been renewed in the region. He also blames the non-implementation of MNREGA for many of the suicides taking place in the region.
Dhananjay Kulkarni, an expert on water management, says the mismanagement of the irrigation infrastructure has led to the drought situation. "Finally, this has led to these huge investments turning into futile assets," he says. The state government had appointed a committee in 2012 to investigate the irrigation scam. The committee had pointed out many lapses, violations and wrong estimations in many of the irrigation projects, but no action was initiated.
Purandare says, "Long-pending issues like getting water from Damanganga-Tapi into the Girna basin, and from Narpar-Damanganga into Godavari basin have not been addressed at all. This would have solved the water scarcity problem to a large extent." Also, he wants the government to bring in a new law for the management and regulation of water resources. "Maharashtra has nine acts for the regulation of water resources, but the rules and regulations to implement it have not been prepared yet. Hence, officials use rules formed in 1934," he says. "The rules are partially implemented to favour the powerful sugar lobby. The 1934 rule says that sugarcane cultivation should be done only twice in five years." The government also has the authority to prohibit sugarcane farming during water scarcity, but it has never been exercised.
Recently, a committee was formed to formulate rules and regulations for the Maharashtra Hydrology Development and Management Act, 2009. Civil engineer S.V. Sodal was appointed as head of the committee. Questioning a civil engineer's ability to formulate rules for hydrology, the Bombay High Court asked him to resign. Sawant, the Tandulja farmer, sums it up best: "Every measure that this government claims to have initiated is just like giving a missed call to a wrong number."