There is a funny meme doing the rounds: Not an early bird or a night owl, I am some form of permanently exhausted pigeon. Darshita Srivastava, 24, would, perhaps, relate to it. An assistant executive of brand communications at a Bengaluru-based public relations company, she goes to work early and returns home late, either owing to work or the traffic. "At office, I am constantly on my toes," she says. "Media rounds, brainstorming, client servicing, idea pitch-ins and crisis management exhaust me, not just mentally but physically as well. There is a lack of motivation. When not in client meetings, most of my day is spent doing desk job. There is hardly any physical activity."
Srivastava is not alone. Today, most employees share similar woes—tedious work routines, sedentary lifestyle, poor eating habits and inadequate sleep. Backaches, muscle spasms and weight gain have become a common phenomenon across different age groups, taking a toll on productivity. Companies, therefore, are making working conditions more employee-friendly by introducing fun activities and wellness programmes.
Take, for instance, PRHUB in Bengaluru, where evenings are fun thanks to the Zumba session. "It is natural for employees to lose their stamina by the end of the day. So, we started Zumba classes twice a week from 6:30pm to 7:30pm, right after office hours," says Sumathi Chari, senior partner, PRHUB. "It suits employees as many of them are comfortable leaving late from work so as to escape peak hour traffic." Health parameters have been carefully assessed by the company and a trained staff has been deployed for the session. "Three months on, and we have seen everyone from juniors to managers have fun at the workout sessions," says Chari. "In fact, this small change has turned out [to be] fruitful and we have realised that our employees are happy, fit and delivering better performances at work."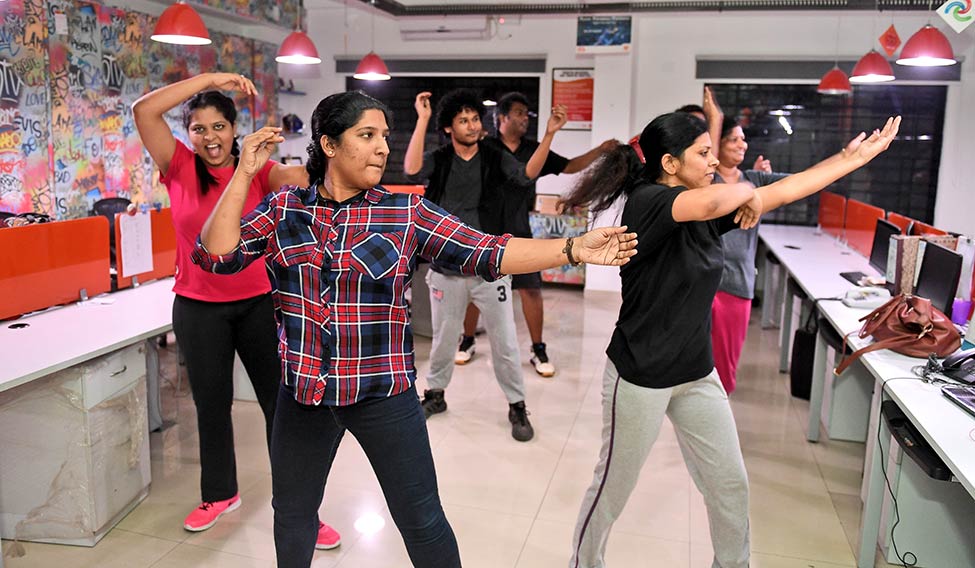 Though fitness has always been important to B. Ganesh Narayan, 27, a digital media executive at PRHUB, he would hardly find time to exercise. "Gym timings also didn't suit me as I work late," he says. "So when they introduced Zumba at office, I took a few sessions and liked them. Within a few classes, I realised that more than an exercise it is fun, and I feel extremely refreshed post workout. I think it is a great way to bust stress."
But it is not just the young who are finding their zing with Zumba. Pooja Bajaj, a Bengaluru-based Zumba instructor and owner of Soul Blaze, says employees from all age groups attend her corporate sessions. "Their enthusiasm is great and I am glad that companies are using this as a great tool to create a 'fitness movement' at work." And now, theme-based sessions like bhangra cardio and cowboy-based interactive sessions are becoming popular, says Runjhun Gupta, a Delhi-based Zumba instructor and founder of ZipOut.
Instead of boring and lengthy management lectures, companies like O-Zone Networks have come up with meditation sessions and spiritual talks. The internet provider company in Gurgaon has a meditation programme called 'Siddhi'. "The session takes place every Friday, for two and a half hours, and includes a 20-minute meditation programme, a fun activity and a spiritual talk," says Meena Mahajan, chief belief officer, O-Zone Networks. "While the meditation programme helps in introspection, the talk addresses employees' problems so as to help them balance their personal and professional lives."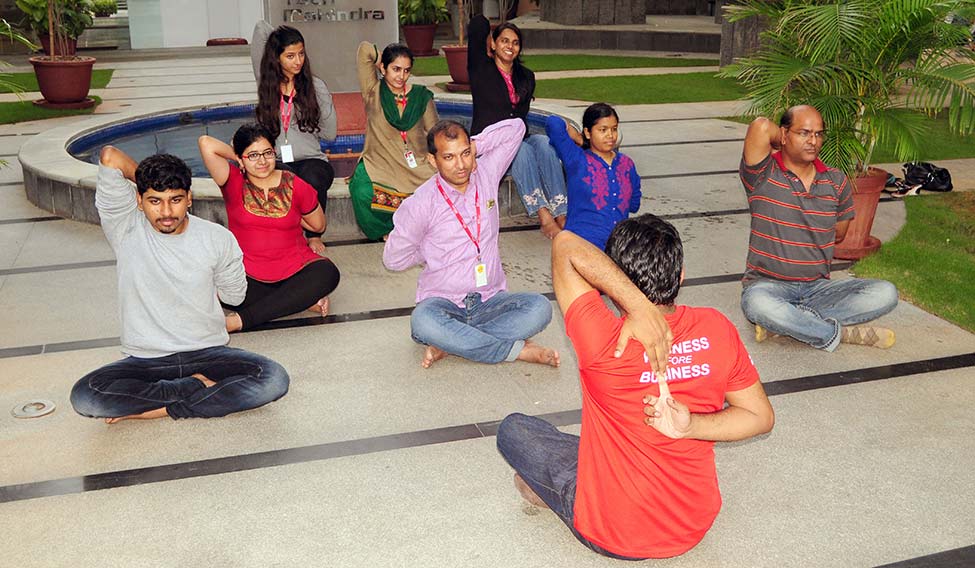 And, the employees can't stop raving about the programme. Kavita Singh, the inventory and procurement manager, says it made her a stronger person. "At the beginning, I was a little sceptical because my understanding about meditation was more to do with gyaan rather than the positivity it can fetch," she says. "After a few sessions, I found it quite empowering and refreshing."
And, such activities aren't just restricted to afterwork hours; companies like Tech Mahindra in Hyderabad let their staff attend health and wellness workshops even during working hours. "Our company is not fussy about work timings," says Sushma Shri, who handles client relationship and project management at Tech Mahindra. "Flexi hours allow us to undertake several wellness workshops. There have been a series of activities such as Art of Living sessions, stress reduction programme and desktop yoga. Everything is available to the employees at a reasonable rate."
Since employees find health talks boring after a period of time, Gurgaon-based Schneider Electric India has made meditation, yoga, stepathlon and musical Monday mornings a part of its routine. It is an easy way to address the health and wellness needs of employees, says Lipika Verma, human resources director, Schneider Electric India. Jagdambaprasad Joshi, 42, assistant general manager, says the yoga sessions help him manage his work-life balance better and have improved his concentration.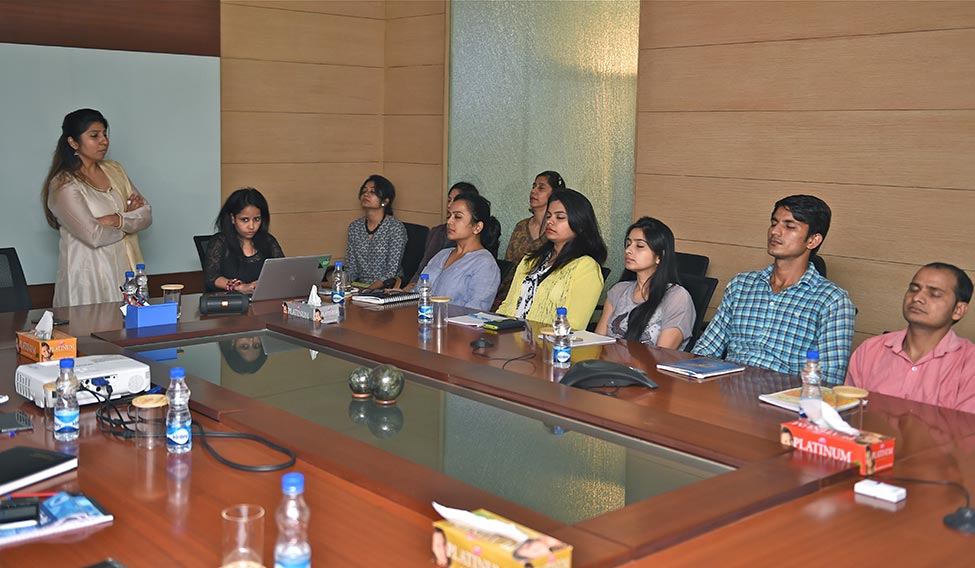 Likewise, Gurgaon-based Knowlarity has yoga, kickboxing and aerobics sessions, and a special area where employees can play games like carom and foosball, says Anu Yadav of human resources. To The New, on the other hand, has nap rooms for employees, and meditation and dance sessions in the evening. "We provide a great environment to our employees, and encourage them to participate in marathons," says Satya Sharma, vice president of the Noida-based company.
Disha Patel, 34, who is part of the servicing team, finds the meditation session uplifting and the breathing exercises calming, but she "loves the 4pm bell". "That is when we have the dance session," she says. "Our management ensures that while we have strict deadlines at workplace, our fitness is not compromised and that wins thumbs up from all those battling unfit body and stress."