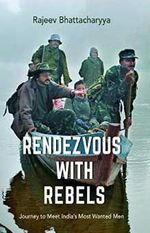 Rendezvous with Rebels is as much a travelogue as it is a scintillating political account of scarcely reported conflicts in our country. Bhattacharya, a freelance journalist based in Guwahati, walked nearly 800 kilometres in three months and 20 days, visiting rebel bases in Eastern Nagaland in Myanmar, staying in an ULFA camp and interacting with rebels from other banned outfits. The book aims at a better understanding of these troubled regions and their people.
Rendezvous with Rebels
By Rajeev Bhattacharya
Published by HarperCollins
Pages 309; price Rs399.