It was just before sunset. The crew of Thinking Of Him were preparing for a shoot on a platform under a mango tree in Santiniketan. The scene was the farewell gathering of Felix, an Argentine who had taught at Visva Bharati. Renowned Argentine stage and film actor Hector Bordoni was playing Felix. Director Pablo Cesar, also from Argentina, wanted an emotional parting between Felix and his student Kamali (actor Raima Sen).
But, the shoot was stalled. The university told producer Suraj Kumar that the red-cemented podium was sacred ground. It was where Rabindranath Tagore and Mahatma Gandhi had sat together to discuss national issues. After much coaxing, Sisir Sahana, principal of Kala Bhavana (Visva Bharati's art school), came to supervise the scene. By then dusk had set in, and Cesar called it a day.
He then held a rehearsal of the unfinished take, under a banyan tree close by. The scene had Felix meeting his students one by one, and shaking hands with them. When it came to Kamali, Felix hugged her, prodding Cesar to shout, "Cut!"
"No, the hug is not in the script and you cannot do that," Cesar told Bordoni, who looked perplexed. But, the director was adamant. He later said he was being cautious, as the subject of the film was delicate. A smiling Sen clarified, "Bengalis are very sensitive when it comes to Tagore. Indians are very touchy about their legends." It is amidst such restrictions that the shooting of Thinking Of Him has been going on in Santiniketan, Tagore's workplace.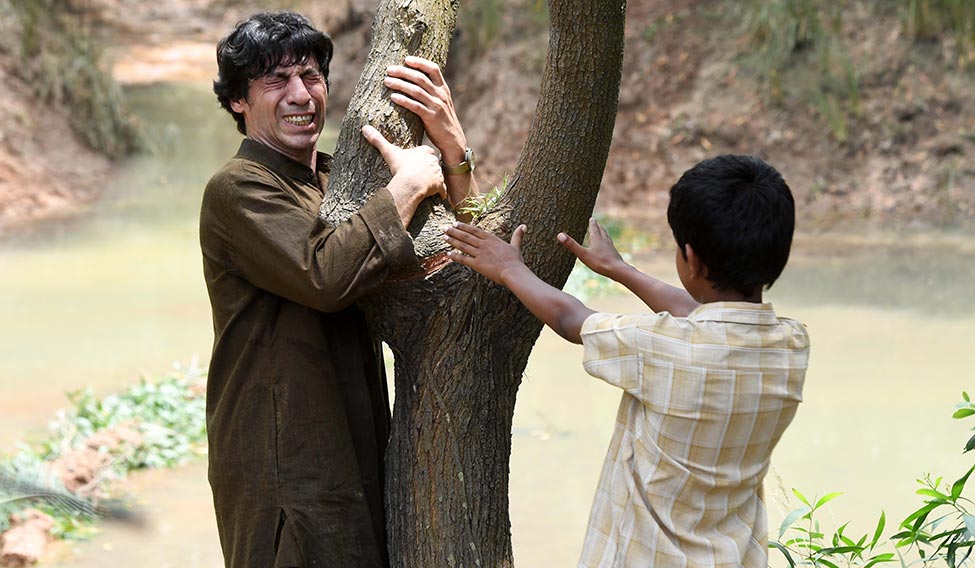 The film deals with a rare subject—the relationship between Tagore and Argentine writer Victoria Ocampo. Cesar has taken up a controversial issue that Bengalis avoid discussing in public. A joint venture between Johnsons-Suraj Films International and the government of Argentina, the film will look at the platonic love and mutual admiration shared by two intellectuals from different continents.
Thinking Of Him will be shot in India and Argentina. It will be released in four languages—Bengali, English, Spanish and French—with subtitles in English. In Argentina, the film would look into the relationship between Tagore and Ocampo, between 1924 and 1930. In India, there will be a parallel story between Felix and Kamali in the present day. Actor Victor Banerjee plays Tagore and Argentine actor Eleonora Wexler plays Ocampo.
Banerjee told THE WEEK: "When I read the script I felt Cesar had his finger on an aspect of Tagore that we, in India, are mostly ignorant about—that Tagore was a social activist and a reformer who felt deeply about our tribal and agrarian brethren and did something positive for them. Argentinians remain fascinated by his approach to education and liberal arts, which was unique a century ago."
About the Tagore-Ocampo relationship, Banerjee said, "Theirs was a meeting of minds. Her adoration of his creative intellect and his admiration for a woman of substance, who had the sensitivity and brains to interpret and comprehend his thought processes."
The theme was suggested to Cesar by R. Viswanathan, former Indian ambassador to Argentina. "I knew that Ocampo was thrilled reading the French translation of Gitanjali," Cesar said. "Her desperation to see Tagore, when he stopped in Argentina en route to Peru, was something worth noting. She rushed to the hotel where Tagore was put up and took him to her own place in Buenos Aires." The house was converted into a Tagore memorial after Ocampo's death in 1979.
Ocampo's marriage was on the rocks when she met him. Her interest in him grew after he returned home and dedicated the entire section of poems, Purabi, to her. Tagore also gave Ocampo the name Bijaya. He wrote: "Ami chini go chini tomare, ogo videshini.... Tumi thako sindhu pare, ogo videshini....[I know you, know you, oh my lady, from an alien land... Like a foreign lady you also dwell in a foreign land....]"
They met only twice. But, the bond lasted from 1924, until Tagore's death in 1941. Tagore never saw Ocampo for the last ten years of his life. After Tagore's death, Ocampo wrote to his son Rathindranath, "I am thinking of him...." The film's title is from this statement.
Cesar got access to many letters between Tagore and Ocampo, with the help of the Argentina government. Things were not as smooth in India; administrators were worried about a possibly objectionable love story. The culture ministry took months to read the script and green-light it. About shooting in Santiniketan, the Union government washed its hands of the matter and left all decisions to the university.
The main story is being shot in Santiniketan and in Kolkata's Jorsanko. Felix used to teach jail inmates in Argentina and has his own psychological issues. He often has unpleasant and stormy hallucinations of his childhood. In Santiniketan, Kamali helps him throughout his stay.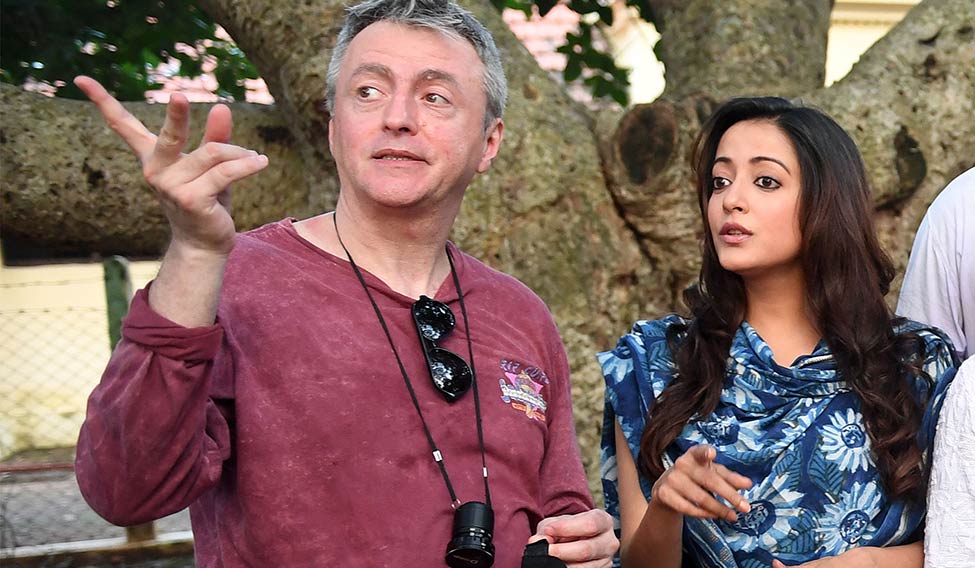 Once he recovers, he goes back to Argentina with Tagore's philosophy, and shares it with students there. The relationship between Felix and Kamali, Sen says, is "nothing physical, but as platonic as that of Tagore and Ocampo."
Scriptwriter Jeronimo Toubes said that while researching he found that Argentinians were convinced that both Tagore and Ocampo were in love. "But we refrained from making it a love story as we did not want to hurt sentiments of Tagore lovers in India," said Toubes. "There were indications that they had more than just mutual admiration for each other. But, there was nothing concrete as well. Here we focus more on Tagore being an educationist than a poet."
Cesar said he was deeply influenced by film-maker Satayajit Ray while working on this film. "I broke down watching Satyajit Ray's Apur Sansar. Like Ray, I use long cuts rather than abrupt cuts in this movie. Each day, we do only two or three shots," he said. The film will be released in April next, according to the production house.
Tagore's praise for Ocampo has been scripted in his poems, songs and paintings. And, Ocampo wrote about Tagore: "I could not count at this juncture what western countries got from him. I want his countrymen to know all this—his own people, where he was born and died. I met him during a springtime, when my country was full of roses. Like those days, he is still connected to me, close to me. He took me from a world of delusion to one of reality and truth. He took me to the land of a refined relationship."