In his letter to Modi, dated July 15, PHFI chairman N.R. Narayana Murthy said the "arbitrary" clampdown would "undo years of hard work besides drain precious talent accumulated to advance India's health agenda."
Smoking isn't fashionable, nor is unprotected sex. When the government was busy making 'tobacco kills' warning bigger and more gruesome on your cigarette pack and teaching you safe sex methods to control HIV/AIDS over the last one decade, was its health care programme driven by a foreign agenda? Were the Union health ministry's national tobacco and AIDS control programmes, impacting millions of people, falling prey to certain lobbies that were making money?
That is what the Union home ministry has alleged. It said that Public Health Foundation of India (PHFI), launched in 2006 as a public-private enterprise and an official partner of the health ministry, was "using foreign contributions to lobby media, parliamentarians and government on tobacco control policy issues". The home ministry alleged that PHFI made remittances to foreign countries and international media houses for "unknown purposes", besides stashing Rs 223 crore in excess of what was declared to the home ministry. In April, the ministry cancelled its order, issued in August 2016, granting Foreign Contribution (regulation) Act clearance to PHFI till 2021.
Inaugurated by former prime minister Manmohan Singh in New Delhi, PHFI was officially associated with all major national health care programmes, and drove missions such as Indradhanush (immunisation) and elimination of kala-azar disease. The Union health secretary and secretaries of health research and biotechnology departments are on its governing board. It has multiple wings across the country, and runs Indian Institutes of Public Health, which have secretaries of state governments as advisory council members. Till recently, it was part of the Modi government's Swasth Bharat programme.
But today, the organisation is virtually in the ICU, battling strong allegations. The chairman of its governing body, Infosys cofounder N.R. Narayana Murthy, wrote a letter to Prime Minister Modi in July, saying the "arbitrary" clampdown would "undo years of hard work besides drain precious talent accumulated to advance India's health agenda." Murthy wanted the matter to be handled at the highest level so that the clampdown could be set aside and "work can restart towards realising the dream of bringing public health care to the poor and disenfranchised citizens of India". THE WEEK has a copy of the letter.
"I have sought the prime minister's intervention to protect an organisation which is making valuable contributions to building public health capacity and strengthening health systems in India," Murthy told THE WEEK. "PHFI is a national asset and an acclaimed global health resource. The issues raised with relation to its FCRA reporting have been clarified. I hope a fresh review will result in early resolution and restoration of the FCRA registration."
Health care professionals of international repute from other countries have also written to Modi, expressing disappointment and cautioning against the "tobacco industry's attempts to entrap the youth in a deadly addiction". The new home secretary, Rajiv Gauba, is likely to undertake a review to examine whether the home ministry's charges are true.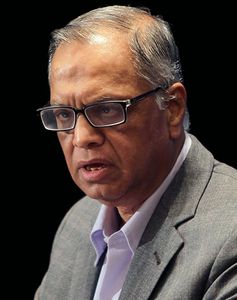 The Union health ministry is also said to have taken up the matter with Gauba. His predecessor, Rajiv Mehrishi, who was part of the decision to crack down on PHFI, had refused a review after both the Intelligence Bureau and the foreigners division of the home ministry said they had made a watertight case against PHFI. Intelligence Bureau officers said they would not buckle under pressure, for the charges hold ground.
Incidentally, PHFI's Gujarat foray was steered by Modi in 2007. "With the generous support extended by you as the chief minister of Gujarat in 2007, PHFI established the Indian Institute of Public Health-Gandhinagar, aided by the land and financial assistance provided by the Gujarat government," wrote Murthy in his letter to Modi. "With your blessings, we have now set up a permanent campus at Gandhinagar next to IIT-Gandhinagar. This beautiful campus on the banks of Sabarmati was inaugurated by Gujarat Chief Minister Vijaybhai Rupani in 2016 at the site chosen by you for the bhoomi pooja."
The first diploma programme of PHFI— postgraduate diploma in public health management—was started in IIPH-Gandhinagar in 2008, and it grew into a capacity-building programme for the National Rural Health Mission. The Gujarat government granted university status to IIPH-G in 2014.
But, after the Intelligence Bureau's report, the home ministry on April 10, 2017, said it was summarily annulling the organisation's FCRA registration. It cited seven main violations, including holding bank accounts having an excess credit of Rs 223 crore—more than what was declared to the home ministry. It alleged PHFI also held "transit accounts" for unknown reasons, in violation of the law. Bank accounts of PHFI were frozen following the order. Furthermore, it said PHFI diverted foreign funds to the tune of Rs 43 crore during 2009- 2013 for anti-tobacco lobbying. The funds were meant for research. It also remitted Rs 22 crore to foreign countries from its FCRA account and Rs 10.75 crore to an international media house for "unknown purpose".
PHFI, on its part, clarified where the money was coming from and where it was spent. It argued that raising awareness about tobacco control or engaging with parliamentarians and media was not "lobbying". The sum of Rs 43 crore was not diverted, it said, explaining the same was received for a project on strengthening capacities of National AIDS Control Organisation (NACO) to scale up the National AIDS Control Programme. As far as the Rs 22 crore remittance to foreign countries was concerned, PHFI said the Reserve Bank of India had permitted it to remit payments required to procure services from its foreign contribution receipts, which were actually for roping in global experts and organisations.
The two sets of arguments have been presented to the Prime Ministers' Office. However, the questions raised by Murthy may require deeper investigation. Murthy wondered whether the ministries of home and health were working at cross purposes since the home ministry did not consult the nodal health ministry before cancelling the FCRA registration.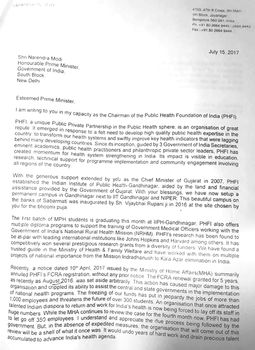 So, did an alleged "arbitrary crackdown" cause damage to government health care initiatives? Prof K. Srinath Reddy, president of PHFI, told THE WEEK the revocation of the five-year FCRA renewal (granted in 2016) had seriously disrupted PHFI's work. "Though the home ministry did not seek any clarifications prior to this abrupt annulment, it later posed several issues, which PHFI has clarified in great detail," he said. "We hope that this review will result in early resolution as many projects of public interest are held up. Financial constraints are severe and educational programmes involving several hundred students are under threat."
Reddy had also written to Modi on June 30, calling himself a "foot solider" who was appealing to "his commander in chief to save him from the friendly fire which is misdirected". "We request you to protect PHFI as it is gravely endangered, and guide it in its future journey with your clear directions," he wrote. "We were hoping the matter will be resolved soon, especially since the Union health minister and health secretary conveyed their trust and support for the relevance and values of PHFI's work in public health."
At a time when PHFI was busy raising a storm over government crackdown impacting health initiatives, the death of 70 children in a Gorakhpur hospital last month laid bare the horrors of India's failing health care system.
Fund dead
As per a fresh list put up on the home ministry's website, PHFI stands at 167 among 832 organisations and NGOs whose FCRA registration has been cancelled.
Other organisations like Indian Council of Medical Research, Indira Gandhi National Open University, Savethe Children Fund, Oxfam Trust and University of Delhi also figure on the list.
Home ministry sources say the fresh list was prepared on the basis of non filing of five-year annual returns despite repeated reminders.