Nine years after the final verdict by the Cauvery Water Disputes Tribunal on sharing of the Cauvery river water, Karnataka and Tamil Nadu continue to lock horns every time the monsoon fails. And a special leave petition challenging the final award is before the Supreme Court, putting a question mark on the effectiveness of such tribunals. While farmers are seeking abolition of tribunals, experts are mooting amendments to their character and function, as it takes more than just jurisprudence to resolve water disputes.
Tribunals were constituted under the Interstate River Water Disputes Act, 1956 to adjudicate disputes relating to water sharing between riparian states. But today, they have turned out to be traps owing to inordinate delays in resolution and verdicts that fail to address the concerns of the states.
The delays are detrimental. The Cauvery Tribunal, constituted in 1990, gave the final verdict after 17 years. Karnataka still rues the absence of a distress formula, while Tamil Nadu is upset over "non-compliance" in distress years. The Krishna Water Disputes Tribunal set up in 1969 gave the final verdict in November 2013. The sharing of water in the Mandovi between Goa and Karnataka remains unresolved though a tribunal was constituted on November 16, 2010, after negotiations for 15 years failed. Punjab recently moved the Supreme Court seeking a new tribunal to resolve the Sutlej-Yamuna Link Canal dispute with Haryana, alleging the current tribunal was "unfair" to it.
Pending litigations in the tribunals have scuttled many beneficial projects, allege states. For instance, the final order of the Cauvery Tribunal failed to bring finality to issues such as tapping of surplus water by riparian states. This led to Tamil Nadu opposing Karnataka's move to construct two balancing reservoirs at Mekedatu in Ramanagaram to harness surplus water. Similarly, Kerala's plan to build a gravity dam in the Siruvani river is being opposed by Tamil Nadu.
The tribunals are inadequate to handle the complexities of water conservation and water sharing, and for meeting new challenges like climate change, rise in population, urbanisation and increasing groundwater exploitation. "The situation demands a change in the composition of the tribunals," said former advocate general B.V. Acharya. "Currently, the tribunal comprises three sitting judges—one from the Supreme Court and two from High Courts. The tendency is to appoint a sitting judge who is on the verge of retirement and the proceedings drag on for 10-15 years for want of expertise. Instead, the tribunals should have one judge and two water experts—an agriculture scientist and an irrigation expert. This will help arrive at a satisfactory solution faster."
Will the formation of a national tribunal help overcome the perils of water disputes fuelling regional conflicts?
The Centre is planning to set up a permanent tribunal for interstate river water disputes. In March, Union Finance Minister Arun Jaitley said that a permanent tribunal with experts in water management would help resolve interstate water disputes, which are gaining political overtones.
Said Supreme Court lawyer Mohan Katarki: "A tribunal works well only with a proactive supervisory committee. One cannot defy court orders, though it means a lot of hardship. The monitoring committee has a huge responsibility when verdicts are mute on aspects like distress years or tapping of surplus water. It should study the ground realities and take timely decisions."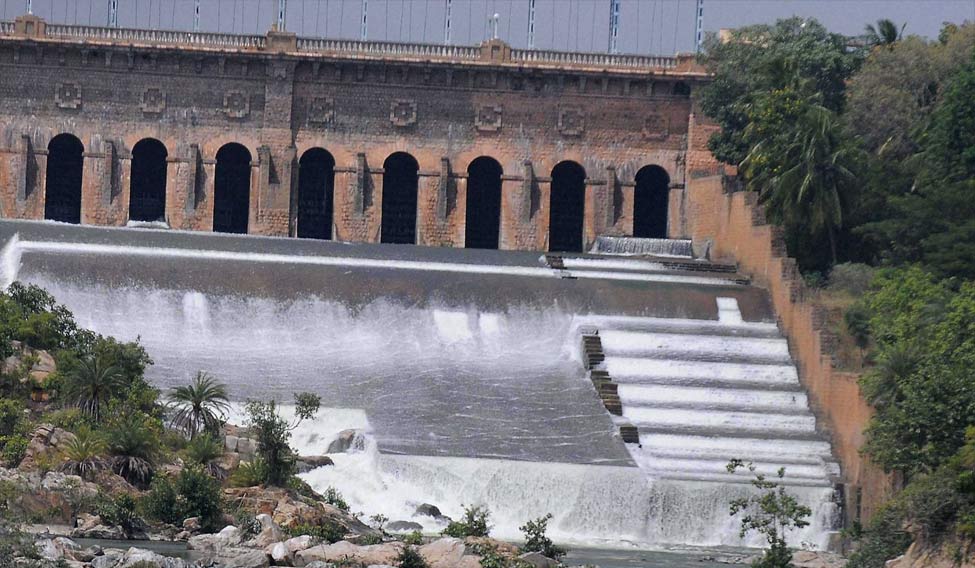 Tribunals' inefficiency also calls for ideas to avert water disputes. Interlinking of rivers to establish a national water grid is a growing demand by the farmers. "Bihar, Assam and Odisha have floods while southern states are reeling under water scarcity. Interlinking of rivers is the answer," said lawyer M.T. Nanaiah. "When all river basins have adequate water, there will be no need for tribunals. States can do away with costly litigations, expand land under cultivation, increase production to curb imports and perhaps do away with ration cards, too."
Interlinking of rivers has a long history. British engineer Arthur Cotton mooted it in pre-independence India, and Kanuri Lakshmana Rao, who was irrigation minister under Jawaharlal Nehru, Lal Bahadur Shastri and Indira Gandhi, proposed a national water grid in the 1970s. He suggested that surplus water from the Brahmaputra and Ganga basins could be diverted to water-deficit central and south India.
The National River Interlinking Project, where a network of national canals provide for the state canals during distress, hopes to establish 30 links to connect 37 rivers through a network of about 3,000 storage dams. It comes with a promise of generating 34,000 megawatts of hydropower and additional irrigation of 35 million hectares. The total cost was pegged at Rs 5,60,000 crore in 2002, which would have escalated to a daunting Rs 10 lakh crore now. The Narendra Modi government is all for it. The 2014-15 budget earmarked Rs 100 crore for preparation of a detailed project report.
Environmentalists, however, are worried about the threat of land submergence, human displacement, adverse impact on biodiversity, huge rehab and resettlement costs and contamination and pollution of cleaner rivers in the grid. They demand a decentralised approach like watershed development, rainwater harvesting, groundwater recharge, increasing the irrigation project efficiency, adding storage reservoirs and better cropping pattern as easier solutions.
"Cropping pattern needs an overhaul as river basins in crisis should opt out of water-intensive crops like paddy and sugarcane and switch to other crops like maize and millets, which are equally lucrative," said Professor K. Shivaram of University of Agricultural Sciences, Bengaluru. "Growing the same crop reduces soil fertility. We need mapping of crops based on agro-climatic zones and availability of resources like water and soil fertility."
In the face of growing water conflicts, what we need is not just dams, but bridges that connect people.