The cops rarely go out of the police station alone, for fear of the Special Action Groups of the Maoists. SAG is a two or three-member Naxal squad.

Like BSNL, the drones are of little use to the police as they are being operated from Bhilai, some 200 to 400 kilometres away from the hot spots.
In the last 30 years, more than 8,000 people died in Naxal related violence in the Bastar region of Chhattisgarh. The Naxals call it the Dandakaranya liberated zone. They started moving into Bastar in the 1980s, from Andhra Pradesh, and won the trust of Bastar tribals by giving them brinjal seeds and by ensuring fair price for tendu (bidi) leaf.
On September 30, 1985, they stormed into Errobore market in Dantewada with 2,000 tribals from 40 villages and looted goods worth Rs 5 lakh from traders who were cheating tribals of their forest produce.
Ever since, the Naxal strength and ideology have grown manifold in Bastar. According to an estimate, there are over 2,000 Naxals in the jungles of Bastar. They revel in attacking police stations and in using landmines to destroy police vehicles. Out of 105 police stations in the Bastar region, 85 have been attacked, in a new manner each time. The Murkinar police station in Bijapur was attacked by Naxals riding on the roof-top of a passenger bus. The attacks are mainly to loot police weapons.
The Naxals made their first landmine blast in Kanker in Bastar on May 21, 1991, killing seven policemen. It went unnoticed elsewhere, because of the bigger event of the day, the assassination of Rajiv Gandhi in Tamil Nadu. Since then, landmines have been their main murder weapon.
For fear of landmines, cops here rarely use police vehicles—these are easy targets. They move either on foot or in civilian vehicles along with native people.
In 2011, the Union government sanctioned 400 fortified police stations across India, 75 of them in Bastar. These are coming up one by one. One of them is in Jharaghati, a hamlet of 45 houses in Kongera village, 26km from Narayanpur town. It looks more like a military camp. The interiors and electrical fittings are yet to be done, but the washrooms are ready—to the relief of the constables who so far had to depend on makeshift toilets near the old Jharaghati police station in a barrack of tin sheets. The sheets were recently blown away by winds but replaced. The cops rarely go out of the police station alone, for fear of the Special Action Groups of the Maoists. SAG is a two or three-member Naxal squad, always looking to waylay lone policemen. Any civilian approaching the station has to stand in the open and speak from a distance.
Fortified police stations are built to resist attacks from outside. These are two-storey buildings, with high boundary walls, watch towers and a sophisticated control room. They have modern amenities and ample space for the constables to rest. The old police stations in the region are made of mud walls, with tiles or tin for roof, and have barbed fencing and sandbags.
In Jharaghati, 51 policemen led by two sub-inspectors have little paper work to do. "We had just three FIRs registered last year. These were about Naxal violence. This year there is just one FIR. It was about a road accident. The new tarmac road has led to accidents," said sub-inspector Manoj Kaushik, police station-incharge. An AK-47 hung from his shoulders. In Bastar, all policemen have AK-47s.
"Even the district headquarters in Narayanpur registers just 50 or 60 FIRs in a year," said Pitambar Patel, sub-divisional police officer.
Civilians rarely visit these police stations. Crimes like cheating, drugs and petty offences are rarely reported here. "Tribals normally do not come to the police," said Patel. "They solve their issues on their own." Since there are hardly any FIRs, there are no investigating officers. Only fighters.
Apart from the 51 policemen, Jharaghati station has a hundred men from the Chhattisgarh Armed Forces (CAF) and the Special Task Force. It is a full-fledged camp with seven barracks and a mess on a 12-acre plot fenced with barbed wire.
A helipad lies just opposite the new building. Sub-inspector Manoj Kaushik said, "This helipad is mainly used for flying out cops who are wounded during search operations and encounters."
In the Naxal region, helicopter pilots do not switch off the rotor blades while the passengers get in or get out. No exemptions even for VIPs. Since helicopters here have been attacked, the pilots do not want to take risks. Almost every police station has a helipad and an emergency plan.
The Jharaghati station has a new road on one side and hills on three sides. Though from outside it looks like a sleepy camp, the sentries inside are alert. They have just had their lunch of rice-dal-sabzi and roti. The menu is always the same. Some of the cops have just come back from an area domination exercise.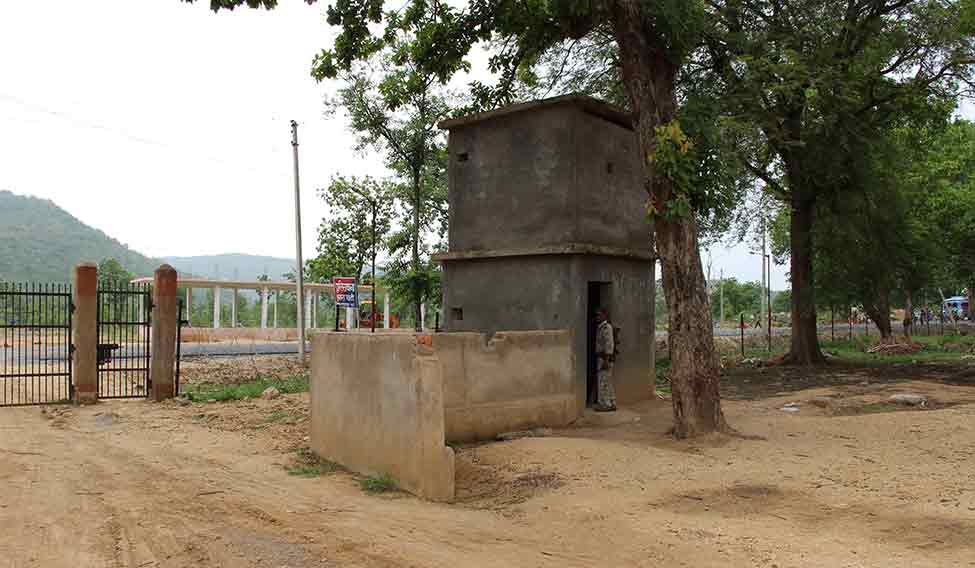 "The focus here is to give round-the-clock protection to the PWD contractor who is building a road to Chhote Dongar, the den of Naxals,'' said Kaushik. "Sometimes we go and clear a road blockade, taking Naxals head on," he said. The police station has informers and night-vision equipment to keep a watch on everyone's movements.
They also watch the schools run by NGOs. "We monitor food and medicines going to these schools," said Abhishek Meena, superintendent of police, Narayanpur. "We have reports that material meant for the school children is reaching Naxals. However, our two important priorities in the district are road building and regular search operations for area domination." The police have scooped out scores of landmines while building roads. Meena works out of a dilapidated building, rather a hut, which was earlier occupied by the health department. His air-conditioner conked out four months ago. On his TV screen, he watches images sent by drones operated by the National Technical Research Organisation (NTRO) and instructs commandos who had returned from the jungle. The police stations do not have this facility.
However, the police stations are equipped with satellite phones, IP phones, mobiles and regular radio frequency sets. BSNL is the only phone company here and the service is pathetic. The network remains down for hours together.
Like BSNL, the drones are of little use to the police as they are being operated from Bhilai, some 200 to 400 kilometres away from the hot spots. Besides, "NTRO has a fixed schedule of operation, and when we need data urgently we are held in red-tape,'' said a senior police officer. NTRO has engaged five V-SAT terminals and deployed a dozen drones but the lack of coordination with security forces is preventing the best use of technology. The police have lethal arms and enough ammunition, but bullet-proof jackets lie unused in the armoury as the jackets are very heavy," said Meena.
D.M. Awasthi, special director general of Naxal operations in Chhattisgarh, said, "Seventy per cent of the active Naxal force is in Bastar. The remaining is spread all over the country. We are fighting a war with highly motivated guerrillas. They have been at the receiving end for the last one year."
Awasthi recently became the first director general to visit Dantewada, the epicentre of Naxalism. He drove in with full police paraphernalia, showing scant respect for Naxal landmines and rocket launchers.
According to unofficial estimates, the Naxals have planted 10,000 landmines in Bastar. These can be activated with a small piece of wire and battery. Said Awasthi: "I just wanted to show my 40,000 armed personnel that they are doing an excellent job and that is why their leader is able to travel without fear like an ordinary officer.''
The pride would last, till the next big Naxal strike.