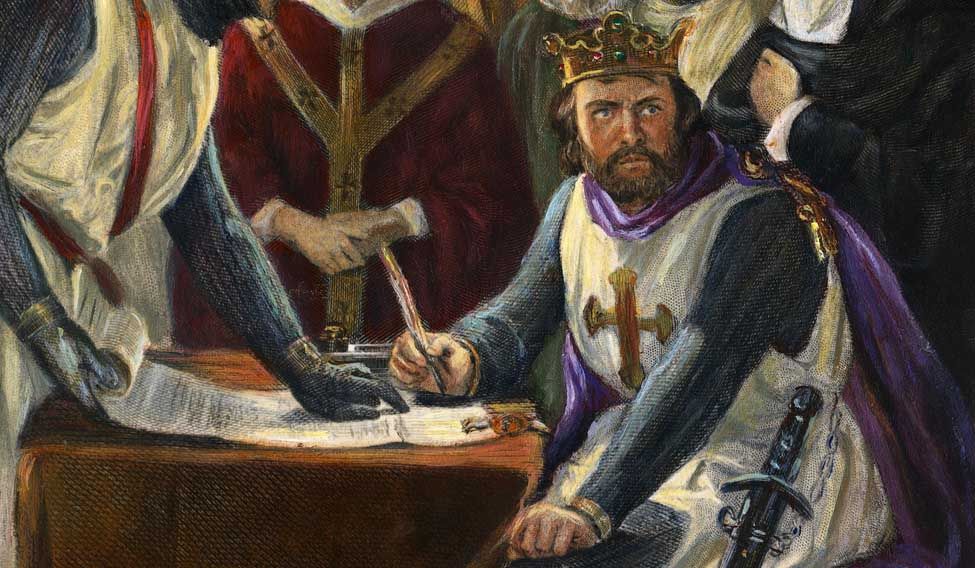 The barons of England, fed up with the misrule of King John, rose in revolt. They rallied round the Archbishop of Canterbury, who had also been opposing the king's tyrannical ways. Together they drafted a charter of demands.
Magna Carta, meaning the great charter, is the document which the barons forced King John to sign on June 15, 1215 in a camp at Runnymede. The charter has been abrogated and reissued several times, yet it is considered the most important document that enshrines the principle of individual liberty and people's rights.
The original charter, written in more than 3,000 words of Latin, had 63 clauses.
Several clauses referred to immediate issues such as the extent of the king's forests, fish weirs in the Thames, merchants' right to travel, knights' fees, debt recovery and so on.
Three clauses—that every arrested person has a right to fair trial, that justice shall not be sold and that there will be no taxation without representation—are still considered the foundation of individual liberty and representative government.
Prominent clauses
1. The English Church shall be free, and shall have its rights and liberties undiminished.
7. A widow may have her marriage portion and inheritance within 40 days of her husband's death, during which she can stay in his house.
8. No widow shall be compelled to remarry.
9. If a debtor has movable assets, his land shall not be seized, and his sureties shall not be disturbed. If he doesn't, his sureties are answerable. If they want, they can seize his assets until he has discharged his debts.
11. If a deceased has a debt, his widow need not pay from her dower. If his children are minor, their needs may also be provided for from his land.
12. No tax may be levied without general consent.
14. To obtain the general consent for the assessment of tax, the king will call the archbishops, bishops, abbots, earls and greater barons by letter. Those who hold lands directly of the king will be called through a general summons 40 days ahead. The agenda for the meeting will be specified in the summons; only those items on the agenda will be discussed.
18. The king or his chief justice will send two justices to each county four times a year, and they, with four locally elected knights, shall hold the hearings in the county court, on the day and place designated for the purpose.
20. For petty crimes, a free man shall be fined only in proportion to the degree of his offence, and for a serious offence correspondingly, but not so heavily as to deprive him of his livelihood.
28. No constable or other royal official shall take corn or other goods from any man without payment.
30. No royal official shall take horses or carts for transport from any free man, without consent.
31. The king shall not take wood for any purpose, without the consent of the owner.
32. The king will not keep the lands of people convicted of felony for longer than a year and a day. After that they shall be returned to the lords of the 'fees' concerned.
35. England shall have standard measures and weights based on the London quarter.
38. No official shall place a man on trial upon his own unsupported statement, without producing credible witnesses.
39. No free man shall be seized or imprisoned, or stripped of his rights or possessions, or outlawed or exiled, or deprived of his standing, nor will the king proceed with force against him, except by the lawful judgment of his equals or by the law of the land.
40. To no one will the king sell, to no one deny or delay, right or justice.
45. The king will appoint as justices, constables, sheriffs, or other officials, only men that know the law of the realm.
63. Accordingly, the king desires that the English Church shall be free, and that men shall have all these liberties, rights and concessions forever.