Naved said his father's name was Yakub and that he had three siblings—two brothers and a sister. One brother was a professor and the other ran a hosiery business.

Pakistan has, as usual, ignored Naved's capture. Pakistan Foreign Office spokesperson Syed Qazi Khalilullah said Naved's Pakistani nationality was an unproven Indian claim.
Naved means good news in Urdu. But, Mohammed Naved Yakub, alias Usman alias Qasim, was the harbinger of death. At around 7am on August 5, the man from Faisalabad, Pakistan, and his accomplice opened fire on a Border Security Force vehicle in Udhampur, Jammu and Kashmir. The accomplice died in the crossfire. Naved fled.
By one account, he took four hostages—Desh Raj, Bablu and brothers-in-law Vikramjit and Rakesh Sharma—from Chirdi, a village overlooking the Srinagar-Jammu highway. One source said that at least one of the hostages was a member of the village defence committee.
By all accounts, after the encounter, Naved trekked four kilometres through hilly terrain. But, the Chenani hillocks were alien territory for him. After reaching Chirdi, he took hostages and tried to drive a bargain with them: "I will not harm you, if you show me an escape route." Then, he asked for food. One of the hostages brought him food. And, while he was eating, Desh Raj and Bablu escaped.
A furious Naved reached for his AK-47 to shoot the fleeing twosome. But Vikramjit and Rakesh pounced on him. In the scuffle, Naved loosed off a round, which missed the brothers-in-law. "I caught him by the throat and pushed him down," said Vikramjit. Cornered, Naved threw punches, bit into Rakesh's hand and then into Vikramjit's. The brothers-in-law overpowered him and then handed him over to the police, giving India its second live terrorist caught red-handed. The first was Ajmal Amir Kasab, who was part of the 26/11 attacks in Mumbai.
Vikramjit and Rakesh have been recommended for bravery awards by the state government. "We are recommending them for award and jobs in the police," said Dr Shahid Iqbal Chaudhary, district development commissioner, Udhampur. Ashok Sharma, sarpanch of Narsoo-Dharmthal village, said, "These two boys have made our village and country proud. They showed great courage in capturing the terrorist alive."
While the scuffle was happening in Chirdi, security forces were inspecting Naved's accomplice's body for clues. Naved later identified him as Muhammad Nomin alias Nomin Khan, of Bhawalpur, Pakistan. Nomin was wearing combat fatigues, sneakers and a T-shirt that said Marines. The only accessory was a watch with a big dial. His weapon, too, was a Kalashnikov.
Unconfirmed reports say that Naved and Nomin were part of the Lashkar-e-Taiba and that they were in touch with its south Kashmir commander, Qasim. By one account, they spent the night in Khudwani village in Ramban, not far from the touristy Patni Top. And then moved to Narsoo Nullah—the site of the encounter, which is 17km from Udhampur—at dawn. The BSF bus, at which they shot, was ferrying jawans who were returning to duty after vacations.
One account said that Nomin opened fire first and deflated the tyres, while Naved shot and wounded the driver. The terrorists then tossed grenades at the bus. While Nomin tried to enter the bus, constable Shubhendu Roy fought him off and Rocky, the lone armed escort, emptied his AK-47 magazine killing the terrorist.
Roy and Rocky succumbed to injuries later. Roy belonged to Jalpaiguri in West Bengal and Rocky hailed from Haryana. Thanks to the bravehearts, around 40 BSF personnel escaped alive from the encounter. The Central Reserve Police Force later claimed that its patrol party had gunned down Nomin. But, the BSF said there was no doubt that Rocky had shot him dead.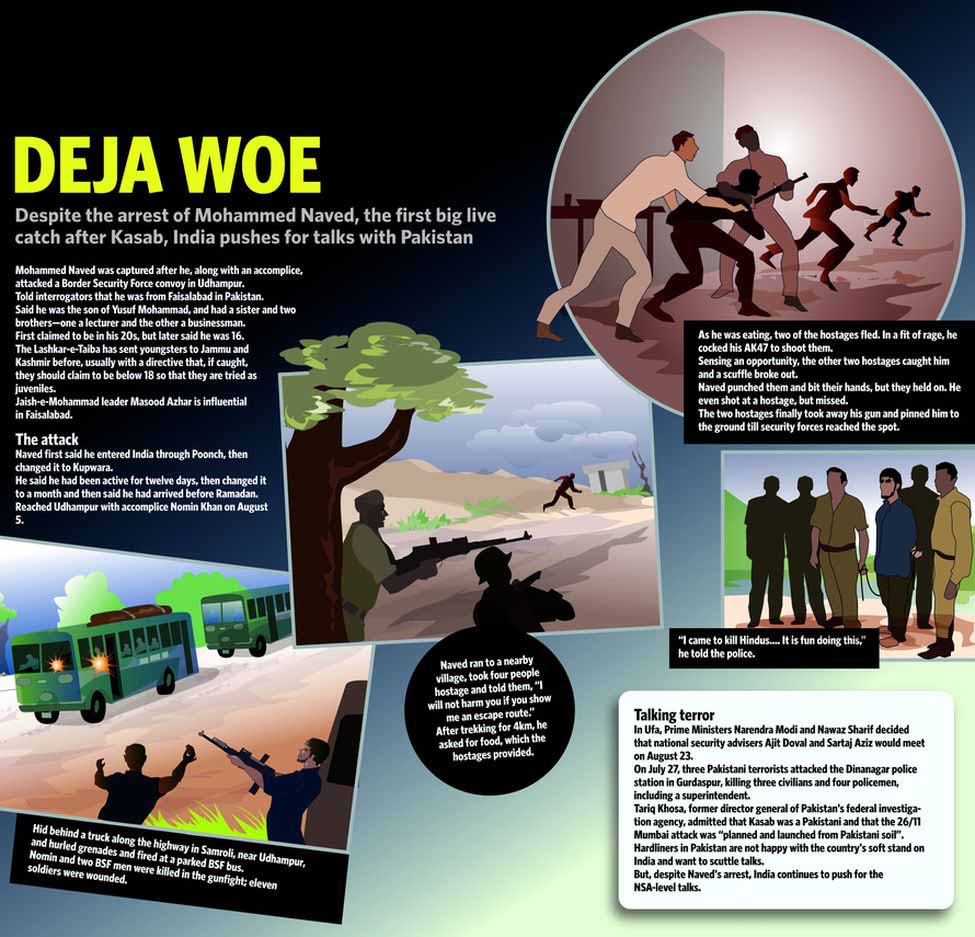 The local police questioned drivers and cleaners of two trucks parked at the site of the attack, after eyewitnesses said that the two terrorists had emerged from behind the vehicles. One of the drivers, Ramesh Singh, said they were returning to Jammu after offloading wheat at a flour mill at Awantipora in Anantnag district. Ramesh Singh said they had parked the vehicles there and gone to a nearby nullah. "We were returning when we heard gunshots," he said.
While Naved's capture is a boost for the Indian security forces, the targeting of the Jammu-Srinagar highway shows that Pakistan is upping the ante. The Udhampur terror attack came nine days after a similar strike at a police station in Gurdaspur, Punjab. Analysts feel that by moving the focus from Kashmir to Jammu and Punjab, Pakistan is trying to keep Indian forces guessing and off balance.
"This is aimed at upsetting our counter terror strategy," said an intelligence officer. "Kashmir is quiet and infiltration is almost zero because of the multi-layer security set-up. So, they are now targeting Jammu and beyond, which is worrying." This demands a counter-strategy, the sleuth said. Else, it might lead to communal clashes in Jammu, where the BJP scored during the assembly polls.
Police and intelligence sources said that the LeT was now "targeting safe areas to force security forces into a defensive mindset and to increase their deployment on internal duties like guarding highways".
The recent attack was unexpected because Udhampur district has been peaceful for four years now. Last attack was in May 2011, when a Northern Command officer's vehicle was bombed. In March 2014, militants carried out back-to-back attacks on Rajbagh police station in Kathua and an army camp in neighbouring Samba district.
An intelligence officer said, "Such spectacular actions help them sustain their campaign and find willing recruits who are indoctrinated and willing to die for Islam and the Muslim cause." When Naved was paraded before the media, he echoed the views: "I have come to kill here. [If I had died in the encounter] that would have been Allah's will."
Naved's apparent naivete had everyone stumped. He also kept changing his statements. He first identified himself as Qasim, then Usman and then Naved. Later, he told interrogators that his father's name was Yakub and that he had three siblings—two brothers and a sister. One brother was a university professor and the other ran a hosiery business, he said.
He also gave conflicting statements about his point of entry into India. He first said it was Poonch in Jammu and then he changed it to Kupwara. He mixed up the dates, too. He first said he had been in India for around a fortnight and then said he had entered before the month of Ramadan, which started on June 19.
A security official said that the two-member team could have been active for around a month. And, he felt the point of entry was "a south Kashmir area, like Shopian and Tral, which act as base camps for foreign militants". The official said they had most probably taken the south Kashmir-Anantnag-Pulwama-Kulgam–Udhampur route. Another source said that Naved had said that they had spent the night of August 4 in Tamatar Morh, Udhampur.
Pakistan, it is said, is pushing young non-state actors across the border in a bid to take advantage of any leniency that a juvenile might receive under Indian law. Sources in the defence ministry said Pakistan expected the Indian civil society movement to resist any harsh treatment of a juvenile, even if he was a terrorist.
Intelligence sources told THE WEEK that Naved was either was misleading the interrogators or had very little idea about Kashmir's geography. "I believe it is the former," the officer said.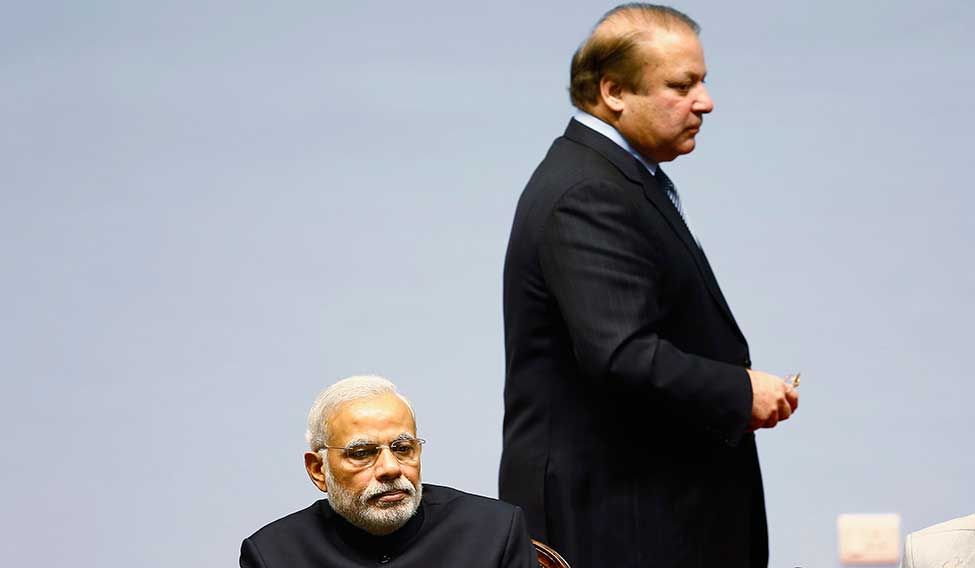 The rising militant tension in the state is being attributed to the saffronisation of Jammu. Ten people, including three army officials and three civilians, were killed in a major attack in the Arnia sector along the international border on November 27, 2014, just a day ahead of Prime Minister Narendra Modi's Jammu visit. The attacks in Kathua and Samba were carried out when the Peoples' Democratic Party and the BJP shook hands over a power-sharing formula. More than ten people were killed in these attacks, including seven CRPF jawans.
At a function to welcome new members into the party, National Conference patron Farooq Abdullah said the youth were getting radicalised in the state because of the BJP-PDP alliance. The NC's Omar Abdullah likened the situation to 1987, which paved the way for militancy in Kashmir. "Our alliance with the Congress in 1987 had created similar circumstances in the state," he said.
Political observers in Kashmir see political and military reasons behinds the heightened tension. With the Tehreek-e-Taliban reined in at home, the Pakistan army is free to launch attacks on India. The Pakistan army also has the gratitude of the US for brokering peace between the Afghan Taliban and the Ashraf Ghani government in Afghanistan.
The observers also feel that hardliners in Pakistan are not happy with the Nawaz Sharif government parleying with the Narendra Modi government. When Modi and Sharif met in Ufa, Russia, recently India had demanded voice samples of Zakiur Rehman Lakhvi, the alleged mastermind of 26/11. Sharif agreed to the request. The hardliners were not pleased. So, the Udhampur attack could be an attempt to derail the upcoming talks between the two national security advisers, Ajit Doval and Sartaj Aziz.
The revival of militancy using unconventional means seems to be the new strategy. The Jammu and Kashmir Police recently busted a sleeper module of the Hizb-ul-Mujahideen after it arrested a London-based Kashmiri physiotherapist from Chadoora. Shaheen Ahmed Baba, 32, was based in England since 2006. Son of a former director of the national horticulture department, Shaheen did his master's in physiotherapy from Edinburgh. He is married to an American of Pakistani descent and they have a 14-month-old daughter.
The police said Shaheen was in Kashmir to carry out bomb attacks in Srinagar. "My son is not involved in militancy," said Ghulam Qadir Baba, his father. "I have lived in Delhi for 14 years and my son and daughter studied there. I fail to understand why my son would get involved in terrorism."
The security establishment is hoping to milk Naved for all he is worth. "We are confident that the interrogation will reveal their modus operandi, including details of their infiltration from across the border and their targets," Union Home Minister Rajnath Singh told Parliament. Sources in the defence ministry said, "The arrest of a Pakistani terrorist alive will help us prepare a watertight case against Pakistan, [regarding the] use of non-state actors in propagating terrorism in India."
Pakistan has, as usual, ignored Naved's capture and the subsequent coverage in the media. Pakistan Foreign Office spokesperson Syed Qazi Khalilullah said Naved's Pakistani nationality was an unproven Indian claim.
Punjab Police's Inspector General (Border Range) Ishwar Chander said that catching a terrorist alive and proving his Pakistani roots was not an easy task. Chander had led the anti-terror operation in Gurdaspur, in which all three terrorists were killed.
"A person can be arrested only if he/she wants to live," said Chander. "But, most of the terrorists come to kill and, in the process, are killed. They don't care. Because of this psychology, it has always been difficult to catch them alive. One of the Udhampur attackers could be nabbed alive only because he fled the scene like any other criminal."
Indian Army commanders said they had predicted an imminent influx of terrorists from Pakistan. Lt-Gen. K. Himalaya Singh, the 16 Corps commander, had told the media recently, "About 200-225 militants are waiting to launch attacks on India from 36 locations in Pakistan-occupied Kashmir." Army sources in Delhi said the Udhampur attack reflected "a departure from the past when militants focused on areas of Pir Panchal and Chenab Valley, drawing strength from a support base among the mainly Muslims inhabitants."
The surge in militant attacks in Jammu, more than half-a-dozen since the BJP took over power in New Delhi last year, is being attributed to growing communalism in Jammu's Muslim-majority pockets, where communal strife is said to have alienated a large population again. The latest attack also showed a trend of militants striking far away from the Line of Control and the International Border and deep into the Jammu region.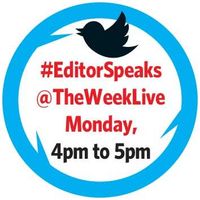 Current intelligence inputs suggest that a group of 15 highly trained LeT operatives are waiting to infiltrate the Poonch area. "After the attacks in Gurdaspur and Jammu, the concern is that the militants have developed the capability to strike far away from the International Border. The counter-terror strategy now needs to be rejigged," a senior home ministry official said. He also pointed out the frequent ceasefire violations by the Pakistan Army and the Pakistan Rangers, a move primarily aimed at facilitating infiltration.
Some experts are of the opinion that Naved's arrest means nothing. "What happened when we had Kasab? All his statements and confessions could not convince Pakistan to punish Lakhvi or arrest Hafiz Saeed," said Lt-Gen (retd) Rameshwar Roy, a former 16 Corps commander. Roy agreed with the assessment that the Udhampur attack was planned to derail the Doval-Aziz talks.
India, however, will not fall into the trap of cancelling the talks with Pakistan, sources said. New Delhi has chosen to ignore, for the moment, the Pakistan foreign office's comment on Naved's nationality. The Gurdaspur attacks will be discussed. Especially, the GPS coordinates indicating that the terrorists came from Shakargarh in Pakistan. "We are still awaiting a response from Islamabad to our proposal to hold the talks between the two NSAs on August 23-24 here," an official source said. As the host, India had proposed the dates, following the Modi-Sharif meeting at Ufa.
India is keen to break the deadlock. So, New Delhi will not only go ahead with the NSA-level talks, but also give the benefit of the doubt to the Sharif government.
But, it is going to be difficult for India. As this story was going to press, a suspected LeT operative was killed in an encounter in Kakapora in south Kashmir. Talib Hussain Shah was suspected of being involved in multiple attacks against civilians and security forces. What's more? He was apparently working with Qasim, the commander who handled Naved and Nomin.
With Ajit K. Dubey and Mukesh Ranjan
Connecting links
A SPECIAL TEAM of the National Investigation Agency led by Inspector-General Sanjeev Kumar Singh has taken over the investigation of the Udhampur terrorist attack. Singh has been camping in Jammu since August 5 and his team questioned the apprehended terrorist, Mohammed Naved, at a joint interrogation centre. Singh has been involved in the investigation of many terror-related cases, including the Burdwan blast in West Bengal. There is a possibility of the NIA shifting Naved to Delhi.
Charged under the Unlawful Activities (Prevention) Act, Arms Act and some other sections of the Indian Penal Code, Naved has been trying to confuse the investigators by giving conflicting statements. He told interrogators that he was initially given training in mountaineering and use of small arms by Lashkar-e-Taiba. Then he was trained in handling assault rifles and making small explosives.
Naved said he had entered India with a group at Baramulla in north Kashmir breaching the fence on the border and stayed at Tangmarg and Baba Reshi. He then moved to Awantipura-Pulwama in south Kashmir, where he stayed in a cave on a hillside. The group split into two, and he, along with another accomplice, moved to Kulgam in south Kashmir from where they boarded a truck to Jammu. They got down at Udhampur, where they attacked the BSF men. The NIA will take Naved to all the places where he has claimed to have stayed after crossing the border.