Menstruation. The proverbial elephant in the room, which has been hushed and shushed for years in our country. There has been light at the end of the tunnel of late, but in a country as vast as India and so firmly in the grip of age-old traditions and blind superstitions, the efforts always seem to fall short.
So, it takes real courage with a dash of eccentricity to bring about a change in the mindset of the society. Arunachalam Muruganantham, a school dropout from a village near Coimbatore, Tamil Nadu, had both in plenty. What started as a simple quest to ensure proper menstrual health for his wife Shanthi, turned into a revolution of sorts for rural women. His low-cost sanitary pads provided a cheap and healthy alternative to the dirty rags, sand bags and what not that were being used for ages by menstruating women.
It is this genius and his amazing journey that inspired actor Twinkle Khanna to immortalise him on the silver screen in the 140-minute entertainer named...what else—Padman. Khanna said in an interview that she had planned it as an art-house film initially, but later brought her husband, actor Akshay Kumar on board to... make it large, if we may borrow the tagline.
And Kumar, with his toothy grin and new-found do-gooder avatar, does make it large. The saving grace is that Padman doesn't end up being a Jolly LLB2, where Kumar's arrival had unnecessarily dramatised the charming and National Award-winning film, Jolly LLB. It is primarily because Padman is based on a real-life story and there are limits to the "artistic freedom" director R. Balki could have taken. Like the eccentricities that Kumar (Lakshmikant Chauhan) shows on the screen while trying out his sanitary napkins or the challenges he faces in his village and home when he meddles in "womanly affairs". They are real, and Muruganantham faced a lot of humiliation and almost lost his family and social standing in his single-minded pursuit.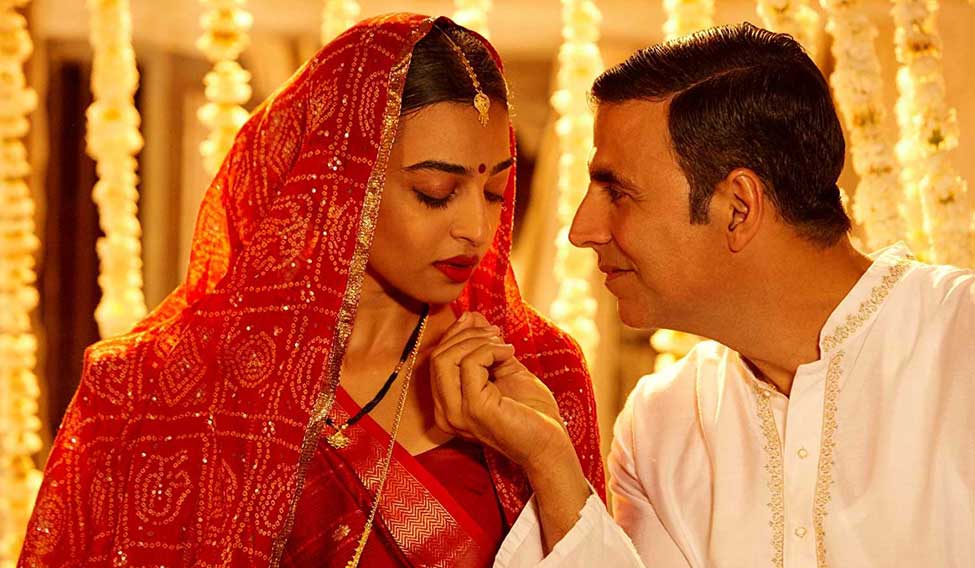 The angst is brought out well by Kumar, and more so, by Radhika Apte as his wife Gayatri. Though the National Award for the best actor for Kumar was hotly debated, Kumar has done well for himself by choosing scripts cleverly and performing within his limitations. Apte, too, is proving to be an acting powerhouse, and Padman adds one more feather to her illustrious cap. Her portrayal of a wife scandalised by her husband's "experiments" and torn between the love for him and the samaaj, deserves applause.
Sonam Kapoor as an MBA student Pari Walia, who helps Chauhan realise his dreams after he was ostracised by his family and village, too makes her presence felt in the second half. But can the love triangle have been avoided? Ask Balki, who wrote the script along with Swanand Kirkire.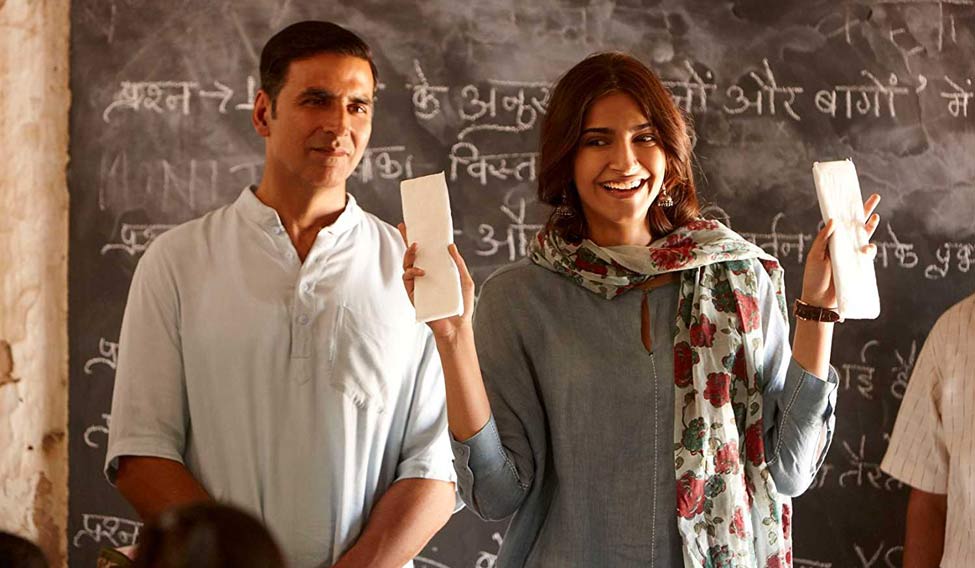 In fact, the typical Bollywood-isation of the script is what clips Padman's wings. So, you have a real-life story set in south India being lifted and dropped in a beautiful village (thanks, primarily, to cinematographer P.C. Sreeram) in Madhya Pradesh, an overly romaticised couple in Chauhan and Gayatri, with the usual share of songs and drama, unbelievable coincidences (ordering the raw material samples, or finding his first customer wouldn't have been so easy for Muruganantham!) and a cameo from the one of the 'Big'gest names in the film industry.
Such shortcomings apart, Padman does justice to what it set out to do—try and break the taboo around menstruation. Towards the end of the film, Chauhan delivers a touching speech in 'Linglish', where he says, "mad only becoming famous". When there's a method in madness, it makes the world stand up and take notice.
Film: Padman
Director: R. Balki
Cast: Akshay Kumar, Radhika Apte, Sonam Kapoor
Rating: 3.5/5