The Triple Talaq Bill, which was presented in the Lok Sabha on Friday, was met with vehement opposition from leaders of the opposition parties. Law Minister Ravi Shankar Prasad said there were 543 cases of triple talaq reported in the country. After the Supreme Court judgment banning triple talaq practice, more than 200 cases were reported, he said. The issue was a very controversial one, with MPs like Shashi Tharoor and Asaduddin Owaisi squaring up against the ruling party. Here, THE WEEK looks at how the controversy evolved over time, and what the Triple Talaq Bill entails.
The history:
In 1984, a divorced Muslim woman named Shah Bano kicked up a storm when she approached the Supreme Court for maintenance from her former husband. The Supreme Court granted her the right, in a landmark verdict. However, under pressure from Muslim fundamentalists, the Raji Gandhi government buckled and legislated a new Muslim Women (Protection of Rights on Divorce) Act 1985, which essentially negated the court's judgment. In 2017, another Muslim woman Shayara Bano approached the courts in a similar talaqnama case. "My husband was abusive," she spoke to THE WEEK's Rekha Dixit. "He didn't allow me to leave home. I had no access to contraception. Whenever I conceived, he would force me to have abortion pills," said Shayara, a postgraduate in sociology from Kumaon University. "One day, he dumped me at the Moradabad railway station, and called my parents to collect me. Six months later, the talaqnama came through speed post."
The legal process:
The Supreme Court, in 2017, had dubbed the process of triple talaq unconstitutional. The verdict was passed by a bench of five judges, each from a different faith—Chief Justice of India J.S. Khehar (Sikh), U.U. Lalit (Hindu), Kurian Joseph (Christian), R.F. Nariman (Zoroastrian) and S. Abdul Nazeer (Muslim). Here is a brief timeline of the legal process: On October 16, 2015, while hearing a different case, a two-judge bench had requested the chief justice to suo motu set up a bench to examine discrimination against Muslim women, especially in divorce. The case picked up, with many Muslim women filing petitions. On February 5, 2016, SC asked Attorney General Mukul Rohatgi to assist it on the pleas challenging the constitutional validity of triple talaq, nikah halala and polygamy. Later in March, the SC asked the Centre to file a copy of the high-level panel on 'Women and the law: An assessment of family laws with focus on laws relating to marriage, divorce, custody, inheritance and succession'. On May 17, 2017, the SC asked the AIMPLB if it is possible to give women the right to decline instant triple talaq. On May 18, 2017, the AIMPLB informed the Supreme Court that it has decided to issue an advisory to Qazis to give an option to Muslim women to opt out of instant triple talaq before giving consent for nikaah (marriage).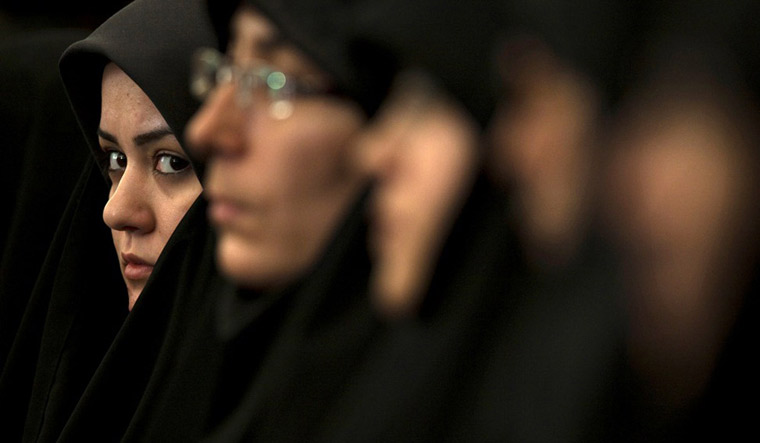 Divisions within the community:
The bill introduced in Parliament proposes a three-year jail term for a man divorcing his wife through triple talaq. Although most Muslim women feel it is time to end the practice, they are wary of the slipshod manner in which the government has passed the bill in the Lok Sabha.
"It has not been properly thought out," says Sainaba, a member of the Social Democratic Party of India (SDPI), told THE WEEK's Anjuly Mathai. "Neither is it practical. If the aim of the law is to protect the rights of women, how is that possible with their husbands in prison? If they have children under the age of 18, who will take care of their education, health, financial and other needs? The woman will not be protected but instead be vulnerable to more abuse."
Aysha Mahmood, who used to work as a criminal psychologist in Calicut and Viyyur prisons in Kerala, describes how her friend was divorced through triple talaq over Skype. "Her husband was from Dubai and she was from Calicut," she says. "They lived together for 10 years and then they started facing problems in their marriage. Once, when she had come back home, he asked her to summon their families. When both their parents were assembled, he gave the triple talaq. Then he switched off the computer and walked off."
According to Naish Hasan, general secretary of Muslim Women League, a law to curb this social evil is a good move, but the stipulated jail term in it should be reduced. "If the husband is jailed then what will happen to his wife and children. The government should look into loopholes of this ordinance and take them into account."
Darul Uloom Deoband, Uttar Pradesh, a renowned Islamic school in India too, also reprimanded the government and described it as an interference in religious matters.
However, there are a few who have hailed the government's decision. Syed Wasim Rizvi, head of Shia Central Waqf Board, said that this ordinance is a victory for Muslim women and a defeat of conservative Muslim leaders.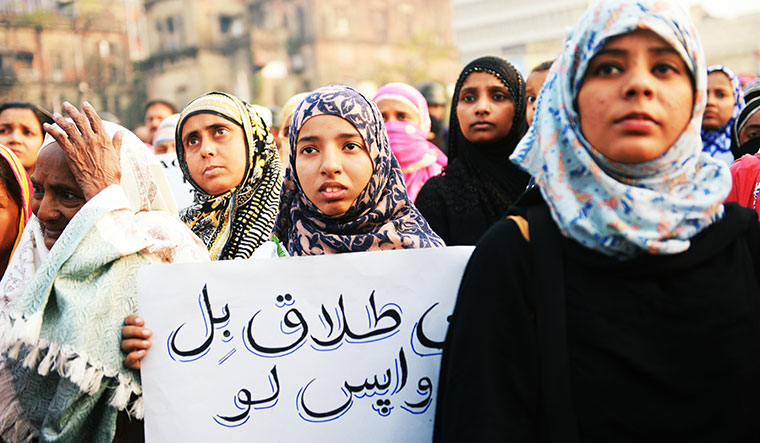 Arguments for and against the process:
Zakia Soman of the BMMA (Bharatiya Muslim Mahila Andolan), an independent organisation working for ensuring the rights of Muslim women in India, after the Centre filed an affidavit in court seeking to ban triple talaq, told THE WEEK's Vaisakh E. Hari: "For one thing, the AIMPLB is just an NGO and a self-appointed custodian of Muslim community in India. In more ways than one, they signify a lot of male-dominated thinking and are instrumental in women being denied their Quranic rights. A lot of Muslims feel that this kind of regressive stance (that triple talaq and polygamy should be allowed), is only helping the stereotypes about our community. When the Shah Bano case happened in 1986, the personal law board was able to fool large swathes of the Muslim population. But, the community has now understood that these people serve only their interests, to preserve their hegemony."
Parliamentarian E.T. Mohammed Basheer told THE WEEK during the time: "One of the arguments made against triple talaq is that the provision was being widely misused to discard women at will. India, however, is a country with one of the lowest divorce rates in the world. The rate will only go down further when more and more people gain access to education. So, that argument is not logical."
"According to Islam, divorce is most hated by the almighty. It teaches us that if the talaq is said from under a tree, the green leaves wilt away. The triple talaq is not meant to be served all at once. It should be done in stages, accounting for any and all chances of reconciliation between the two parties. There are numerous different schools of thought on this topic. It should be discussed among scholars of the religion and not by politicians."
Arguments against the bill in Parliament:
MP Shashi Tharoor of the Congress said he was opposed to triple talaq (instant divorce) but was against this bill as it conflates civil and criminal law. He claimed it was a textbook example of class legislation as it was pointed at one community—Muslims—even though abandoning wives is not unique to it. Tharoor said there should be a law universally applicable to all in case of abandoning wives.
Asaduddin Owaisi of the AIMIM took a dig at the BJP, saying it has so much affection for Muslim women but is opposed to rights of Hindu women to enter Sabrimala Temple in Kerala. The Triple Talaq Bill violates constitutional rights as it stipulates three-year jail term for guilty Muslim men while non-Muslim men get only one year of jail term for a similar offence, he said.