Bindu was inconsolable. She had just been told that her husband would require a heart surgery. What for, she knew not. She had no courage to ask.
'Why us?', Bindu felt miserable that fate had played a cruel trick on them. "He is a good man. He has no bad habits and he takes good care of his family. He has three sisters and we have taken good care of them, too. Still why did this happen to him?" Bindu recounted her reaction to the diagnosis.
It is two months since 46-year-old S. Neelakanta Sharma's heart began to beat inside 47-year-old Mathew Achadan's chest. Bindu, over phone, is calm. Sharma was a lawyer in Thiruvananthapuram, with a practice of 21 years. Achadan drove an Ape autorickshaw in Chalakkudy, in Kerala's Thrissur district, for a living.
Post transplantation, Achadan has to take immunosuppressants to prevent organ rejection. His immune system is compromised, so entertaining visitors is not a good idea. "The children had come down when he was discharged," said Bindu, who is with Achadan round-the-clock. Amal, 15, is in class 10; Anna is 11 and in class 6. Though out of hospital, Achadan is yet to go back home, in Pariyaram near Chalakkudy. He and Bindu will live in close proximity to the hospital for another month at a small apartment; the first six months will be spent with minimum contact with the outside world.
Prayer is an integral part of 39-year-old Bindu's life. Achadan's day would begin at 4 in the morning on Tuesdays and Fridays with work at the market in the town. He would then taxi people and usually was home by 7pm. Prayer time for Bindu is in the following hour. Bindu also attended prayer meetings every Friday at the Potta renewal centre in Chalakkudy. After the diagnosis, she sent word to practically everyone she knew, neighbours, friends, relatives, the church, to pray for Achadan.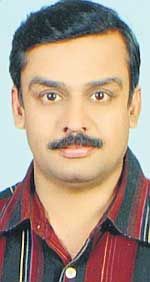 It was in the middle of a night in February that Achadan first felt severe shortness of breath. Till then, there had been no indication whatsoever of a heart problem. Not even when he did strenuous work while their house was coming up last year.
It must be gas, so he and Bindu thought. Though he spent much of the following day resting at home after work early morning and consulting a local doctor, said Bindu, he felt so sick that they went to Thrissur Medical College the next day. Following checkups and tests they were told that Achadan's heart wasn't pumping enough blood.
Achadan had dilated cardiomyopathy. It is a condition of the heart muscles that affects pumping. "Achadan had end-stage heart failure," said Dr Jose Chacko Periappuram, head of the department and senior consultant, cardiothoracic surgery, at Lisie Hospital in Kochi. Periappuram, who pioneered heart transplant in the state, performed Achadan's transplant. The medicines prescribed to such patients are for better pumping of the heart and for the body to produce more urine. "Patients with end-stage heart failure may collapse any time and their life expectancy is only six months," said Periappuram. "Achadan came in this stage when heart transplantation was the only solution."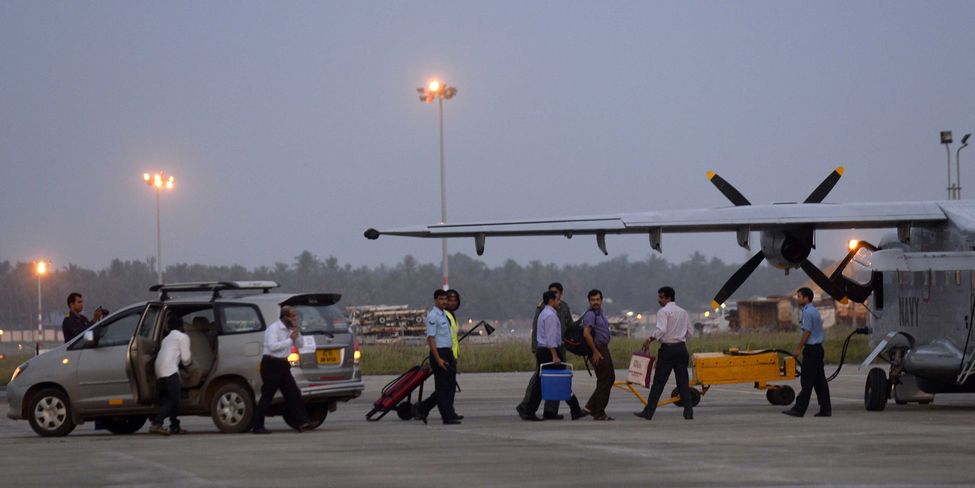 After five days at the hospital for tests and diagnosis, they were sent back home to decide about undergoing a transplant. Achadan was worried and reluctant. "We were told that we would require about 125 lakh and he was thinking of the difficulty of raising the money for the treatment. He was also put off by the fact that his life would be restricted following the transplant," said Bindu. "Otherwise a jovial person full of life with always a song on his lips, he slipped into silence."
While Achadan spoke less and less, Bindu was so consumed by worry that focusing on even the basic day-to-day tasks became tough. "Has God forsaken us? I would wonder," recounted Bindu. "I couldn't take care of the children properly or even pray for that matter!"
"Now when I ask him why he had stopped singing, he says, 'how could I sing when I couldn't even catch my breath!'," said Bindu. Achadan is now taking small steps (he walks for ten minutes every morning and evening in his room) back to his earlier self. Sleep was not easy because of breathlessness. Neither could he eat properly. "He had lost 15 kilos over the months," she said. "Now he can breathe properly and eat and, most important, sleep well." He follows a normal diet now, but without sugar as he has developed diabetes.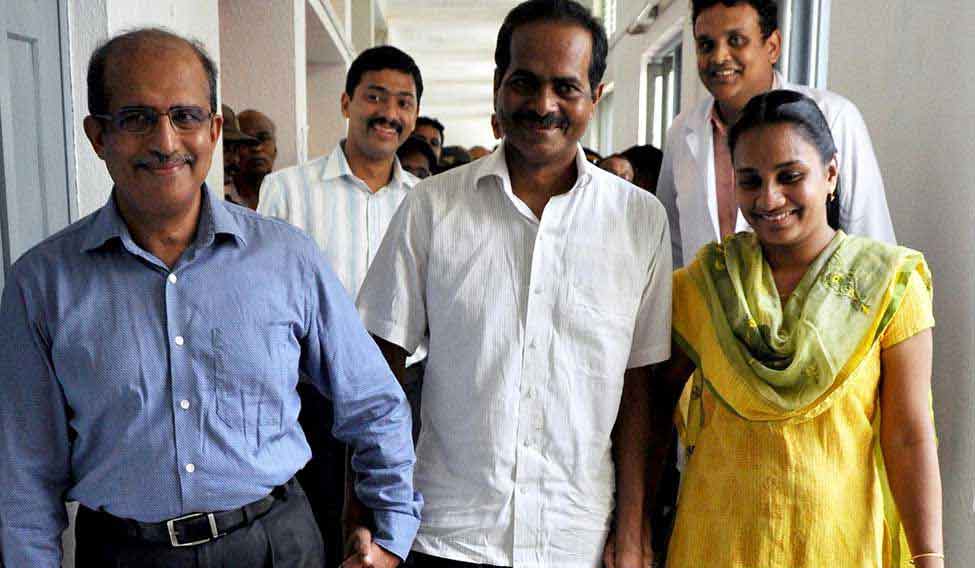 They shared their worries about the transplantation with each other, and attended prayer meetings. "Our son was very upset when told about the need for surgery," said Bindu. "Daughter is not old enough to understand the seriousness of the situation." Bindu's mother lives with them and the children are, for now, under her care.
The wholehearted support of family and friends boosted their morale. Bindu recounted how their panchayat member Daly Varghese, who is a neighbour and is like family to them, told them to go ahead and not worry about the money at all. "She opened an account to raise money for the surgery," said Bindu. About Rs.13 lakh for the surgery was thus raised. "Goodness TV gave 16 lakh and another Rs.6 lakh came from the Eram Group," said Bindu. Achadan was granted Rs.2 lakh from the state government's Karunya Benevolent Fund, which provides aid for treatment to the needy. Expenses crossed the initial estimate, said bindu, as Achadan had to be implanted a pacemaker soon after the transplant. "Achadan had a rhythm problem," said Dr Rony Mathew, head of the department and senior consultant, cardiology, at the hospital.
"Once I accepted the situation I regained my composure and I could focus on prayer." They expressed their willingness to undergo transplant, and registered with Mrithasanjeevani, coordinated by the Kerala Network for Organ Sharing (KNOS). Mrithasanjeevani was set up by the Kerala government in August 2012 to "promote deceased organ donation and transplant" in the state.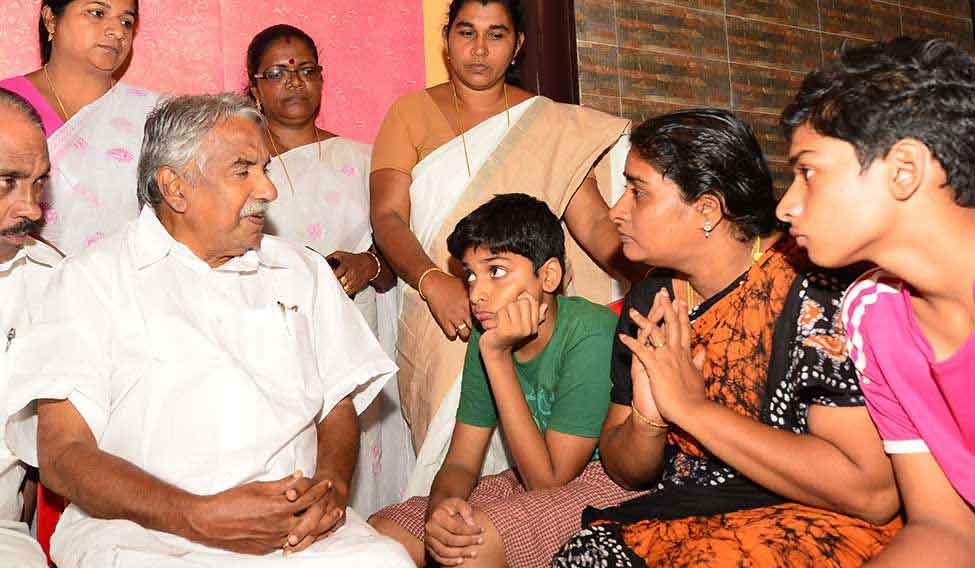 As they waited for a donor heart, Bindu prayed hard. She beseeched God to touch her husband's heart with cure. Counselling is crucial to preparing patients and their families for a transplant. This is because, as Periappuram said, the family has to be accepting of the idea of another person's heart beating in the patient's chest. What weighed on Bindu's heart more was the inevitable reality that her husband's recovery hinged on the loss of another human life. "Somehow the idea that someone had to die for him to get a new heart was saddening. If only God could do something and heal my husband," recalled Bindu, of the days of despair, hope and prayer. "Till the time of surgery, I strongly believed a miracle would happen."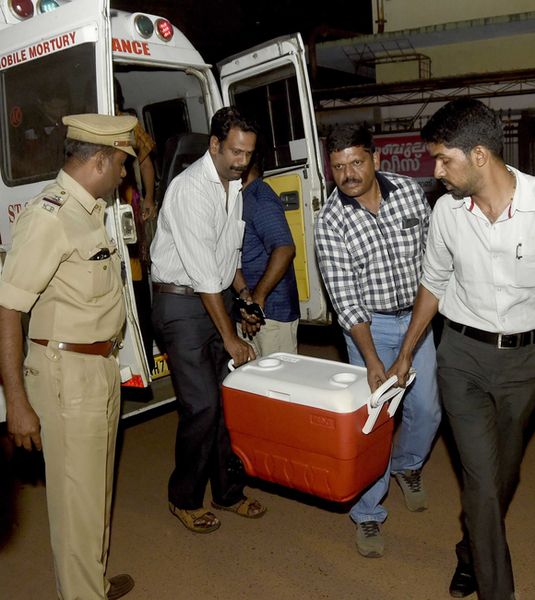 Amiracle was what Sharma's wife, Latha, too, fervently hoped for. So she deferred her signing the consent to donate his organs by a day on July 22. The previous day had been his star birthday. Hope rested on the belief that the chances of recovery are more after the birthday. "As per his horoscope, he would live till age 77," said Latha, 45. "But as per mine, times were not favourable."
On July 6 morning, Sharma was taking more time than usual to emerge out of the bathroom at home in the Tamil brahmin locality of Parassala. He was found collapsed and a local doctor suggested he be rushed to Sree Chitra Tirunal Institute of Medical Sciences & Technology in Thiruvananthapuram. Sharma had been on medication for hypertension for the past 12 years. The next day, said Latha, while he lay on a stretcher waiting for a test, he moved his left leg, which had been affected, for her benefit, but complained of severe back pain. "Suddenly his head jerked and he closed his eyes," she said. "He did not open his eyes after that."
"Sharma had dissecting aneurysm of the anterior cerebral artery with subarachnoid bleed," said Dr Mathew Abraham, professor and neurosurgeon at the hospital. It is a type of stroke and a smouldering condition, he said.
"He was a staunch devotee of Lord Shiva," recalled Latha. As if in consonance is the ring tone of her phone: Om Namah Shivayah. "We used to argue so much at home that often our children would intervene and tell us to be quiet," Latha fought back tears. "While coming home by bus I was thinking that now there is nobody to scold me and guide me anymore." Latha is agriculture officer in the Perumkadavila block of Neyyattinkara in Thiruvananthapuram. On the wall facing the sofa on which she sat was a large painting of the dancing Shiva. Latha's mother, who now lives with them, had lit the ritual evening lamp in the small shrine in one corner. Tiny figurines, mostly of Ganesha, were neatly arranged on a swastika-shaped shelf below the painting. On the corner piece of the sofa sat a meditating Shiva. A mridangam sat silently on a stool below the swastika. Their elder son, Subramania Sharma, who is now in class 10, learnt to play the percussion instrument for a brief period, informed Latha's mother.
"He was a very sensitive person. He wouldn't have been able to take the idea of being disabled," said Latha. "Now I wonder if such thoughts had crossed his mind and it was this worry that worsened his condition."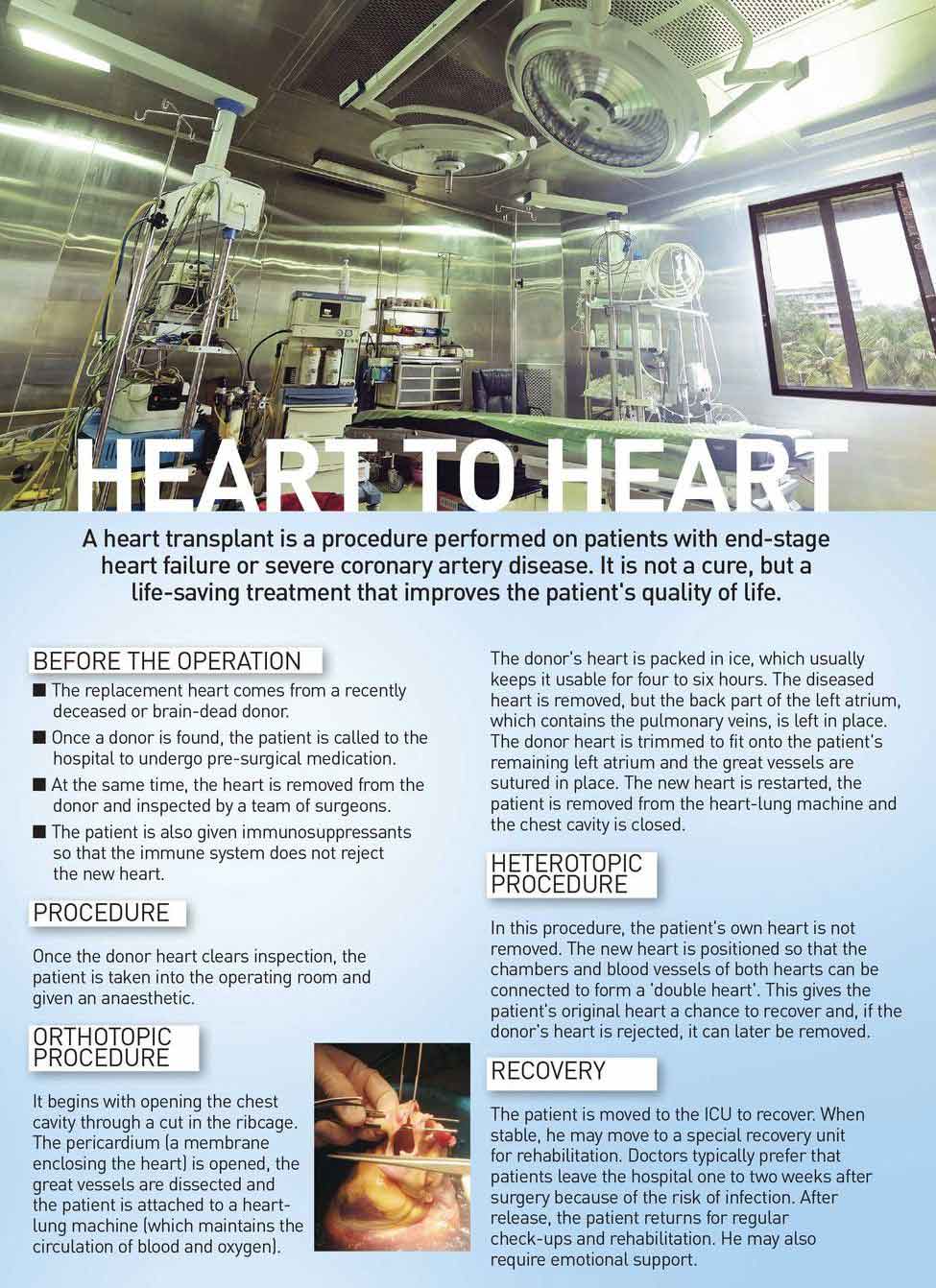 There is no way she can know. Nor if Sharma had mulled organ donation. "At least he had never told me. But the children say he had spoken to them about donating his eyes," said Latha. Their younger son, Goutham, studies in class 8.
Sharma's heart, kidneys and eyes were donated. Latha, being well educated with a science background, was receptive to the idea of organ donation, said Abraham. "Organ donation is an achievement of mankind against the inevitability of death," he said.
"Society is not objective in its thinking and fatalistic and spiritual beliefs often pose a challenge to organ donation," said Abraham. For the family, these are matters of the heart, where reason may fail to impress. For instance, Abraham cited, people may believe that an incomplete body can come in the way of the salvation of the soul. So pressing the relatives to consent to donate the deceased person's organs is dangerous, he said.
Sharma's organ donation made headlines, mainly for two reasons. One, for Latha's large-hearted gesture in her moment of grief. Two, for the subsequent heart transplantation where the donor heart in Thiruvananthapuram was transported to Kochi by air, a first in the state. More recently, the state witnessed its first heart transplantation in the government sector, where the donor organ from Lourdes Hospital in Kochi was transported by road to Kottayam Medical College hospital, raising the hopes of patients who cannot afford the high costs of the procedure.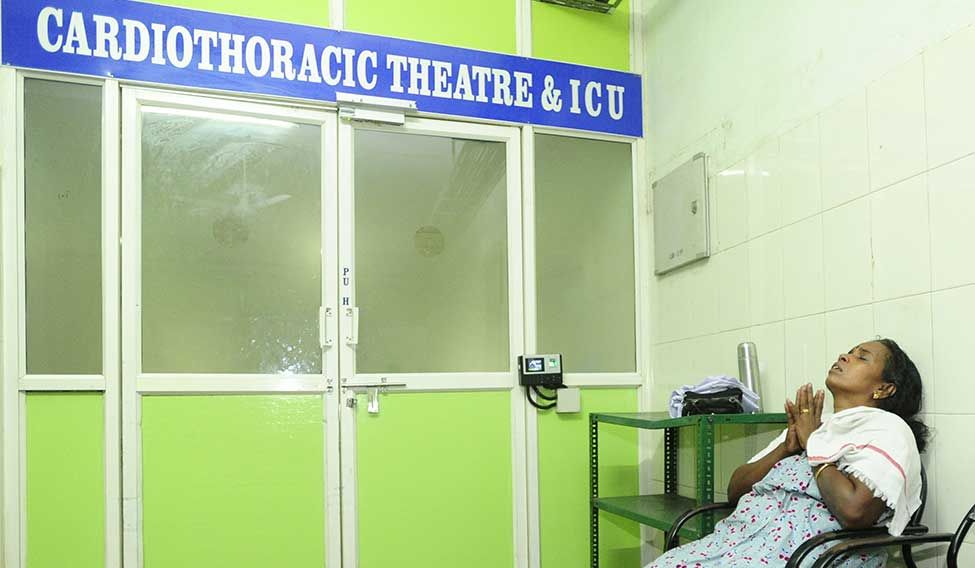 Latha, however, preferred to keep away from all the attention. "So far I have been sending the children to the functions. People say I have done a great deed by donating his organs, but I don't think so," said Latha, almost choking with emotion. "What would otherwise have gone up in flames has now become of use to someone." Latha was honoured at a function recently to mark the 1,11,111 beneficiary milestone of the Karunya scheme.
When we got information about a donor heart in Thiruvananthapuram, my first thought was to not go for it," said Periappuram. "Till now we had taken donor hearts only from central Kerala where the distance from the hospital is not much." The logistics in this case were not in their favour, though the blood group, height and weight of the donor and the recipient matched. "When we know there is a donor available, we look for ABO compatibility, and the height and weight should match. This is the standard around the world," said Dr Rony Mathew. "People older than 55-60 and those who have comorbidities like kidney or lung problems are not eligible for a transplant."
Is gender a factor? Studies in the west say it is, owing to the smaller size of the female heart, this may be overlooked in the Indian context, said Mathew, if other factors match as there is a severe shortage of donor hearts here. "We have 3-4 patients at the moment on the recipient list in the hospital."
But distance matters as time is crucial in heart transplant; the interval between removing the donor organ and sewing it into the recipient's chest should not exceed four hours. This is called the ischemic time. The transplant may be successful even if the process exceeds four hours, but the long-term benefits of the transplant may not be optimum, said Periappuram.
So he told his team that they won't go for it and proceeding to the OT for a surgery. It was a bypass. As he set to work routing blood flow, it struck him: why not transport the harvested organ by air instead of road? He shared the thought with his team immediately and instructed them to get in touch with the state machinery, too, as it was only recently that the concept of an air ambulance had been mooted by the government.
Soon after Sharma's organ donation, two more donor hearts were transported by air from Kochi―of 19-year-old Pranav from Lakeshore Hospital, and of 12-year-old Adith Paulson from Aster Medcity―to Chennai's Fortis Malar for transplantation.

Meanwhile, in Thiruvananthapuram, the mandatory apnoea (when breathing stops) test―two tests done in a gap of six hours by a two-member neurologist-neurosurgeon team―to confirm Sharma's brain death, or the cessation of the functions of the brain stem, failed. Brain stem is the part of the brain at the base that leads to the spinal cord and is responsible for consciousness and breathing among other functions. Brain stem death found its way into legislature in India in 1994 with the Transplantation of Human Organs Act, which also was meant to curb commercial transactions in organ donation.
The next test was scheduled for 8am on July 24. This gave the team in Kochi more time to prepare. The Indian Navy offered a Dornier, which would travel faster and carry more load than a helicopter. The box carrying the harvested organ itself would weigh around 20 kilos. The traffic police created a green corridor for the speedy and smooth transportation of the donor heart. And, the procedure was completed in three hours 48 minutes flat, informed Periappuram. Between August 2012 and September 2015, 13 heart transplants have been performed in the state according to the KNOS website.
This was perhaps God's will, Bindu now finds solace in this belief. The ordeal has only strengthened my faith, she said. Would she want to meet the donor's family? Bindu paused. "Maybe but what will I say to them? This tension will always be there." Any contact between the donor and recipient is discouraged. "In this case we read about everything in the papers." Said Latha, "I have heard that the doctor there [in Kochi] does not encourage the donor and the recipient meeting to avoid any emotional connect."
Unknowingly yet undeniably, Latha has forged a connect with Bindu by making the gift of life. A connect of godliness, nobler and more enduring than emotions.