In Slumdog Millionaire (2008), the film that gave us our most recent whiff of Oscar joy, five-year-old Jamal Malik holds his nose shut and dives into a pit of human excreta to escape from the toilet his mean brother has locked him into. He wants to meet his idol, Amitabh Bachchan—who is getting off a helicopter outside—and get his autograph.
It's an iconic scene, super funny, super dark and sets up Jamal's do-or-die, all-or-nothing character brilliantly. It was heavily panned when it hit the screens. 'Patriotic Indians' thought it "exoticised India's slums" and made us out to be a dirty country, full of slum dogs and filth. Such films should showcase the sparkling side of the India story, the 'patriots' intoned piously. "How dare these Americans come into our country and grossly exaggerate our living conditions like this! We don't dive into pits full of human shit! As if!"
Recently in Bengaluru, in an incident that is becoming sickeningly common in our cities, three workmen—Mahadeva Gowda, Narayana Swamy and Srinivas—descended into the sewage treatment plant of ND Sepal Apartments to manually clear the blockage and choked to death. They were untrained for such work; one of them was a painter, another an electrician. They were lured into doing the job by the promise of decent wages, to be paid on the day itself. In their desperate economic situations, clearly this was as tempting as an autograph from Bachchan was for young Malik.
They were provided with no warnings, no masks and no gloves. They pretty much held their noses and descended, and when they didn't come out or respond to calls from the outside, an alarm was sounded. All three were dragged out dead. The air was so toxic that one member of the rescue squad fainted and had to be administered first aid.
All educated Indians are aware that manual scavenging is illegal in our country. Sewage must be cleaned by jetting and sucking machines only, but these cost money and require operational expertise. The fact is that most municipal corporations have no system to ensure compliance and maintenance of sewage treatment plants. This makes it easy for private contractors, to whom RWAs inevitably outsource the work.
And, as the work is illegal, the workers—inevitably migrant or 'low caste'—are expected to do the dirty work quietly, take their pathetic little bundle of money, and git. The whole thing is hush-hush, until of course, they die while doing the job and their bodies turn up inconveniently at the city's hospitals. In Karnataka alone, 68 manual scavengers have died since 2008.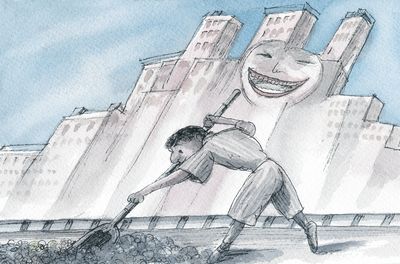 What is also heartbreaking is that while the Swachh Bharat Abhiyan, with all its emphasis on defecating-in-the-open-shaming, is causing more and more people to install toilets in their home, most of these are the septic tank model, which is perceived to be more hygienic than the compost pit or leach pit model. It's not. Septic tanks inevitably call for manual scavenging, sooner or later. And so, a programme meant to uplift the nation could end up pushing more and more of its poorest people back into the filthy, 'untouchable' abyss of manual scavenging.
It's really high time we stopped denying the fact that we do, in fact, force human beings to deep dive into pits full of human shit, on a daily basis.
And, ensure that all developers, before advertising club houses, green strips, play areas, gyms and swimming pools, guarantee the most vital amenity of all—a properly sized and constructed sewage treatment plant and drainage system. And, an RWA committed to maintaining it properly.
Chauhan is an author and advertising professional